For this article, we found ourselves in the wild suburbs of New Jersey with JD Sasso (make sure to follow him on Instagram). He is the king of all things, Alden the great American shoemaker established in 1884 in Massachusetts. They have been known for producing high-quality footwear for a long time, and even Indiana Jones wore their boots.
We already did a spectacular article about JD's list of the best Alden boots that you should absolutely check out. While I was in his home among his dozens (and dozens) of Alden shoes, though, we decided to rank his favorite exclusives; the hardest to find Alden boots.
It's amazing to see his vast range of the brand's footwear, including some of the rarest and hardest to find. Let's take a look at these vintage gems.
"It's not impossible to find them," says JD. "It's just building relationships and having friends who are in this crazy shoe game who can tell you, 'I've heard that so-and-so got an allocation of Ravello leather and they may be doing a boot.' So if you have a relationship with (stores and enthusiasts), you might want to talk to them."
Color 4 Shell Cordovan Plain Toe
"It's a tough game because they make so few of those boots," he says. "Even if you're very lucky to get on a list, and let's say the boot comes in, these are all handmade. Certain boots fit a little bit differently, and that boot doesn't fit exactly right. You're out of luck! It's not like they have another size floating around. So I feel very lucky that I was able to get some of these."
This is a Color 4 shell cordovan plain toe boot.
Shell cordovan is made from the membrane at the base of a horse's tail. This part of the hide is thicker, stronger, and more flexible than other parts, making it ideal for use in high-end footwear. The production process of shell cordovan is complex and time-consuming, taking up to a year from start to finish. It involves several stages, including tanning, dying, and polishing, each of which contributes to the leather's final look and feel.
One of the most distinctive features of shell cordovan is its rich, deep color, which is achieved through a slow and careful dying process. There are several standard colors that are used in Alden boots, but color 8 is one of the most popular and widely recognized for its deep burgundy. Color 8 is far rarer and, as we understand it, uses half the amount of dye. This deep, reddish-brown color is (arguably) more versatile, pairing well with a variety of outfits and occasions.
Another reason why color 4 shell cordovan is so highly prized by Alden fans is that it ages beautifully over time. With proper care and maintenance, the leather will develop a patina that adds character and depth to the boots.
[Further Reading: The Best Cordovan Boots]
Ravello Shell Cordovan Norwegian Split Toe
"It's hard to describe the color because the shade of Ravello has changed over the years," says JD. "But it's like a medium brown (that's) kind of hard to get on the spectrum. It's an exotic color. Took me a while to get myself on the list, but I'm really happy to have this one."
Here, it's used on a hand sewn Norwegian split toe boot made on Alden's Aberdeen last, which is known to fit closest to a traditional dress shoe with its slightly tapered toe.
This boot is a true masterpiece of craftsmanship and design. The Norwegian Split Toe design of the boot is a nod to the classic oxford shoe, with a more relaxed and informal look that's ideal for business casual wear. Characterized by a split at the front of the shoe, the split toe design adds a touch of sophistication and style to the boot. The Ravello color, which is a rich, reddish-brown, is a classic and timeless color that is both versatile and stylish.
This boot is also built to last, constructed with a strong yet flexible Goodyear welt. This construction method allows the boots to be resoled, extending their life and making them a wise investment.
The Vintage Indy
"This is from Leather Soul in Hawaii," says JD. "They called it the Vintage Indy. They say this is supposed to be the best representation of what the Indy looks like on screen with Harrison Ford."
One of the standout features of the Vintage Indy Boot is the "Commando" sole heel, which provides excellent traction and stability — even though, as you can see in the gif below, the movie boot… didn't have that heel.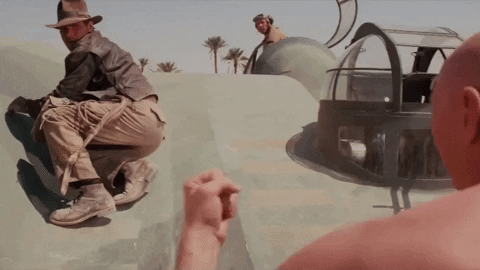 Still, the Vintage Indy Boot is a true classic and a really cool approach to the ubiquitous model. The leather is a waxed chamois, having a truly beat up, years-of-fleeing-boulders look to it.
The Vintage Indy Boot is a true collector's item, and is highly sought after by fans of Alden and Indiana Jones alike. The boots are handcrafted in the United States and are known for their superior quality and attention to detail. Whether you are a collector, a fan of Indiana Jones, or just someone who appreciates high-quality footwear, the Vintage Indy Boot is a must-have.
Reverse Tobacco Greenwich Wingtip
"This is one of my favorites. This is the Reverse Tobacco Chamois," says JD. "I just love this one because it has all the eyelets and no speed hooks, so it's a little bit dressier. It's got the wingtip pattern, it's got the 360-degree welt, so it's nice and clean, and it has the commando sole. The chamois is really water resistant. So I just love everything about this boot."
The Reverse Tobacco Chamois Wingtip boot is a true masterpiece of design and craftsmanship. It is made from a reverse tobacco chamois leather, which is a unique and rare type of leather that is prized for its rich, warm color and soft, supple texture. While traditionally, chamois was made from a European animal similar to a goat, this "chamois" leather is from Horween, who use roughout from cowhides.
The boot features a classic wingtip design, which adds a touch of sophistication to the overall look.
The boot is perfect for both casual and business casual occasions, and can be worn with a range of outfits, from jeans and a sweater to a blazer and slacks. The unique reverse tobacco chamois leather adds a touch of personality to any outfit, making the boot a great choice for anyone looking to add individuality to their wardrobe.
[This was a collaboration with Leffot — check out our visit to the store!]
Color 8 Shell Cordovan Indy
"If I had to pick a number one, this has got to be it," says JD. "Color 8 shell cordovan Indy boot. This is the one I have found that I love the most."
A makeup from Brogue Shop in California, this was made with a 270-degree welt and dark, hand painted edges.
"Everybody's been doing color 8 shell cordovan with light edges these days," says JD. "I finally went back to the dark edges and I think it looks really sharp. It has a double water lock sole, so this is extremely comfortable from the get go. Who knows if they'll ever run it again."
The Color 8 Shell Cordovan Indy Boot is a classic, sturdy boot that is perfect for anyone looking for a boot that will last for years to come. The leather is exceedingly pricy — you'd pay over $900 if you found these at Brogue, but you won't — and it's essentially self shining, maintaining a like-new look for years to come.
In terms of construction, the Color 8 Shell Cordovan Indy Boot is built to last. The boot features an extra water resistant storm welt and the leather and cork underfoot molds to your feet over time, providing a comfortable fit that feels custom made to your feet.
The boot is a great choice for anyone looking for a boot that can be worn with a range of outfits, from jeans and a sweater to a suit and tie.
Wrapping Up
Owning a pair of the rarest Alden boots is a true testament to one's love and appreciation for quality footwear — owning this many is a superhuman feat, JD.
These rare and unique pieces not only provide exceptional comfort and style, but also serve as a symbol of heritage and tradition in the world of shoe-making. Whether you are a collector or simply looking for a high-quality, one-of-a-kind pair of boots, the rarest Alden boots are sure to exceed your expectations. So, take the leap and add a rare Alden boot to your collection today.
Who makes the best shell cordovan leather?
Chicago's Horween Leather Company is the undisputed king of Cordovan. It's a very smooth, luxurious leather that Horween takes at least six months to make.
What kind of boots did Indiana Jones wear?
The Alden 405 "Indy Boot" in Brown Cowhide. Many call the easier to find Alden 403 the original Indy boot, but it's actually the lighter colored 405.
Is shell cordovan the most expensive leather?
Shell Cordovan is a grade of leather that's considered the very best in the world, and is almost always used for making top quality shoes. It's the most expensive leather that money can buy. One of the reasons for its high expense is due to the fact that the leather is procured from horses, can only be made from a small piece of the hide at the base of their tail, and it takes up to a year to create. But it's self shining, extremely durable, and won't crease.
The following two tabs change content below.
Veljko Vesic
Hey there! I'm Veljko Vesic, a wordsmith with a soft spot for boots and durable apparel. I thrive on the thrill of combining my love for fashion with the power of the written word. When I'm not busy crafting engaging content, you'll find me exploring hiking trails, hunting for the perfect pair of boots, or diving into research about long-lasting fashion trends.
Latest posts by Veljko Vesic (see all)