As an Australian living in New York City, my home country has never been more relevant than it is for this review: kangaroo leather boots.
But the Grant Stone Ottawa boots I'm reviewing come in a variety of leathers, so I'll try to make this review useful for you if you love the style and not the leather, or even if you love the leather and not the style. (Just note that this leather is seasonal, so this exact model may not be available.)
When I received these boots, it was a milestone for my collection: my first split-toe boots, my first kangaroo leather boots, and my first natural (undyed) vegetable tanned leather boots. We'll start with a quick overview of the brand and then move into the style, the leather, the fit and sizing, the price, pros, and cons, so you have all the info you need to decide if these are the right boots for you.
Grant Stone, The Brand
Uses highest quality components
Costs $200+ less than comparable brands, because
Made in China
The Ottawa boot is from Grant Stone, a brand I've talked about non-stop on this site. Largely the same points have been made every time they're mentioned but to recap: Grant Stone is one of the most important companies in the scene of Goodyear welted footwear.
The reason: they have great designs made with the kinds of construction, materials, craftsmanship that typically cost one or two hundred bucks more than what they charge.
My Ottawas are a great example of that. You get vegetable tanned leather from Italy, leather laces from Kentucky, the lining is from Milwaukee, they have a vegetable-tanned leather midsole and insole and welt. The reason it costs under $400 instead of over $600 bucks like it would if it were made stateside is that it's made in China.
Now, the only Chinese material is the box (which is still very high quality — try standing on a corner) and everything else is best-in-class materials from all over the world. Leather nerds in particular will marvel at the tanneries listed on their site: Italy's Maryam tannery, England's C.F. Stead, and America's Horween Leather Company, among others.
The brand is owned and run by American Wyatt Gilmore and look, the shoes aren't made in a sweatshop. Their factory is on the beautiful tropical island of Xiamen, where some shoemakers have been working in their factory for 15 years. The product is astonishingly high quality and there's no reason to avoid them just because they're made in China. Unless your biggest priority is keeping as much of your dollar inside the US as possible, or if you want as little money as possible going to the Chinese government via taxes and such. That's fine, I'm keeping politics out of this. My job here is to talk about the product, not the myriad tendrils of causality emanating from it.
So let's refocus on the product at hand: these are immaculate boots and I've been wearing them for weeks. Let's investigate the style.
Ottawa Boot Style
Split toe boot
Dressier and slimmer than a moc toe
Similar dressiness to a brogue or balmoral
This is my first split toe boot, sometimes called s a Norwegian split toe.
While you might think it like a moc toe boot with an extra stitch down the toe, it's considerably slimmer, lower profile, and dressier than a moc. It's not a dress shoe, but it hangs around the realm of brogues, loafers, balmorals, and nicer leather footwear. I think it's fair to say that it's best worn with a button-down.
That might grate you if you prefer casual wear, but when you've got a smart shirt and a pair of split toes you feel like a million bucks. It's not for a suit, but any outfit with a button-down and slim trousers looks terrific.
[Related: The 10 Best Dress Boots for Men]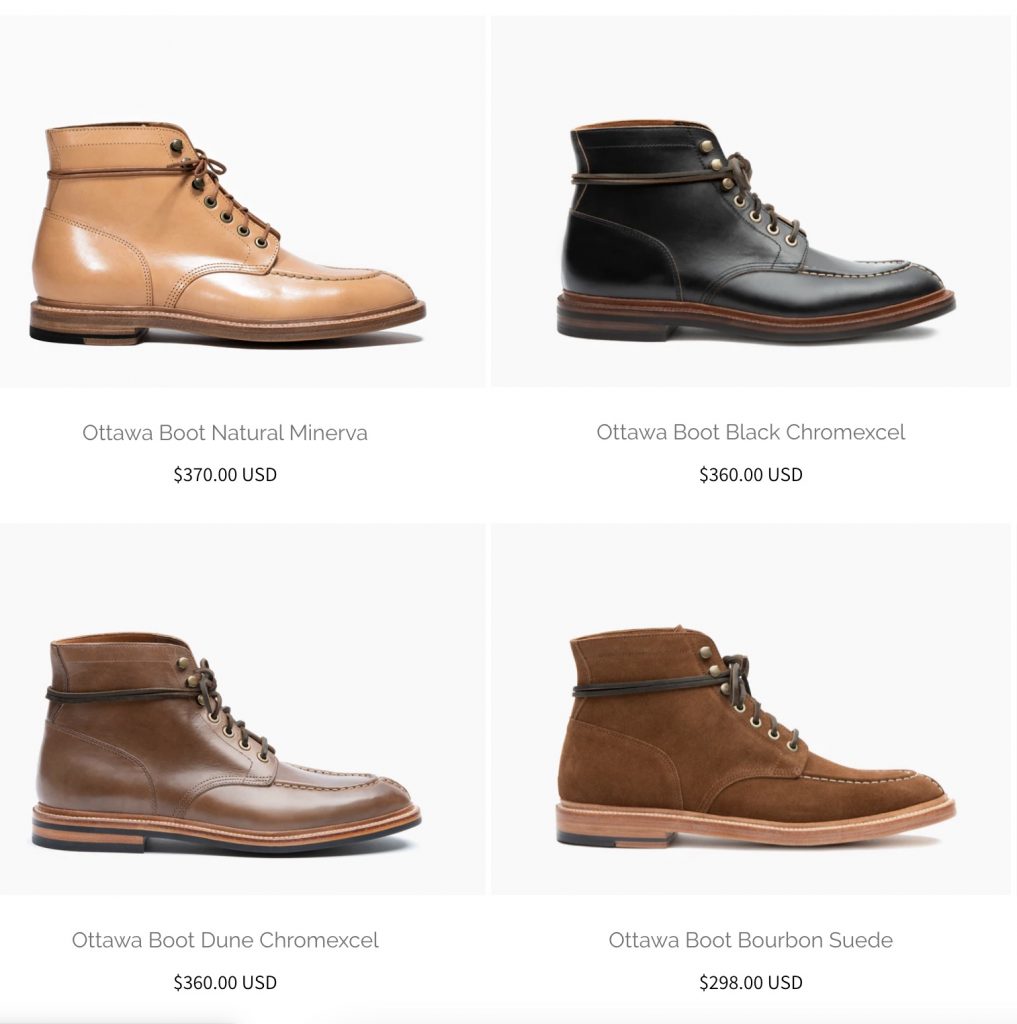 Ottawa Boot Leather
Available in 6+ leathers
Chromexcel, suede, and veg tan cowhide on offer
Grant Stone makes these boots in a range of leathers, including several Chromexcels from Horween — probably the most beloved boot leather in America — and a couple of suedes. Again, I should emphasize that the kangaroo is a seasonal leather, which is common for the brand. Many hearts have been broken by waiting too long for limited edition ostrich boots.
Isn't Kangaroo Leather Evil?
Nah. In fact, there are a lot of good reasons as to why it may be preferable to cowhide.
I encourage you to read this article in The Washington Post about the attitudes Americans have about kangaroo leather and how it conflicts with the reality of the situation on the ground. In short: kangaroos are not endangered; there are almost twice as many kangaroos as there are people in Australia. There are so many, in fact, that they're regularly culled in order to protect the population's welfare and biodiversity and to keep them from dying of starvation and thirst during the summers. The animals aren't factory farmed or a byproduct of the meat industry; they're as free range as it gets and, frankly, they're dying anyway. Why not use their skin? One hunter said of their leather,
The animals are going to be culled; they might as well be culled humanely with a profit made by someone. To leave millions of kangaroos in the paddock to breed is a stupid way of going about it.
You can read the article (or my own) if you're interested in learning more, but it's worth noting there's even a dietary subculture in Australia called kangatarianism: people who only eat meat if it's kangaroo, because they consider it the most ethical kind of meat you can eat.
This video isn't about this boot, but it does a great job exploring the benefits of kangaroo leather— and proving it's about twice as strong as cowhide.
Benefits of Kangaroo Leather
2x stronger than cowhide
Thin, supple
No sweat glands = smooth appearance
What about the leather quality, though! I've always been curious about kangaroo leather and I've never seen much of it on Goodyear welted boots outside of the occasional offering from Viberg. It's surprising, because it's not more expensive than regular leather: it's extremely common on soccer cleats because it's just super strong stuff.
It is thinner than cow leather, but it's supple and it's tough. The collagen fibers in kangaroo hide are fine, concentrated, highly uniform, and parallel to the surface of the skin, unlike cow skin's irregular, bundled structure. Kangaroo hide also has a very low fat content and a thin grain layer, without sweat glands and erector pili muscles, so it doesn't require the splitting and shaving that some other leathers require.
Plus, elastin is evenly distributed throughout the skin, which means it's uniformly stretchy. That's one reason why it's common in bullwhips (below) and also a reason why it's very forgiving out of the box and does not have a tough break-in. All of these factors give kangaroo leather a ton of tensile strength, referring to the amount of force it can take before tearing. In the video above from Rose Anvil, he demonstrates that it's a solid two times stronger than cowhide.
Note that a side effect of your kangaroos living wild and free is that it sometimes bears scars from its life in the wild. That said, the clicking on these boots is great and the leather is beautiful and unblemished.
My particular Ottawas are also vegetable tanned leather, which is a rare, laborious, and old-world method of making leather that usually makes it stiffer and harder to break in, but as I mentioned, the kangaroo's elasticity makes up for that. These are comfy from the get-go.
While Grant Stone has offered a few models of green kangaroo in the past, this is natural leather, meaning it's undyed. It's the color of the kangaroo's skin and because of that, in some lighting, it almost looks like a super light pink color.
[
Read More: Grant Stone Brass Boot Review: Why It's the Best Moc Toe You Can Buy
]
Grant Stone Ottawa Fit and Sizing
Size down a half size
Use the same size for most boots (eg Red Wing, Wolverine)
Available in D, E, and EEE
Again, thanks to kangaroo's elasticity there was no break in to speak of, but I've never had a tough break in with Grant Stone.
The most important thing I want to point out is how lovely this company's famous Leo last is and how sturdy their construction is overall. Both a vegetable tanned leather insole and midsole is rare and it makes for a boot that feels very solid underfoot. You can feel the quality in every step you take.
For sizing, get your usual boot size, which is to say a half size down from your Brannock size. (That's the "true size" you get when you use a foot measuring device in a shoe store.) I've found this sizing advice to hold true for all of Grant Stone's boots that I've worn, including their moc toe Brass Boot that's made on a different last. (And which I named the best moc toe on the market.)
To summarize, if you're an 11 in Red Wing and Wolverine or something similar, you're an 11 in these boots, and they come in D, E, and EEE widths.
Price
The price is $370. I already gave you all the reasons why that's a great deal earlier: you can't find better components if you try. That's basically the whole review, but let's wrap up with pros and cons.
Pros and Cons
I like these boots a lot, but for other guys with different tastes, there might be a few downsides. First I'll talk about the pros.
Pros
Durable and beautiful kangaroo leather
Nice balance of business and casual
World-class components, from the laces to the sole
Veg tan leather insole and midsole
Comes in 3 widths
Comes with a cool bottle opener/shoehorn
If you don't have a split toe boot, you deserve one. It's a great way to differentiate from all the plain toe and moc toe and cap toe boots out there and it's a really interesting balance of business and casual that's perfect for date night or under slacks at the office.
The quality of the components is superb: leather midsole and insole, everything from America or Italy. At this price, it's unheard of. I don't need to say anything else about how dope the leather is but aesthetically I love the natural leather with the dark laces, and speaking of which they include three pairs of laces and a Grant Stone bottle opener/shoe horn, which is a really nice touch.
Cons
Not ideal for casual or very dressy outfits
Kangaroo leather may have visible scars
Some dislike "Made in China"
Mostly, I've found the biggest downside for me is that while split toes are awesome when they work, I don't love them with something as casual as a t-shirt and I don't like them with a suit either. But most any other outfit with a button down looks great with these. (Unless it's black or grey, which aren't great with this earth toned leather. Again, this boot comes in many leathers to fit any color palette.)
Some guys wear these with t-shirts, sure. I think so long as your trousers are fitted you can get away with most tops, but the split toe is usually considered smart casual or business casual.
You also might find that this lugged outsole is at odds with the split toe's dressier look. I get that it might make it harder to go with slacks in the office, but I think it's a great contrast with the dark laces.
Kangaroo leather sometimes comes with scars, though I haven't seen any from Grant Stone; it appears Maryam tannery has great clicking.
Finally, not everyone loves that they're made in China.
Wrapping Up
There you have it. I love these boots, I love kangaroo leather, I love Grant Stone. That's really about it. If you don't have a pair of Grant Stone boots, I recommend checking out their website — even if these boots aren't available, there's something for you. And it's going to be amazing quality and it's going to be a great price.
If you have any questions let me know in the comments, but also you can contact the people at Grant Stone, who are well known for their customer service and active Instagram DMs; it's not uncommon to talk to a member of the family when you seek advice.