I've been surprised by how many people have asked for a comparison of these two boots, but not that surprised. To me, this comparison seems to embody the state of the industry: old versus new, tradition versus innovation.
In one corner we have the old lion of the boot world: the iconic 1000 Mile from Wolverine, a company founded in 1883 which went on to launch this enormously popular shoe in the 1910s. Known for its durability and versatility, the boot has been a staple in American footwear for over a hundred years and is a lot easier to dress up than some of its competitors, like the Red Wing Iron Ranger.
In the other corner, the new kid on the block. Founded some hundred years after the 1000 Mile's debut, Thursday Boot Company has been making serious waves in the industry since unveiling their signature Captain boot in 2014. Importantly, this is also a boot that's trying to bridge the gap between work boot and fashion boot.
I've worn both boots in rain and shine, and I've even taken the Captains on a lengthy trip around Colombia. When they go head-to-head, which one comes out on top?
First Glance
Wolverine
Founded in 1883
1000 Mile most famous shoe
More versatile than many workboots
The 1000 Mile has a reputation as a hardy work boot but when you take a look at it, you don't get quite the same impression as you do when you look at work boot from, say, Red Wing or Truman or other companies that make more fashionable work boots.
Wolverine, while by no means a slim dress boot, is more versatile: no toecap, a flat leather sole, no ostentatious branding or wedge soles. It's a boot you can comfortably wear in jeans and take to a bar, but they also convey a sense of toughness.
With that said, it's important to take a few things into account: the flat leather sole has dreadful grip, the 270-degree Goodyear welt isn't quite as water resistant as a 360-degree welt, and the Chromexcel leather is pretty vulnerable. As you can see in these images, it's creased very noticeably — more on that in the "Leather" section below.
[Wolverines are cheaper on Amazon — click here for the best price.]
Thursday Boot Company
Founded in 2014
Known for value
Captain intended to be hybrid of fashion and function
With less history and tradition attached to the name, Thursday has a little more room to innovate and the shoe they came up with is explicitly a hybrid work boot and dress boot. The idea is that it's a blend of fashion and function, so while you're less likely to see the Captain on warehouse floors as you are the 1000 Mile, it's much easier to dress up.
With a streamlined silhouette, sleeker toe box, and slightly thinner leather (1.8mm to Wolverine's 2mm), it's a much more versatile boot. But there are other elements that confer serious durability: the leather is less prone to scratching, the rubber sole is much grippier, and there's a 360-degree Goodyear welt that manages to be more subtle than the 270-degree welt on Wolverine.
Yes, the 1000 Mile has thicker leather and a chunkier silhouette, but I've worn both boots all over New York City and from a purely aesthetic standpoint, the Captain's leather has aged better, it's easier to wear with khakis and slacks, and the sole hasn't worn down as much as the 1000 Mile.
But let's take a closer look at the difference between the leathers.
[Shop all the different Thursday Captain Boot varieties here!]
Leather
Wolverine
Chromexcel from Horween
Combination tanned leather
Creased significantly
Scratches easily
The older brand went with what might be the most beloved leather in all of footwear: Chromexcel. This is a combination-tanned leather from Horween Leather Company and it's used in brands as expensive as Viberg and Alden to brands as cheap as Thorogood and, well, Wolverine.
The production takes 28 days and results in a leather jam-packed with oils and waxes, including food grade beef tallow and cosmetic grade beeswax. "CXL" (as it's often abbreviated) is perhaps best known for its depth of color, but the downside is that the top finish scratches relatively easily.
While many different companies use this leather, it's clear that different companies have different quality control. The extremely expensive Viberg made sure they used flawless product, while the famously cheap Thorogood's darkened in weird places. And Wolverine?
[Related: My list of The Best Boots]
Well, you can see in these pictures that these boots wrinkled like crazy and while people assume it's because I wasn't using shoe trees, this happened in the first week of owning the shoes — way too soon for shoe care to have been an issue. (And for the record, I've used shoe trees since.) In addition to this wrinkling, there is a ton of loose grain along the outside of the shaft as well, something that no amount of shoe trees could have prevented.
A lot of people say that you should just expect loose grain and creasing with Chromexcel, but you don't find these kinds of issues with Viberg and Alden. So even though Wolverine uses Chromexcel, which can be a great leather, I'm not confident in the leather they select. You might be able to remedy this by buying your boots in store so you can do your own quality control.
[Read more: The Complete Guide to Taking Care of Chromexcel.]
Thursday Boot Company
Thursday Chrome
Many similarities to Chromexcel
Darker, with hints for burgundy
A little thinner than Wolverine
While there are some inexpensive brands that use it, Chromexcel is generally a pricy material and to maintain their low cost to consumer, Thursday went ahead and came up with their own tier 1 leather called Thursday Chrome. Now, the recipes of both Chromexcel and Thursday Chrome are proprietary so I don't know the exact differences, but I know there are a ton of similarities between the two.
Thursday Chrome is also a combination vegetable- and chrome-tanned leather that was developed with the Le Farc tannery. It's a dark brown but you can see burgundy in it when sunlight hits it, which I quite enjoyed. If you don't, Thursday has a ton of other leathers available to choose from, but Thursday considers this leather their signature leather.
The color is more consistent than Wolverine — there are none of the undulating tones of brown that you might get in some Chromexcel, which you may find to be a pro or a con. It's also darker, so it doesn't crease or scratch as noticeably.
I should note that I'm not really comparing Thursday Chrome to Chromexcel, I'm comparing the Captain boot to the 1000 Mile. In that regard the Captain's leather is thinner, roughly 1.8 millimeters to Wolverine's 2 millimeters, and combined with the more vibrant, chrome-y look, it's safe to say that the Captain's leather doesn't look quite as outdoorsy as the 1000 Mile's.
This is fitting with Thursday's approach of being more of a hybrid shoe than a true knockaround workboot. (And after all, their leather is thicker than a lot of fashion boots, which are often closer to 1 millimeter thick.)
But while it might not appear as outdoorsy, the Captain's leather aged much better, held up to more damage than the 1000 Mile, plus it had no loose grain or any quality control issues at all. I took these boots all over Colombia and while no boot survives that without any scratches, I was happy with how they wore.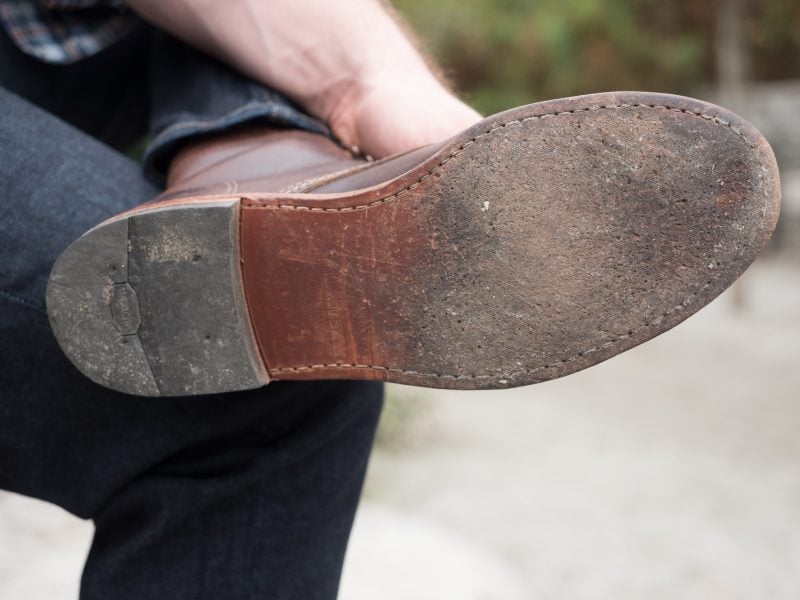 Sole
Wolverine
Leather outsole
Cork midsole, leather insole
No shank
270-degree Goodyear welt
Let's start with this outsole: it's leather. I don't love leather soles. That's not to say it doesn't have advantages: Good groundfeel, good flexibility, relatively soft, a nice sleek profile.
But as you can see above they get dirty and scratched up super easily. While that does gradually improve the dismal grip, they're ugly as sin. Add that to the crummy grip and the poor durability and I'm not much of a fan. On indoor shoes they can be tolerable but for work boots like these I just think it fails.
There are three layers, here: the leather outsole, a cork midsole and a leather insole. Like a lot of boots, the leather insole and the cork do slowly mold to the shape of your foot and become more comfortable.
However, there's no shank in these boots, which is pretty surprising and another reason I'm not wild about the sole. They're by no means uncomfortable, but the shanklessness results in a boot without great arch support or stability.
[Read my full review of the Wolverine 1000 Mile here!]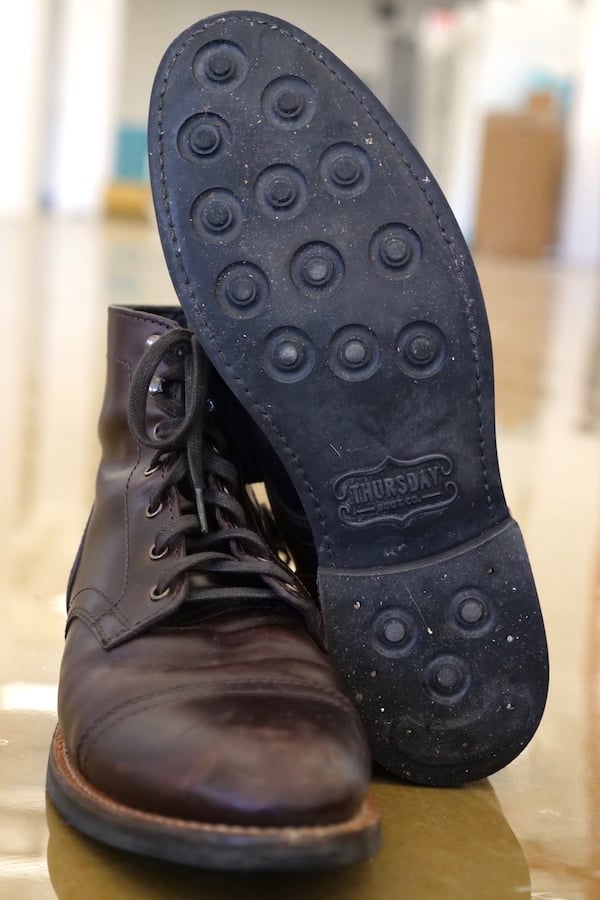 Thursday Boot Company
Rubber sole similar to Dainite
Steel shank
Dura EVA comfort strip
360-degree Goodyear welt
Thursday came up with their own rubber for their sole and it's very similar to Dainite, the beloved sole that's often seen on pricier boots like the Allen Edmonds Higgins Mill and the Taft Dragon.
The Captain's sole, like Dainite, is a great balance of flexibility, durability, shock absorption, fashion, and grip. The grip is a really big bonus here because while it's not the most perfect sole on Earth in wet weather, it's unquestionably more grippy and functional than Wolverine while retaining a slim, classic-looing profile.
After the rubber outsole you've got a cork midsole and a leather insole, kind of like the 1000 Mile, but there are key differences.
The first is that the Captain has an anti-fatigue steel shank, so the arch support and stability are better. It's also got full glove leather lining, so the interior is softer and more forgiving on sensitive skin.
Finally there's Thursday's secret sauce: the Dura EVA Comfort Strip. Used in a lot of athletic shoes, it adds extra bounce, comfort, and shock absorption and it really is one of the coolest things about this boot. It feels a little "sandy" for the first few days but then it molds to your foot and it makes for a boot that's closer to a sneaker than any other I've tried.
[Read the full Thursday Captain Boot review here!]
Fit & Sizing
Wolverine
Runs about a half size large
Widths in D and EEE
Not much of a break in
Not great arch support
The sizes can always change but right now they run from 6 to 14 in D and EEE widths.
On a Brannock device I'm somewhere between an 11.5 and a 12 but in Wolverine I'm a size 11. It's super common for boots to run large: I'm also an 11 in Red Wing, Viberg, Taft, Chippewa, and many others.
There's not much to report as far as break in goes. Unlike Red Wing, I didn't have any difficulty with blisters or abrasions. The main downsides were the crummy grip, the lack of a shank, and the lack of lining. That said, the cork midsole and leather insole did mold to my foot over time, and they've definitely become more "me" as they've aged. For all the failings of a leather sole, its relative softness makes for a pretty comfy boot.
[Read my Red Wing vs. Wolverine comparison here!]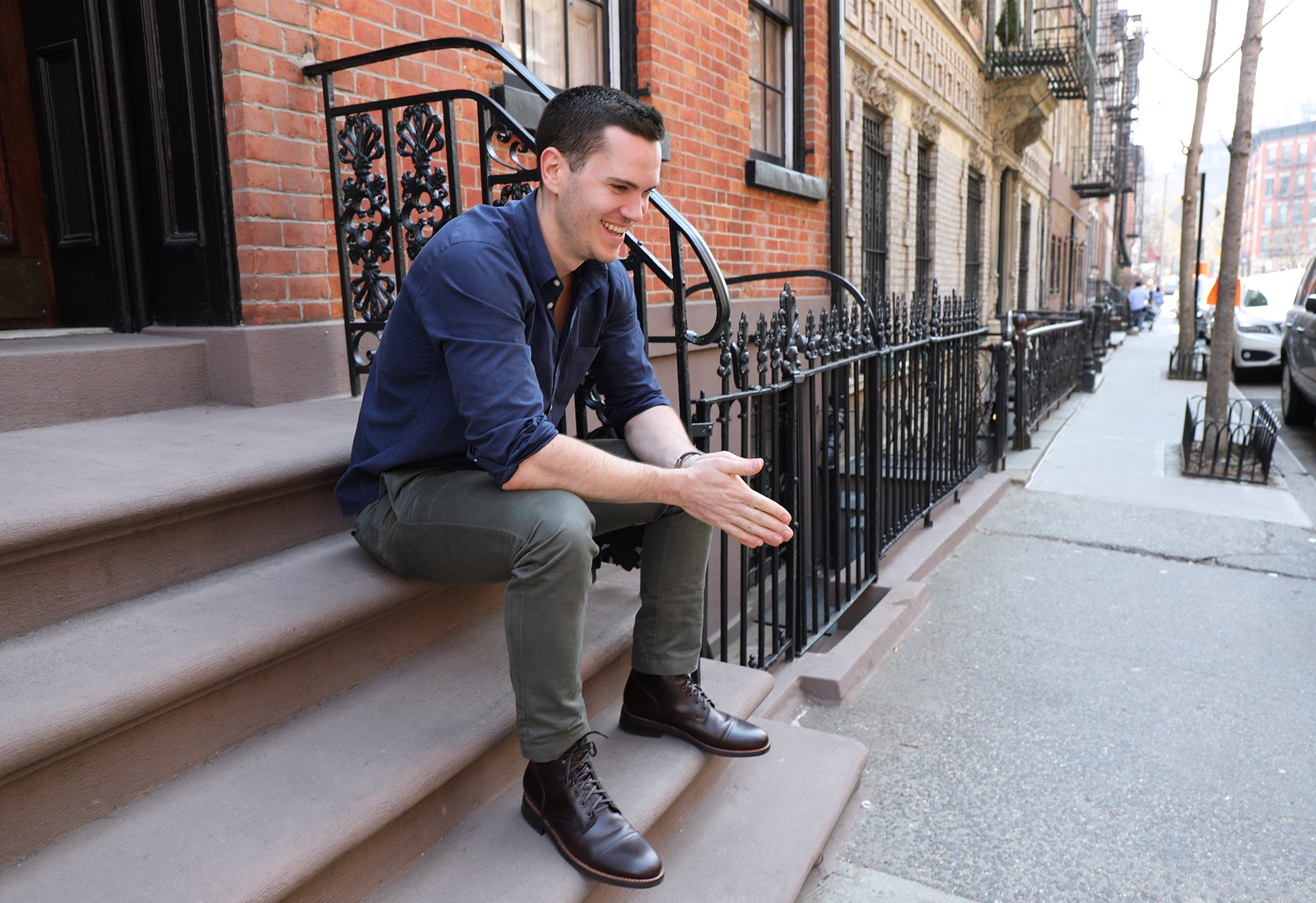 Thursday Boot Company
Runs about a half size large
Widths in "standard" and "wide"
Dura EVA comfort strip has a "sneaker like" feel
Decent arch support
These run from 6 to 15 and are available in "Standard" and "Wide" widths, which are meant to accommodate D/E and EE/EEE feet respectively. So both brands do a good job of catering to folks with wider feet and neither are great for folks with narrow feet, although you can always try sizing down if your feet are on the slimmer side.
Like the 1000 Mile, I ordered a half size down, and both are great with thick socks. The 1000 Mile has no lining so with its buttery soft, full glove leather lining, the Captain came out ahead for comfort, especially when you take the comfort strip into account. As mentioned above, it took a few days for it to get accustomed to my foot but eventually it gave me a shoe with great shock absorption and a nice, slightly springy insole.
Price
Wolverine
On their official site they charge $365, but they cost a lot less on Amazon, where I've seen them sold for $320.
[Get the best price on Amazon here!]
Thursday Boot Company
At just $199 a pair, this is the best value boot I've ever seen. The clear winner in this category goes to the Captain.
[Shop Thursday Boot Company's Captain here!]
Wolverine Vs. Thursday: Who Wins?
When you look at these boots, they're similar but different. They're both partway between a work boot and a dress boot, but in that regard I think Thursday does a better job.
The Wolverine it doesn't pull away from its roots as an outdoorsy workhorse of a shoe. I've worked in a couple of warehouses myself, and I've seen more than a few Wolverines there. The Captain may not be as likely to be worn by linesmen and electricians, but what Thursday has done is made a boot that looks fantastic dressed up or dressed down while managing to gibe it the durability of a chunkier workboot. I'm not saying it's an invulnerable shoe, but I was surprised by how well it aged.
The Captain has a more water resistant welt that's somehow more subtle than the 270-degree welt on the 1000 Mile. The leather is thinner, yes, but it has still aged better. The sole is a million times gripper and more aesthetically pleasing. Finally, while I do like the feeling of Wolverine's leather sole, the Captain's leather lining and EVA comfort strip ultimately make for a more comfy boot.
I have a hard time recommending the 1000 Mile for really outdoorsy work given its iffy grip, but it's true that I'd be more likely to reach for them if I were going camping or doing manual labor. But I simply wear the Captains more often. They're they're more versatile, they slip less, they feel great, and they're over a hundred dollars less expensive.
The following two tabs change content below.
Nick English
By day: Manhattan-based journalist with reporting experience on four continents, published in Vice, Men's Health, Popular Science, and a bunch of other places.By night: ravenous consumer of anything and everything related to high end men's boots.Stridewise is where I nurture a maniacal obsession with footwear and share my findings. Say hey:
[email protected]
Latest posts by Nick English (see all)