Founded in 2014, Thursday Boot Company is one of the newest boot companies on the scene and they've been disruptive, to say the least. It was founded by Connor Wilson and Nolan Walsh who had a dream of making the perfect hybrid boot at a low mark-up.
As the years passed the company exploded in popularity as their hybrid dress/work boots became a fixture on the boot scene. Less clunky than a work boot but tougher than a dress shoe, the name of Thursday's game is versatility and value.
I named their flagship Captain boot as one of my five favorite boots of all time, and since then a ton of people have been asking me to take a look at their line of Vanguard boots, which are completely made in the United States.
I took the chance to also try out their new Rugged and Resilient leather and I really beat the crap out of them. I took these boots on a lengthy trip around Jordan and Lebanon, wearing them in desert hikes, archaeological digs, and dancing at clubs.
Here's how they held up.
[Like what you see? Check out the different leathers available at Thursday Boot Company.]
Thursday Vanguard Boot First Glance
Service booth aesthetic
Silhouette is dress boot/work boot hybrid
Outdoorsy leather
Made in America
The Vanguard is a bit reminiscent of that nice classic World War 2 service boot in the way it looks both refined and rugged. This boot takes Thursday's M.O. of combining the silhouette of a dress boot and a work boot, but it's not quite as slim as the Captain. It's a teeny tiny bit less dressy in that regard, while still looking a million times more sophisticated than your standard, bulbous work boots like Red Wing's Iron Ranger or Wolverine's 1000 Mile. It's much more versatile and easy to dress up than your standard daily beaters.
That said, while this may be different for some of their other leathers they use for the Vanguard, this particular Burnt Copper leather is, well, pretty rugged. I'll discuss this leather more in the next section but in short, it's a leather that's made for adventuring.
[Related: The 10 Best Dress Boots]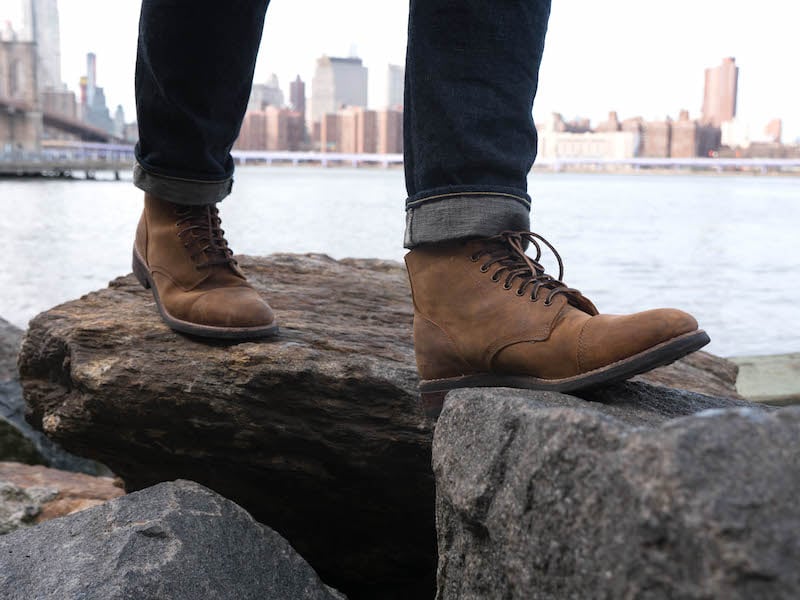 As I wore them in, the leather definitely got some character but this leather really is designed for looking better and better as it gets more worn in. This is a boot that looks like it has stories to tell, which is a quality I think most guys really value and which I think is especially hard to find in shoes you can comfortably pair with khakis and a button down.
From start to finish these shoes are made in America, and it's important to note that while some companies use that label just to say that they shipped in pre-made uppers and pre-made soles from overseas, stitched them together in America, and called it a day, Thursday goes further. The laces are made in the US, the shanks are made in the US, the eyelets are made in the US, even the poron in the sole is made in the US — which means it's slightly different to the poron in the Captains.
In fact, while at first glance, these may look a lot like the Captain, there are several important differences that you should know about that go beyond the surface.
[See my comparison of Thursday Captain vs Wolverine 1000 Mile!]
Thursday Vanguard Boot Leather
Burnt Copper is a "Rugged & Resistant" leather
Vegetable tanned and oil tanned
More "workboot" type leather
1.7mm thick
Once again, this leather is called Burnt Copper it's part of their "Rugged and Resilient" line, a line of leathers that you can also get in the Captain or the President or a few of their other boots. Note that the Vanguard does come in other leathers, most of which are from Chicago's Horween Leather Company.
I've wanted to try this Burnt Copper for a while, because it does have a really distinctive look. When they came out of the box, you could immediately tell that the leather was tough and that it would get prettier as it got uglier.
This is primarily vegetable tanned and it's also oil tanned as well, which might bring to mind Red Wing's leather, since most of their Heritage boots are oil tanned. Thursday told me that the idea with this particular leather is to have a similar look to the kind of matte, oil tanned leathers you see in a lot of American work boots, the sort of leathers you can really beat up and know that it's just going to make the leather look cool, not ruined.
Now, the leather isn't quite as chunky as some work boots like Wolverine, which is about 2 millimeters thick. This is closer to 1.7 millimeters, but that's still a lot thicker than dress shoes — which are often about 1 millimeter thick — and there's not really any difference in that 0.3 millimeters as far as durability goes. Instead the difference is that this marginally thinner leather makes it a bit more versatile, a bit less clunky, a bit easier to blend in in urban environments.
Thursday Vanguard Leather Care
Very little care required
Brush regularly with horsehair brush
Neatsfoot oil could be useful for occasional conditioning
When I brought these back to New York City, they were absolutely covered in sand and dust and grime from my travels, but once again this leather doesn't need babying. After giving it a brush down with a horsehair brush I spoke with a representative at Thursday to see if I should go and get some saddle soap or something to make sure I didn't mess up the leather when I cleaned it. Their suggestion? Just use some water on a rag, don't worry about it too much.
There's a similar approach to conditioning, in fact if you can believe it, I was told that this leather doesn't really need any conditioning at all, which is the same thing you'll hear about some other leathers from Thursday like their Terracotta leather. This Burnt Copper is indeed imbued with oil, and oil tanned leather just doesn't need as much conditioning as something dressier like Chromexcel. It's quite moist and quite resilient to drying out as it is. In fact, the wording Thursday used with me was "that's the point of the leather," that you don't need to worry that much about it.
If you do worry about it, or if you feel the leather getting dry, or if the boots are like a year or two old and you just think it's time? Since this is oil tanned leather I think some neatsfoot oil would work just fine for moisturizing the leather, especially because it doesn't get really deep into the pores. This makes it a good option if you don't want to darken the leather and you really want to get a nice visible patina as it ages.
If you're not bothered by darkening, you can always use some mink oil, or maybe Saphir's Renovateur if you want to go a waxier route.
[See my comparison of mink oil and neatsfoot oil here!]
Thursday Vanguard Sole
Outsole similar to Dianite
Slim profile
Cork midsole
Poron insole
This sole looks like Dainite, which is a pretty fancy rubber used in pretty expensive boots, but this is Thursday's own rubber sole.
Dainite is really popular because it's a really good balance of durability, grip, flexibility, and aesthetics, and I think Thursday's rubber really performs about as well. Some say it takes a tad longer to break, in but I didn't notice much of a difference and it also maintains a slim look when viewed from the side.
After the rubber outsole there's a cork midsole and a poron insole. Poron is an air-permeable material often used in sneaker brands, and it's also anti microbial, which means it can help with foot stink. As I mentioned, this poron comes from America and it's a tiny bit less bouncy than the poron you get in Thursday's classic Captain boot, plus the Vanguard does not have the sneaker-like EVA comfort strip that the Captain and many of Thursday's other boots are known for.
So what does that mean for the comfort?
Thursday Vanguard Fit & Comfort
Slimmer last than Captain
Leather a little stiff at last
No EVA comfort strip
Feels more like a traditional workboot
Fully leather lined
The most important thing to note here is that with most Thursday boots you're advised to go down a half size from your true size. So I'm about an 11.75 on a Brannock device, I'm a size 12 in most sneakers, and when a boot fits true to size I'm always an 11.5. My Captain boots are a size 11 so I went with an 11 in the Vanguards.
The thing is that Vanguards are made on a different last, which is a bit slimmer than the Captains. While I love wearing these boots with thin socks, I would have preferred to go true to size.
That said, Thursday is constantly updating and upgrading their boots and their last may change. Honestly, it's something that's a bit frustrating as a reviewer. For now, the last is a bit narrow and I'd go true to size.
This rugged leather is also stiffer than the Thursday Chrome I got my Captains in. That's not to say I had a nightmarish break in, but it did take a few days to soften up. But I wouldn't expect much less from a leather this tough.
Another thing is that this shoe doesn't have that sneaker like, EVA comfort strip you get in the Captain. That doesn't make it uncomfortable, it just feels more like a traditional boot in that regard. That said, it does still have poron so it's certainly better at softness and shock absorption than a lot of its competitors, especially the Iron Ranger and Chippewa's Service Boot, which feel like you're walking on hardwood.
Thursday Vanguard Price
A pair of these will set you back $265.
That's pretty darn cheap for Goodyear welted, American made footwear of this quality. Yes, they're a little pricier than the $199 Captains and Presidents, and to be clear, I don't think those boots are inferior to the Vanguard. I don't feel that a shoe is necessarily bad quality just because it's made overseas and the Captain is a good example of that. (See also Grant Stone's Diesel Boot.)
But if your priority is keeping money in the U.S., then the Vanguard has got you covered. Yes, it's a tad pricier but this is still much less than I would expect to pay for a boot like this. They're tough as nails, they didn't take any damage while I've been wearing them in and I really wore them hard, they're comfortable, they've got a steel shank, they're leather lined, and they're versatile. I wouldn't be at all surprised if someone handed these boots to me and told me they cost a hundred dollars more.
The Takeaway
Pros
Tough leather and construction
Leather doesn't really need any care
Versatile
Anti microbial poron insole
Sole has a great mixture of function and fashion
Free returns
Inexpensive
Cons
No wider sizes available
Last is a little narrow
Burnt Copper isn't super dressy
Pricier than other Thursday Boots
No EVA strip
They're also direct to consumer, so unless you're in New York City and can visit their store or their showroom, you just have to order a pair online and hope they fit. I can see that being a downside, but they offer free returns so it's not a huge gamble.
I like these boots a lot. They're tough enough to beat around but they fit really well into urban environments. The Rugged and Resilient leather isn't as versatile as the glossier Thursday Chrome, but it really confers an air of adventure that I think a lot of guys will like, especially since it requires practically no care. These are boots for guys that just want to be able to beat up their shoes, wear them out on the town, and not agonize about whether or not they've conditioned them this week.
With the right outfits, this boot can go far.
The following two tabs change content below.
Nick English
By day: Manhattan-based journalist with reporting experience on four continents, published in Vice, Men's Health, Popular Science, and a bunch of other places.By night: ravenous consumer of anything and everything related to high end men's boots.Stridewise is where I nurture a maniacal obsession with footwear and share my findings. Say hey:
[email protected]
Latest posts by Nick English (see all)