I thought I'd seen it all when it comes to moc toes, but hiding in plain sight all this time was Thursday Boot Company's Diplomat. The Diplomat is unlike any other moc toe I've ever seen, sleeker than any other I've encountered yet just as rugged and durable as its contemporaries. It's Thursday Boot Company's oldest boot, tied with the Captain and the President, which were all launched simultaneously off the back of their successful 2014 Kickstarter campaign — and I'm finally getting around to checking it out.
We'll start with the aesthetics because this is an unusual boot. Then we'll talk about the Burnt Copper leather, leather care tips, the sole construction, fit, and price.
Thursday Diplomat Overview
Who should buy the Thursday Diplomat
Folks who don't want to spend an arm and a leg; this is the best value moc
People who want a moc toe that dresses up more easily than most
Anyone who finds most moc toes too chunky; the Diplomat is unusually sleek
Guys who prioritize solid arch support
Who shouldn't buy the Thursday Diplomat
Men who like more traditional, blocky moc toes
Those who prefer traditional construction without modern materials like Poron
Anyone who dislikes leather lining
[The Best Value Moc Toe – Diplomat: The 7 Best Moc Toe Boots On The Market 2022 | Best Value, Toughest, Best for Work, and More]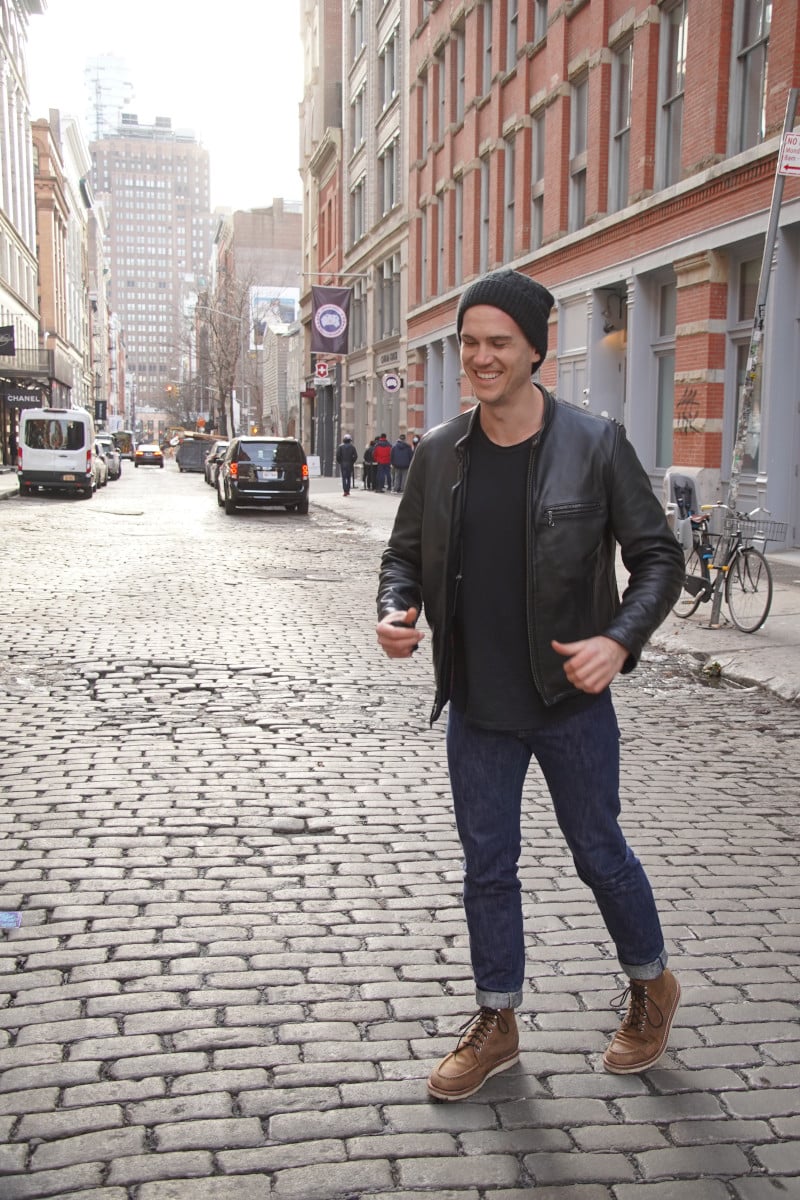 Thursday Diplomat Aesthetics
Unusually sleek, modern design
6 inches tall
White Vibram wedge sole
The moc toe, or moccasin-style boot, is a staple of absolutely any boot company. The design is modeled after the centuries-old style of footwear worn by native Americans. I've worn all the classics like the Danner Bull Run, Thorogood Heritage, and my very first pair of Goodyear welted boots, my Red Wing 8890s.
What all those boots have in common is not just the moc style toe but a wide, rectangular kind of toe box, like this: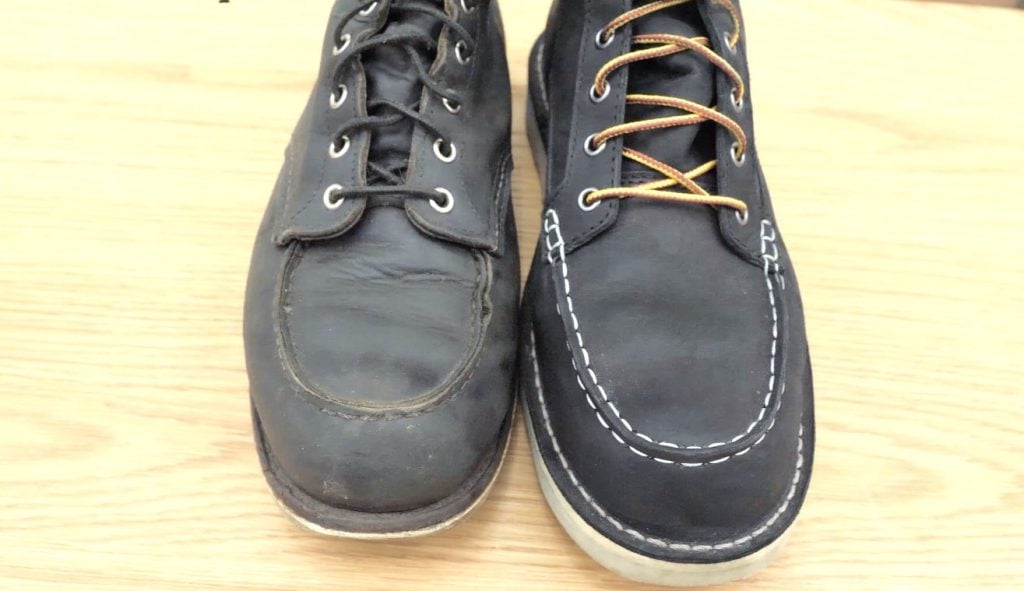 I'd be lying if I said I haven't seen a lot of people liken these to clown shoes because of the bulbous, roomy, and round toe box, but the Diplomat is a different creature. What stood out right away with the Diplomat is the fact that it isn't wide and bulky. It takes a page from the work boot/dress boot hybrid look of Thursday's popular plain toe boots with a modern, low profile design that looks ideal with form fitting pants, be they jeans or khakis. (Guys who wear baggy, bulky jeans need not apply, I guess.)
There are some guys who like the idea of moc toes as a casual, comfortable boot option, but they dislike how hard they are to dress up or they don't like the voluminous profile under their fitted jeans. The Diplomat is a great change of pace, though, and stands out as a shockingly versatile piece of footwear.

Thursday Diplomat Leather
5+ leathers available
This "Burnt Copper" color is a rugged oil tanned leather
Easy to care for
The Burnt Copper isn't one of Thursday's standard leathers, it's part of their Rugged and Resilient line, a kind of leather is designed to be really hardy and durable. In many cases, the newer Rugged and Resilient leathers have outpaced the traditional leathers in popularity — the Arizona Adobe has supplanted Thursday Chrome as the most popular Captain color, for instance — and this is because it's easier to care for.
To increase the durability it's oil tanned, meaning it's infused with lots of oils during the production process and it makes an unusually water- and weather-resistant. If you scratch the leather with your nail and rub it, the scratch disappears because of all the oil moving around the surface.
I don't see many companies doing oil-tanned leather (besides Red Wing) but it's all they're currently offering for the Diplomat; none of the "original" leathers are sold for this boot, which makes sense given the moc toe style is more outdoorsy and hard to dress up.
[Learn more: How to Care for Thursday's Rugged and Resilient Leather]
Thursday Diplomat Sole
Vibram Cristy wedge sole
Vegetable tanned leather midsole
Steel shank (unusual for a moc toe)
EVA foam and Poron insole
The outsole is a classic 4014 Christy Wedge sole by Vibram, which is the industry standard for moc toe. It's called a wedge sole because it's flat instead of having a heel; traditionally, that was so it was harder to trip on stuff when you're working in your boots.
Thursday added a full-grain, vegetable tanned leather midsole, which is very rare for boots at this price point. Another unusual addition is a steel shank, which many companies (like Red Wing, again) don't add to their moc toes. This would be because many value shanks to keep a boot's heel from collapsing, so they don't add shanks on boots with wedge soles. But shanks can help with stability and arch support as well; and these boots have better arch support than any moc toe I've encountered. My buddy Weston at Rose Anvil measured it and found the heel and arch are about 15% higher than the Red Wing and Thorogood moc toes.
The sole also has a layer of cork filling, which helps shock absorption and molds to your foot, and there's a layer of antimicrobial foam to further help with shock absorption and make e boots more "sneaker like" than your average heritage boot.
[Related: Red Wing vs Thursday – Comparing Their Best Boots]
Thursday Diplomat Fit & Comfort
Size down from your closest true size
Terrific arch support
Sneaker-like shock absorption
No wide sizes
There are no wide widths like you get on some other Thursday boots, but Thursday's standard fit is meant to be usable by D and E widths — it is wider on the inside than you'd think.
As mentioned earlier, there's tremendous arch support, especially for a wedge sole, plus it's also got extraordinarily high levels of shock absorption from the combination of a Poron foam insole and the rubber wedge outsole.
The very soft leather lining adds another layer of comfort and the leather upper is comfy too: Thursday boot's leather is about 1.8 mm thick, which means it's not thinner than boots that'll give you a rough break in but not so thin as to negatively impact durability. These are comfortable out of the box because there's not a ton of leather that needs to conform to the shape of your foot.
[Related: The 9 Best Leathers for Boots]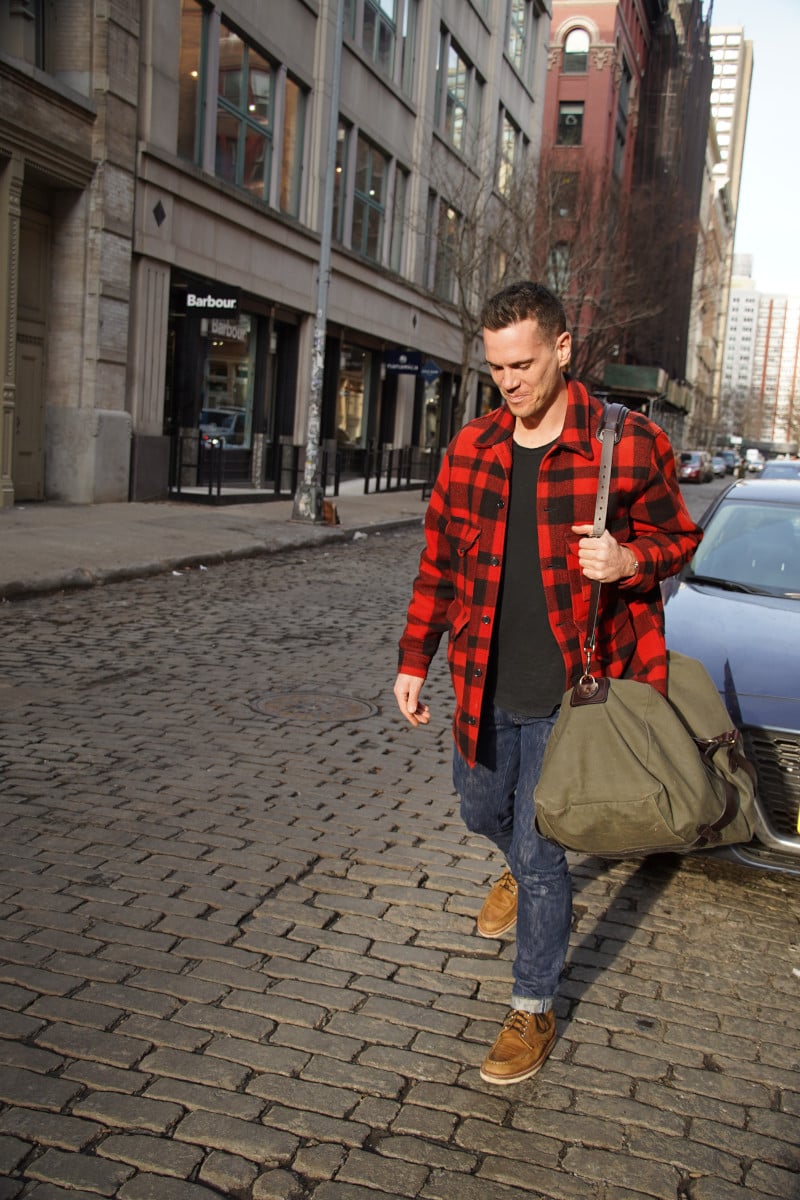 Thursday Diplomat Price
It's a bit hard to talk about Thursday's price without sounding like you're exaggerating because the price, well, is really crazy: it's $199. I've put them at the top of my list of the best boots for under $200, but these can go toe to toe with boots that cost well over $300. This is because of the direct to consumer model that Thursday uses, which lets them save money on production because they don't need to rent brick and mortar stores across the country.
Thursday Diplomt Pros & Cons
Pros
Great value
Very versatile mo
Solid arch support
Comfort, little break-in
Durable, easy to care for leather
There are two especially unusual things about this boot: the first is the value and the second is the more modern, streamlined take on the moc toe. Those two things make the Diplomat really stand out in the world of moc toes.
The other aspects that I love are the surprisingly solid arch support, great shock absorption, lack of break-in, the soft leather lining, and the fact that the leather itself is very low maintenance. It's a good leather for guys who don't want to think too much about taking care of their leather.
Cons
Some prefer unlined boots
Some prefer classic, bulky moc toes
Some prefer traditional construction instead of foam insoles
It's true that leather lining makes a boot a little less breathable, which some prioritize. I spent a long time not knowing why anyone would dislike leather lined boots, but I've since learned there are valid reasons you might have.
Some guys don't like the foam on the insole, they prefer to walk on nothing but cork and leather, which I get. If you're someone who likes boots because they're just like the boots your grandpa wore, or like what coal miners used to wear 100 years ago, you might not appreciate the "sneakery" feeling of these boots.
Wrapping Up
Overall, these are really amazing boots. When I first got into the heritage boot scene, we didn't have anything like this at this price point. You either went with cheap, cemented boots, or you paid nearly 300 bucks for a pair of Red Wing's classic moc toes as your entry-level boot.
Thursday really found that sweet spot between comfort, durability, and affordability that both impresses veterans of the industry and inspires a lot of guys to buy their first pair of high quality boots. I'm really glad they're on the market.