Wolf and Shepherd is an extremely unusual footwear company that was founded in 2014 Justin Schneider, a former track and field athlete at Notre Dame. After finishing his studies, he went on to design running shoes for Adidas and a few other companies and, long story short, he got sick of wearing uncomfortable dress shoes every day and sought to create the fabled dress shoe/running shoe hybrid.
Thus begat Wolf & Shepherd. The first prototype that Schneider came up with was created by gluing a foam heel from his sneakers onto an old pair of dress shoes, but today his products have extraordinarily sophisticated, six-layered soles that aim to replicate the performance of a running shoe. To demonstrate their success, they even went so far as to get a young man called Juris Silenieks to set a world record for the fastest half marathon — in dress shoes — at the 2016 Hotlanta Half Marathon. (He ran 1:17:05.)
He wore their Honey Captoe dress shoes but I grabbed their most popular boot, the Chelsea Blitz, to see what happens when foot meets pavement. But before I really dive into the Sole and Fit & Comfort sections, let's see how this holds up as a Chelsea boot — let's dive into the aesthetic qualities.
[SHOP THE WOLF & SHEPHERD CHELSEA BLITZ IN 4 LEATHERS HERE]
Wolf & Shepherd First Glance
Italian calfskin upper
Burnished toe and counter
Very lightweight
High shaft
Slim silhouette
For a quick summary of the looks, I'll say this: it's a pretty darn nice looking Chelsea boot, with the most unusual qualities being its relatively tall shaft and the slightly wider fit around the ball of the foot. (More on that later.)
True to its description as a dress boot, the upper is made from full grain calfskin, as opposed to cowhide which is more commonly used in more outdoorsy footwear. It's combination tanned for some nice depth of color. It's also burnished on the toe and the counter, which I normally don't love — I just have trouble figuring out if it makes a shoe more or less versatile, but that's just me — but when I see it on a Chelsea boot I don't mind it so much, I think Chelseas are more forgiving in this area.
[Related: The 10 Best Dress Boots]
Unlike the R.M. Williams Comfort Craftsman, which is my favorite Chelsea boot of all time, this isn't made from whole cut leather. Rather, it's made from four pieces of leather stitched together, but it's fully lined with sheepskin so that the stitching doesn't run the risk of irritating more sensitive feet.
As for the outsole, I confess I was expecting something that looked like a running shoe — maybe a soft, vaguely Commando-y rubber sole like you'd see on the Taft Jack boot — but it's actually a pretty standard looking flat rubber and leather sole.
It's important to note that it's not Goodyear welted; this is a combination of a Blake stitch and a cemented sole, so you don't have any external stitches connecting the upper to the sole.
[Don't miss my review of the best Chelsea on Earth, the R.M. Williams Comfort Craftsman!]
Wolf & Shepherd Leather
Full grain calfskin
Same tanneries as Louis Vuitton
Made in Portugal
Combination tanned
As mentioned above, calfskin makes sense for a boot that's trying to be more dressy than rugged. It's a leather that you see a lot in dressier shoes because it appears more delicate and it wrinkles more finely, so they look a bit less beat up as they age. I should emphasize the "appears more delicate" here because I understand that calfskin actually has more tensile strength than cowhide because the fibers are closer together.
This is full grain leather, so it's cut from the top layer of the animal's hide, and it uses a combination of vegetable and chrome tanning, so the leather is a little like Horween's Chromexcel in that it has a rich depth of color, a decent shine, and should develop a nice patina as it ages. (There's more to Chromexcel than just combination tannage, but I'm simplifying things here.) As I've worn in the boots they have accrued some fine creases along the toe break, but that's nothing I didn't expect and I don't find it unattractive.
They're made in Portugal from Italian leather that's made from Italian calves. (Worth pointing out because plenty of tanneries, like Le Farc in Mexico, import their hides.) Wolf & Shepherd emphasize in their very well put together website that they use the same tanneries as Louis Vuitton, showing they're really putting effort into not just making a great sole with a decent upper — they want uppers that are world class.
Did they succeed? I'll put it this way: if these were regular boots, I'd find the price to be just a little high for the leather quality. But since more of the cost is going toward the unique sole, I think the price of the boot is fair.
[Learn more in my interview with Horween Leather Company about different leather grades!]
Wolf & Shepherd Leather Care
Saphir products are best
Cream polish for conditioning
Wax for weatherproofing
Renovateur for both
Advised to wax before first wear
In the company's words, "Saphir is the best brand for full grain leather." That's their opinion, but Saphir is certainly one of the most beloved and highly regarded leather care brand on Earth and unlike their big competitor Venetian Shoe Cream, their products are "all natural" and don't contain any petroleum — so you get to avoid the gas station smell when you condition your boots.
Which product is best? They told me they like Saphir's Cream Shoe Polish for conditioning, but if you want something a tad more heavy duty you can go with Saphir's Renovateur.
One thing that's important to note is that you're supposed to apply one of these products before you wear them in order to protect the skin before its first wear. I'm going to call that a con: if I'm spending this much on shoes, they should be ready to wear out of the box. I get that boots will sit in warehouses for a long time before being shipped out but a lot of other high end boot brands are able to deliver boots that are ready to go as soon as you buy them, and customers — in my opinion — should expect nothing less.
Indeed, I got a few droplet marks on the leather from wearing them around Manhattan before waxing them and while they did eventually disappear, I'm still a tad salty that I'm meant to buy products before I wear these.
Wolf & Shepherd Sole
Leather and rubber outsole
Carbon fiber shank
Lightweight Swiss insole
Memory foam
Sheepskin lining
Both cemented and Black stitched
Shock absorbing EVA
The main attraction!
Right now, all of Wolf & Shepherd's shoes have the same fancy sole and as I mentioned earlier, the outsole is pretty run of the mill: flat rubber with a little leather on the heel. This is an important point. It looks like a regular outsole and it sounds like one too: you can knock it against a wooden floor and it bangs. It's as hard as any other standard boot outsole, something that was surprising given all the marketing.
Once you get past the outsole, though, things start to change. There's HD EVA in the heel, a kind of shock absorbing foam that's common in running shoes as well as some competing boot companies, like Thursday Boot Company.
Then there's a lightweight Swiss insole, a carbon fiber shank for arch support, some proprietary memory foam for squishiness, and the sheepskin lining. With that many layers you'd think the sole wouldn't be that flexible, but as you can see at the 6:35 mark in the video above, this is the most flexible sole I've ever seen on a boot. That's definitely a big plus for comfort.
The upper and the sole are attached with a mysterious combination of cementing and Blake stitch, and a big part of Wolf & Shepherd's marketing is that you can have a nice cemented shoe. Cementing is traditionally used in sneakers when the upper is just glued to the sole. This process is quite a bit more complicated than that, but the boot retains a downside of cemented soles: it can't be resoled by a regular cobbler. The good news is that Wolf & Shepherd can resole it, so the uppers can last through many soles — they're just the only people who can resole it, which might makes that process a bit more frustrating.
[Unsure as to which is the best sole for your boots? Read my comparison of Goodyear vs Blake vs Cemented construction.]
Wolf & Shepherd Comfort, Fit & Sizing
Fits true to size
Tight around the toes
Very lightweight
Squishy insole
Great shock absorption
At the moment these shoes run from sizes 7 to 15 and they recommend sizing up, which is unusual. Most of my boots need to go down half a size, but I filled out a questionnaire on Wolf & Shepherd's site and it recommended I go with a size 12D. (My true to size is 11.5D) They came in the mail and they were too big, so I had to send them back and go with my standard 11.5D. Annoying.
They fit fine, but perhaps the most common complaint I hear about these boots is that the fit is weird: they're tight in the toes. I hear a lot of complaints about that and I was ready to tear them apart for it, but I make sure that I wear my boots in before I review them and after a week the leather stretched a bit and the fit was decent. But it is an unusual fit and a lot of people find it bothersome.
What about the comfort? What's it like to run around in these boots? This is the million dollar question. I'll say this, and it's something that surprised me: yes, it has all these sneaker-like layers in the sole. But the outsole is still like rubber and leather like a regular boot. So no, it doesn't feel like you're walking around in running shoes, it feels more like you're wearing half a running shoe.
That's still a really nice feeling, though! The shoe is crazy lightweight, has fantastic shock absorption, decent arch support, and I find they're easier to wear for long periods of time than most boots. If you get sore feet easily, you'll be happy with these shoes.
I won't guarantee you'll like them though — and neither does Wolf & Shepherd, as they don't offer a satisfaction guarantee. If you wear these for a week and decide they're not for you, you're stuck with them, and while this isn't all that unusual for a footwear company it's worth pointing out that they do feel very different to regular boots and not everyone will love them. The inside is squishy, to the point that it feels a tad like walking around on partially deflated balloons. I liked it myself, but there's a chance it'll bother you.
But for my money, the comfort was outstanding. Just don't expect them to feel exactly like sneakers.
[Related: My list of The Best Boots]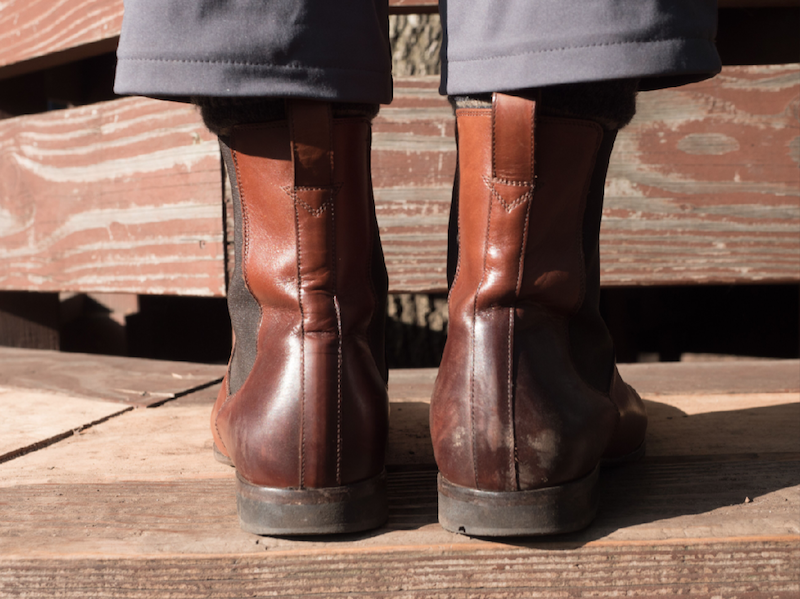 Wolf & Shepherd Price
Most of their shoes go for somewhere between $415 and $445. I paid $425 — so they are not messing around when it comes to cost.
Given the quality of the leather and how inventive and fun the sole is, I think the price is pretty fair. It's not great. I would have preferred something like $395, but then again, when don't you wish a pair of shoes was slightly cheaper?
[SHOP THE WOLF & SHEPHERD CHELSEA BLITZ IN 4 LEATHERS HERE]
The Verdict
Wolf & Shepherd Pros
Nice leather
Lightweight
Look just like regular boots
Great shock absorption
Very flexible
Easy to wear all day
Wolf & Shepherd Cons
Kinda pricy
Hard to resole
No other widths available
Fits tight around the toes
More like wearing half a running shoe than an actual running shoe
While I was a tad disappointed by my final "con" there, I still like these shoes. They're unique, lightweight, comfy, and flexible. I wouldn't recommend actually working out in them — I honestly think the marketing exaggerated their claims just a bit — but if you're going to be wearing dress boots anyway, I think these have more pros than cons.
The following two tabs change content below.
Nick English
By day: Manhattan-based journalist with reporting experience on four continents, published in Vice, Men's Health, Popular Science, and a bunch of other places.By night: ravenous consumer of anything and everything related to high end men's boots.Stridewise is where I nurture a maniacal obsession with footwear and share my findings. Say hey:
[email protected]
.
Latest posts by Nick English (see all)