WP Standard is a very cool leather goods company you might know better as Whipping Post, which they used to do business under. Back in those days they also sold waxed jackets and parkas, but they've since pared down their offerings. Their product line now specializes in leather: totes, duffles, the rare leather backpack, dopp kits, laptop sleeves, and their star player: this vintage messenger bag.
I've been using the bag for a while now — enjoy an exciting date night story with it below — so it's broken in but hasn't yet picked up the nice soft hand-feel and patina you'd get after a year or two of use. Still, there's time; this is a brand that's all about the stories and meaning leather picks up as the years and decades pass.
Here's what we're discussing below in this review of WP Standard's exquisite and very simple bag.

[Shop the WP Standard Messenger bag in 3 colors here]
Who Should Buy WP Standard Messenger Bag?
Anyone looking for a great leather. The leather is very nice, thick, and made with single panels wherever possible. It'll age beautifully.
Fans of minimalism. This is an extremely simple, understated, masculine bag. No jangling harness rings in sight.
Guys with big laptops. This happily holds my 16-inch laptop.
Travelers. It easily fits onto rolling luggage.
Professionals. This works well with dressy business outfits or with casual ones.
Who Shouldn't Buy WP Standard Messenger Bag?
Those interested in more "feature rich bags" with tons of bells and whistles. There are no internal pockets on this bag; it's very simple.
Guys who prefer larger, roomier bags that you can use for overnights. It's hard to even fit a laptop, lunch, and gym clothes in this 14-liter bag.
Anyone who requires a carry handle. A consequence of the minimalism is there's no handle up top.
Guys under 5'5″. I'm 6 feet tall, had the bag on the shortest setting, and still found it hung pretty low. Shorter guys won't love that, especially as there's no handle to use as an alternative.
WP Standard Messenger Bag Leather
2-2.2mm thick
Sourced from Panamericana Tannery, Mexico
Chrome tanned with veg retannage
WP Standard has a solid reputation and glowing reviews, but there's zero information on their website about where or how their leather or their bags are produced; they just describe it as "full grain leather." It's surprising for a product like this, which presumably targets people who want to learn about their product's origins, but I got in touch with the company's founder and learned a lot more.
[Read More: The Best Leather Backpacks For Men]
First, it's made in Mexico. The leather is 5 to 6 ounces (so about 2.1 millimeters thick) and it comes from Panamericana Tannery in León, Mexico. If you know a thing or two about leather, you probably know León is Mexico's leather capital, home to over a thousand tanneries including Lefarc, one of the most famous in the Americas. But Panamericana makes legit leather as well, and all the ones used by WP Standard are chrome tanned with vegetable finish.
Ryan at WP Standard told me it's made,
basically starting with a chrome tan, so it retains some of the flexibility and softness of chrome while they further tan it, mostly with mimosa from sustainable sources (Argentina), and Quebracho. This adds a little pigment, and then the hide is drum dyed to give it a nice base color.
He's right that while many guys sing the praises of vegetable tanned leather, chrome tanned is softer, more flexible, and easier to dye.
[Related: Chrome vs Vegetable Tanned Leather]
The tan color is the most popular, but it also comes in brown and black (above). Note that this leather has a fair amount of pull up to it, meaning that it has something of a two tone appearance because of all the oils and waxes that the leather's been imbued with. When it folds, the leather temporarily becomes lighter because of the oils moving around within it. To make the leather age as well as possible, the company recommends applying Chamberlain's Leather Milk every year to rejuvenate its appearance.

WP Standard Messenger Bag Features
14L storage
Minimalist design
Fits 16-inch laptop
Antique brass hardware
Attaches to rolling luggage
This bag weighs 3.2 pounds and is 18.5'' wide, 11.5'' high and 4'' deep, so that's roughly 14 liters of carry space.
There's not a ton to talk about with the features as it is an extremely plain bag, which, of course, is what draws a lot of guys to it. There are a couple of drawbacks to the minimalism, though: there are just two holes on the stud closure, meaning if the bag is full and bulging in any way, you just won't be able to get it closed. I had more issues trying to close this bag during my weeks of using it than I have with any other bags I own — but of course, this won't be an issue if you just don't overfill your bag.
The hardware is all antique brass, which includes not only the stud closures but also the cinches, rivets, and the buckle on the thick, high quality shoulder strap.
The interior is unlined, covered in the nappy, roughout underside of the leather. There are no internal pockets, only a keychain and a slightly padded laptop sleeve that fits my 16-inch laptop.
Lastly, the back of the bag has a couple of things worth noting: a big sleeve you can stuff magazines into, WP Standard's "+" logo stitched in the middle, and a strip of leather that allows you to attach the bag to the top of a rolltop suitcase. That's good news, as many bags are lacking this feature, however there's something of a question as to whether or not there's a handle on this bag.
You can hold the strip of leather as I'm doing in the picture below and carry it like that, but it doesn't feel great in the hand and the bag hangs at an odd, diagonal angle when you're doing it. So you can use it as a handle in a pinch, but I'd say this bag doesn't come with a carry handle. That might be good or bad news to you, since it does give it a very minimalist profile, but… y'know, makes it harder to carry.
[Related: Is Filson's $1000 Leather Briefcase Worth It?]

WP Standard Messenger Bag Price
The price is $339, which is pretty fair. If it were under $300 I'd make a big deal of it, if it were over $400 I'd say this is more than I'd expect, but $339 is a decent price for such high quality leather and such a nice design.

Pros
Great leather
Minimalist design
Laptop sleeve
Attaches to rolling luggage
Decent price
Cons
No carry handle
Not vegetable tanned leather
No internal pockets (besides laptop sleeve)
Slim; doesn't hold a ton of stuff
Let's wrap this up with pros and cons of the WP Standard Messenger Bag.
The pros: the leather's great. It's the star of the bag, and especially with a bag as simple as this, it deserves to be put front and center. It's great leather and it'll age beautifully. Here's an old one for you to look at:
The design is really nice and minimalist as well. Not many guys want a loud, complicated leather bag — if you're a going to wear one, you typically want it to be as masculine and understated and simple as it can be. Y'know, so that no one makes fun of you for carrying a purse. This is a terrific bag for that purpose: it's simple, cool, and manly, plus it dresses up and down easily.
Other upsides: the price is fair, the laptop sleeve is handy and secured with a stud, it comes with a key chain, attaches to rolling luggage, and the clip for the shoulder strap swivels so that it keeps the strap from tangling when you're on the go.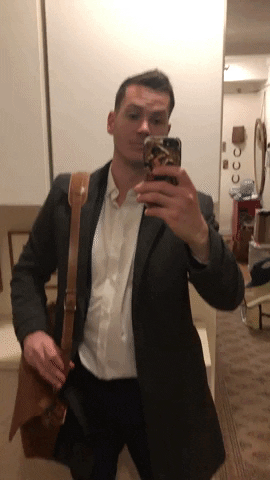 There are some downsides, though. Let's say you were on a date (above), wearing a suit (above), and you weren't sure if you were going back to her place to watch a movie or not so you packed sweatpants, a long sleeve tee, and a toiletries bag. I could barely close this bag just with that much packed into it. Another time, I borrowed some dirty size 9 Timberland boots from a friend, and I couldn't close the bag at all.
So it's a slim bag, is my point. The base is just 4 inches wide. There's nothing wrong with that, and it's a damn sleek look, just remember it's not an overnighter and it won't shut if it's extra full because there are only two holes on the closure system.
But look, I think it's a great buy for daily carry. If you're just carrying your laptop and a few other essentials around town it's a beautiful, sleek, minimalist bag that'll age well and is well priced to boot.
The following two tabs change content below.
Nick English
By day: Manhattan-based journalist with reporting experience on four continents, published in Vice, Men's Health, Popular Science, and a bunch of other places.By night: ravenous consumer of anything and everything related to high end men's boots.Stridewise is where I nurture a maniacal obsession with footwear and share my findings. Say hey:
[email protected]
.
Latest posts by Nick English (see all)