The idea of purchasing a new leather backpack should be exciting and joyful; but no matter how you look at it; it can also be a daunting task. Where do you even start nowadays? Your mind probably wanders back to the days of carrying your first backpack when you were a kid heading off to school sporting that brand-new LL Bean bag with your initials monogrammed on the exterior, or maybe that Jansport that everyone in the country had at some point.
But a great leather backpack is in a league of its own. It's a conversation starter and a piece that will turn heads all while being one of the first things you pick up every morning to tackle the day. Buying one is a sign of progress and growth, so let's dive into how to pick out the perfect one for you!
This list will touch on seven categories to help you make a better decision.
[Related: The 5 Best Leather Backpacks for Men]
The Best Leather for a Backpack

At first glance, you may not be able to tell the difference between the kind of leather used in creating the backpack. You will come across phrases like "full grain," "top grain," "genuine," or "bonded." To some this may mean nothing, but without looking into what each of these mean would be equivalent to showing up to a test without a writing utensil. Research, research, research!
Before reading any further, take a look at Nick's article "Leather Myth Busting" for a quick dive into marketing ploys that some companies will use, as well as internet jargon surrounding this topic.
Full Grain Leather
The outermost layer of the hide that is highly sought after. When looking at it closely you can actually see tiny dots (follicles) from where the animal's hair was. This leather may have imperfections due to the animal living its life. Full Grain Leather is regarded the best quality leather and will retain some water-resistant qualities.
Top Grain Leather
Very similar to full grain leather, but oftentimes it is sanded to remove blemishes and marks. By doing this, the leather will lose just a little bit of stiffness and strength. This makes it great for tote bags and bags with less structure. Note that a lot of leathers that call themselves full grain are actually "corrected" like this, including perhaps the most popular boot leather, Chromexcel.
Genuine Leather
The most confusing of the group! Simply put, it is a form of leather that is corrected to give it a more uniform and desired look. Like top grain leather, the process in doing this takes away some of the preferred properties that full grain leather brings.
Bonded Leather
The name says it all. It's made from the scraps that are put aside during the tanning process that are then glued together and finished with latex and paint. It's not good quality, often taking away everything that is beautiful about leather.
If you are looking for a bag that is going to withstand the test of time then it's hard to recommend anything outside of one the first two leather options mentioned above. The debate really comes down to what your desired pricepoint is while factoring in how often you want to think about buying a new backpack because it breaks down.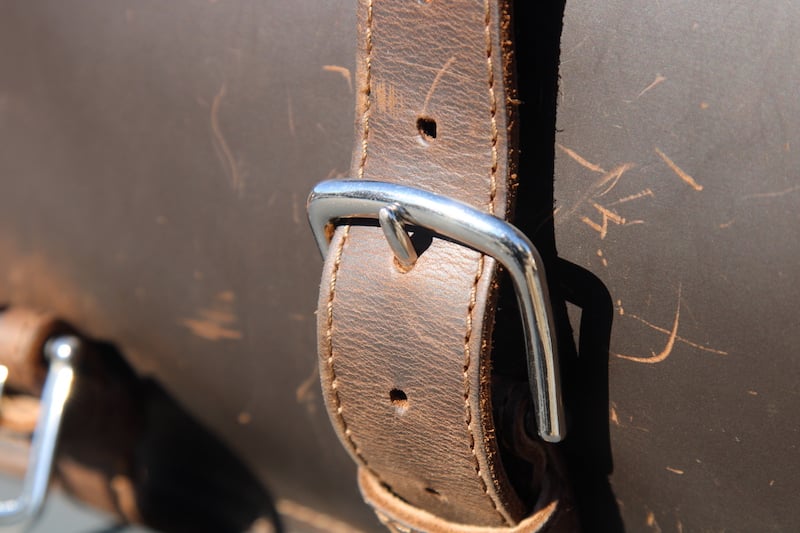 Leather Backpack Hardware

Zippers or buckles? Rivets or snaps? The hardware used on leather bags plays a big part in not only the aesthetic, but also the functionality and durability of the bag. Zippers jam, get stuck and poorly installed zippers can cause the bag to rip and allow moisture to set in around it.
To most, the hardware used on a bag is viewed as an added differentiator, but when selecting a leather backpack you should look beyond that.
Ask yourself: why is that riveted there? Why did they reinforce the handle? If you're spending the money on a leather backpack, ask these questions and learn about your product. Become intimately familiar with it.
Hardware can be as important as the leather used to create the body of the bag, and it can be overlooked. Shiny and beautiful is nice, but durability and protection is just as important when thinking about something that is going to be tasked with protecting your valuables.
If that means zippers, look for ones from YKK; known for years to be long last lasting and of the highest quality.
If that means buckles, look for ones that are created from solid brass and/or materials that are going to only get stronger with time and not decompose.
Look for rivets at stress points; they're better at securing leather.
At the end of the day, a backpack is used to carry things, hold valuables, and protect them from getting damaged. If one of your shoulder straps comes undone because it was machine stitched instead of being riveted, or because a zipper failed – well, the bag isn't performing its duties.
Leather Backpack Size, Fit, and Comfort

When looking at that new leather backpack, this is probably the most obvious thing to consider.
When considering comfort, remember that like any quality made leather product, what you are buying on day one isn't going to be the same 30 days later. The best part about leather is that is changes and grows with its owner.
If you are okay with breaking in a backpack and "day one comfort" isn't a deterrent, then a Full Grain bag may be the option. If immediate comfort is at the top of your list it may make sense to look for a bag that offers padded shoulder straps for a more broken in feeling.
Leather Backpack Pockets

Some of the best bags on the market contain nothing but one large compartment to hold 'stuff'. After all, that is the definition of a bag – "A device with an opening at the top used for carrying things." If that is all you need then there are plenty out there to search for.
To others, a specific padded sleeve to hold technology may be something to consider. As long as tech companies still have their doors open, then people will need a bag to transport their products.
Other useful extras include, additional exterior pockets, interior dividers that split the bag into multiple compartments, and rolled leather handles. Understand that as nice as it may be to have these features, they do come with 'baggage' (no pun intended) in the sense that they add weight to the bags and could potentially be something you need to repair down the road.
Throughout the search, it is imperative not to overlook these add-ons, but also be realistic with yourself when debating whether you will use them: if you want a lightweight bag, then maybe you can do away with some of the extras.
Leather Backpacks Price

Last but certainly not least is the price of the bag. If you are like me, you look for material items that you think will last a lifetime, or as close to it as possible. This usually comes with a higher price tag.
Rest assured, though, that there are many 'no frill' backpacks out there that get the job done well; and on the flipside, there are just as many if not more companies with good marketing plans in place to make you think that their bag is exactly what you 'need'. Find a price you are comfortable paying and check as many boxes as possible before ultimately handing over your wallet – a beautiful leather one at that.
Leather Backpacks vs. Waxed Canvas Backpacks
It is worth mentioning here that when looking at leather backpacks it is not uncommon to shift focus to waxed canvas as an alternative; and a very fair one at that.
Waxed canvas will patina like full grain leather will, albeit in a different way. Tightly woven, heavier canvases with a light wax top coat will need the wax to be reapplied from time to time, just like conditioning leather makes it more durable and ready to take a beating.
Besides the price, the main difference comes in the form of breaking them both in. Leather backpacks made from full grain leather will take time to soften up, like a brand new pair of denim. A heavier weight bag made with leather takes time to shape to the individual's body, whereas waxed canvas tends to be more pliable from day one.
The Best Leather Backpacks

So, which backpacks meet my exacting standards? Here are a few of my favorites.
Satchel and Page: Backpack ($535 on Sale for $425)
Why it's great: Simple and modern style, padded straps, simple front pocket for daily essentials and great for the traveler
Where it lacks: Almost looks too good to beat up, only comes in one color
Why it's great: Leather options, pricepoint, spacious interior and pocket space
Where it lacks: This has a lot of breakable hardware
Why it's great: Organization, functionality, and a solid pricepoint for a handcrafted bag made in the USA with American leather
Where it lacks: Quite large and heavy, the leather straps easily slide off the shoulders
Why it's great: Padded shoulder straps, the leather comes from my personal favorite tannery, Wickett & Craig
Where it lacks: No interior pockets, plus it's damned expensive
[See our review of the canvas version of the Filson Journeyman]
Wrapping Up
Regardless of the backpack you choose; hopefully this article serves as some guidance when making the decision. The days of carrying a backpack to work every day or passing through security to catch a flight aren't as common nowadays, but that a trusty go-to bag can be used for more than the daily commute. Just remember, no two bags are the same and like anything else; most times you are paying for what you get so weigh all options and set a boundary four yourself when it comes to price you are comfortable with.
The following two tabs change content below.
I am someone who has always longed for having quality pieces of clothing, accessories and handmade goods; but never had the means to obtain them.While growing up, I watched my father and his brothers use their hands to build structures, homes and other various real estate properties and it inspired me to want to use my hands more. In 2018 from my coffee table, after losing my wallet I decided to test myself with taking on the task of making my own wallet from scratch with a simple DIY kit, rather than buying something off the internet for $10.Fast forward a little over two years and I have a product lineup with eight wallet designs, a belt, accessories, two women's totebags and plenty more up my sleeve. Learning to create beautiful pieces has given me even more of an appreciation for other small makers who are doing the same, and has spurred me to try and support them any time I can.
Latest posts by Tyler Russell (see all)