I'm going to be talking about this exceptional garment here: is my Hooch Hauler jacket from Aero Leather in Russet Badalassi. I don't plan to get any more leather jackets after this one.
As a leatherworker — do check out my wares — I love the fact that leather jacket is just a different way to experience leather.
Boots are awesome. I wrote all about why I love boots here but, well, a guy has a more intimate relationship with his jacket than his boots. When you're wearing it you're touching it, you're breathing it in all day, you're feeling it on your skin constantly. It's a deep connection.
Here I'll be diving into the wonderful company that made this jacket, the leather, the fit, and the construction, before finishing off with some pros and cons.
[Shop the Aero Hooch Hauler jacket here]
Overview: Aero Jackets
Aero jackets is a small family-run business owned by Ken and Lydia Calder, who have been producing handmade leather jackets in Scotland since 1983. In the heritage menswear scene they're a pretty big deal and respected as much as high-end American and Japanese leather jacket brands.
My first Aero jacket was the Ridley in natural Chromexcel front quarter horsehide, which I also reviewed in the video below. My second jacket was their Ridley jacket in Dark Seal Vicenza (also horsehide) and then this one I'm reviewing today is my third and final — at least for the foreseeable future.
Why three? Well, it's down to the colors.
I bought the first one in Natural Chromexcel, which is kind of a light brown color you can see in the video about it above. It goes great with any natural-colored boot or belt that I might have.
I got in the Ridley jacket Dark Seal Vicenza (below) in a darker chocolate brown and to be worn with darker colored boots. But I didn't feel like I had a jacket to pair with my more medium brown boots that aren't especially light or dark.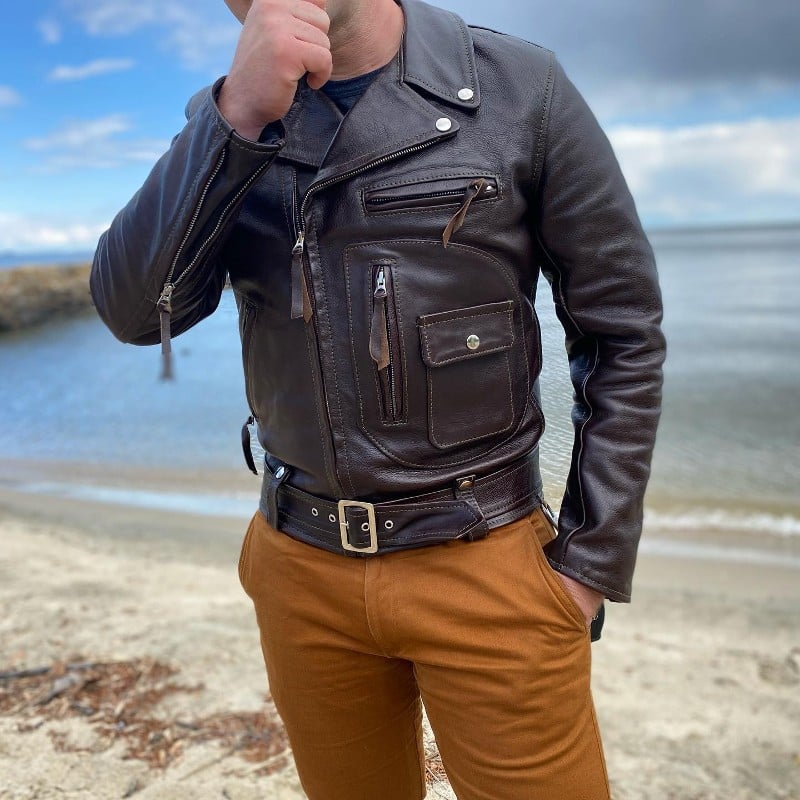 The Hooch Hauler's warmer, redder, mid-range brown complements all kinds of tans and all kinds of browns.
[Read more from the author: How I Fell Head Over Heels In Love With Men's Boots]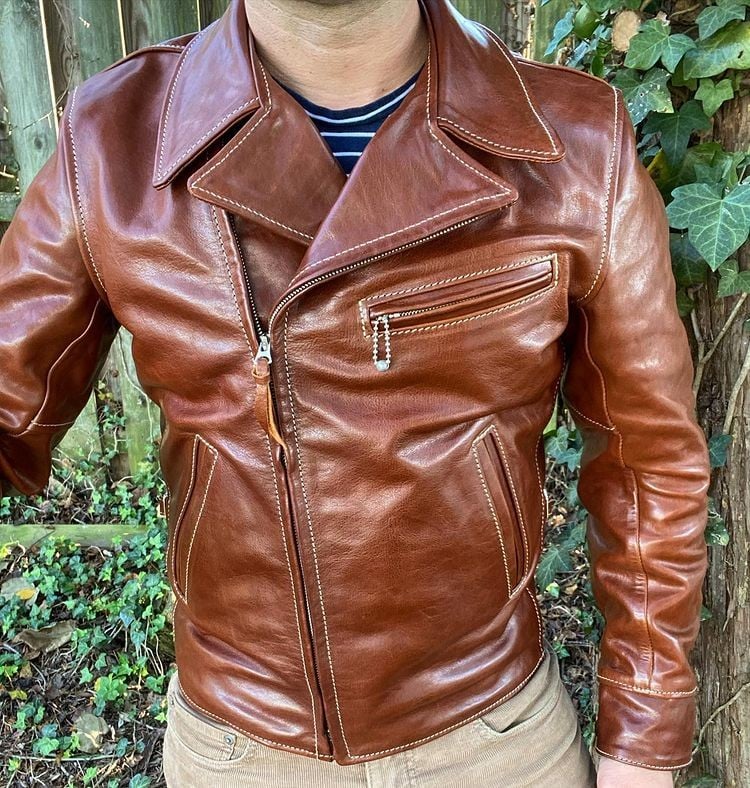 The Leather: Aero Hooch Hauler Jacket
Italian veg-tanned leather
Amazing smell
Unusually soft and pliable for a veg tanned leather
Eye-catching russet orange-brown color
The reason why I'm interested in Badalassi is my buddy Jake at Almost Vintage Style, a man thoroughly in love with their leather and who has a great example of it on his White Klouds in this video about the best Japanese boots.
I was stuck chasing my tail when it came to selecting a leather for my Aero, fawning after commonly prized leathers like Chromexcel and Shell Cordovan. But there are a lot of other really special leathers out there — and this is one that Italy's Badalassi Carlo Tannery does a fantastic job with.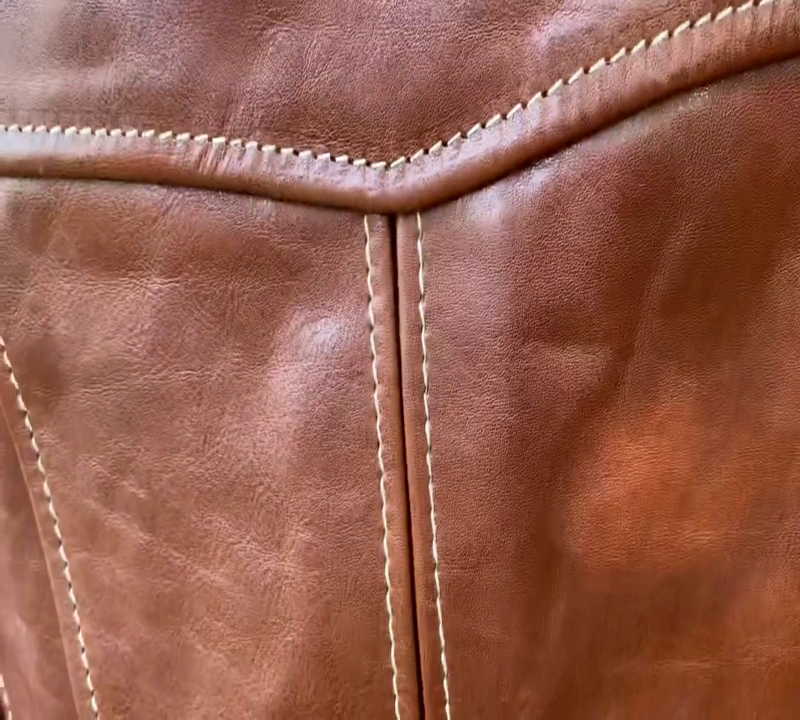 Badalassi are world famous for their old world, vegetable tanning processes. All three of my leather jackets smell really good, but this one — and I don't know if it's because of the color playing tricks on my brain or because it's real — I would say this kind of smells like a Jolly Rancher or cherry candy. Look, I don't have a great vocabulary to discuss leather smells because nothing smells like leather, but the Badalassi leather has such an aromatic smell about it that's particularly hard to describe. You have to own it and live with it for yourself.
But I love carrying this thing around with me and smelling that Badalassi Carlo smell all day.
This is the only jacket of the three that's made of cowhide. Believe it or not, a year or two ago I probably would picked horsehide as the best jacket leather: it has a reputation for great durability and patina, and it's very common in high end Japanese brands.
But of the three I own, I like this one the best.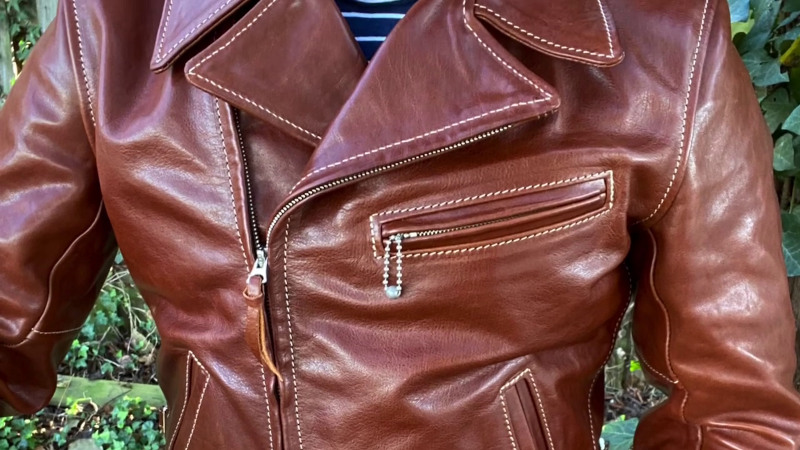 Horsehide, you see, is quite a bit stiffer. I'm still breaking in my old Chromexcel horsehide one, whereas this Badalssi leather is much more pliable and spongy, even though it's vegetable tanned. It forms really tight little high-density ripples across the surface as you break it in. I think cowhide the most natural fit and the most natural feel for jacket leather.
[Related: The 5 Best Japanese Leather Jackets (And Why)]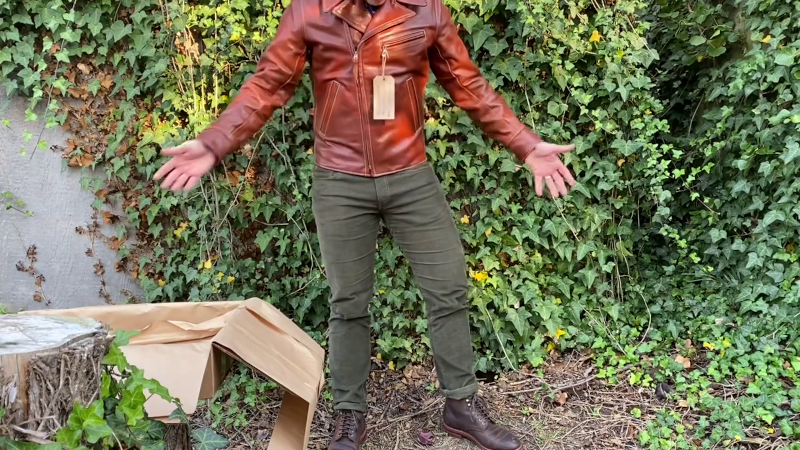 Fit: Aero Hooch Hauler Jacket
Modern, tailored fit
Not boxy or short like many heritage jackets
There's a lot about this jacket that I love, but the fit is phenomenal.
I'm not the type of guy that likes classic fits, which tend to be short and boxy because that's how jackets were made during the World Wars. I prefer a more tailored fit, as it's more flattering for my physique.
Fully zipped up, this thing just looks fantastic. Classic fits can work well if you like high waisted pants or if you have more room around your midsection, but neither of those were concerns for me.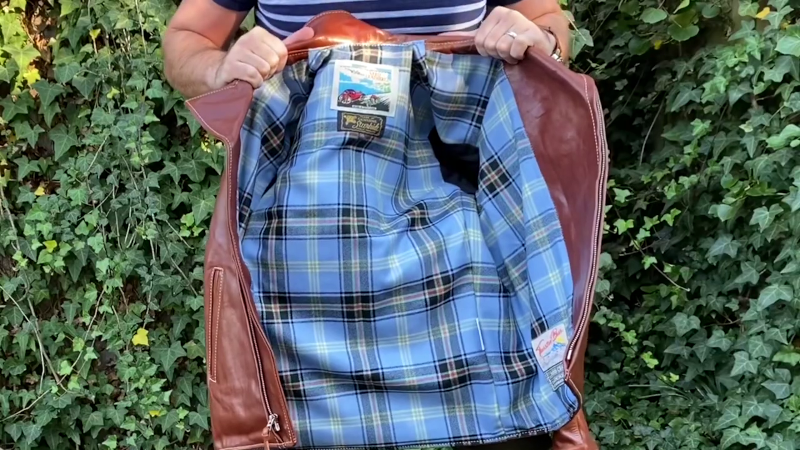 Construction: Aero Hooch Hauler Jacket
Tartan wool lining
Two hand warmer pockets
Exterior chest pocket
Cross zip pattern
The interior lining is called Lochcarron wool, woven into a baby blue tartan pattern with yellows and reds and blacks. It's very sharp, and the baby blue looks terrific up against that burnt orange-red color of the jacket. It's always a joy to open up the jacket and interact with the lining on the inside.
One reason why I like this model a little bit more than the Ridley jacket (below) is that this one has two hand warmer pockets in the front and my Ridley jacket only has one, on the right-hand side. The other side has an exterior pocket instead of a hand warmer pocket, so that's one reason why I find this Hooch Hauler just a little bit more of a natural fit for me. (That's not to say that I don't love the Ridley model, because I do. Watch my video on it below!)
Other features I love about the Hooch Hauler is the ball chain zipper, the fact the collar doesn't have buttons to button it down anywhere, the adjustable cinch tabs, and the sleeve button cuff, which I think is really sharp.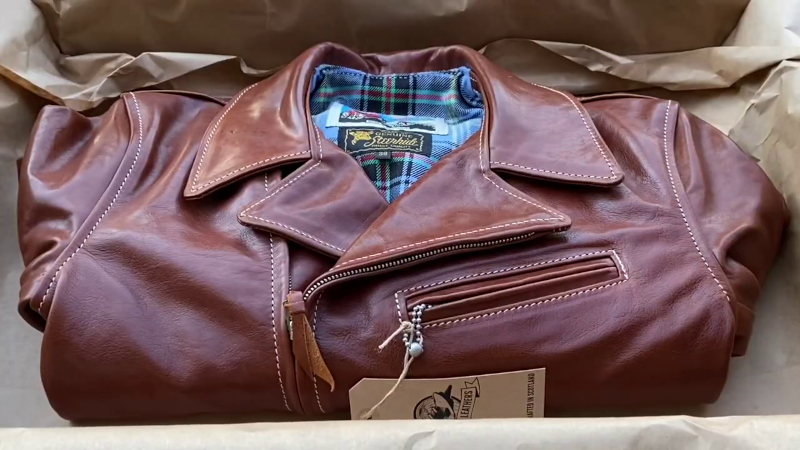 Ordering: Aero Hooch Hauler Jacket
Ordering from Aero is a spectacularly laborious process.
They need your measurements before they can make you anything, but don't think you can just send them your usual measurements like your shoulders, hips, and sleeve length. They also ask you for:
Height
Chest (relaxed)
Chest (expanded)
Stomach (at widest point)
Waist (actual waist taken over trousers and belt if worn, not jeans

size

)
You're also meant to take these measurements while wearing the kinds of clothes you're expected to wear with the jacket. And to tell them what you were wearing when they were taken.
So if you're feeling cocky about the ordering because you've already got your suit jacket measurements, you may want to think again.
Because I'd already ordered my horsehide jackets from them, I didn't have difficulty sizing this Hooch Hauler — but it wasn't a short process.
I spoke with Carrie Van Dijk at Thurston Brothers in Seattle Washington, who helped coordinate the whole operation with me: between all three jackets we went back and forth probably over 250 times over the course of a year and a half. There's only a handful of companies in the world that are willing to do this for their customers.
This isn't a rushed process at all, but it's also very fulfilling once you get the jacket and it fits you perfectly and you can begin to wear it and enjoy it and make memories with it. There's nothing better than that.
Price: Aero Hooch Hauler Jacket
The fit, the quality materials, and the customer service are the reasons why these are expensive, but it's also worth it, especially when you remember how many decades your jacket will last.
I think it's great what Thurston and Aero are doing together and I truly recommend them because these jackets are treasures. I love each one of them and they're some of the nicest garments I've ever owned, period. That's even comparing them to my suit jackets and boots.
This jacket isn't inexpensive. It's probably prohibitively expensive for a lot of guys, but if you have a chance to get one and if it's in your budget, you'll be doing yourself a great disservice if you don't.
[Shop the Aero Hooch Hauler jacket here]
Wrapping Up
Guys thanks a lot for reading, I really love this cross zip model. Aero is different from everything else I've worn, so I would encourage anybody, if you're interested getting into leather jackets to consider this brand.
It's also a slow process; this isn't fast fashion and it's not immediately gratifying. It's a process for guys who like perfection and respect the skill and craftsmanship that goes into making not just good products, but the finest products in the world. The wait time is really a pro in my book, but if you need a jacket now, I guess it's a con.
Yeah, they're hard to buy and harder to pay for, but once you wear one you'll never go back to an off-the-rack brand.
The following two tabs change content below.
Style blogger, boot collector, leather fiend.
Latest posts by Dale Basista (see all)