This post may contain
affiliate links
that at no additional cost to you, I may earn a small commission from.
World renowned for their meticulous attention to detail, Japan makes some of the highest quality boots you're ever likely to find.
And it's not just clothes — tanning, weaving, coffee, whiskey, watches, even Fender guitars are all known to be of exceptional quality when they come out of Japan, particularly when it comes to recreating, perfecting, and building upon certain products from bygone eras. Jake from Almost Vintage Style, who joins us for this article, notes that there's a cultural factor at play here: the common Japanese belief that,
whatever you're going to make, or whatever your job is, to do it as well as possible.
Of course, we're not saying that everything made in Japan is the best possible version of it or that every Japanese person has this trait, but when it comes to boots there exists a community of Japanese craftsmen that are objectively some of the best in the world. There's an old, very influential subculture in Japan for American-influenced workwear inspired by 1950s Americana called Amekaji in which Jake is something of an expert.
Jake does not take the word best lightly; this isn't a list that was thrown together five minutes before we met up. Japanese boots are a passion project for him that's taken years of research, several trips to Japan, and many thousands of dollars to accomplish.
In short, this is a guy you should listen to. Here are the five best Japanese boot brands for guys who want to wear the best possible version of their footwear.
5. Best Value: Moto(r) (~$650)
Jake's model: Leather Lace Up Boots
Sometimes called Moto and sometimes Motor, this brand isn't named for motorcycles, it's named for the Moto family of leather crafters. Even for a Japanese brand, they're hard to find.
"They sell so well inside of Japan that they don't need to go out," says Jake. This isn't uncommon for Japanese companies that make high quality stuff, and it can be endlessly frustrating for Westerners who want to buy from them. If their bills are paid and they're happy with their product, the line of thinking seems to go, why would they need to expand? Creating small quantities of high-quality goods is more important than conquering the world.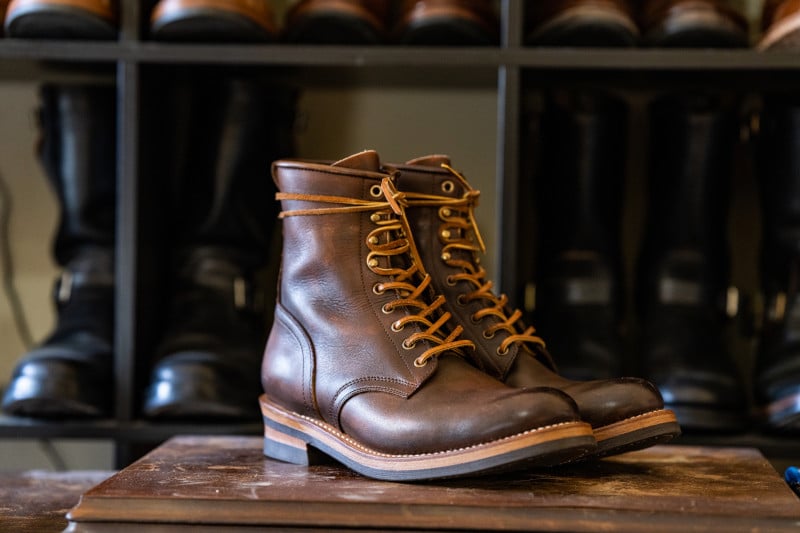 Leather
"It's a vegetable-tanned cowhide leather, but it's also hand dyed on top of that," says Jake. "It's a very thin level of dye, so you can see where I've tied it, it will scrape off."
This hand-dyed leather is like a pigment dye: iIt's actually painted onto the leather after it's been tanned.
You can see it getting a mottled kind of appearance. You'll start to get the aging process going very quickly with these. It's almost a type of crust leather, like with dress shoes.
These will patina beautifully and every pair will look different.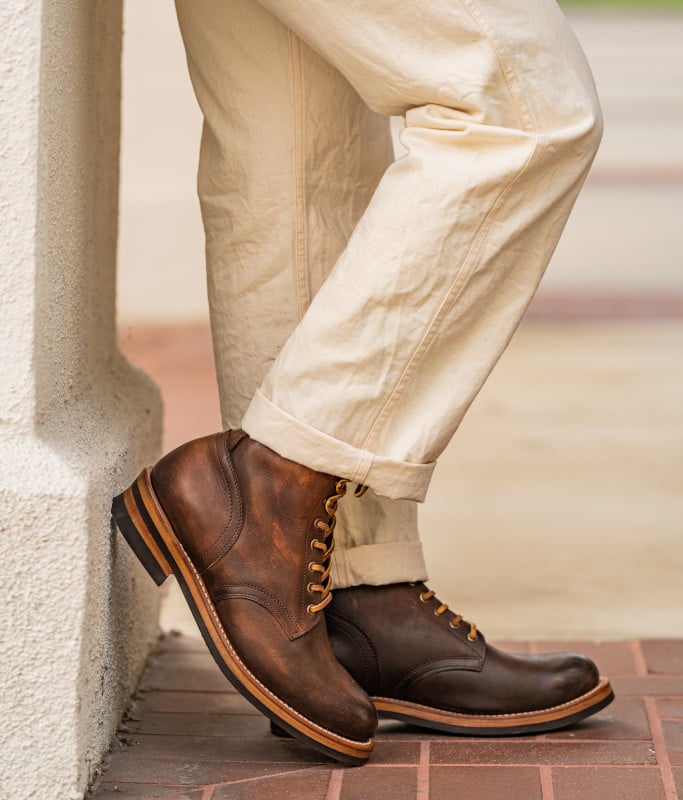 Craftsmanship
The craftsmanship is very high for the price point.
"The SPI (stitches per inch) are very, very high," says Jake. "You'll notice, it's very dense, very even. I always look where the quarter meets the vamp to see if the bootmaker really cares, it's often messy there."
The construction is very clean, the edges and the heels are all carved out very nicely, and there are zero quality control issues.
Jake has more in depth review of his Moto boots here.
You can order them by email or DM them on Instagram.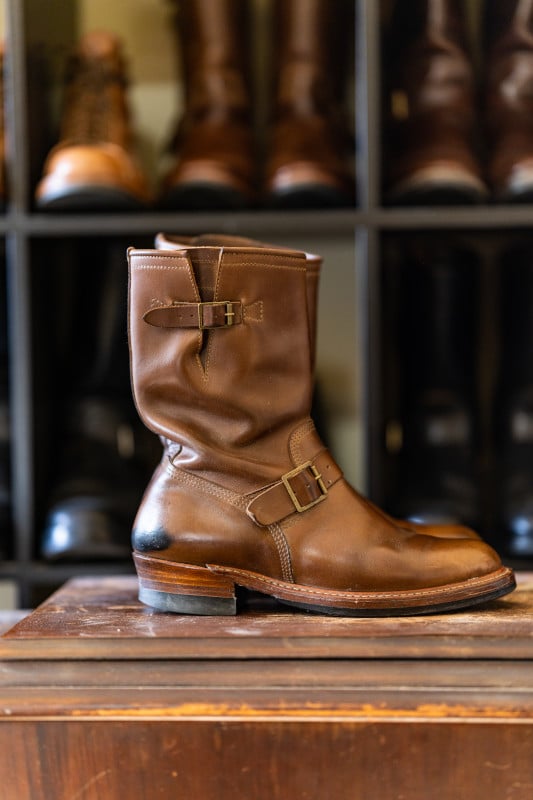 4. Most Ethical: John Lofgren ($1,050+)
Jake's model: Engineer Boots
The most interesting thing about John Lofgren's Japanese company is that he isn't Japanese, he's from California. The man moved to Japan to learn from these masters and over time has become one himself.
Leather
Starting with the leathers, Jake's Lofgren boots are made of Chromexcel from Horween Leather Company in Chicago, which is about the most famous boot leather on Earth.
John Lofgren makes a ton of Chromexcel boots in different colors and today you can get these in a wider selection than ever before, including Shiniki Hikaku horsebutt, Baddassi Carlo veg-tanned leather, and even Ezo Shika Deerskin. These, if you're uninitiated, are considered about the best quality leathers on Earth.
"I first conditioned these with Smiths Leather Balm a while back, and then after that I've been using Saphir Renovateur," adds Jake. "That's my go to for boots."
[Related: The 5 Best Boot Conditioners]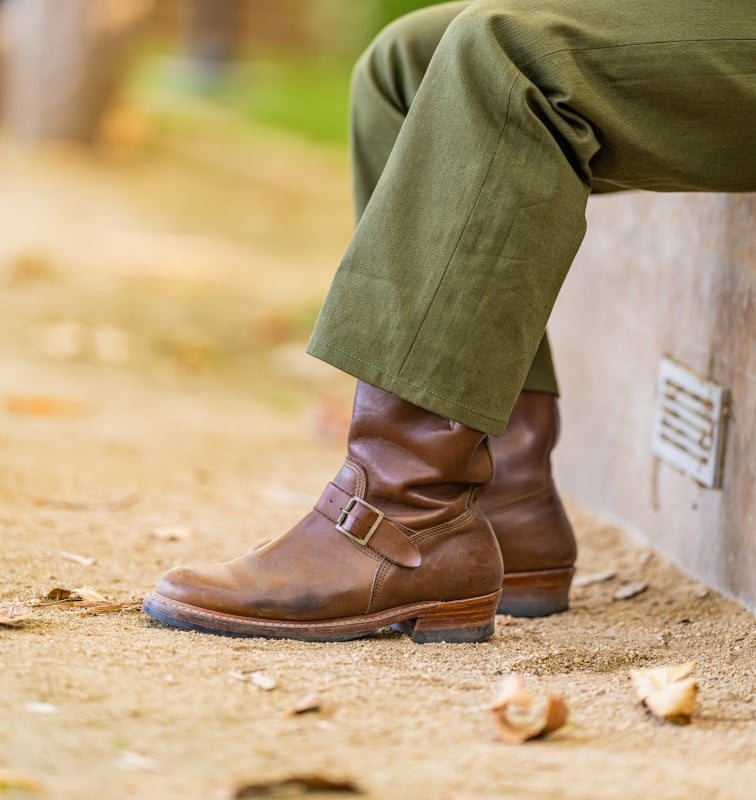 Construction
"John took a lot of care and time and money to get the design of the last just right for these," says Jake. "He is fanatical about quality and attention to detail and ethics in manufacturing. He's not Japanese, but he took years to get this design just right. The last is very balanced. It's not bulbous or overly sprung, but it's not super flat either."
John Lofgren emphasizes ethical manufacturing and that there are no sweatshops involved in any of their products at any point in the supply chain.
"Part of his point is that even in Japan, ethical manufacturing isn't always a guarantee," says Jake. "So he makes sure to point out that his steel shanks are ethically sourced, the storm welt that he gets are from England, I believe. He makes sure to get only the USA-made Vibram soles. "
The take-home with John Lofgren is that you not only get very well-made boots, you also get the peace of mind that these boots were crafted by experts using ethical materials.
The Chukkas start as low as $430. From there, most Horween lace-ups are $700 – $800. That may sound expensive, but that puts these boots at Viberg level prices with much higher attention to detail. Engineers run from $1,050 for Chromexcel and up to $1,300 for fancier leathers like Shell Cordovan and Shinki Horsebutt leather.
You can buy John Lofgren boots off of his website.
[Learn more: 7 Reasons Japanese Jeans Are So Expensive]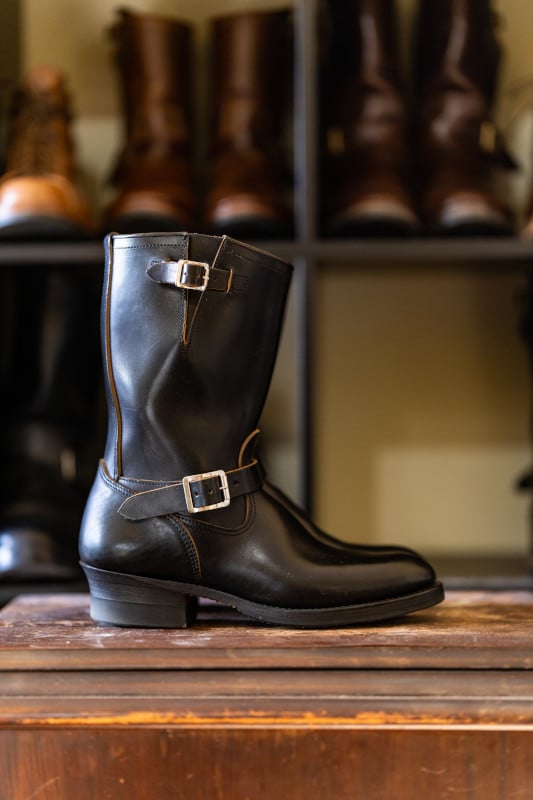 3. Attractions (~$800 – ~$1000)
Jake's model: Engineer boot
"Attractions is a brand that makes quite a lot of products: leather jackets, shirts and pretty much all clothing for the most part," says Jake. "The rest of their stuff isn't as well known in the States, but their Engineer boots are pretty famous."
Leather
"The real star of these is the leather. It's a teacore vegetable-tanned, Japanese horsehide. It's a very lustrous, beautiful black, it's thick, and if you go online and find pictures of how these are worn — they are amazing, very dramatic."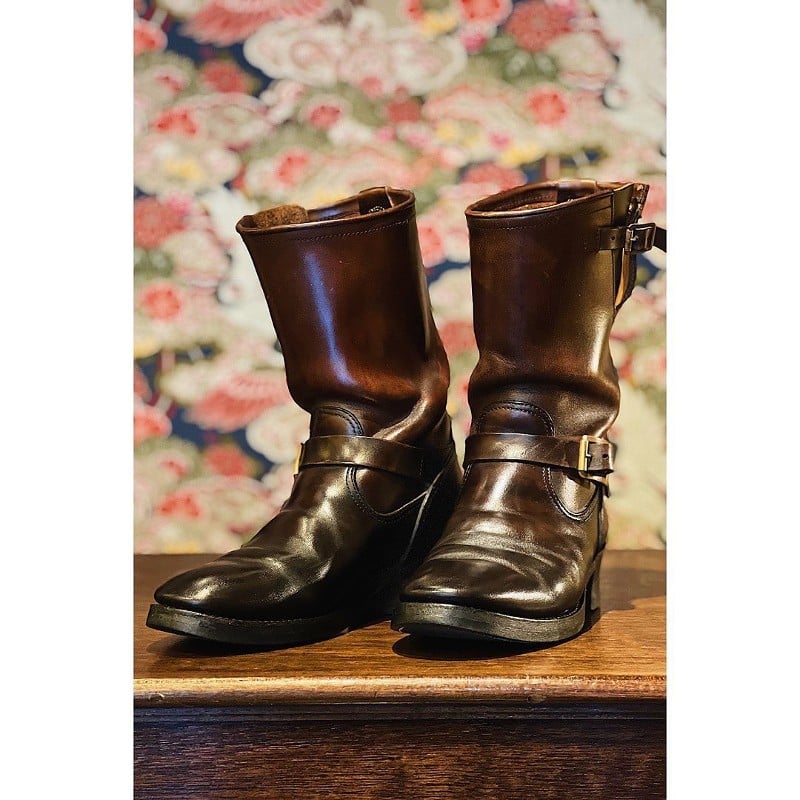 Teacore leather is a process for which patina and aging are the primary concern. To make a vintage look, the tanner takes leather (in this case, a primo Italian veg-tanned leather) and applies a coat of black dye on top. Over time, the black dye wears, exposing the brown underneath.
"You can also see the grain on the horsehide, it's gorgeous," says Jake. "People think that you have to buy Pacific Northwest boots to get something that's substantial and rugged, but that's not always the case."
[Related: The Best American Made Boots]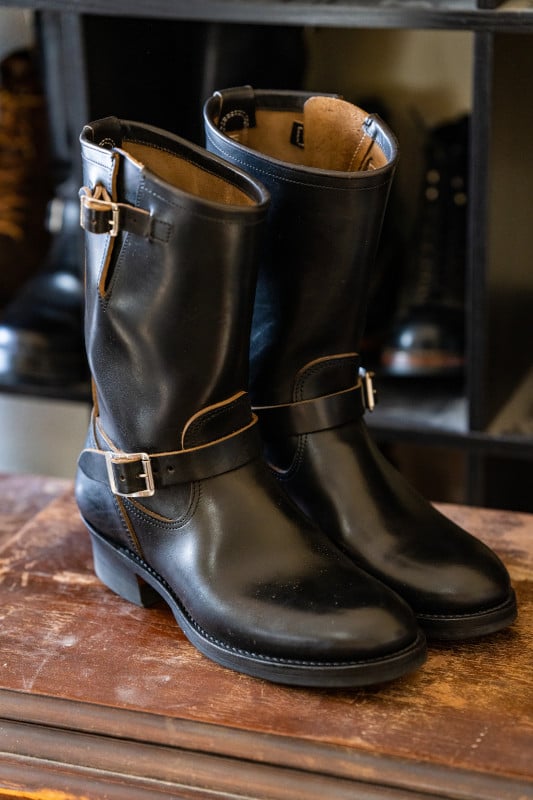 Construction
While these are great boots, Jake said there are a few small mistakes.
"They are not as nicely made as the Lofgrens or the Motors, they have a few more mistakes and inconsistencies in terms of the stitches per inch, especially where the quarters meet the vamp: you can see it bunches up a bit, it gets wider in places."
Now, what Jake is describing is far beyond what most of us will notice when we look at a pair of boots; only people who are absolutely fanatical about the highest possible quality attainable will care about this level of perfection — but with Japanese boots, that does tend to be the point.
"They are more simple and stripped down than the Lofgren. For example these are double stitched — but that's on purpose, it's supposed to be a more stripped down model," says Jake. "And the last design is a very nice classic Engineer Boot."
Attractions has a website and Instagram, if you want to pick up a pair.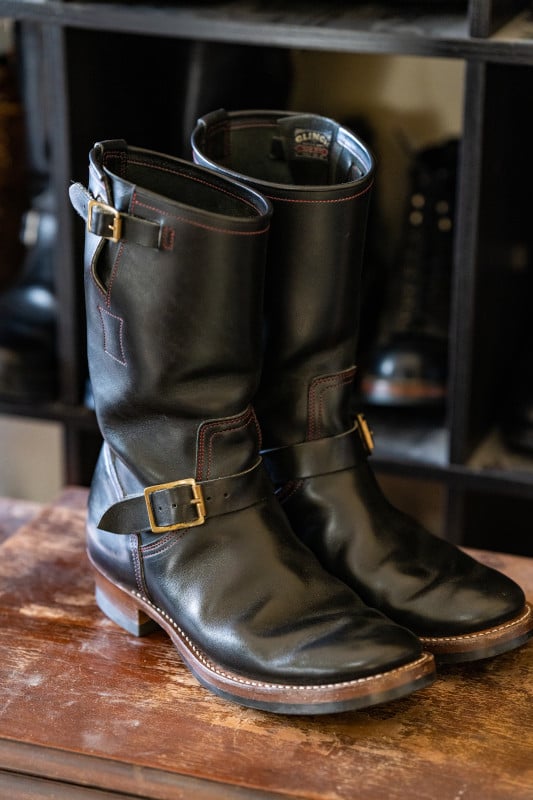 2. Best Engineer Boots: Clinch/Brass Tokyo ($1,500 – $2,000)
Jake's model: Engineer boots
To clarify: Brass is the shop, Clinch is their line of boots. Brass originally started as a repair shop, and they still do that, but today Clinch is one of the darlings of the Japanese boot world. For enthusiasts and collectors Brass Tokyo Clinch "are the best engineer boots, period."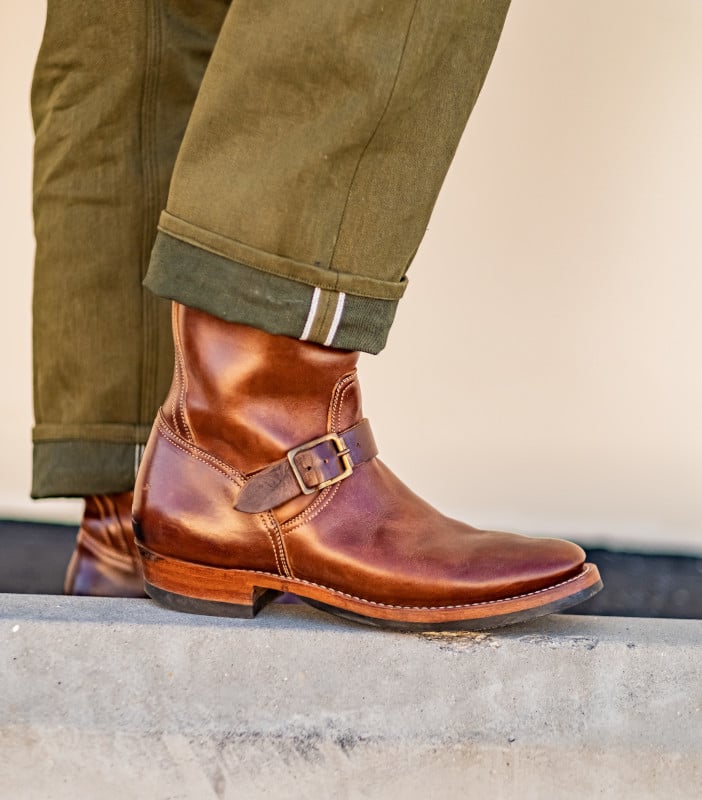 Leather
These are a nice mid-brown Italian veg-tanned horsehide leather, with some slight contrast stitching. Like a lot of companies, Brass doesn't specify where the leather comes from — it's a bit of a trade secret. Jake's are custom, in any case; if you try to get the Engineer boots off of Clinch's website. you'll probably only see them in black horsebutt leather.
Construction
"The design is kind of like the Lofgren," says Jake. "Minoru Matsuura is the owner and designer of Clinch, and he really took a lot of time to design these in a certain way. They don't really crease on the vamp, they kind of roll more than crease, and that's very specifically designed."
This is Clinch's original narrow last, which Jake calls "the most beautiful Engineer last that you can get. Nice and flat."
They are handsewn and handwelted, a very laborious process that's exceedingly rare, and the upper stitching is very intricate, dense, and even.
You can check out more of their boots on their Instagram or their website.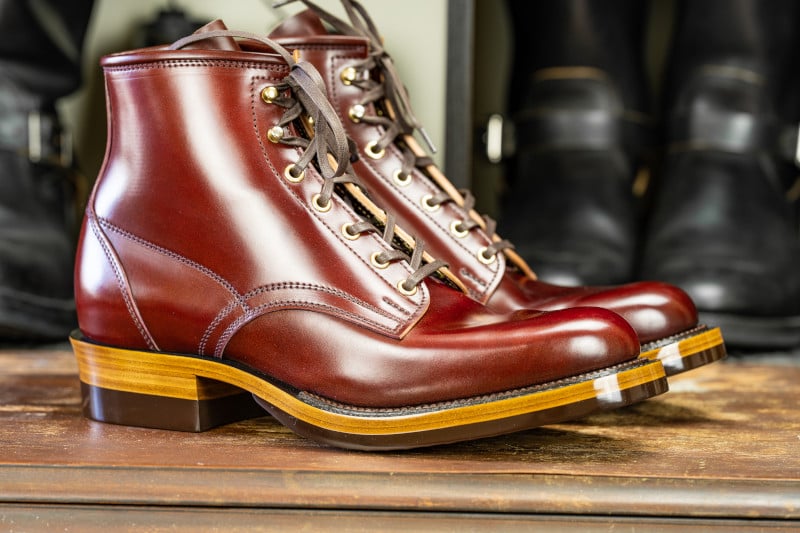 1. The Best Japanese Boot Brand: White Kloud (~$1000 – ~$5000)
"They were made by one man named Goto, right outside of Tokyo, and these are the best boots in the world, in terms of casual boots or heritage style boots," says Jake. "Objectively, these are the best. "
If you want to buy them, you can't. Unless you fly to Tokyo.
Construction
If you do have a chance to fly to Japan and get fit, it's a very unique experience for a casual heritage boot.
"These are the most comfortable boots I own and it's not even close." says Jake "It's somewhat subjective but consider that it's the leather, the quality, and the fact that he measures your feet."
You're there for 3.5 to 4 hours. Goto measures your feet in several different ways. You try on boots. You walk around his neighborhood, he asks you how it feels, if anything is too tight. It's a very lengthy but a very thorough process. He actually took me and my brother out to dinner the second time we met.
Unlike a lot of bootmakers, he does standard lasts and modified lasts. He will also do a fully bespoke last, like bespoke dress shoes but for work boots. Jake is pretty sure he's the only person on Earth who does that.
On top of the fitting, he is fanatical in terms of detail.
He makes the thread to do the midsole stitch and the hand sewn welting. He makes it himself from scratch. He weaves the yarns himself by hand and twists them. He gets the oils and waxes and runs the threads through it. He makes all of that himself.
Not only are they handsewn welted, but the upper part of the outsole is hand-stitched. All of the stitching is perfect. He paints the midsoles. It's all perfectly finished to a ridiculous degree.
"These are very unique and very hard to get," says Jake. "But they epitomize everything I was saying about Japanese boots."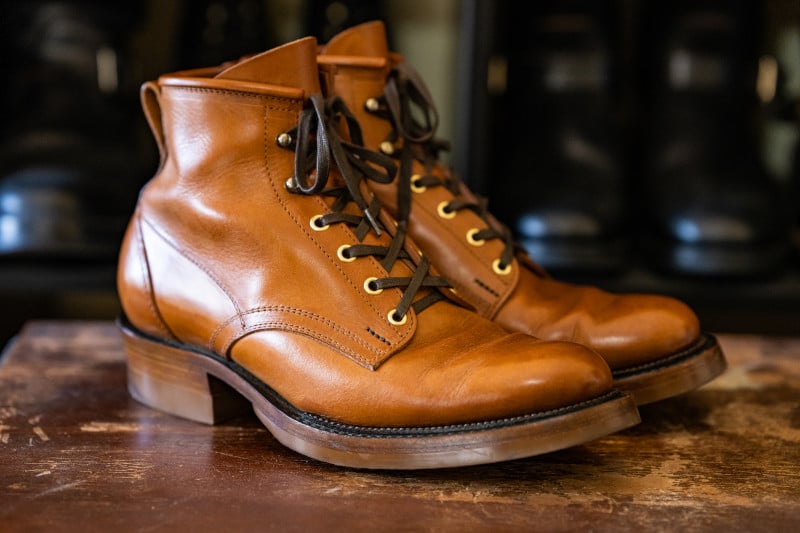 Leather
The insoles are Badalassi Carlo veg-tanned cowhide from Italy. The uppers, of course, depend entirely on what you order for these completely customizable boots, but rest assured the best leather on Earth is at your fingertips. (Or toetips.)
Jake has two pairs: one made from Badlassi Carlo's vegetable tanned leather and the others are Ogawa Cordovan, which is tanned by Shinki Hikaku and then dyed by Ogawa. These happen to be White Kloud's first pair of customer-owned cordovan boots.
View this post on Instagram
White Kloud Price
It's hard to say. If you're getting a fully bespoke last, White Klouds could run up to $4,000 or $5,ooo, but they start as low as $1,000 to $1,200. The options list is where things get a bit crazy: you can get shell cordovan, you can get a high shine finish that he makes by hand with sandpaper, and so on.
Veg tanned cowhide will set you back $1,900, while Jake's cordovan boots are about $3,000-ish.
You can see pics from Goto's happy customers on his Instagram or email him at [email protected].
Runners Up
Jake doesn't own these, but he's a big fan. His preamble: "You'll notice that for the Japanese boots, they are a little bit more extreme in the designs. They are a little bit more like old-school American workwear. They are not just a bunch of service boot styles. They are engineer boots or these more packer style boots or more semi-dress."
Brother Bridge makes heritage-style boots like military, work, and motorcycle styles. They also do dressier heritage-style boots.
They are very old-fashioned-looking boots, almost like they could be in a museum.
Most of their boots are around $300 – $450.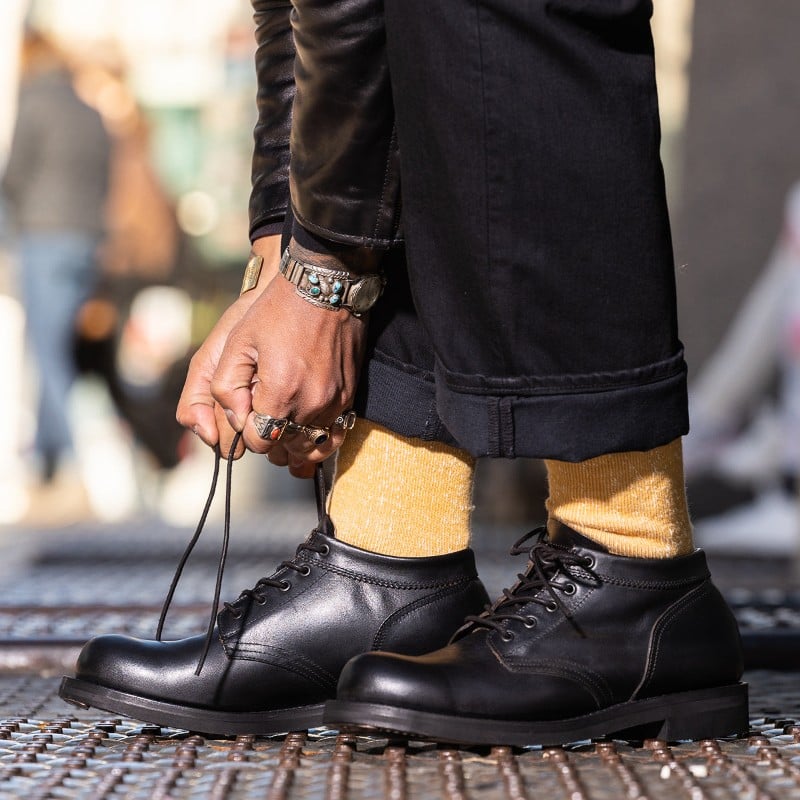 Rolling Dub Trio Boots, which run $400 – $500. They have a lot of really cool unique designs and really good quality. There are some Western retailers like Standard & Strange that sell Rolling Dub Trio.
The Coupin is like a low work boot, almost like a shoe. That's their signature design, and it's a very good-looking, handsome boot.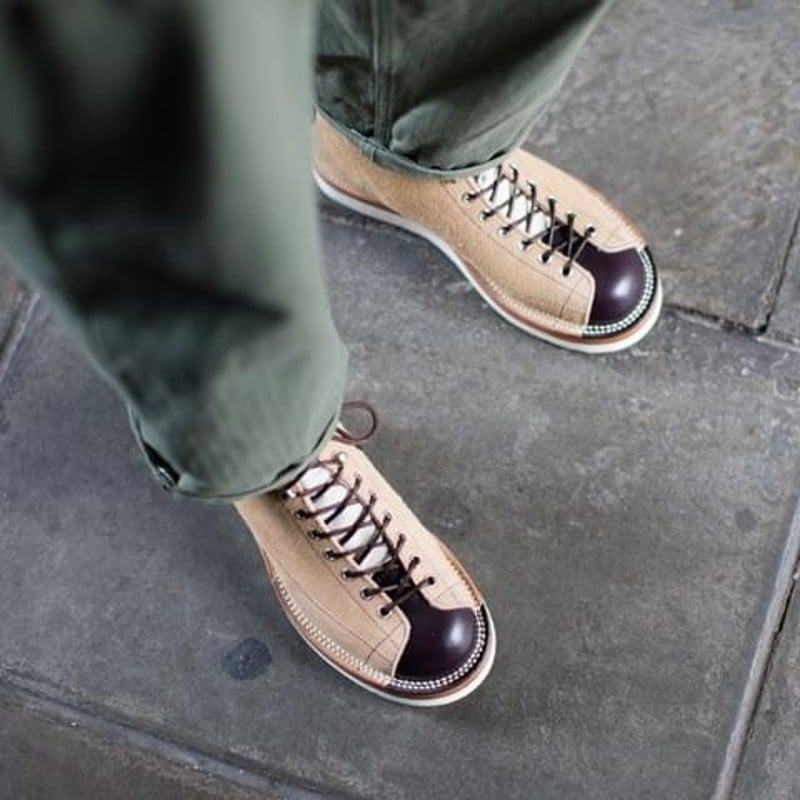 The Real McCoys are well known for leather jackets as well as boots.
They use Shinki Horsehide leathers for a few of their boots, including some engineer boots they have. Those are more of a spring-toe style, which isn't for everyone, but if you like that's probably the best version of that style.
They also have some really nice Monkey boots (above) that Standard and Strange have stocked in the past. Their Engineer boots are about $1,400 in black horsebutt leather.
Wrapping Up
I'm immeasurably grateful to Jake for taking the time to teach me about a subject he is really passionate about. He's written extensively about Japanese boots and even interviewed John Lofgren. Be sure to visit his site and follow his Instagram feed as well.
Which of these models is the most interesting to you? Sound off in the comments!