I've collected my fair share of boots over the years and developed an eye for the finest Goodyear-welted masterpieces available.
A hobby (OK, obsession) that has evolved in tandem with my boot obsession is the search for the best leather apparel to complement my shoes. If I'm devoting all this time, energy, and attention to my boots, then I owe the same effort to my leather belts.
And when you've spent as much time as I have perusing leather belts online, you'll probably come across the micro-adjustable belts from Anson. I knew I had to take a closer look — check out my review below. It's a long read, but here are the contents we're covering:
[SHOP ANSON'S STORE ON AMAZON HERE]
[OR CHECK OUT THEIR OFFICIAL SITE HERE]
Who Should Buy Anson Belts?
Anyone looking to build their wardrobe without breaking the bank.
Guys for whom comfort is a priority. The micro adjustable belts are a new world of fit.
People who like the idea of easily accessorizing with their belts. Three belts and three buckles means nine belts.
Concealed carry fans. Their attachable holster straps get rave reviews.
Who Shouldn't Buy Anson Belts?
Those interested in more traditional, heritage workwear accessories might have a hard time with their slightly more edgy, modern buckle designs. One con (which is also a pro) is that many of their belts are on the more bold, fashion forward side.
Niche collectors who prefer that old-world, small-batch craftsmanship feel probably won't love that the leather doesn't come from the world's most esteemed tanneries.
Guys who prefer leathers with a lot of grain character, marbling, imperfections, striations, abrasions, scars, and texture. Anson belts (at least the ones I personally had the benefit of reviewing) are flawless in appearance, light weight, clean, and are by all means the Apple iPhone of the belt world.
Anson's Belts With No Holes

There were two things that first drew me into the product: influencers like Carl Murawski and Alpha M were singing their praises, and there's the allure of the hole-less belt, which are called ratchet belts.
Anson has been in business since 2009 and they're among the first ratchet belt companies to bring this design to the US. There are dozens of new competitors in the space today, some of which act like they invented it, but that couldn't be further from the truth. The hole-less ratchet belt concept has been around in Asia and eastern Europe for over 50 years, but it wasn't until 2009 that you started seeing it readily available here in the US.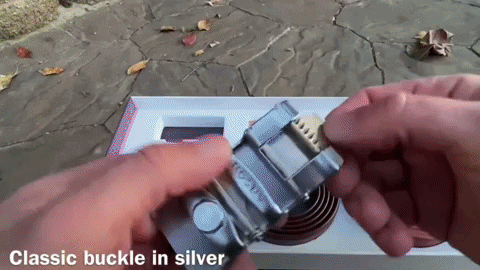 Anson's Quick Release Buckle

I'm no stranger to unconventional, non-traditional belts, as I'm a huge fan of the quick release belts from Pigeon Tree Crafting that utilize a "fireman's hose buckle" design which snaps open at the push of a lever.
Anson is different, though. Located right beneath the buckle is a lever which releases the belt from the buckle instantly without having to re-tighten like traditional belts. Holding the lever shut is a magnet which pulls the lever shut and keeps it closed until you are ready to release it again.
This is different from other quick-release buckles which use tension to hold themselves closed using tension when the belt is being worn.
When you've downed half a pot of coffee and your bladder has expanded, it's a great relief to be able to quickly release the belt open, especially without needing to first tighten it the way you need to in order to open a traditional belt. Point one for Anson.
Micro-Adjustable Belt Buckles

The other feature that I really love about the Anson belts is the micro-adjustability which allows you, the user, to control for ¼ inch exactness.
This is more useful than you might think, because as your body expands and contracts throughout the day. Being able to adjust your belt to that level of precision brings a new dimension of comfort to the table. They're a little like the stretch pants of the belt world: you didn't know what you were missing until you tried it, and then you don't know how you lived without it.
They're a little like the stretch pants of the belt world: you didn't know what you were missing until you tried it, and then you don't know how you lived without it.
My 3 Anson Buckles

The interchangeability of the belt buckles is another example of something you didn't know you needed. If you're a creative type and enjoy accessorizing, you'll enjoy switching and swapping buckles from one belt to another. Sometimes, what makes or breaks an outfit is something as simple as the hardware on your belt, and three buckles for three belts means you effectively have nine belts. Anson offers a solution for pairing the right color and texture with the right boots — and it can be done in seconds.
For buckles I went with
the "classic" in silver,
the "traditional" gunmetal, and
the "traditional" in rose gold.
But there are many more options to choose from, like gold, black, smoked gunmetal, antiqued gold, onyx, and even a nickel free silver colored buckle. Probably the coolest buckle design (which is a bit fashion-forward for me, but is still awesome) is the Anson "Golf" buckle, which is truly eye catching and probably the perfect gift for that golf-addict in your life.
As far as the quality of the metallic buckles goes, Anson buckles are a lighter weight, more of a tin-feel as compared to heavy brass or copper hardware. The best comparison I can conjure up is the Anson buckles have a similar feel to the tie clips from The Tie Bar: lightweight but durable, and will withstand the test of time with adequate care and attention.
My 3 Anson Belts

I opted for Anson's box set of 3 belts with 3 buckles, which is probably the best way to get started.
1. Anson's Saddle Tan Veg Tanned Belt

While perusing Anson's vast selection of straps I decided first on the brilliant 1.5" Saddle Tan veg tanned strap, which is made using a vegetable tanned premium leather.
One notable feature this particular strap offered was the wholesome, fresh leather smell. Since it's old fashioned vegetable tanned leather, it was by far the best smelling of the three. As a leather enthusiast, I've come to appreciate the nuances of veg tan and how it ages so beautifully and gracefully the more one wears it. This belt definitely does not disappoint in that arena, as after just a handful of wears it has already begun to show incredible patina, with breaks forming in all the key stress points along the belt. When this happens, it feels like the belt is becoming more and more my own over time.
Anson says "this is our finest strap yet," and I can't help but agree with them. If you're a leather connoisseur, this is the strap for you!
2. Anson's Formal Cordovan Belt

For my formal belt option I went with the 1.5' "Cordovan" full-grain leather strap which is a beautiful classic deep burgundy color. This strap has a very nice narrowing taper at the end adding to that dressy, sleek, classic silhouette. This one goes perfectly with any blue or gray suit, tying most ensembles together perfectly.
Just because this is considered a formal belt does not mean that it can't be dressed down and worn more casually, especially when you add a more casual buckle to it. I feel the ability to switch out buckles means it can transition across the dressiness spectrum seamlessly.
3. Anson's Invincibelt

Their all-new and incredibly durable "Invincibelt" is a very rugged and strong strap ideal for people with physically demanding lifestyles.
Aesthetically speaking, it's the perfect belt to compliment a toothy lug commando soled boot. The Invincibelt is made of a polyester webbing coated with a thermoplastic polyurethane which makes it feel rubbery, but still smooth enough to slide through the belt loops on your pants with no problem.
What's particularly cool about these are the different Invincibelt texture options Anson offers which have included camo, leather, reptile, and my personal favorite you can see above, "woven." I like to pair this one up with my black and gray nylon NATO straps on my watch. Lightweight, durable, functional, and damn sharp, this is the belt strap I'd most recommend to anyone who leads a physically demanding lifestyle who requires their gear be just as rugged as they are.
Anson's Concealed Carry Belts

Anson caters to everyone, but they also appeal to those with an affinity for the concealed carry lifestyle. The company offers what are known as their "Concealed Carry" nylon straps which are made with tactical-grade nylon with poly-core interior for increased strength and durability. The backing (the piece of the belt coming in contact with your pants) consists of a micro-fiber material which allows for easy movement through your belt loops, sweat resistance, and added durability.
Many concealed carry enthusiasts have come to trust and rely on these belts knowing they can attach essential gear to them because the belts are highly durable and up to the task. I've read reviews by enthusiasts who entrust their Anson Invincibelts to bear the load of their essential gear such as their concealed carry gun holster, mace, flashlight, keys, etc.
Consider this feedback from experienced military professional as well as all-around-second-amendment concealed carry guru, @the_contemporarygentleman:
In over 6 months, this belt shows minimal wear. Having two clips placed over the belt literally every day and the weight of a holster pushing down and out has done nothing to the integrity of the belt and nearly nothing to its appearance. I would confidently wear this strap exposed with a shirt tucked in at any time.
The importance of the non-conceal carry strap performing so well is that you don't have to only go with the conceal carry line. You can branch out to all of the amazing different belts Anson Belt has to offer and still carry a weapon, even my particularly large Glock 17. The buckle has performed effortlessly under the stress of pulling a holster close to my body — and it also looks fantastic.
[Shop Anson's Concealed Carry Belts]
Anson Belt Combinations

Anson offers plenty of options for combinations. With three straps and three buckles, there are a total of nine combinations to create to complement any outfit you can dream of.
Let's get mathematical: at the time of writing, Anson has 73 straps in the more formal 1.25" width and 31 different buckles to accommodate them. If you were to buy them all, that makes up 2,263 possible combinations in the 1.25" belt category alone! There are also 86 straps in the 1.5" width and 24 buckles to accommodate them, adding 2,064 possible combinations.
Sizing Your Anson Belt

Anson really is a "one size fits all" brand. All of their straps come at the initial length of 50 inches, which you then simply cut down to size to fit your waist.
I know what you're thinking: "I have to cut these myself?!"
Yes, but it's actually quite fun to play a hand in personalizing your accessories. Just remember, there are no do-overs if you cut off too much initially. My recommendation is to start by taking off less than you would originally anticipate, then wear it around to make sure you're happy with the length. (Anson recommends leaving around 5 inches of extra leather past your waist size to be safe, which is also helpful in case you gain some weight.)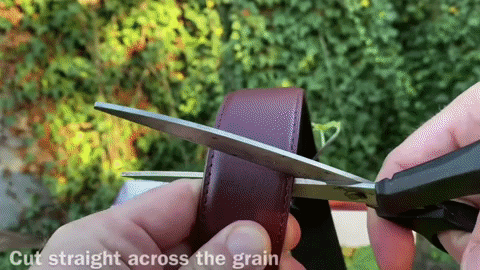 Are Anson Belts Good Quality?

After wearing these myself in my casual "normal person" lifestyle these hold up incredibly, with no signs of deterioration after a month.
The leather and components are very hardy and can stand up to all sorts of use. To help ensure the integrity of the system, Anson does incorporate some synthetic components in some straps to augment the strength of the leather.
When I first cut into my Anson formal belt I saw it had three separate layers compared to just a single piece of full grain leather in my other belts. This is purposeful, of course. The top layer is full grain leather, the middle layer (or "spine") is made with a compressed material to give it structure, and then the backing is made with a genuine leather. If there were only two pieces of leather (full grain and genuine), the resulting strap would have been limp and lacked structure due to the softness of the leathers used.
So the belts have multiple layers which all serve a purpose. In the case of the Cordovan belt:
The outer layer is a beautiful, smooth full grain leather.
The center layer is called the "spine" and that's for enhanced structure.
The backing (ie; the part that is in contact with your trousers) is deliberately smooth because it allows the belt to slide in effortlessly.
These belts are also fairly thin, which is good for people who prefer a lightweight and unobtrusive belt.
To add a comparison on the quality of the materials; I once owned a reversible calfskin Salvatore Ferragamo Outlet belt which was black on one side, brown on the other, with a removable/exchangeable buckle very similar to the one Anson uses, with the toothed-clasp that digs into the leather end to affix itself in place. I paid over $200 for that Ferragamo belt, and it lasted me over 5 years with almost daily use. Anson belts are very much on par with the feel and function of that same Ferragamo belt, but come at a much lower price.
A good way to think of Anson is that they are to belts as Thetiebar.com is to tie clips. While I have a couple sterling silver tie clips in my wardrobe for special occasions, most of my everyday tie clips are from thetiebar.com. Why? Simple: value. Anson belts are a great choice for most people out there who are looking for amazing value in the realm of commercialized products.
If I were in the process of building out my wardrobe from the ground up, Anson is a solid place to start.
If I were in the process of building out my wardrobe from the ground up, Anson is a solid place to start. My personal strategy would be to grab a new box set every so often and to allow my belt collection to grow and flourish, while enjoying the process of accessorizing every step of the way. Remember, multiply the number of straps that you have by the number of buckles, and that's how many belts you have.
Anson Belt Warranty

Anson offers a lifetime guarantee on all of their products.
If you wear out your strap or you somehow bust your buckle due to the intricacies of the moving parts involved, Anson will repair or replace the item for free. They're proud to back this guarantee and emphasize that there is no fine print to it. They're also a very receptive and responsive bunch, always happy to answer any questions you might have — plus, they always leave nice comments on my Instagram posts. I love knowing and interacting with the people who make my stuff!!
Anson Belts Price

Anson offers a variety of options at different price points.
$25: any belt or buckle
$49: a single belt and a single buckle package
$99: a box set of two straps and three buckles
$125 – $250: "Premier collection," luxury-grade leathers like authentic Italian Calfskin or Crocodile
Certainly, the best value is to get a box set. A hidden bonus is that when you're about to complete the checkout process, you can opt for yet another belt strap for the price of $115. That makes for three belts and three buckles, or nine belts if you want to see it that way, for $12.77 each.
[SHOP ANSON'S STORE ON AMAZON HERE]
[OR CHECK OUT THEIR OFFICIAL SITE HERE]
Wrapping Up

My overall assessment is that Anson belts fall more into the industrialized and commercialized product line than in the small-batch, handmade product line which would encompass brands like Pigeon Tree Crafting, Nobleman's Apothecary, Guarded Goods, Coronado Leather, Corter Leather, and others.
There are pros and cons to both. For example, Anson belts are far more affordable, especially in the case of ordering their box set for $99, in which you can opt for two straps and three buckles.
Compare this to the smaller batch, handmade belts which usually run anywhere between $125 to $175 and up, and you'll see Anson belts are an excellent value. I'm sure they would satisfy 99% of customers the world over.
The following two tabs change content below.
Style blogger, boot collector, leather fiend.
Latest posts by Dale Basista (see all)