In the world of footwear, quality isn't always determined by price alone. While the retail price can serve as a useful reference point, exclusively relying on it might cause you to overlook some really solid brands. Among the boot brands for under $250 that are generating significant buzz: Thursday Boot Company and Beckett Simonon.
They have a lot of similarities: boots for well under $300, founded in the early 2010s during the height of the direct-to-consumer craze, often suggested for first-time boot buyers, and wildly popular among YouTubers and influencers.
Even though both are direct-to-consumer footwear companies, which means they sell their products online without the markups of retail stores, the brands' overall business models and approaches to product design are very different. In this article, we will dissect different aspects of their products so that you can pick the best for your needs.
The take-home:
Thursday Boot Company is easier to order, costs less, more water resistant, and have more leathers and styles available.
Beckett Simonon wins out for dressier styles and they're lighter weight and more flexible because of their emphasis on Blake stitch construction — but you have to wait 3 months for them to arrive.
Let's take a bird's eye view of these companies before diving deeper into the pros and cons of their models.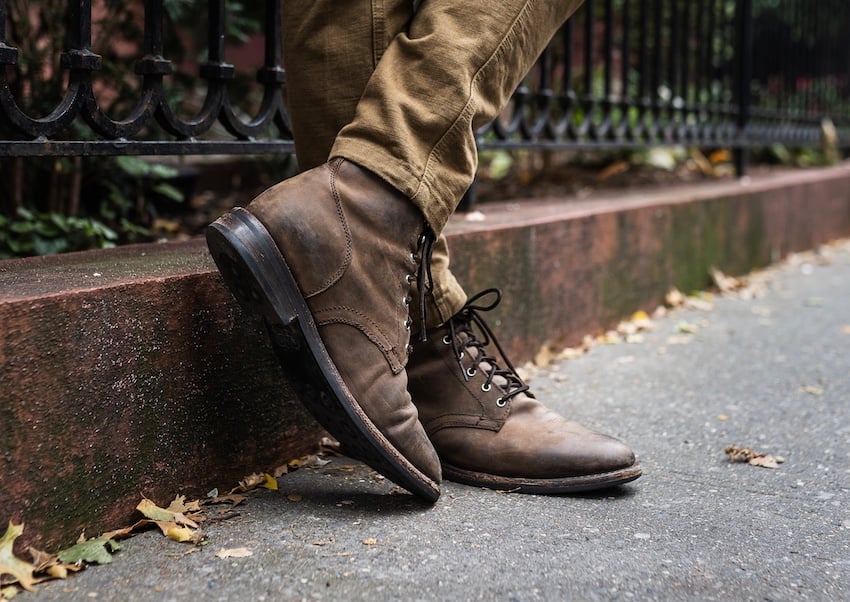 Tough and Timeless
What Is Thursday Boot Company?
Founded in 2014
Designed to blend work boots and dress boots
Primarily focus on casual boots, with some sneakers, bags, dress shoes, and jackets
Made in Mexico, which is a special line that is made in the USA
What started as a search for boots fit for the founders' college student budget turned into a Kickstarter campaign that placed the brand on the map. Thursday's mission is to bridge the gaps between chunky work boots and dainty dress boots by offering a range of products that are functional, yet stylish and more modern than heritage brands. And they do so at an incredible pricepoint: most boots are under $200.
The brand initially only sold boots, but eventually expanded its catalog to dress shoes, sneakers, and jackets. Most of their line is made in Leon, Mexico however, per demand from their customers, they also released a line that is made in the USA. See our Thursday Vanguard review and Logger review for looks at those two American models. In the fall of 2022, Thursday Boots released a series of Western and Cowboy boots.
Overall, Thursday Boots draws a lot of influence from the rugged, robust footwear that is popular with blue-collar workers and adventure seekers alike, with a more streamlined silhouette that makes them fit more easily into urban wear.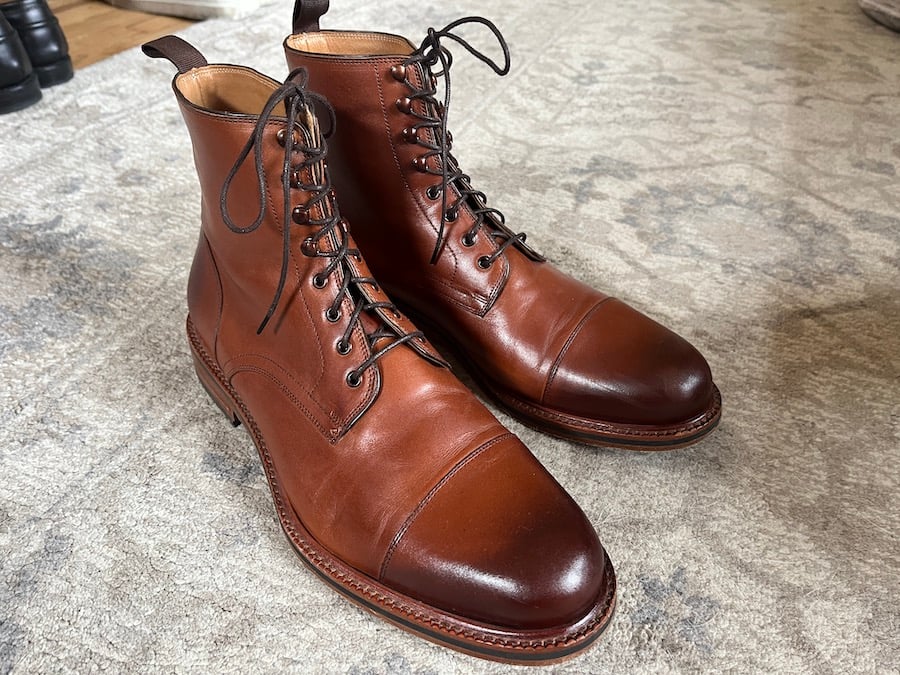 20% OFF!
Beckett Simonon's Dowler Boots
Crafted out of calf skin from a Gold rated tannery in Italy, this Blake stitched boot is flexible and lightweight for long hours of wear. Get em for 20% off with code STRIDE.
Get the Discount
Read Our Review
We earn a commission if you make a purchase, at no additional cost to you.
What Is Beckett Simonon?
Founded in 2012
Primarily focus on dress shoes, boots, sneakers
Made in Colombia
Made to order, meaning they're eco friendly but you wait for ~3 months for your product
Founded in 2011 by Nicholas Hurtado and Andrés Niño, another duo who were good friends before any business ventures came to mind. Prior to starting Beckett Simonon, the friends ran a leather business together and it was there that they found out the dark side of the retail industry. Third-party vendors would buy their product and sell it to consumers for up to 10 times the manufacturing cost. Not only was this bad for the consumer, but Hurtado and Niño thought the vendor's "buy and get it now" attitude was feeding into the wasteful instant gratification practices.
They realized this was rampant across the fashion industry and so they founded Beckett Simonon to do better. If Thursday Boots emphasizes rugged utility, then Beckett Simonon embodies class and elegance. Their silhouettes are geared toward a dressed-up wardrobe, mainly consisting of formal shoes and semi-formal selections like their expansive loafer collection.
Both brands started off with just men's boots and dress shoes but have since launched a women's line and an array of sneakers to stay relevant in the ever-evolving retail-fashion space.
Thursday vs Beckett Simonon: How Are The Boots Made?
Both brands produce quality boots differently. Thursday Boots makes their footwear with the Goodyear wear construction method while Beckett Simonon prefers to use Blake stitch. There are numerous debates online on whether one is better than the other, but the fact is both construction methods have their own pros and cons.
Thursday Boots – Goodyear Welt Construction
The Goodyear welt is Thursday Boot's preferred construction method for all their boots. It is a tried and tested way of crafting footwear that allows the wearer to resole their boots without harming the uppers.
PROS Of A Goodyear Welt
Durability – The welt creates an excellent bond between the uppers, insole, and outsole.
Resoleability – a GYW is a modular way of building a boot. When the outsole gets worn, a cobbler can just remove the stitching holding the worn sole and replace it with a new one
Water Resistance – The double stitching holding the boot creates a practically water-tight environment that can handle rain with ease
Stability – The welt and cork filling used adds support and stability for prolonged use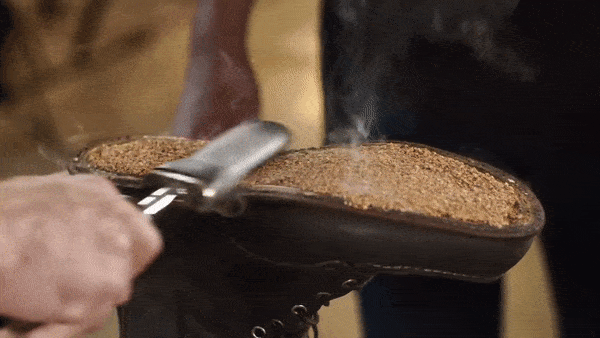 CONS Of A Goodyear Welt

Stiffness and Break-In Periods – GYWed shoes are stiffer due to the number of layers used in their construction
Bulkiness – The welt can add a bit of width to the boot
Less Flexibility – Due to the number of layers and materials used, GYW boots are generally not very flexible
The leather uppers are skillfully stitched to a footbed, which in turn is affixed to a belt-like leather known as the welt. A secondary row of stitching enters the fray, securing the midsole and outsole to the external aspect of the welt. This dual parallel stitching forms a robust connection, tightly bonding the boot's various layers. The interstitial spaces amid these layers offer room for inclusion, either leather or cork, lending the wearer enhanced stability and comfort.
Like most brands, Thursday Boots, fills this void with heated cork that adapts to your feet, ensuring a customized fit while also delivering shock absorption.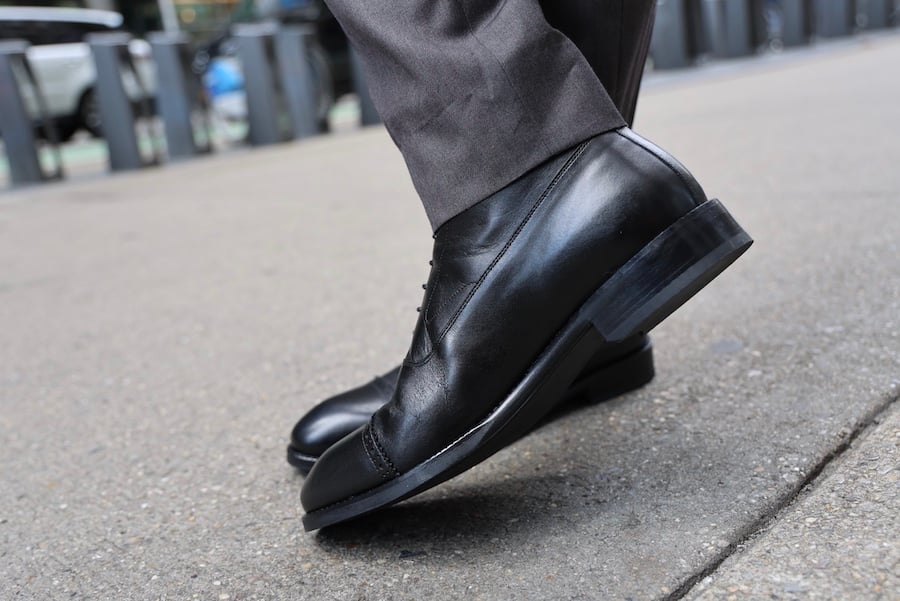 Best Balmoral Boot
Beckett Simonon's Elliot Balmoral Boot
Tall, elegant, sleek, and undeniably dressy, this balmoral-style boot is easily the market's best value dress boot. Use the code "STRIDE" for a 20% discount.
Get the Discount!
We earn a commission if you make a purchase, at no additional cost to you.
Beckett Simonon – Blake Stitch Construction
Beckett Simonon employs the Blake stitch method to make their boots. Named after its inventor, Lyman Reed Blake, this type of construction is more typical on dressy shoes and footwear that isn't designed to take a beating or handle water like work boots.
Blake stitched footwear contours the foot a little better than footwear made using a Goodyear welt or stitchdown construction because of how close the uppers are to the soles. There is no welt that protrudes away from the leather creating additional surface area, unless there's a decorative one, which isn't uncommon in more casual Blake stitched boots.
PROS Of A Blake Stitch
Flexibility – the absence of a welt allows the boot to flex more naturally during movement
Sleek Design – the absence of a welt and its direct single-stitch construction allows the boot to taper aggressively when needed giving it a slimmer profile
Lightweight – Blake stitched boots have fewer layers thus making them very lightweight
CONS Of A Blake Stitch
Water Infiltration – The lack of a welt and its direct stitching make the boot more susceptible to water leakage
Resole Complexity – Resoling Blake stitch shoes require special machinery that not every cobbler has access to
Limited Resoleability – Due to the soles being attached directly to the uppers, numerous resoles may damage the uppers permanently.
The way a Blake stitch is done is a lot simpler than it sounds. All of it is stitching the sole, insole, and upper together from the inside of the shoe. It requires a special sewing machine that cobblers don't always own; it's easier to find a cobbler that can work with a Goodyear welt, but it's not that hard to resole a Blake stitched shoe.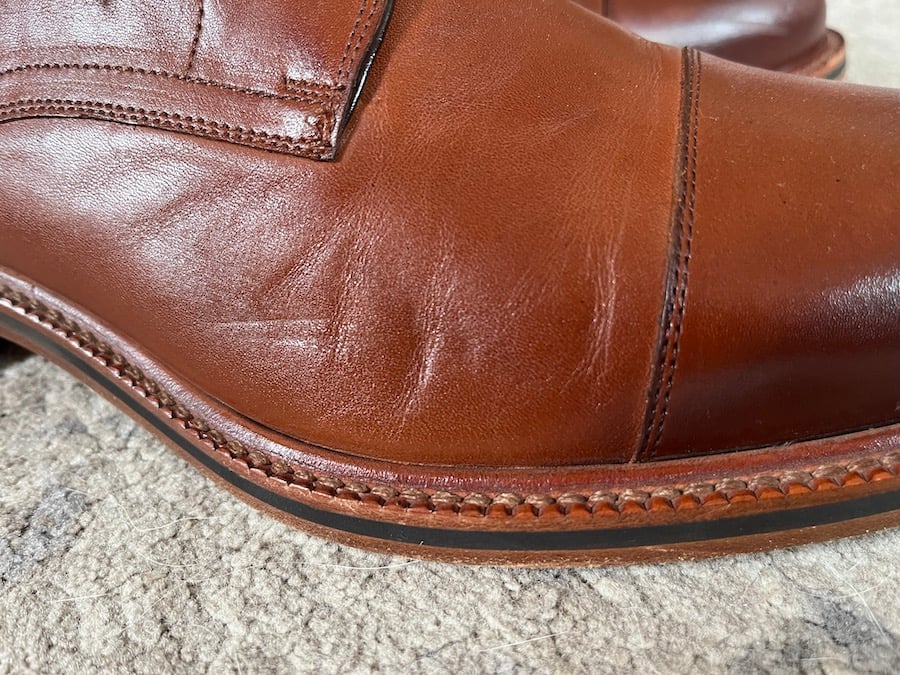 Is A Goodyear Welt Better Than Blake Stitch?
Whether a Goodyear welt is better than a Blake stitch all comes down to personal preference and the boot's intended purpose. More rugged, workwear-style footwear benefits from a Goodyear welt as it makes for a more water resistant boot that can handle more resoles.
On the other hand, dressier styles benefit from having a Blake stitch as it helps the boot appear slimmer, and some find the weight and flexibility to produce a more comfortable boot.
With Thursday Boots taking inspiration from American workwear and Beckett Simonon taking inspiration from classical European dresswear, their perspective construction methods work appropriately.
The Best Damn Boot
Thursday Boot Co. Captain Boot
A comfortable, durable, and versatile cap toe boot handcrafted with quality leather from US hides and featuring Goodyear welt construction. The Captain is built to last — and match with anything.
Check Best Price
Read Our Review
We earn a commission if you make a purchase, at no additional cost to you.
Thursday vs Beckett Simonon: The Leather
The type of leather used for the uppers of a pair of boots greatly affects its longevity. The general rule of thumb is to use "full grain leather," which has a tight grain structure and wears well. Nobody controls the word "full grain," though. It suggests you can see the grain of the animal's skin, but most companies that use the term — including the two we're looking at here — will usually sand down or "correct" the leather a little to make it smoother. That's not a big deal and doesn't really affect the longevity, just the appearance.
A leather's thickness is a bigger factor, and at just slightly under 2 millimeters, both brands use leather of similar thickness.
Spoiler: Thursday has better leather. They have far more colors and styles from more prominent tanneries, and having worn both brands, it's clear that Thursday's is tougher.
Thursday Boots' Leather
Most of Thursday Boot's leather comes from a tannery called Lefarc in Mexico, regarded as one of the most sustainable tanneries not just in the region but the world. They have specialized water treatment plans, repurpose their waste, utilize solar power in over a quarter of their operations, and even give back to the local community through charitable work.
Here are some of the best known leathers.
Rugged & Resilient (Lefarc) – a range of matte leather meant to be worn with little to no maintenance needed.
Thursday Chrome (Lefarc) – their dressier, smooth leathers.
WeatherSafe™ Suede (Alfamex) – suede that is treated to be highly water-resistant.
Chromexcel (Horween) – The most popular boot leather across US brands, tanned in Chicago.
Beckett Simonon's Leather
Beckett Simonon keeps their tannery a secret, however, we do know that it is from Arzignano, Italy, and that the tannery is Gold-rated by the Leather Working Group (LWG). Being gold-rated means that the LWG deems the tannery to meet the stringent criteria that they set in order to reduce the negative impact chrome tanning can have on the environment if the tannery isn't well regulated.
Some of their leather offerings are listed below.
Pebbled Leather – textured leather embossed with a scratch-resistant grain pattern.
Calfskin Suede – naturally treated suede that is soft, yet water-repellent.
Calfskin – leather with a fine grain that dresses up well.
Pull-Up Leather – leather infused with hot oil during the tanning process for hardy wear.
Thursday has a wider array of leathers in more colors, and their leathers are more supple and hard wearing than the Beckett Simonon boots we've handled. That said, the emphasis on calfskin means Beckett Simonon's dress boots, like the Elliot, are fairly good options.
Best Balmoral Boot
Beckett Simonon's Elliot Balmoral Boot
Tall, elegant, sleek, and undeniably dressy, this balmoral-style boot is easily the market's best value dress boot. Use the code "STRIDE" for a 20% discount.
Get the Discount!
We earn a commission if you make a purchase, at no additional cost to you.
Comfort
Let's delve into a comparison of their liners, footbeds, insoles, and lasts to determine which brand provides the highest level of comfort for everyday wear.
Liners – supportive layer on the inside of the uppers
Insoles – layer that is on top of the footbed that comes into contact with the soles of your feet.
Footbed – layer between the midsole and insole
Midsole – layer between the outsole and footbed
Thursday Boots' Comfort
All Thursday Boots are fully lined with supple bovine leather, called "glove leather" because of the softness and because it can be skived down thinly with its structural integrity intact.
The footbed is made with a layer of Poron padding. Poron is a specialized rubber that bounces back after it compresses, absorbing shock better than traditional leather footbeds. Below the footbed lies a layer of hot cork, and a steel shank to help fill in the empty received between the layers as well as stabilize the boot.
The midsole is crafted from natural, moldable cork, which enables the boot to gradually conform to the unique contours of the wearer's feet. An added bonus of cork is its breathability, lightweight nature, and shock-absorbing properties.
Lastly, the insole is a thin piece of leather that is nested on top of everything to give the boot's interior, a nice clean look. Additionally, leather insoles are breathable and will form your foot shape over time just like a cork.
Beckett Simonon's Comfort
Beckett Simonon's boots are lined with Vachetta leather. Vachetta is typically vegetable tanned calfskin leather that's extra fatty and durable. It's what luxury brands like Louis Vuitton use on their handbags and wallets. Some unique qualities of Vachetta leather are that it has odor-resistant properties and is highly breathable making it the perfect choice for guys who have sweaty feet. Credit where it's due: Beckett Simonon's lining is better than Thursday's.
They use a leather sock liner insole with an additional layer of foam beneath the heels, giving wearers some extra comfort. For added stability when on the go, a steel shank is positioned beneath the heels as well. The footbed is made from fiberboard — essentially compressed paper — which offers less durability compared to leather and is not as water-resistant, however, given that the foot rests on leather insoles, this shouldn't present any issues in terms of comfort and performance. It's also worth remembering that Beckett Simonon emphasizes comfort and style over rugged durability.
Lastly, the midsole is made from a thick piece of vegetable-tanned leather that gives the boot structure. While it might be less moldable than cork (Blake stitches don't have that cork filling), it compensates with increased durability.
Which Brand Is More Comfortable?
Having worn multiple styles by both brands, I can easily attest that neither brand is terrible on your feet. Both are quite comfortable and most people should be able to wear them for a whole day without problems. However, if I must pick a winner, it would be Thursday Boots. Why?
Starting off, the Poron technology used in Thursday Boots is pretty fascinating. It's like a cool feature that gives you extra energy when you walk. Imagine a slight bounce with each step – it's almost like wearing sneakers.
Now, looking at Thursday Boots' cork midsole versus Beckett Simonon's leather midsole, there's something interesting to consider. The leather midsole has that classic vibe, like old-school craftsmanship. But here's the twist: Cork filling molds to your feet. They're like the champs of comfort. While leather midsoles have their charm, it's clear that cork takes the lead when it comes to making your feet happy.
Beckett Simonon vs Thursday Sizing
In order for a brand to be accessible, it must provide the correct sizes for customers to choose from. Thursday Boots and Beckett Simonon both have a large array of sizes to pick from but only Thursday Boots provide wide-width models.
Thursday Boots' Sizes
Wide sizes available
Order half a size down from sneaker size
Thursday Boots offers their footwear from size 6 all the way to a size 16, including half sizes. Most of their boots come in both standard (D) widths as well as wide (EE/EEE) widths. The brand recommends customers get 1/2 down from their sneaker size.
The lasts they use vary, but generally, the toebox on Thursday Boots is not very voluminous so if you're used to having breathing room up front, it might be better to order true to size. Most guys should order a half size down.
Beckett Simonon's Sizes
No wide sizes
Order true to size
Beckett Simonon's footwear comes in standard (D) size 7 to size 14 without half-size options. It's advised to order your true size that you'd find on a Brannock device in a shoe store. (Usually this is your sneaker size, sometimes it's a half size smaller than your sneakers.)
It is unfortunate that the brand does not offer wide widths however, many people often find the toe box to be fairly generous and E widths may be comfortable in these boots.
Something that Beckett Simonon does right is that they also offer a free set of PU inserts that can be placed on top of the insoles for a more customized fit.
Thursday vs Beckett Simonon: Ordering Process
Thursday: Arrives within days
Beckett Simonon: Arrives within months
The ordering processes of Thursday Boots and Beckett Simonon differ significantly. When it comes to Thursday Boots, customers can simply make a purchase directly through their website. This process will be familiar to anyone who has experience with online shopping. Typically, it takes under a week for each order to get from the warehouse to the customer's doorstep. For those who prefer in-person shopping, Thursday Boots also offers a showroom in NYC where purchases can be made or returns can be processed.
Shipping is free and fast, as are returns and exchanges.
Conversely, Beckett Simonon is made to order, so your boots must be made before shipping. When customers place an order with the brand, the purchase is made online; however, the delivery of the order is expected to take around 3 months.
This delay is due to Beckett Simonon manufacturing shoes in batches. In each production run, they consolidate orders received over the preceding months, only producing a quantity sufficient to fulfill these specific orders. This is the brand's solution to eliminate waste and excess. By not overproducing, they save on storage space and manufacturing costs, help the environment, and in turn, the customer pays a little less. Now you might be wondering, what if the customer wants to exchange size? Sometimes they have extra sizes on hand to exchange, but it's not always the case. Make sure you find out your Brannock size before ordering, because returns aren't easy.
Thursday vs Beckett Simonon: Pricing
Most Thursday boots: $199
Most Beckett Simonon boots: $259
Both brands' boots are priced very fairly for the product that you're getting.
Thursday Boots can be purchased for $199 pre-tax and will be this way all year round.
Beckett Simonon boots are $259 but our discount code STRIDE gets them down to a little over $200, a 20 percent discount.
During major holidays or sometimes even on random days, Beckett Simonon will sometimes offer bundle deals that will get boots to around $140 dollars a pair. You might not need 3 pairs of boots at once but if you can find 1 or 2 other buddies to purchase with you, this deal is a must.
Thursday vs Beckett Simonon: Which Is Better?
Overall, Thursday Boot Company is the better bet. They're better value, they arrive faster, they have more leathers and styles, they absorb shock better, and they're easier to exchange.
Beckett Simonon's boots are lighter and dressier, so we'd suggest them if you're interested in something with a more European sensibility.
Ultimately, choosing between the two depends on individual preferences and needs. If rugged utility and innovation are crucial, Thursday Boots might be the choice. If sleek design, flexible construction, and sustainable sourcing matter more, Beckett Simonon could be the brand for you.
Frequently Asked Questions
Are Beckett Simonon Goodyear welted?
No. Beckett Simonon is Blake stitched, which is an older method of shoemaking where all the layers are connected with one seam. It's less water resistant, but lighter and more flexible
Are Thursday Boots Goodyear welted?
Yes. All of Thursday Boots men's collections are Goodyear welted, so they're water resistant and easy to resole.
How long is the wait for Beckett Simonon?
Usually, the turn around time is about 3 months.
The following two tabs change content below.
Humphrey Tsui
Humphrey is a native Brooklynite who loves to talk about personal styling! He is an expert on leather, shoe construction, and the history of American pop culture. Message him
on Instagram
. here!
Latest posts by Humphrey Tsui (see all)