Besides the time-saving lacelessness, one of my favorite things about Chelsea boots is how many varieties exist on the market. You can have rugged work Chelseas like Blundstones and dressy suit boots like Carmina, but neither are all that versatile — and Chelseas that dress up typically cost well over $400.
Enter my favorite Chelsea from Thursday Boot Company. The Cavalier is one of three Chelseas they offer and it's sold as the dressy one: buy it with one of their glossy, smooth leathers and you can wear it with a suit.
But Don't Sleep on the Cavalier is the theme of this review because I think that "dressy" branding caused a lot of guys to overlook this model. I think it's their most versatile Chelsea and after months of wearing it around Europe with both trucker jackets and pea coats, I'm here to tell you: it's as easy to dress down as it is to dress up.
Although this boot has the insanely low price of $190, they can go toe to toe with better known dress and casual boots alike.
Who should buy Thursday Boot Company's Cavalier?
Men who want a Chelsea that can be worn with anything
Anyone who likes good value; these are a steal at $190
Guys who dislike pull tabs hiking up their pant cuffs (me)
Folks looking for a boot they can wear to the office
People who want a resoleable boot that's more durable than it looks
Wide-footed men with EE/EEE widths; this boot comes in 3 colors for wides
Who shouldn't buy Thursday Boot Company's Cavalier?
People who prefer all-leather soles; the rubber studs make this a bit less flexible and breathable than pure leather soles
Anyone who prefers pull tabs for their Chelseas
Guys who prefer traditional construction; these have shock absorbing foam insoles
Men who don't like a slim boot; these are hard to wear with wide legged pants
Thursday's Cavalier: The Look
Sleek, handsome silhouette
Smooth leathers, suedes, and waterproof suedes available
Flat leather sole with studs for grip
No pull tabs
Thursday Boot Company's M.O. is making boots that can be worn with anything. The founders were tired of quality boots falling into the category of chunky work boots or dressy suit wear, so they made the company around their flagship Captain, President, and Diplomat boots, all of which are ultra versatile and which I've oh-so-helpfully reviewed for you.
As mentioned, the idea with the Cavalier is that it's dressier, but this review is to convey how darn well it pairs with just about anything, provided your trousers have a slight taper. (That's a caveat for most of Thursday's more popular models. Billowy cuffs shrink them.)
To summarize the look of this boot: sleek, no pull tabs, leather sole with grippy rubber studs to avoid slippage. The smooth leathers are ideal for business casual and casual alike, the various suede models dress down more easily.
Thursday's Cavalier Leathers and Suede Care
Smooth leathers: Black, Hickory
Traditional suedes: Sandstone, Dusty
Weatherproof suedes: Shadow Grey, Dark Brown
The leathers available on the Cavalier vary, and the lineup changes seasonally, but you get the three basic groups above.
If you want something you can comfortable wear to the office, a smooth leather like the Black or Hickory ones are your best bet.
Then there are two families of suede. My Sandstone model above is your traditional suede and although suede is thinner than regular full grain leather because it's been split down the middle — that's how you make suede — it's actually very hard wearing and ages wonderfully.
The main, justifiable concern folks have with suede is that it stains more easily. My recommendation: spray the suede down when it's new (or clean) with something like Saphir's Invulner, or you can get something from Thursday's other family of suedes that they call Weathersafe.
This is suede that looks pretty similar to the normal stuff, but it's been imbued with a range of oils and waxes in the tanning process that make it repel water and stains like your usual, full grain leather. It's really cool technology and it gives you a hard wearing suede you don't have to worry about if it's rainy outside.
[For a fun experiment, see how I waxed my Cavalier boots with some Nashville cobblers!]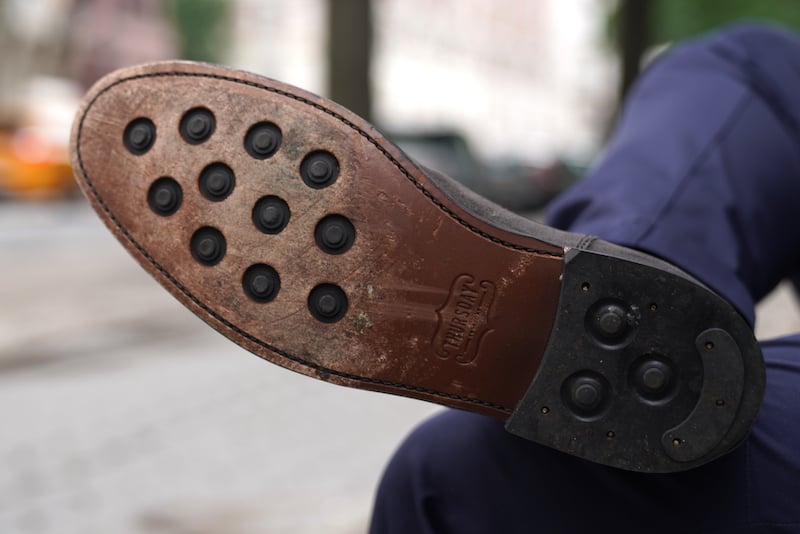 Thursday Cavalier Sole and Construction
Leather sole with added studs for grip
Cork-bed midsole
Fiberglass shank for stability
Shock absorbing insole
Leather lining
Goodyear welt construction for resoling and water resistance
The outsole is leather with rubber studs, which is achieved by laying hole-punched leather over a layer of rubber that peeks through with the studs.
There are upsides and downsides to this. The upsides are that it's very sleek and low profile when viewed from the side — much more professional than a Commando sole! — it's more aesthetic than a scratched up leather sole, and it solves the famous grip issues that most guys have with leather soles. It's all too easy to skitter on wet pavement with the traditional kind, even when it's been worn in and the scratches have provided you with some grip.
But plenty of guys love leather soles because they're more flexible, breathable, and soft than rubber. The breathability is why so many cowboy boots stick to all leather construction, and the softness of leather-all-the-way-down allows the shoe to mould to the shape of your foot more easily than any other material. By putting rubber between the outsole and the midsole, you lose all those qualities.
But to be fair: the vast majority of guys just care about the grip, and would probably return them if their Cavaliers left them skittering around wooden floorboards. For most customers, the rubber studs outweigh any drawbacks of foregoing traditional leather soles.
As you can see, the construction is quite modern: in addition to the unusual rubber-plus-leather sole there's shock absorbing Poron in the insole, which makes for a boot that's very comfortable underfoot — but let's talk about that in the next section.
[Related: Red Wing vs Thursday – Which Is the Better Boot?]
Thursday Cavalier Comfort
Poron insole provides great shock absorption
Fiberglass shank helps with stability and arch support
Very lightweight
These are very comfortable boots. The Poron insole makes for a shoe that doesn't rattle your knees the way that more traditionally made shoes (*cough* Red Wing) tend to, and this is a key component of the brand: making boots that are tough, water resistant, and resoleable, but with an attention to comfort that brings them closer to sneakers than traditional boots.
In other words, stomp your feet and you won't feel it as much.
Purists decry modern materials like Poron because it degrades over years of wear, and it's true that the foam compresses with time. But with the leather and cork in the midsole, you'll still gain much of the feels-like-custom benefits of traditional boots, particularly as the Cavalier features a fiberglass shank.
Shanks are considered by many as an essential part of a boot with a heel because this hard strip of material, inserted under the insole between the heel and midfoot, provides stability and helps the boot retain its shape over time. You'll usually see steel used, but many like materials like leather or fiberglass because they help to keep the boot lighter — and they're more metal detector-friendly.
Thursday Cavalier Sizing
Round down to nearest half size
Base this on your Brannock size, not your sneaker size
Available in wide widths
The first thing you need to do is get your foot measured on a Brannock device, those gizmos clerks fit you with at a shoe store. Don't think of your sneaker size as your "true size;" they're probably a half size bigger.
The way boots work is that they're usually a half size smaller than your true size and a whole size smaller than your sneaker size. This means you size down: if your sneakers are 12 and your Brannock size is 11.5, get these in an 11.
Personally, I'm in the unfortunate position of being 11.75 on a Brannock, so I struggle with boots. (Starting a boot blog was a great idea, right?) But one reason I love the Cavalier is that the supple leather and less structured design makes it easier to size: I can actually wear both 11.5 and 11 in Cavaliers. If you're getting these boots, as opposed to the Dukes, you don't have to stress as much about getting the wrong size. It's a versatile last in more ways than one.
[Related: The Best Boots for Under $200]
Thursday Cavalier Price
The word "disruptive" is overused, but nobody was making Goodyear welted boots at this price before Thursday Boot Company came on the scene — and to this day, no one else is offering better value.
The Takeaway
Out of all of Thursday's Chelseas and all of my Chelsea boots in general, I wear my Cavaliers the most.
The lack of pull tabs is not an issue: the leather is supple enough that they're easy to pull on, and I don't need to constantly check my cuffs to make sure the tabs aren't peeking out like I do with every other slip on boot I wear.
The style is versatile, the leathers are gorgeous, there are a ton of colors to choose from, and the value cannot be beat. If you're walking on hot sand and prefer the breathability of all-leather construction, I get it. If you need a waterproof Chelsea, there are other models. But for style, versatility, value, and durability, this is the best combination of all four that you'll find.