This post may contain
affiliate links
that at no additional cost to you, I may earn a small commission from.
This article has been in the making for well over a year, ever since a chance encounter at a London menswear store introduced this writer to a mighty beast of a winter jacket. A casual jacket that's so warm and so unusual, so understated yet so eye-catching, that several were purchased throughout the following year in an unquenchable thirst to find the all-time best version of this landmark in menswear.
We're talking about the deck jacket.
After deciding an article would be a perfect excuse to overindulge this fanaticism, four (4) deck jackets were procured so that we could look at how leading companies iterate and perhaps even — gasp — improve upon the 1940s original, devised to keep our hard working naval servicemen warm and dry on the high seas.
We even interviewed a military clothing historian from HistoryPreservation.com to learn more about how this jacket became such a stupendous item of winter wear, before we plunge into the list where I compare materials, historical authenticity, fit, and price.
What Is a Deck Jacket?
Dense cotton shell made from Bedford cord or jungle cloth
Wool lining, usually an alpaca blend
Zipper opening with button placket
Short length; this isn't a coat
Deck jackets don't scream "military" like a lot of vintage-inspired men's outerwear, and that's why we like them.
But they're popular in the nerdy world of heritage replicas because the N-1 Deck Jacket was built for and worn by the US Navy in World War 2, a time before the plethora of artificial materials engulfed the world of outerwear and we kept ourselves warm with natural materials like cotton and wool.
Deck jackets are stylish, durable, and incredibly warm, representing a time before modern materials like nylon and polyester were introduced to jackets in the 1950s.
Who should buy a deck jacket?
Guys who want a jacket that can withstand subzero temperatures
Anyone attracted to overcoming the elements with all natural materials
History buffs who like the idea of wearing the same jacket as their ancestors
Men who like an eye-catching yet subtle winter jacket
Who shouldn't buy a deck jacket?
People who prefer the lightweight performance of modern materials like polyester and nylon
Guys who like more modern fits; these tend to be boxy
Men with long torsos; traditional deck jackets are fairly short (28″ long for a Large)
The History of the Deck Jacket
Before civilians like James Dean and Paul Newman donned the deck jacket, it was worn by the good folks at the US Navy. The N1 style that we all know and love today is the 3rd iteration of its kind, with the original being first developed in 1940.
The Navy started this project because they needed something warmer when running around on the US's relatively new Aircraft Carriers that transported the also-relatively-new US fighter jets during World War II and the Korean War.
Prior to the deck jacket, sailors wore a peacoat over their uniforms when it got colder, but it was soon learned that peacoats are too restrictive for the manual labor duties the servicemen had to perform.
Color Variance
When the Navy first designed the jacket, it only came in a dark navy color to symbolize the branch.
However, as the US military saw missions through various parts of the world, their design team decided to add an olive colorway to their catalog. The olive color made it easier for servicemen to blend in and also made it possible for the Navy to stencil in the iconic USN lettering on the chest.
What is strange is that if you look at today's market, you will see a lot of retailers selling a khaki version.
Knowing that the Navy did not produce a khaki color, I asked historian, Charles Disipio of History Preservation to help me understand why the most ubiquitous deck jacket today is khaki or golden brown.
Aside from the original navy, Charles said that the only other color produced was an olive hue that the military dubbed USN Olive drab# 3.
The olive color is difficult to produce and because multiple contractors were assigned to make this fabric, each batch came in a slightly different shade. When exposed to heavy use in a hostile environment such as salt water, UV ray or just from washing, over time they will fade into a paler golden, khaki color.
Usage In War
Its basic construction consists of a dense cotton shell and alpaca wool lining. There are actually three different types of deck jackets designed for different climates because World War II was fought on three different fronts, all with different climates over different seasons; war doesn't take a summer break.
The N-1 deck jacket was made for cold climates so it employs thicker and warmer materials like Alpaca wool. The N-2 deck jacket is optimized for rainy conditions and the N-3 was for tropical climates. These three types were part of the navy's "N" system, which would fit right in with modern branding.
Like the bomber jacket and peacoat, the N-1 jacket left the military on the back of war heroes, and into the hearts of American culture. Kids and celebrities alike started wearing them to look cool and embody that rebellious, post-war spirit.
Nowadays, you'll find a variety of materials used to make the N-1 deck jacket but the original used very military specs.
Deck Jacket Materials
It's the unique materials that get a lot of the heritage fashion nerds riled up. I'm pretty into my menswear and this jacket had two materials I've never owned before, and I love this stuff.
Let's start with the Alpaca wool.
Alpaca and Wool Pile
"Alpaca fibers were first evaluated by the Army Air Corp in the late 1920s and 30s," explains Charles, but the military did not utilize the fiber until the early 40s.
This change in the early 40s came about because resources like wool were becoming scarce during the war. The US Navy wanted to find a replacement for wool as their primary lining material and through trial and error, they found out that using a combination of equal parts alpaca and wool would create a material that was not only warm but also satisfied their supply chain issues.
(The military) would have liked to stay with sheep wool, but because the crunch of the war industry placed such a high demand for sheep wool, they wanted to reserve it for when they absolutely needed it.
Charles also explains that the military made the liner by "weaving the hairs of both animals through a cotton fabric that is almost screen-like. The result is a relatively lighter product than what you would have gotten if you used full sheep wool as sheep-lined goods typically included the sheep's skin."
That "screen-like" layer of cotton mesh that the fibers are woven through is the reason the lining is sometimes described as a mixture of wool, alpaca, and cotton: that cotton component is just the mesh, the lining proper is only wool and alpaca.
Alpaca is also considered warmer than wool because the fibers have more hollow space, and that creates a greater thermal capacity, meaning it allows for more warm air to fill it. It also has more tensile strength and it's hypoallergenic because there's no lanolin in it — but of course, the blend is still half sheep's wool, so if you're totally allergic instead of a little sensitive, that won't make a huge difference.
While alpaca is similar to sheep's wool, it is warmer, less prickly (depending on how it's processed), and has no lanolin, which makes it hypoallergenic. Alpaca fiber is naturally water-repellent and fire-resistant, like wool, so it's not surprising that it was used during wartime on large ships packed with fuel floating on the oceans.
Jungle Cloth (Cotton Grosgrain)
Jungle cloth is another interesting material.
The cotton outer is very important. It's called Bedford cord, and it was the first time I'd ever heard of this kind of cotton textile. Considered a cousin to corduroy, it's a heavy warp-faced corded fabric, in which the cords run in the warp (vertical) direction. It's a kind of grosgrain, meaning it's a plain weave with a weft that's heavier than its warp.
There's some debate as to whether Bedford cord is the same thing as jungle cloth. While technically, jungle cloth is a more water-repellent version of Bedford cord, the two terms are used so interchangeably that the distinction has become practically useless.
In any case, it's unbelievably dense and resistant to tearing and abrasion, and while I've said that about canvas and twill in the past, Bedford cord takes it to another level.
And it's rare. It's hard to find because these days most if not all of it is made on old looms in Japan. It's a really cool thing about this jacket: it's a cotton jacket but it's a kind of cotton you have likely never worn before and it's more than ready for deep winters. That's probably something you didn't think you'd find with a cotton shell.
The Best Deck Jackets
This list covers authentic reproductions and more modern interpretations of the N-1 deck jacket. The prices also range from fairly affordable to over a thousand dollars.
1. Buzz Rickson's – Most Accurate
Alpaca fleece lining, including sleeves
Bedford cord outer shell
Wind flap protector over the zipper front enclosure
Hidden storm cuffs in the sleeves
Has 'USN' motifs in the front
Made in Japan
Retails for $455
Buzz Rickson's has been around since 1993 and specializes in making vintage US military garments. Their main original goal was to make reproductions for the Japanese market, but now they are a globally recognized name by people who are into this very niche type of fashion.
Buzz Rickson specializes in making these ultra-accurate reproductions. The deck jacket I have is brown and the only two colors of N-1 ever made were Navy blue and then field tan, above.
They included the Alpaca wool blend lining and jungle cloth cotton exterior. My only fault with the jacket is that I have a long torso, so this jacket feels a bit short — but that's the design, that's how it's supposed to fit.
Sizing
Buzz Rickson's N1 jacket comes in sizes 36-46. According to Buzz Rickson's own statistics, 70% of their customers get a size that is 6 inches larger than their chest measurement, and 30% will prefer to size up to get a size that is about 8 inches larger than their chest.
Personally, I'm usually a 42, and that's the size I got in the Buzz Rickson's.
2. Iron Heart – Most Popular
Wool and alpaca lining
Alpaca-lined hand warmer pockets
Cotton whipcord outer shell
Throat latch
Knitted storm cuffs
Minimalist design with no 'USN' motifs
Made in Japan
Being regarded as one of the best heritage makers out there, Iron Heart's N1 jacket is the best-known variant. Their jacket doesn't deviate too much from the original design but the upgrades and changes that they incorporated greatly enhance the wearer's quality of life.
First of all, Iron Heart added an interior Permex pocket. This is a simple change but an absolutely necessary one: the original N1 doesn't have an internal pocket and the outer pockets don't secure closed. Iron Heart fixes both of those problems.
The brand also replaced the drawstrings with snap cinches. This allows the wearer to tighten the waist without creating unnecessary stress marks on the shell. They also added buttons to the cuff to help minimize wind from flowing up the sleeves.
Moving into the interior of the jacket, Iron Heart added an interliner that offers additional wind resistance and insulation. What is interesting is that even though the final government issue N1 did not have an interliner, earlier prototypes did have one made out of cellulose. The military probably removed the feature on the final design due to the cellulose being too noisy.
The actual liner on Iron Heart's jacket is different too. Unlike the original, Iron Heart's version is an 80/20 blend of wool and alpaca that is less itchy than the one issued by the US Navy. One change that I would consider to be a downgrade on Iron Heart's is that the sleeves are not lined with any wool at all, instead, it is lined with a quilted satin material. But this reduces bulkiness and makes it easier to wear with short sleeves.
Sizing
Regarding its sizing, the N1 by default is already slightly cropped and Iron Heart's is actually slimmer than most on the list here. Different people will have different opinions on how this jacket should fit, but in general, the two schools of thought are:
If you have an average-length torso and desire a jacket that fits like the original, then go with your true size.
If you have a longer torso, or just prefer a slouchier fit, then go one size up.
3. Pike Brothers – Best Value
Wool lining
Bedford Cord ('Jungle Cloth') outer shell
Stand up collar
Proper 1940s round knit wind cuffs
Minimalist design with no 'U S N' motifs
Made in Turkey
Retails for €299
While Iron Heart is not the most expensive deck jacket on the list, at over $700, it is still not considered cheap. For those looking for a more affordable option, there's the Pike Brothers' 1943 N1 Deck Jacket. Due to the jacket being made in Turkey, this model is only €299, making it the best-value jacket on this list. Other variants that at this price point or lower almost invariably mix polyester into the lining.
The Pike Brothers label originates in Australia where they started producing textiles in 1885. When the US Armed Forces arrived in Australia during World War 2, they were contracted to manufacture uniforms for US officers. The brand became inactive after the war but was given new life when a married couple of vintage enthusiasts came across a set of old Pike Brothers garments. The duo was so impressed with the clothing's quality and construction that they set out to revive the brand to do what the company did over 5 decades earlier. Unbeknownst to them at the time, their small family venture would turn into a worldwide business in just a few years as the people started to take an interest in well-made, heritage menswear.
Not surprisingly, one of their most popular items is their 1943 N1 Deck Jacket. This is nearly a complete replica of the one issued by the US Navy during World War 2. Like the original, the jacket's outer shell is made out of jungle cloth while the lining is made from 100% 500g/sqm wool. No alpaca, sure, but no polyester either.
Another factor that keeps costs low for Pike Brothers is that this jacket is made in Turkey as opposed to the US or Japan, where manufacturing costs are higher.
Sizing
Clothes in Pike Brother's catalog are listed with their measurements. To get your desired fit, measure one of your well-fitting jackets and then order the deck jacket that is the most similar. Remember, when buying any outerwear the chest and shoulder measurements should take priority over the length as some jackets are designed to be cropped.
4. Bronson MFG. – Runner Up for Best Value
80% wool, 20% polyester lining
Jungle cloth outer shell
Seamless tubular rib cuff. 80% wool, 20% acrylic fibers
Has 'USN' motifs in the front
Made in China
Retails for $190
The Bronson MFG started in 2012 with a mission to deliver quality clothing for a reasonable price. With their 1940s USN 3rd Type N1 Woolen Deck Jacket, I think it's safe to say that they have accomplished that goal. Here's why.
Firstly, Bronson's deck jacket is extremely affordable. It only costs $190 for a 95% accurate reproduction of the ones worn by Navy sailors during World War 2. Their attention to detail is so refined that they will even tell you which lot and contract number their jacket is based on. For this particular USN 3rd Type N1, Bronson replicated a jacket from the contract number NXsx 70201. The jackets from the NXsx 70201 series stand out as they have no wool on the cuffs or gun belts under the arms.
I would say that Bronson's N1 is a 95% accurate replica of the original because, over the years, the brand did take some liberties to change some of the fabrics used. In the brand's latest version, their N1 has a shell made from 14-oz waterproofed 'Jungle Cloth', and has a warm 30-0z wool-poly blend liner.
Bronson is a great runner-up for being the best value deck jacket because the specs on their jacket are extremely similar to those that you might find on jackets that are double their price. Deck jackets made from jungle cloth and wool generally come with a higher price tag, but Bronson is able to cut the cost down by manufacturing their jackets in China and using a polyester-wool blend.
Sizing
Bronson is another brand that has measurements for all of its pieces on its website. As always, it is best to measure a well-fitting jacket and get the most comparable size. The most important part to look out for is the shoulders and chest measurements as they determine how the jacket will sit on your frame.
If you do not want to measure your clothes, you can use the brand's model as a rough guide to select your own size. In the description of each listing, the model's stats will be included. For the N1, the model who is 5ft 9in, 150 lbs and has a size 38 chest wears a size M. Based on this data, the jacket should be true to size for most people.
5. Triple Aught Design – Best Modern All Rounder
32% wool, 68% Polyester lining
Nylon quilted to 80 g/m² polyester insulation
100% Cotton Bedford Cord
YKK zipper on center front
Bi-swing back construction
Made in the UK
Retails for $400
Triple Aught Design is an employee-owned company that puts an emphasis on making a positive economic impact in their surrounding communities. They are proud to produce 95% of their products in the United States and source a majority of their materials from nearby factories. Ironically, though, their deck jacket is made in the UK with fabrics sourced from Brisbane Moss Mill, another British company.
Overall, the brand's niche is clothing that could be worn in town as well as the outdoors, and if we're measuring their success based on their N1 deck jacket, then I think Triple Aught definitely met their goal. Their Watchtower Deck Coat is minimalistic, and stylish, and is built to withstand a beating from the elements.
The jacket is inspired by the original but incorporates details that are completely their own. The Watchtower Coat features all the staples you might find on other deck jackets such as a Bedford Cloth shell, shearling lining, and nylon quilted sleeves, but also their own ideas like incorporating a bi-swing back for additional mobility.
One downside of this jacket is that the woolen elements are not 100% wool; the liner is a wool-poly blend where polyester makes up 68% of its composition. Still, at only $400, it is a great deal for what you are getting and supporting.
Sizing
Triple Aught Design is very detail oriented. On their website, they have measurements for every aspect of the jacket's cut. Some of the measurements that no one other than Triple Aught seems to be concerned about are the 'biceps width', 'shoulder slope', 'collar length', and various distances between the chest. As always, measure your best-fitting jacket and get the size that is most similar. Based on the measurements, I conclude that going true to size would work for most people.
6. Real McCoy's – Super Accurate
100% grosgrain cotton / 'Jungle Cloth' shell
100% Alpaca lined with alpaca collar
Asymmetrical depth hand warmer pockets
Storm cuffs Collar flap
Made in Japan
Retails for $815
Another contender for extremely authentic is the Real McCoy's N1 Deck Jacket. Much like Buzz Rickson's, they are known among heritage fashion enthusiasts as making true reproductions of famous military jackets. They go so far as to try and mimic the fabric colors and stitch count down to excruciating detail, constantly improving this using their extensive vintage archive.
This jacket has all of the classic elements including the Alpaca wool lining, 'Jungle Cloth' shell (they call it cotton cord cloth), period correct talon zipper, and wool ribbing. This is one of few companies that make the jacket in both a field tan and navy blue. They aspire to accurately honor the legacy of the jacket so much that they reproduced each color in the correct pattern. The khaki is a bit longer and baggier than the navy, but the navy-colored jacket has a bit more movement in the arms.
It's made in Japan and this sort of attention to historical detail comes at a price. This is the second most expensive jacket on the list for about $865.
Sizing
This jacket runs true to size. If you look at their measurements, it may look like they fit large but that is due to the thick alpaca lining giving it some extra bulk.
Many stockists including the famed, Standard & Strange will provide you with each size's measurements on their site. At a glance, the numbers might seem too big for each respective size but that's just because the thick alpaca liner adds immense bulk. Standard & Strange, as well as other stockists, recommend that you get your normal true-to-size.
7. Dehen's – Most Expensive
10.10 oz. waxed canvas shell
Mouton fur lining and collar
Brass hardware
Made in the USA
$1,295
The Dehen's N1 deviates from the standard military spec by using one of my favorite materials: waxed canvas, an old-timey water and wind-resistant fabric. They use a fairly heavy 10 oz waxed canvas shell and they also changed the lining, instead of alpaca wool lining, they use mouton fur, a very soft sheep pelt that's also very expensive.
A great feature that is not unique to the brand, but worth mentioning is that Dehen's N1 has an interior zipper chest pocket. Hidden pockets like these come in handy when you have more of an active lifestyle and want to keep your wallet/keys from falling out.
This coat is the most expensive on the list, mostly due to the mouton and brass hardware. It's definitely the most luxurious of the deck jackets on this list.
Sizing
Dehen's N1 fits slim. They provide measurements for each size however it's important to remember that there is a thick fur liner that may distort the measurements. They recommend going true to size and if you're in between sizes, it is best to size up. A bonus is that the jackets run long, so they're good picks for the long torso'd among us.
8. UES – Most Eye-catching
14.9 oz raw denim shell
75% acrylic, 25% cotton lining
Made in Japan
Retails for $341
This is probably a brand that very few of you have heard about. UES was founded by Chuji Matsumoto in 1994 and his whole mission is to design and produce clothing that people would wear until it completely falls apart. The brand primarily works with small Japanese denim workshops filled with old-school shuttle looms weaving Zimbabwe cotton into denim and other textiles.
Their iteration of the N1 deck jacket comes in 3 colors: camel tab, black, and in a wabash pattern. The camel and black colorway have a shell that is made from UES's own whipcord fabric and the wabash above is made from 14.9 oz denim. The camel and black versions are very stylish but the wabash colorway is truly unique amongst all of the deck jackets out there. Just like raw denim, the natural indigo will wear off over time and create contrasting fades as you wear and wash the jacket.
While stylish, the UES Wabash deck jacket is not historically accurate nor does it use the best available materials that give many of the jackets here a luxurious touch. There is no wool or fur in the lining, being made from 75% acrylic and 25% cotton. Not the best blend of materials but for $341 it is certainly not a bad deal for a denim-inspired deck jacket.
Sizing
UES's sizing is consistent with those of other Japanese brands. They use a number system where the sizing is labeled Size 1-5. Using their sizing guide and comparing to multiple jackets that I have that are considered true-to-size, I determined that they fit true-to-size as well. Size 1 correlates to an XS, size 2 is a SMALL, size 3 is a MEDIUM and etc.
This jacket fits true to size. It uses the standard Japanese number sizing system which can be confusing for Westerners but size 1 corresponds to an XS, size 2 is an S, size 3 is an M and etc.
Currently Out Of Stock or Discontinued
Many brands have tried their hand at the deck jacket; here are some of our favorites we'd love to see return to shelves.
1. Flint and Tinder's Sherpa N1
Onto something a bit different from the other from Flint and Tinder, an American company owned by online retailer Huckberry.
They also don't use wool or alpaca lining instead opting for a much more modern polyester fleece lining, like Patagonia or North Face's fleece jackets. The shell is 100% cotton but it's not "jungle cloth, instead it's a jacquard weave, which is a type of ornamental weave, however, in this case, it still looks like corduroy. Instead of the classic Talon zippers, you get a sturdy YKK zipper.
This is the Deck jacket for someone who likes the style but doesn't want wool or alpaca.
2. Freenote Cloth's Mariner Heavy Jacket
Freenote Cloth is known in the heritage-style community for making some of the most premium garments. Their supply sells out fast but doesn't fret as they continuously find ways to improve on existing models and bring them back. Their now sold-out deck jacket is actually a restock of an older jacket that was updated.
This updated jacket is the ultimate winter armor. It is completely lined with a blend of alpaca and wool making this the warmest jacket ever produced by Freenote. Aside from this luxurious liner, it also has real Italian horn buttons and heavy-duty Universal zippers from Japan that give this decl jacket a premium feel. Of course, you will also see the usual elements of a quality deck jacket such as a Bedford Cord shell, but the characteristic button placket has been replaced with a regular zipper front.
3. Iron Heart's B2
With a taller, slimmer fit, this has been the go-to pick for our long torso'd writer, although he misses the traditional button placket that's been replaced with studs. That said, it's much easier to open or close this jacket on the go, even with gloves on. The other downside is the handwarmer pockets open vertically instead of at a slant, so they're great at securing your goods but they don't work well as handwarmers; we therefore are often stuffing these pockets with gloves.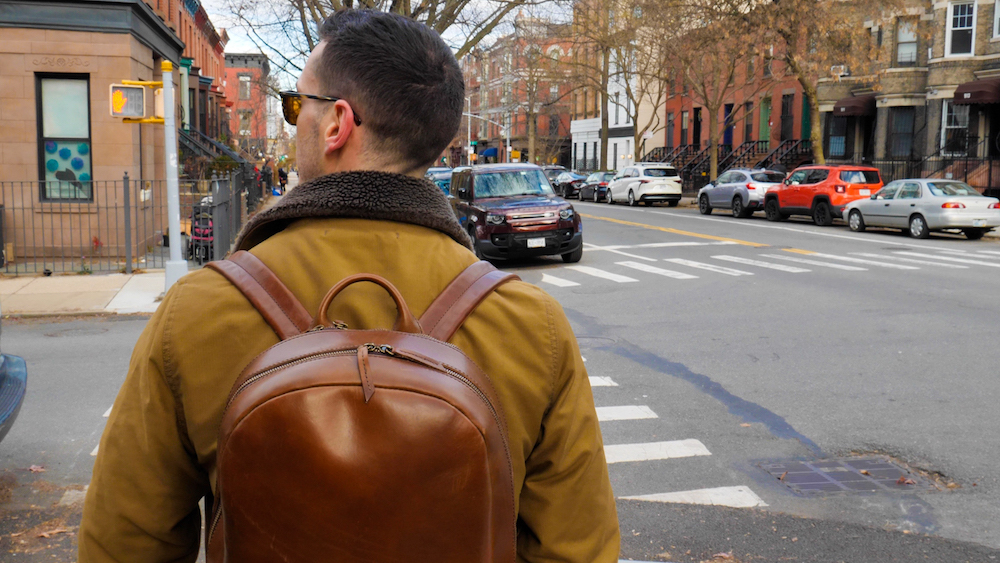 Wrapping Up
Fashion has always been inspired by the utilitarian style of military wear. The popular N1 deck jacket was introduced to the US Navy in 1943 and remained in service until 1960. Despite it being phased out by the military, the design of the jacket remains highly popular in the civilian world. Part of the reason could be that military wear gives guys an attractive masculine aura or it could just be that a well-crafted deck jacket keeps guys warm all winter long. Regardless of the reason, deck jackets are favored by many is there's a bunch on the market for guys to pick from.