This post may contain
affiliate links
that at no additional cost to you, I may earn a small commission from.
I'm a guy who loves a pair of stylish boots. But here in New York City the winters can get seriously snowy, slushy and icy, prompting even lovers of old fashioned boots to retire them until Spring for fear that they'll slip, spring a leak, or leave your toes cold. But the best winter boot for you doesn't need to be a puffy, rubbery, expedition-looking boot. There are some winter boots for men that are stylish, water resistant, resoleable, made with full grain leather, will last for decades, and age beautifully.
The boots on this list are all made with full-grain leather and Goodyear welts — so they can be resoled and they'll age well — but they've got extra features to make them winter-friendly, be it a grippy sole, insulation, extra water resistance, and more.
This list is arranged from cheapest to most expensive, so let's start off with the best value winter boot for men.
1. Thursday Boot Company: Legend ($199)

Let's start with Thursday Boot Company — known for their well-built, comfortable footwear — who might make the best-valued boot on the market.
Thursday Boot Company Legend Highlights
Thursday Boots' has winterized their popular Duke Chelsea with the beefed up StormKing lug, which they engineered themselves to provide superior grip in slippery conditions. Not only is it grippier than most Thursdays, but the thick layer of rubber helps give a little more clearance from slush and salt, and more insulation from the freezing ground. When the ground is like a giant ice cube, the more rubber between your feet and the surface, the better.
On top the new StormKing lug, these boots are made with Thursday's "Rugged & Resilient" leather: full grain leather that's been imbued with extra oils to maximize the weather resistance. Plus, it's got shock absorbing poron in the insole and a steel shank to improve arch support, stability, and longevity.
The chunky new lug is probably too aggressive for a pair of slacks, but it looks great with flannel-lined jeans or a pair of chinos.
Who Should Buy Thursday Boots Company Legend
Anyone who wants a high-quality boot for under $200.
Guys who don't like fumbling with laces in the cold.
A buyer who wants a resoleable Goodyear welt.
Someone who needs good grip and solid base like the StormKing Lug.
You don't have time to break-in a new pair of boots.
Someone who prefers the arch support and stability of a steel shank.
You want a boot to wear all year instead of a super warm, winter-only boot.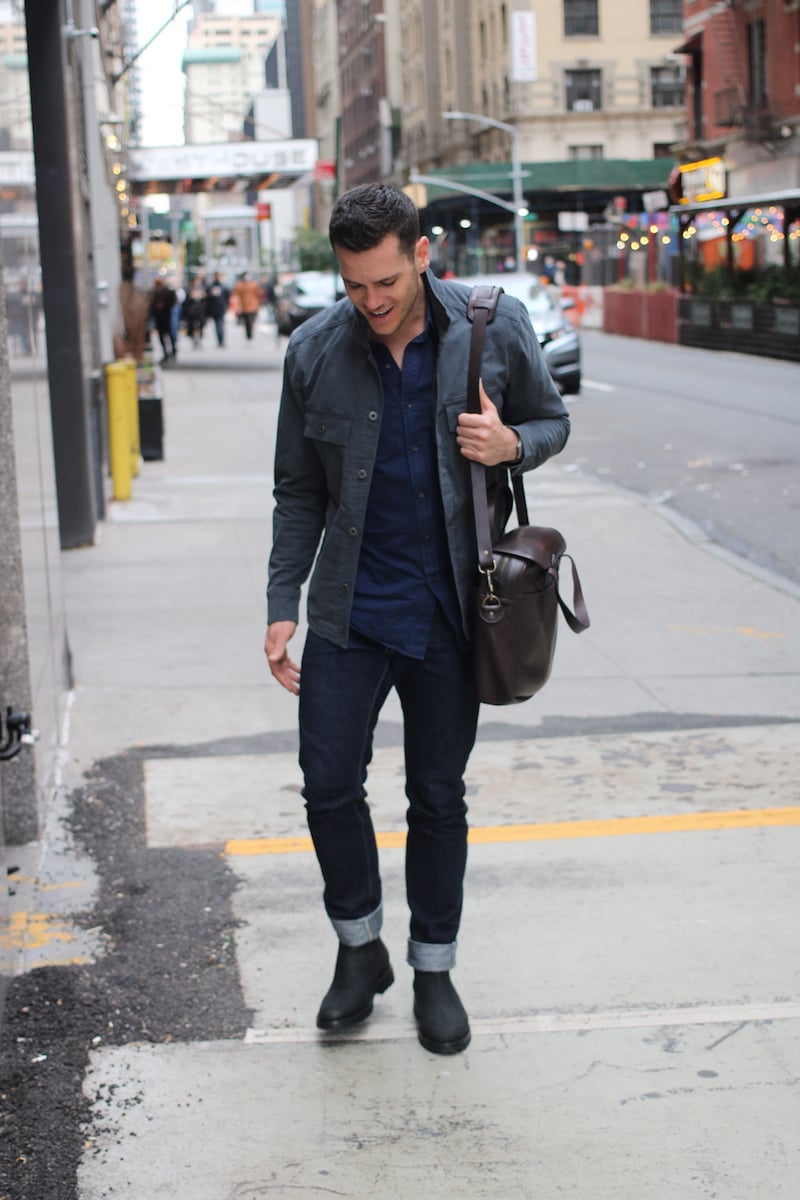 Who Shouldn't Buy Thursday Boots Company Legend
A person with cold feet who needs an insulated boot.
A professional who needs something less rugged for the office.
Someone who spends a lot of time in slush or cold rain who needs a storm welt.
A heritage purist who doesn't like modern touches like shock absorbing EVA foam.
[SHOP THE THURSDAY LEGEND IN 3 LEATHERS HERE]
[Related: The Best Boots for Under $200]
2. Best Lined Dress Boot: Meermin 114787 Softcalf E ($275)

Meermin, also called Meermin Mallorca, is a Spanish shoe company that manufactures in China, and is considered a quality option in the sub-$300 range. They have tons of experience making quality and attractive footwear. The Meermin 114787 Softcalf in dark brown is a good balance between winter-ready and stylish.
Meermin 114787 Softcalf E Highlights
They're fully lined with shearling wool, and the added insulation is nice as you don't have to double up your socks.
Meermin also uses a shear lined veg-tanned leather insole. They've accounted for fit by modifying their last to account for the extra volume of the insulation. They have a Goodyear Welt made with what they call the sky welt, which functions like a storm welt and adds extra water resistance.
They've also added double rubber soles. The double rubber is a good compromise between the likely-not-suitable-for-the-office lug sole and possibly-too-thin-for-January single rubber sole. The sole is also studded, which helps maintain a slimmer look than a thick lug while providing grip.
Finally, the Dark Brown Softcalf uppers are from France's Tannerie d'Annonay, which specializes in calfskin, and is a nice touch at this price point.
[Related: The 10 Best Dress Boots]
Who Should Buy Meermin 114787 Softcalf E
You want an extra water resistant Goodyear welt — that's the sky welt.
It's very cold where you live and you need a shear lining and double rubber sole.
An aficionado who appreciates quality calf leather form Tannerie d'Annonay
A professional who wants a pair of warm boots that suit a pair of slacks.
Who Shouldn't Buy Meermin 114787 Softcalf E
You want a three season boot.
You have hot feet.
You find yourself slipping a lot in the winter, and need added traction not provided by a studded lug.
[SHOP THE MEERMIN 114787 IN 3 LEATHERS HERE]
3. Best Red Wing Winter Boot: Red Wing Sawmill ($340)

Red Wing Heritage may have discontinued their old winter boot known as the Ice Cutter, but their Sawmill is their newer dedicated winter boot.
Red Wing Sawmill Highlights
The Sawmill is Red Wing's winter heritage boot of choice. They have a 6-inch height for protection from the slush and snow, like all or at least most Red Wing heritage shoes, it uses Puritan triple-stitch construction, an old-timey way of melting latex into the threads as the leather is stitched together, which provides increased water resistance.
But there are four things that make it quite unlike any other Red Wing heritage boot.
The grippy Vibram® outsole that provides grip on any surface
It has a storm welt, which is very unusual for a Red Wing,
It's got a moisture wicking lining and
A felt wool footbed to keep your feet warm
Who Should Buy the Red Wing Sawmill
A heritage boot fan looking for a resoleable Goodyear Welt
Someone interested in extra water resistance provided by the storm welt and Puritan triple-stitch construction.
You need the extra grip from the thick lugged Vibram outsole.
You're wearing these in a cold, wet climate and want a moisture wicking lining and a felt wool footbed to keep your feet warm
Who Shouldn't Buy the Red Wing Sawmill
You need a fully waterproof boot.
You want a boot that's as office friendly as it is street friendly.
You're budget conscious and $340 is a bit steep for a 1 season boot.
[SHOP THE RED WING SAWMILL IN 2 LEATHERS HERE]
4. Best Winter Boot for Ice: Vemodalen Design Saint Denis (€295/~$350)

If you're unfamiliar with Martin Eriksson and his Vemodalen Designs that is forgivable. Mostly, because these come all the way from Övertorneå, Sweden, which is very far north — like near the Arctic Circle north.
Eriksson partners with a factory in Italy run by a father-daughter team that helps with production and keeps the price down. The headline though is that these are handmade, Italian Calf winter boots for about $350, including shipping.
Vemodalen Design Saint Denis Duotone Highlights
These are a really lovely two tone, storm welted boot. They have a versatile silhouette that look suitable for hiking and for a night out on the town, or even a casual office environment.
They were designed to be a slimmed down hiking boot that works with jeans in an urban environment, but what makes these so great for winter is that they have the Vibram Arctic grip sole. That's Vibram's specially designed winter outsole that's entirely rubber, with no metal components or inserts, and is made to grip on wet ice. Check out this video where they test it out, it's pretty wild.
https://www.youtube.com/watch?v=096FbhuTr_I
The downside is you'll wait one or two months to get them made, which isn't that bad for boots this cool and this inexpensive — they're a real conversation piece. Eriksson recommends measuring your feet heel to toe and adding the measurement to order.
Who Should Buy the Vemodalen Design Saint Denis Duotone
Anyone who wants a high-quality boot for under $350 (USD).
A buyer who wants a water resistant storm welt.
Someone who prioritizes shoes that grip well on ice.
You don't mind waiting for quality.
You want a stylish all-arounder, something that you can wear on the trail or in the pub.
Who Shouldn't Buy the Vemodalen Design Saint Denis Duotone
A person with cold feet who needs an insulated boot.
Someone who needs a boot t0morrow.
Guys who don't like the idea of buying a boot from half way around the world without being able to try it on.
[SHOP THE VEMODALEN DESIGN SAINT DENIS HERE]
5. Coolest Winter Boot: Rancourt Freeman Boot ($450)

Bringing things back to America, Rancourt & Co. footwear is made in Lewiston, Maine. Combine over 50 years of boot making experience, and you get a pretty amazing winter boot that I personally think is the best looking boot on the list.
Rancourt Freeman Boot Highlights
The Rancourt Freeman Boot is built specifically with winter in mind. They use a highly water resistant leather combining Horween's Chromexcel with a durable Tucson Bison. The real highlight is the merino wool shearling lining. Just like wool socks, a wool lining is the perfect antimicrobial thermal layer to keep your feet warm, dry, and not stinky.
They provide excellent grip with the Vibram 148 Kletterlift outsole. For extra water resistance they have a storm welt, and for comfort they added a supportive foam midsole wedge. The "jaguar" alum leather laces are nice heritage touch.
Overall, this is a great boot for staying warm and dry. It's rounder toe and luggy sole is more geared toward an outdoorsy look than the office, but it's crazy versatile for a boot that can combat sub-zero temps or barely freezing slush.
All of the extra material adds up, and this boot is more expensive than some of the lighter, less winter-specific boots. But, these are engineered to keep your feet warm in all conditions and they're perfect for that late-season football game or snow blowing the driveway. Just make sure you can wait 3 or 4 weeks for them to be made.
Who Should Buy Rancourt Freeman
You appreciate high-quality leather like Horween's Chromexcel.
You want a water resistant storm welt.
You want extra, odor free warmth from a Merino wool lining.
You need extra grip and traction from the Vibram Kletterlift outsole.
You want a winter boot that you can pull off with a nice pair of wool slacks.
Who Shouldn't Buy Rancourt Freeman
A person with hot feet who doesn't want a lined boot.
You prefer the versatility of a three season, unlined boot.
Someone who spends a lot of time in slush or cold rain who needs a waterproof boot — technically, this is just very water. resistant.
You're on a budget.
You don't want to wait 3 or 4 weeks for your order to arrive.
[SHOP THE RANCOURT FREEMAN BOOT IN 5 LEATHERS HERE]
6. Best Side Zip Winter Boot: Allen Edmonds Himalaya Shearling Boot ($495)

I tend to be skeptical of any added complexity with my shoes, like fancy lacing mechanisms, air pumps, and side zips: if they stick, you're stuck. But dealing with iced laces in freezing temps is frustrating, and this is one of the reasons they are so commonly found on winter boots.
Allen Edmonds Himalaya Highlights
This is an interesting option for a street to business-casual boot.
Let's look at the positives. They have water-resistant Chromexcel leather uppers with a shearling lining, side zippers, and no laces. So, if like me, you hate dealing laces in winter (especially when they freeze), these are are a good option.
They use Allen Edmond's 360º Bench Welt construction, which helps with durability and water resistance. They have a Dainite rubber sole that's flat when viewed from the side, but provides decent traction.
So what are the downsides? First, they are fairly expensive at $495. Secondly, there's been several complaints of the pull tab ripping off, which, to be honest, puts me off a bit at this price point.
Still, a shear lined, warm boot with Dainite sole, that can be dressed up, is a rare thing. So, that pull tab may not be a deal killer.
Who Should Buy Allen Edmonds Himalaya
Anyone who wants a classy winter boot that's suitable for the office
A buyer who wants a resoleable Goodyear welt with 360º Bench Welt construction — this is basically a storm welt as well.
You like side zips.
You have cold feet and want a shearling lining.
Who Shouldn't Buy Allen Edmonds Himalaya
You don't like sacrificing a bit of grip for style.
You don't want to pay $495 for a pair of winter boots. (Though at the time of writing, they're on sale for $345.)
You prefer a black dress boot over brown.
[SHOP THE ALLEN EDMONDS HIMALAYA HERE]
7. Best Winter Moc Toe: Russell Double Vamp Birdshooter ($450-$650)

Wow. That was my first reaction to the Russell Double Vamp Birdshooter. They are just nice looking boots! Russell pays close attention to the details and provides impeccable fit and finish.
These are some great boots made in Wisconsin, so you know they're going to hold up well against some pretty brutal winter conditions. Russell has used much of the same techniques for the last 114 years.
Russell Double Vamp Birdshooter Highlights
These boots are kitted out with just about every feature you could want for a winter boot. They come in a 6'' or 9'' height, four different weights of Thinsulate insulation — you can customize — optional lacing studs, optional heel stack, optional pull tab, and three soles (Silvato, 2060 Vibram Sole, or the Aspen Gumlite, which is the best for slippery conditions). They stand out from Russell's other mocs with the unique double vamp: two layers of leather for superior water resistance.
The only downside is that delivery time can vary between 12-20 weeks depending on the time of the year you placed your order and how much backlog they have. So if you order now, you may not get a pair before the end of winter!
The price depends on how which features you choose and how much insulation is in the boot. The base price is $450, but with every feature and 400 grams of Thinsulate, they're $652.
Who Should Buy the Russell Double Vamp Birdshooter
You care about durable and long-lasting boots. (There are reports of these boots lasting 20+ years)
You like rocking a traditional moc construction.
You want the water resistance of a double vamp.
You like having tons of options for customization.
You want a warm winter only boot.
You need good grip for slippery conditions.
You want to buy American.
Who Shouldn't Buy the Russell Double Vamp Birdshooter
You're on a budget.
You need winter boots now (they can take months for delivery.)
You don't want to look too "outdoorsy", as these are more suitable for the hunting lodge than the office.
8. Best Custom Winter Boot: Wesco (varies; ~$650 for winter boots)

Wesco is very expensive but very high quality and fully customizable. According to the Wesco website, a single pair of Wesco boots has 309,586,821,120 different configurations. So that's… very customizable.
Wesco Hendrik Highlights
You can customize these however you want. But, for the best boots for snow and winter boots, I'd personally go with a 7-inch tall Hendrik that's lined with Thinsulate and built with a Vibram Raptor sole, which is specifically designed for ice and snow. (I know, a lot of Vibram soles are designed for that. Arctic Grip is best, but Raptor soles are fantastic.)
If you keep everything else relatively basic like brown leather, brass eyelets, nylon laces, it'll cost you $678, which isn't cheap, plus it takes 12 weeks for them to be ready. For an extra 125 bucks, it's six weeks. Still, they're very cool. You can pick from 8 types of leather, whatever color lining, and threads you want, all this stuff.
It's definitely worth considering — I've never heard of anyone being unhappy with the final product.
Who Should Buy the Wesco Hendrik
You want sturdy, fully customized winter boot.
You want a guaranteed high level of grip provided by the Vibram Raptor's claw tread design.
You want a lot of insulation; you can pick from 200 to 400 grams of Thinsulate.
Who Shouldn't Buy the Wesco Hendrik
You need a boot quickly and don't want to wait 12 weeks.
You're not comfortable dropping nearly $700 on a 1 season boot.
[SHOP THE HENDRIK IN 11(!) LEATHERS HERE]
9. Best Viberg Winter Boot: Viberg Hiker Fog Waxed Veldt

Viberg is the stuff of legend among aficionados of very nice boots and this is the shoe they personally recommended for winter. The Hiker is a luxury weekend boot perfect for casual dining and brewpubs.
Viberg Hiker Highlights
The Hiker starts with 6" single piece CF Stead Fog Waxed Veldt (UK) leather upper, which is a great design for winter boots, as you want as few pieces of fabric and stitching as possible to keep out slush. So, a single piece of leather is technically warmer and more water resistant because holes and stitches can let water in and hot air out. The waxed veldt also adds extra water resistance.
For additional warmth, Viberg took their full leather lining and added a 200g Thinsulate Liner. They added a gusseted tongue that helps keep out cold air and water as well as a padded collar for comfort.
They also have a natural split welt, which functions like a storm welt, for added water-resistance. If you want the added benefit of wicking and even more warmth the hiking boot last provides a bit more width and volume to fit heavy socks or liners.
The two downsides of this boot are the price and white Vibram Morflex soles, which look cool but aren't the absolute grippiest on this list.
Who Should Buy Viberg Hiker
A leather connoisseur who'll appreciate the CF Stead Fog Waxed Veldt.
You're a winter walker who wants a gusseted tongue and padded collar for warmth and water resistance.
You get cold feet and want a warm 200g Thinsulate liner.
You want to break out those thick wool socks without feeling like you're cramped.
You want a channelled insole with a water resistant natural split welt.
You like single-cut leather boots.
Who Shouldn't Buy Viberg Hiker
You're not one to drop $700+ on an insulated urban hiker.
You want more grip from the outsole.
You're a purist who doesn't love D-ring eyelets
[SHOP THE VIBERG HIKER IN FOG WAXED VELDT HERE]
10. Best British Winter Boot: Crockett & Jones Ross ($725)

The last, and most expensive and fancy winter boot comes from the esteemed British brand Crockett & Jones. This company makes the shoes for James Bond himself.
Crockett & Jones Ross Highlights
The Ross is a plain front derby boot with a classy padded suede collar that provides much needed contrast to a lot of otherwise brutally practical winter boots. They used a new colorway of their waterproof wax-hide upper leather and added an oversized, cleated rubber sole from Vibram for terrific grip.
In order to achieve a very classy look, there are some winter-friendly tradeoffs.: this boot isn't going to be as warm as some of the insulated boots on the list, and the Vibram Commando outsole offers better traction than your typical crepe, leather, or studded sole but not nearly as much as the Arctic Grip or Raptor soles previously mentioned. Personally, I think it's a great statement sole with a more aggressive look that isn't comically outdoorsy.
Who Should Buy the Crockett & Jones Ross
You want a waterproof wax-hide upper.
You have opportunities to show off the stylish padded suede collar.
You want a resoleable storm welt.
You want moderate grip and traction from a Vibram commando outsole/
You like the idea of buying from James Bond's shoemakers.
Who Shouldn't Buy the Crockett & Jones Ross
You don't want to pay $725 for a pair of boots.
You want additional warmth — these are not Insulated.
You need more than the intermediate grip provided by this lug.
[SHOP THE CROCKETT & JONES ROSS HERE]
Wrapping Up
That's it that's my list. Very cool boots here, I want to leave you with one boot care tip: while slush and snow are primary concerns, salt can stain leather boots and you're likely to walk through some so it's worth keeping a rag and a little container of pre-mixed water and vinegar by your door so you can wipe down your boots when you get home. That's it!