So you decided it was time to buy yourself some high quality expensive work boots and you happened upon JK Boots, but there's one question running through your mind: are $500 boots really worth it?
(And should I spend that kind of money on work boots I'm going to beat up anyway?)
Being a blue collar guy myself, I've run those two questions through my mind many times, and this review will answer them.
I know that price tag can be a hard pill to swallow for my blue collar brothers and sisters out there. That can be almost a whole week of pay for an apprentice.
So I spent one month working in JK's Forefront boots to bring you an in-depth review. I suggest using the table of contents to skip around the review if you are short on time.
JK Boots Pros & Cons
Here's quick summary.
Pros
Built like tanks
The thickest leather uppers you'll come across
Resolable
Good arch support
Leather insole will form to your foot
Made in the USA
Cons
Heavy
No ASTM rating on stock boots other than safety toe
2-3 month lead times if your size isn't in stock
Who is JK Boots?
The JK in JK Boots comes from the name of its founder and owner John Khadzhi, who is quite frankly the embodiment of the American dream.
Coming from humble beginnings in Ukraine, John started working for a master leather tanner in his small hometown at the age of fourteen. By sixteen, John had acquired enough money and knowledge to buy and tan his own hides. At sixteen!
Some years later, after serving in the military, John moved to Moldova and became an apprentice for a bootmaker. This boot maker took great time making each boot, because he was more concerned with his name and good reputation than making a lot of boots and a lot of money. This man's dedication to perfection, his work ethic, and his concern for a good reputation resonated deeply with John.
Knowing he wanted to pursue his dreams of running his own boot shop, he made the decision to go to the US with his family. Eventually settling in Washington, John opened his own boot shop armed with all the knowledge he had gained and started pouring his heart and soul into making boots.
How I Tested the Boots
As I mentioned earlier, I'm a blue collar guy. By day I do welding and sheet metal fabrication in a shop.
In my opinion, nothing beats actually reviewing work boots in real world working conditions and that's exactly how I reviewed these boots.
Sure, you can read some reviews about work boots from people who didn't actually do any kind of blue collar work in them, or you can see them cut in half which is only an indication of quality but never addresses the wearability and comfort of the boots.
In this review you'll find out how these boots actually performed in working conditions and if they had the all day comfort you need in order to wear them for 10+ hours a day.
How are the JK Forefronts made?
8-9 oz leather (~3.5mm)
Stitchdown construction
Resolable
Vibram Christy Outsole
Made in the USA
Safety toe version available
6in or 8in height
IIn this section of the review I'll discuss the leather quality, type of boot construction, resolablity, outsole and a few other things you need to know about the JK Forefronts.
JK Boots' Leather
About 3.5mm thick, over 50% thicker than Red Wing
JK uses a very robust 8-9 oz full grain leather, which measures about 3.52mm thick. Just to give you a comparison of how thick the leather is, popular work boots such as the Red Wing and Thorogood Moc toe boots have a 5-6 oz leather that comes in at closer to 2.2mm thick.
Trust me, you're getting good leather with the Forefronts.
But just as important is where they sourced the leather from. JK proudly sources their leather from the Seidel Tanning Corporation. Seidel is no slouch in the leather game and they produce some of the highest quality leather in the United States and are used by some of the best names in the boot business. Trust me, you're getting good leather with the Forefronts.
JK Boots Construction
Stitchdown construction
Leather shank
Vibram Christy wedge sole
The most common method of making a boot is using a Goodyear welt construction, but that's not what JK is using for the Forefronts.
JK (like most other PNW boot makers), decided to use a stitchdown construction. Unlike a Goodyear welt which uses a strip of leather or synthetic material as a sort of go-between that holds the leather upper to the midsole, stitchdown construction uses the leather upper kind of like a welt. The bottom of the leather is flanged out, creating a space to stitch the upper directly to the midsole. It's generally considered more water resistant and durable than even a Goodyear welt, though it's a bit harder to find a cobbler who is able to resole them (Learn more in this article: Goodyear welts vs stitchdown construction).
The Forefronts have what I'm going to call a 180° stitchdown construction. What I mean by that is the flanged out portion of leather for the stitching stops just past the ball of your foot, the remaining leather is tucked underneath and nailed to the leather insole/lasting board.
After that they have a thick leather shank followed by what JK calls their Flexi-midsole. The Flexi-midsole is a thick leather midsole that feathers out at the ball of the foot and is nailed to the lasting board/insole. Then a rubber midsole is added and stitched to the flexi-midsole and finally the outsole is attached and stitched down to the boot around the toe box.
4.3 The Outsole
JK went with a Vibram Christy wedge sole which is personally my favorite type of wedge sole. The reason I prefer the Vibram is because it's a blown rubber outsole, meaning that air is injected into the rubber during the molding process to create a soft, lightweight and flexible outsole. In my opinion, if you are standing on your feet all day, Vibram Christys are the way to go.
4.4 The Tongue
I decided to touch on the tongue briefly because I know it matters to some about whether or not the tongue is fully gusseted. The Forefronts do not have a fully gusseted tongue on the 6in model, but it does come with a fully gusseted tongue on the 8in model. However if you really want a 6in boot with a fully gusseted tongue, JK offers it as a option on their Forefront 2.0 builder.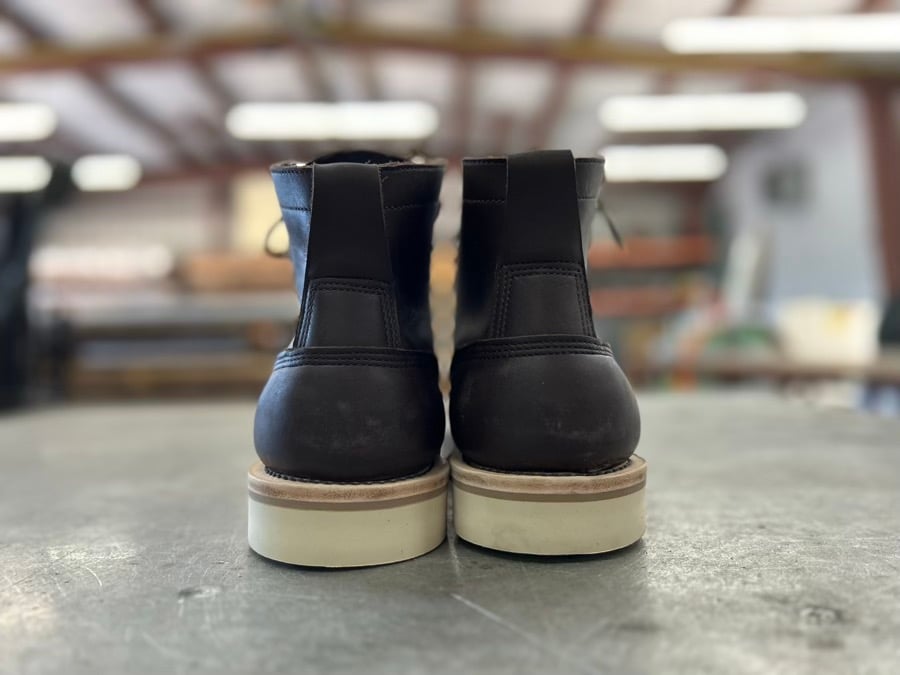 4.5 The Heel Counter
The heel counter is a thick piece of oak tanned leather. You want thick leather like this as a heel counter because unlike a synthetic heel counter which can break and degrade over time, the leather heel counter (especially one this thick) will mold to the shape of your heel and continue to adapt to your foot over the boot's lifetime.
JK Boots Break In
I can honestly say the break in was a breeze. Despite the unusually thick leather (seriously, it's the thickest I've seen), I didn't have any issues with hot spots or heel rubbing. This may because of the extra flexible leather midsole combined with a rubber midsole, helping to reduce the stiffness.
And while it took some time for the leather insole to compress and mold to my foot, the boots were never uncomfortable to wear. I've been wearing these for just a little over 4 weeks at the time of writing this and the insole and heel counter have really shaped to my foot the past week. I'd say expect about 4 weeks before you reach maximum comfort.
I will say the they were a bit stiff in the ankles, but that's because I used the kilties that came with the boots, so I was essentially breaking in two sets of tongues on the boots. The kilties are also quite thick. If you choose not to use them, the boots will be much more flexible around the ankles right out of the box.
The Jk 3708 Last Fit
If you don't know what a last is, it's a foot shaped mold that boot makers wrap the leather upper around while building a pair of boots. It's what gives the boot its arch profile, toe box shape, and overall fit.
The 3708 is similar to the famous 55 last, a well known Pacific Northwest last that offers great arch support. JK's 3708 last is just has a wider and taller toebox.
They definitely have the best arch support of any wedge sole boot I've used.
I've seen plenty of people online asking for a high arch wedge sole boot and if that is you, the Forefront is exactly what you are looking for. They definitely have the best arch support of any wedge sole boot I've used.
The JK Forefronts also have a generous amount of toe box space both vertically and width wise, so if you have wider feet the toe box is accommodating.
Are the JK Forefronts comfortable?
Yes, due to the spacious toe and excellent arch support
Now that we've discussed the break in and the last they're built on, the question still stands: Are they comfortable enough to wear all day? And the answer is yes, very much so!
First, the broader toe box on the Forefronts allows for a more natural toe splay and foot position while wearing them. Personally, I can't stand the feeling of having my toes pinched together like you can get with boots made on a narrow last, which is more common when boots aren't made for work.
The next thing that makes them perfect for all day wear is the arch support. As I mentioned earlier, the JK Forefronts have the most arch support of any wedge sole I've worn.
A common complaint I've heard from people wearing boots with synthetic insoles is that the arch support flattens out over time. You won't have that problem with the Forefronts. The leather insole and the leather shank will form to your foot over time and it will feel like you have a custom insole formed to fit every curve on your foot.
The only downside I really see in terms of comfort is that the boots are really heavy for a 6-inch soft toe boot. My boots weighed in at 2lbs 10.8oz which is pretty heavy for a soft toe boot. Personally, the weight wasn't an issue for me but I know it can be for some. If you went with say the 8 inch version and a safety toe the boots would probably weigh in at 3lbs or more a piece.
To sum it up, the boots fit like a glove now that they are really breaking in. The leather upper has formed to my forefoot and instep profile and the leather insole has formed to the bottom of my foot and arch profile.
JK Boots Sizing Is Crazy
My 11.5D foot was sized to a 10.5EEEEE (yep)
My Brannock size is 11.5 and my feet are between a D and E width in my thickest boot socks, so I was a bit taken back when they told me I needed a boot a full size smaller than my Brannock — and that it should be EEEEE.
The majority of my boots are size 11D. I'll admit I questioned the size myself, but after a couple of e-mails double checking their suggestion, I ultimately trusted the process and their sizing instructions. I received my 10.55E boots… and was very happy with them.
To make sure I wasn't going crazy, I scoured Reddit for posts about JK sizing, and found that many customers had the same experience.
So while you should definitely liaise with JK to land on the right size, and go the extra mile and send them foot measurements, you can trust the size they ultimately suggest.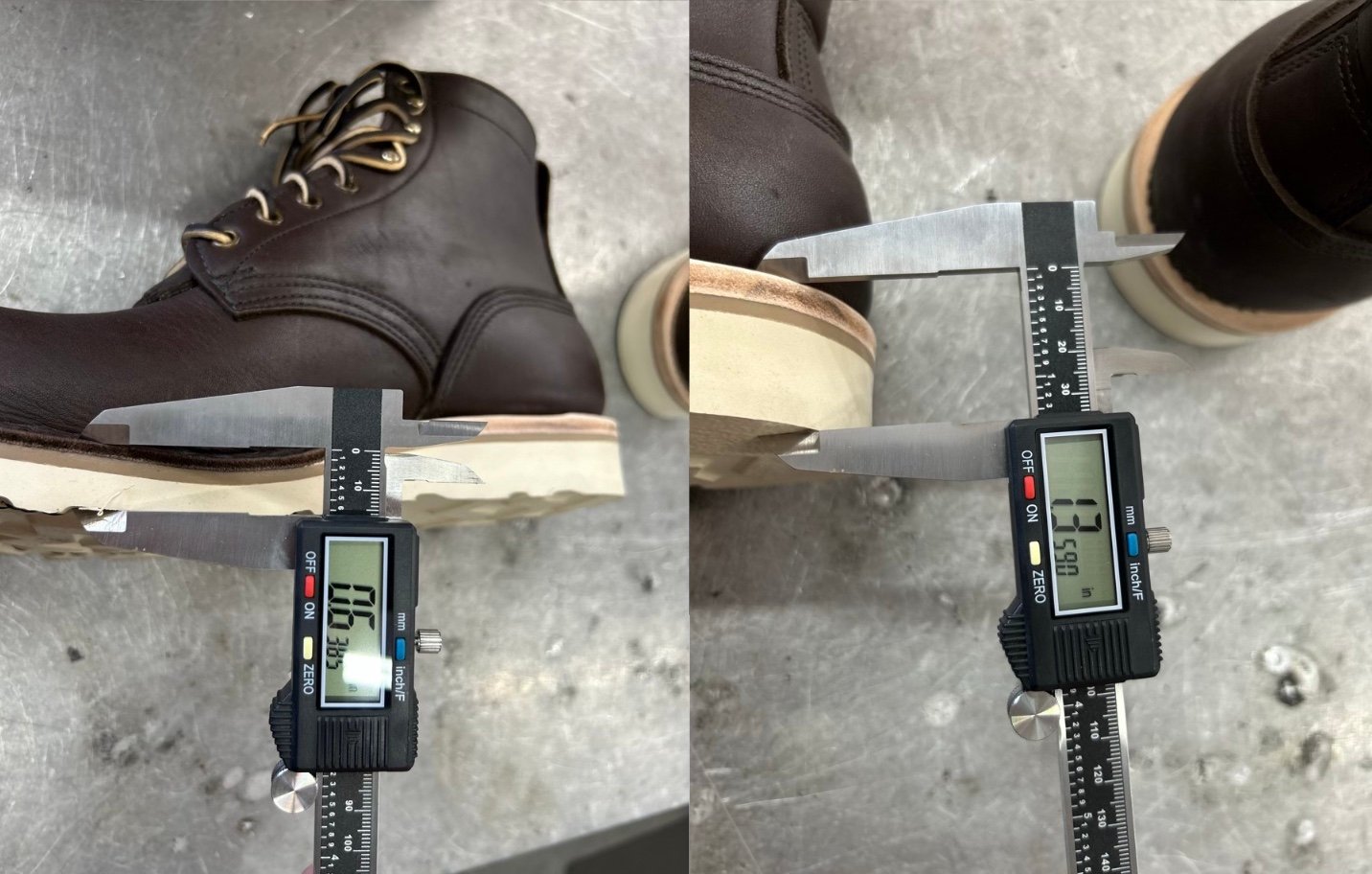 JK Boots ASTM Safety Ratings
Safety toe version is ASTM rated
Electrical Hazard rated boots available on customized boots
JK does offer a safety toe version of the Forefronts that has an ASTM rated composite toe cap for those of you who are required to have a safety toes.
As far as Electrical hazards go, the Forefronts aren't EH rated but if you need it, they do offer the option for it on their customs Forefront 2.0 builder.
You probably don't need to worry about it unless your employer specifies you have to have it. I even talked to a lineman friend and he said he doesn't care if his boots have safety toes and his employer doesn't even require it.
As far as slip resistance goes, they aren't marketed or rated for it but they have the same exact Vibram outsole I've seen on a plethora of boots that are advertised as being slip resistant, so I wouldn't worry to much about it.
JK Boots Price and Value
The soft toe Forefront costs $499.99 while the safety toe Forefront is $529.99 and the custom configuration Forefronts start at $599.99.
In all honesty, it is cheaper to buy $150 work boots every year (assuming they last a year) versus spending $500 on a boot and resoling them every year or two.
But the value offered by JK Boots is that your boot will always fit the same. When you buy cheaper boots, the foam insoles inside them will eventually compress and lose that soft feeling, resulting in your feet aching after a long day of work and that feeling of the arch flattening out.
You won't experience any of that with the Forefronts. Once they are broken in and you have a nice foot impression in the leather insole, the boots will always feel the same every time you put them on.
(If you haven't guessed it by now, I really love leather insoles. If you've never used a boot with a leather insole before it will feel very different, but it's a good different. After a few months, you won't want to wear anything else.)
Are JK Boots Worth It?
So what's my verdict? Are the JK Forefronts worth it? In my opinion, they are!
For me personally, I know these boots will last years in my work environment if I get them resoled every year or two. They fit my feet better than any other work boots I own and I honestly look forward to putting them on each day.
There is so much more I could say about the JK Forefronts, but I chose to stick with the most pertinent information to keep this review a short and easy read for you. (Well, if 2,500 words is short.)
I don't think you'll be disappointed if you buy a pair.