Well, do boots run big or small? It's not a terrible question, especially if you mostly wear sneakers, because most boots run about a half to a whole size bigger than your average sneakers. Most companies recommend sizing down about a half size, but it can be more complicated than the "size down a half size from your sneakers" rule of thumb.
Maybe you're one of the 60% of people who have two different-sized feet. Or maybe, like me, you're in-between shoe sizes. I'm roughly an 11.7, so I could be sizing up or sizing down depending on the brand.
Unfortunately, boots and shoes only come as a pair and there are no quarter sizes, so it can be tough to know if you should size up or size down. When purchasing or buying boots, there are several factors you need to consider to ensure you get the best fit for your new boots, such as the ability for your feet to easily move within the toe box and the bottom of your feet to sit perfectly on the sole section of the boot.
You might be undecided about whether to size up or stay the same size or even size down.
If you want a quick answer: measure your feet on a Brannock device (the one they use to size you in shoe stores) and order a half size smaller. This is usually the right approach. (Note these rules don't apply to women's boots.)
But let's dig a little deeper into the other elements that will determine if you should size up or down in your boots!
How to Size All of Your Boots?
There are a few things to think about when deciding whether or not to order a half-size smaller than your sneakers.
How to Choose Right Size Summer Boots or Shoes For your Feet
Summer is the season for light socks and lightweight, flexible boots and shoes. Given how most summer shoes are worn with thin socks or no socks at all, you definitely need to size down if you're buying boots, sandals, slippers, or loafers.
For example, my favorite summer shoes are Sabah shoes. The brand recommends that you order a size down from your normal European size, any shoes that are worn without socks need to fit snuggly and without movement in the heel or forefoot to avoid blisters.
The same goes for boots like Clark's desert boot, which is a great warm-weather boot. I'm smack dab between an 11.5 and a 12 on a Brannock device and size down to an 11.
A lot of people hate wearing shoes without socks, and wearing socks will help fill a bit of room if you're on the edge of two sizes.
My favorite lightweight socks are SmartWool and Darn Tough, we've written about both brands here.
[Read More: The Ultimate Guide to How Boots Should Fit (5 Areas to Look At)]
How to Choose the Right Sized Winter Boots
When dealing with tougher winter fare, you want to pick leather or rubber winter boots and pair them with warm, thick socks. If you're buying snow boots for the cold season, you want to measure your feet while wearing thicker socks.
You might find that you still need to size down a half size from sneaker size, while if you were wearing thinner socks — say, the kind you wear with dress shoes — it'd be a whole size.
[Check out: The 10 Best Winter Boots for Men That Actually Look Good]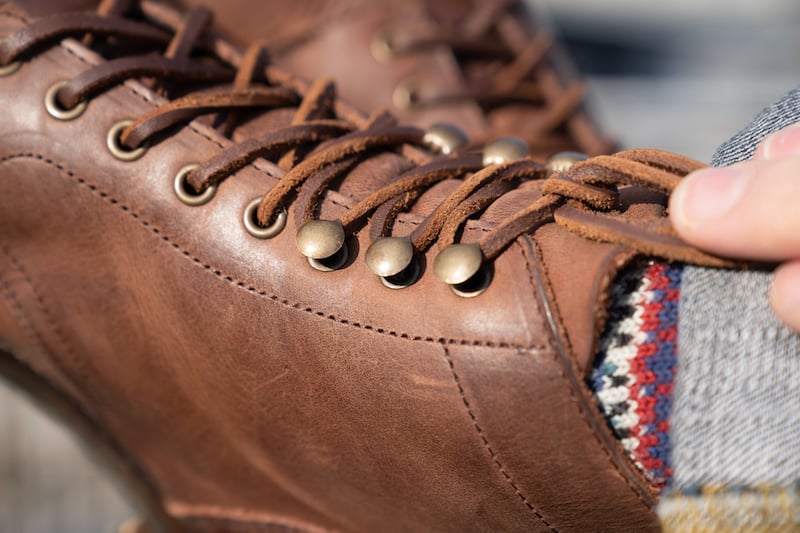 Lace-up boots vs pull-on boots
If the boots feature a lace-up system, you could simply purchase a small size because lace-up boots can be adjusted to your feet when tied firmly.
Just make sure that your heel fits snugly and that the uppers support your foot without being uncomfortably tight.
Pull-on boots like Chelseas are more difficult because you can't adjust the fit. You might have a high-instep that makes it difficult to get your foot into the boot, there's not much you can do for this. So getting the right size is even more important with pull-ons.
[Learn More: Beckett Simonon's Douglas Jodhpur Boot Is Just About Almost Perfect]
If your feet are wide, invest in a larger boot
A lot of people have to make compromises with width because a lot of companies only sell one width, which is unfortunate. It's not that companies don't want to provide wide sizes, it's that it often doesn't make financial sense to develop them. Offering them is basically a public service.
You can try to size up a half or even a full size if you have wide feet, but be careful. You still want to ensure that the boot's flex-point matches the natural bend in your foot, which is the widest part from the big toe joint to the little toe joint.
If you're looking for wide boots, I've got a list of the best wide boots for men here.
[Read More: The 10 Best Boots for Wide Feet]
Best Boot For Wide Feet
To save you a click here's our choice of the best boot for wide feet and the best value boot for wide feet.[Like it? Shop the Alden Indy boot here!]
Adelante provides far and away the best value for wide feet, offering fully handmade boots in C, D, E, EE, EEE, EEEE, and even EEEEE widths. I visited Guatemala to make my own pair and can attest to their quality. (When I'm not the guy making them, of course.) All of their shoes, including Chelseas, come in wide widths in case you want to explore their styles, and a big bonus is that the brand was founded by a couple of humanitarians who put a ton of work into ensuring they were bringing measurable stability and prosperity to the Pastores region where they're made.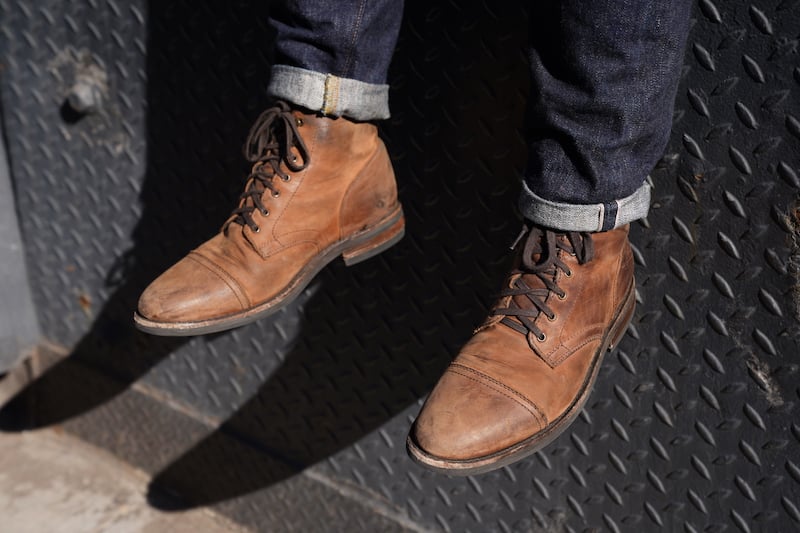 If a company does wide sizes, they'll usually go with E or EE. But Thursday Boot Company does things differently: their standard width fits D and E and their wide fits EE and EEE. Now, you can't get all of Thursday's models in wide widths, but you can get their flagship boot, the Captain, in six leathers.
Two things you should know: they are expensive, and this is the boot Indiana jones wears in all of his movies. That's why it's called the Alden Indy. It's not a cheap boot, but it is Indiana Jones's boot and it's the only quality boot I can think of if you're unlucky enough to have EEEE feet. They also come in B, C, D, E, EE, and EEE.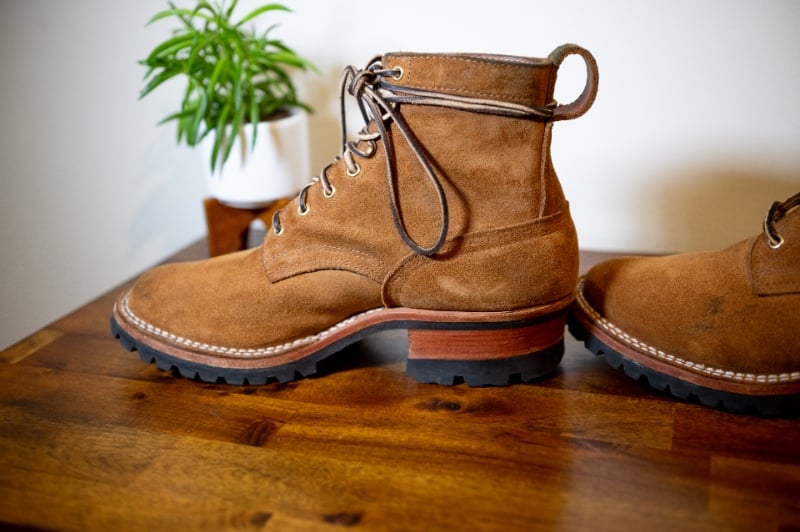 The widest boots you'll find come from Nicks Handmade Boots, which have the following widths (deep breath): AA, A, B, C, D, E, EE, F, FF, FFF, and FFFF. Once you're past EE, brands seem to decide on their own whether they go with Es or Fs, but you get the picture. These boots are incredibly solid and different models are made to serve firefighters, linemen, foresters, and just anyone looking for a cool pair of boots. Mine, above, are the Urban Loggers.
How to check if your boots fit?
That relies entirely on how comfortable the boots are once you've worn them. Even so, if you're not certain, there are several ways to check if the boots are a perfect fit.
The insole is the first thing you'll notice. If it's removable, simply take it out of the box and place your feet on it. The insole should be just bigger than the width of the thumb from the biggest toe of your feet to the end of the insole.
Try on the boots with your favorite socks. Since you're not planning to wear your boot without socks anyway, the boot should fit nicely while wearing them.
Another thing to keep in mind is that your toes ought not to be cramped and that the heels must not slip and rub against the back of the boot more than a quarter inch. A little slippage is OK, as the leather will mold to your foot's shape as it gets worn in.
Check to see if your ankles are at risk of twisting as you turn your feet to the opposite side. Put on your boots and walk around your house — just make sure not to wear them outside, or else you can't return them.
After you've de-booted, you shouldn't feel any discomfort or soreness. After removing your socks and boots, search for any red marks on your feet.
[Related: How Tight Should Steel Toe Boots Fit?]
Are boots and shoes sized the same?
The short answer is that sneakers tend to require a half size up and boots tend to require a size down.
Shoes and boots come in a variety of styles and materials to fit a variety of uses. It's unrealistic to expect your full-grain, steel-toed boots to fit just like your running shoes.
Footwear designers, too, have quite a lot of leeway when it comes to sizing, and surprisingly the same numerical measurements for a boot and a shoe from the same brand may even fit differently because they use different lasts.
It is preferable to purchase shoes from a store so that you can try them on, but that's not always possible. A lot of brands, like Thursday Boot Company, are only found online, but these 'direct-to-consumer' brands typically allow free exchanges — as long as you haven't worn your boots outside.
Thankfully, there are a few ways you can measure your feet before purchasing shoes or boots online.
How to Measure Your Feet At Home
In order to get the right-sized boots, you can take accurate measurements of your feet at home. A lot of brands have helpful customer support and have helped fit thousands of pairs. You also want to find the size chart for the boot you want to purchase.
Before you start you'll want a tailor's tape measurer (found at any pharmacy), pen, and paper, to help measure the circumference of your feet and compare it to the boot size chart
To begin, put on the socks that you plan to pair with the boots. Then take a seat and put your feet on a piece of white paper that is wider than your feet. Trace the pattern of your feet on the paper with a pencil. (This is easier with a friend.) The pencil should be held slightly inclined towards the outside of the feet, not the inside.
Afterward, use the largest part of the breadth and length of your feet's pattern to create a rectangle. Use a yardstick or ruler and measure the rectangle's width and length.
Implications of Small-size Boot
If your boots are too small for your foot, they will have the following effects on you:
Ensure to get new boots and most importantly the boots should fit.
The Health Risks of Wearing the Wrong Boot Size
Inside the toe box, your toes will feel pinched.
When you return home and open your boots, the arch of your feet will be arched, causing foot pain.
Blisters could form on the heels of your feet.
You will experience foot discomfort.
You may develop ingrown toenails.
Most importantly, you won't be able to wear them for a very long period of time.
It's true having to wear boots that don't fit can make you feel uncomfortable. However, if you wear ill-fitting boots for a long period of time, your feet will suffer.
If your foot does not fold at the threshold of the boot, the arch support isn't where it should be and that is because the boot is the wrong size, which could result in, flat feet, plantar fasciitis, and inflammation.
If you wear boots that are smaller than your exact size, the front of your foot gets squeezed. Also, you could develop hammertoes and bunions. I know that some guys might try a boot they're excited about only to learn that one size feels too loose and the other puts the flex point at the wrong point. That's when you have to accept that this particular model's last isn't for you.
Nobody really wants to put up with painful boots. These are the five most crucial considerations to make while trying on a pair of boots.
The Flex Point
Make sure your foot breaks at the boot's widest point. Not the width or the heel, but where the boot breaks on your foot is possibly the most essential aspect of fit.
There's no need to overthink it: every shoe has a natural break-point where it wants to bend, whether it's at the bottom of a patched toe box or just where your toes begin, but that's all you need to know.
The toe line, where your foot flexes, is where all the boot bends. It may appear simple, but if the boot breaks in an incorrect place, it will grind against your feet, causing heel slippage as you stroll or walk, causing the heel to curve and twist, and causing the toe box to pressure your toes.
You could be able to determine the flex point by looking at the width of the shoe. The shoe's widest part should match the broadest part of your foot, which is the ball.
The Heel
Many bootmakers use thick, durable materials that don't break in easily. Even if you're wearing the correct size, you might get a bit of heel slippage due to the stiff materials but a quarter-inch heel slip is acceptable while trying on any heritage-style boots. So don't be concerned if there's some sloppiness.
As the boot molds to your foot, the slip should reduce and eventually disappear as the heel counter molds to the contour of your foot due to friction and body temperature. Unlined boots are best for securing the heel if it's an issue for you, as they have the gripper part of the leather exposed and it becomes very good at grabbing the heels after several usages.
In certain situations, it's more crucial that the footwear has more wiggle room and still the boots fit.
If the heel slippage persists after a few months and is hurting you, there are a number of inexpensive solutions available, such as Heel Snugs.
Width of the Boot
This is where things start to become messy. Many people believe that if the width is too tight, it will gradually stretch. This isn't a smart move.
Some brands cater to a larger foot, while others cater to a smaller foot, and that's a bigger concern than the length. Too much compression in the ball of the foot might create soreness and irritation.
It's important to note that your foot's length won't change throughout the day, but its width may. Your foot swells more at the end of the day, so try on shoes and measure the width in a store in the afternoon. You should also bring thick socks, as most boots are designed to be worn with them.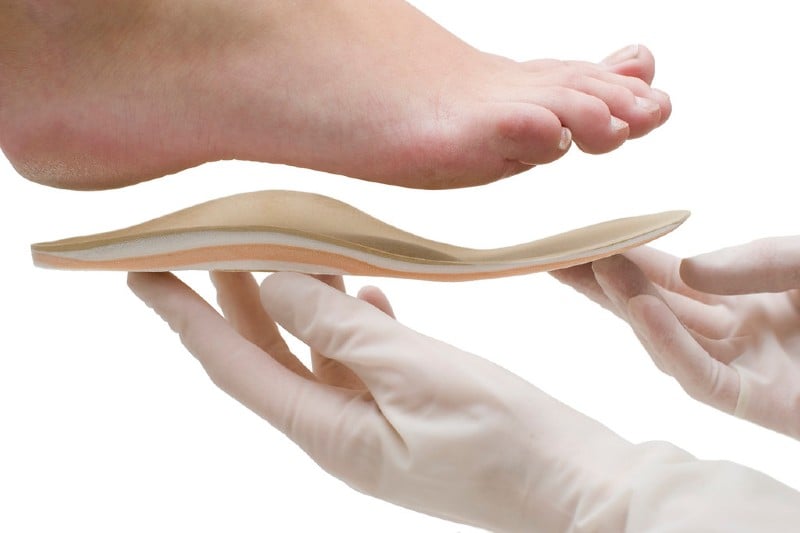 Boot Arch
Arches are difficult to master. It is important to know if you have a high arch or a flat foot, this determines if you'll be comfortable in the boot.
If you have flat feet, you'll definitely need a boot with good arch support or you need room for an insert. If you have a well-maintained arch, it probably doesn't matter.
Wearing boots that don't fit might cause damage to your feet. Under any conditions, it's really not worth it.
[Related: How to Wear the Best Boots for Your Foot Type]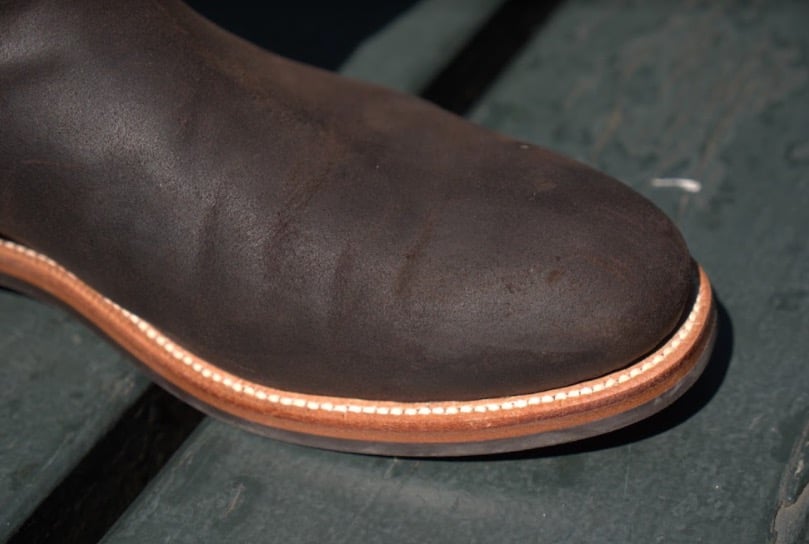 The Toe Box
You generally fit a shoe by using your thumb to see where the tip of the longest toe meets the end of the boot. However, in boots, the toe boxes are often much stiffer, making it more difficult to assess.
When testing footwear, the first question many have in mind is how much room they should have in the toe. But actually, it's the least critical aspect of how boots fit: if the preceding four are correct for you, the length is almost unimportant because your foot will move freely in the boot.
Do not lower a size to save on toe room. Everything preceding is much more crucial. A small toe box can chafe your feet and develop calluses, but if your flex point, heels, and breadth feel good, there's no harm in having a larger one.
Although the toe box might be important for style, it isn't a major component of fit except it is excessively tight.
The possible thing to do when your boot size is not available
In a situation, where you normally wear a small shoe size, such as a 9.5, but the boots you intend to buy are solely available in whole sizes, go for the in-between size 10 instead of the 9.
As a basic guideline, it's preferable to get a slightly larger shoe-size boot than smaller shoe-size boots With the right pair of any boot type, your feet should feel snug.
How to Break in Boots
In cases where you purchased the correct size of shoe or footwear but you still feel like there isn't enough room in the toe box, you need to exercise little patience for your fit to break in the boots.
The break-in period is defined as the time it takes before the boot fits as perfectly as it should. In order for your foot to become accustomed to the boot, it must first adjust to the foot.
Your shoe or boot will not fit perfectly until it has been broken in. Break-in times apply to all footwear.
The length of the break-in process, on the other hand, is determined by your boots and your feet. Some boots take no time at all for the break-in period while some boots take a while before the boot is molded to the feet.
Ideally, you should gradually break in your boots. Take a stroll around your area. Work in the garden. Take a day or two off between wears to let your feet recover.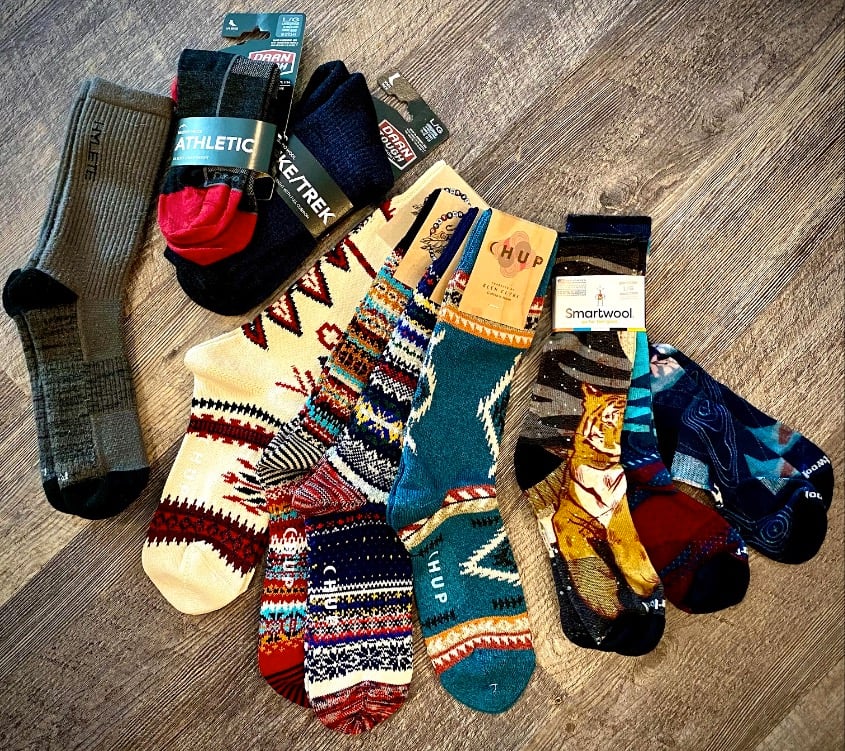 Are Boot Socks are Necessary?
Boot socks are a must-have. They are more substantial than sports socks and provide more protection in the heel and toe areas.
Blisters and hot spots are less frequent with the added protection of the boot socks. Thicker socks are a lifesaver- help to get snug fit.
Conclusion
It is important to buy boots that have the right foot shape to keep your feet warm and prevent unnecessary ailment at all times even if it's work boots, military boots, hiking boots, or dress shoes. The wrong size of footwear has a lot of implications as stated in the guide.
FAQ: Do Boots Run Big or Small?
Do boots run big or small?
Most boots run a half size bigger than your sneaker size, so you should order half a size smaller. But the size is dependent on the company's designs. Ask customer service before purchasing if you are unsure.
Should you size up boots with socks?
Most boots are roomy enough to wear with socks, but if you are in-between sizes and your boot is tight when tried on with socks, you might have to size up a half size. It's better to have slightly too large boots than slightly too small boots.
Should winter boots be a size bigger?
Winter boots can be tricky because they sometimes have extra insulation. Some brands adjust the sizing to account for the insulation, and some don't. Also, winter boots are often waterproof, and waterproof boots won't stretch as much as leather. Ask the company's customer service about sizing if you can't try them on before purchasing.
Are boot sizes the same as sneaker sizes?
Most boot companies recommend sizing down a half size from sneakers, so most boots are a half size larger than your sneaker size. A size 12 in sneakers will likely be 115 or even 11 in boots, as sneakers are often a little big.
Do boots run true to size?
Usually not. Most boots should be purchased a half size smaller than your true size. Check with the company if this is true for them before making your purchase.
The following two tabs change content below.
Karl Wasson
Karl is an IT product manager living in South East Asia who gets a kick out of durability and dependability. He believes form and function are not mutually exclusive. When he's not working, he's searching for the best bespoke menswear in South East Asia and beyond.
Latest posts by Karl Wasson (see all)