Sometimes you get a wacky idea in your head you can't shake. Like, is it possible to squat heavy weights in Goodyear welted boots?
Since my hobbies include lifting and boots — I actually spent ten years working in fitness before running my boot blog full time — I decided it would be fun to combine these seemingly unrelated interests into one activity. Like boxing on horseback, a sport that lasted exactly long enough to take that photo, I assume.
All I really needed to do is convince someone else to do the lifting, and I was able to convince my very strong buddy Jake Boly from That Fit Friend to take up the challenge.
Jake's website is all about testing fitness gear, especially training shoes, so he was the perfect guy to see how a pair of boots would perform relative to dedicated lifting shoes.
He's a fan of Thursday Boot Company and decided to bring is well worn Captain boots and a brand new pair of Cavalier Chelsea boots, with his lifting belt and knee sleeves, to the gym. His goal? Building up to a 400-pound squat.
Oh, please don't try this at home.
[Shop the Thursday Captain Boot here!]
History of Weightlifting Footwear
If you get out of your chair and sink into a squat, chances are your heel will start to lift off of the ground the deeper your knee bends. That's because most folks don't have very flexible ankles — unless they've purposely worked on their range of motion. This is why shoes with an elevated heel are actually advantageous to squats: they can make up for tight ankles and/or hips.
"It's basically putting you into an environment where when you're squatting, you can stay more upright with your torso and allow your knees to track forward, which a lot of folks find difficult due to ankle mobility or hip mobility," says Jake.
For a long time, there were no dedicated weightlifting shoes. Back in the early days of strength sports, guys just used what they had available: boxing shoes, basketball shoes, and boots, depending on their lifting style.
As Jake explains,
If you look at the history of weightlifting shoes, we didn't always have "weightlifting shoes." What they used at the time when they first started exploring using an elevated heel for the sport was actually a boot-looking shoe. Boots are what you would use if you wanted elevated heels.
Goodyear Welted Boots vs Weightlifting Shoes
On the surface, a Goodyear welted boot like the Captain looks like a terrible choice for lifting.
But one similarity between Goodyear Welted boots and lifting shoes is the heel. If you look at early pictures of guys lifting you'll often see them wearing dress shoes and boots.
"From the images we have of those lifters, they look like the very standard leather boot with leather midsole," says Jake. Soviet athletes are credited as the first to add raised heels to their leather shoes and make something resembling modern lifting shoes.
[See out review of the Thursday Captain Boot!]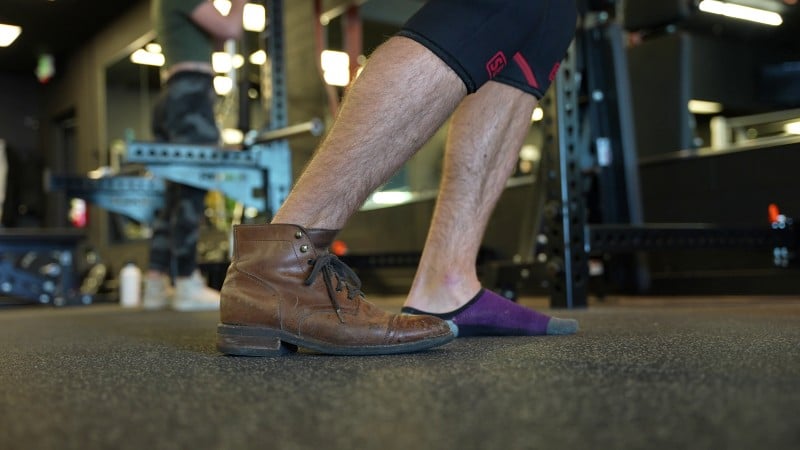 Traditionally, boots have elevated heels and added stability in the midsole in the form of a steel shank. Thursday boots also have a layer of EVA foam in the insole that provides shock absorption as you walk.
"Modern weightlifting shoes don't have this foam," says Jake. "Generally, what you're going to get with a standard weightlifting shoe is a heel made with a very firm, lightweight plastic, and throughout the mid-foot into the fore-foot you're going to get a thicker rubber."
The reason lifting shoes don't often have soft foam, the kind present in a lot of other athletic shoes, is because of stability: as athletes transfer weight from the barbell to their bodies, the foam collapses, and stability can suffer.
"Nowadays there are some models out there that will use EVA foam throughout the shoe, and you'll see models like the Adidas Power Lift use a high-density EVA foam in the heel. But I would say the more serious weight lifting shoes use TPU," says Jake. "That stands for thermoplastic polyurethane, a type of plastic."
In short:
Lifting shoes have a firm plastic heel and thick rubber in the mid-foot and fore-foot.
Boots have rubber outsoles, steel shanks, leather insoles, and cork filling underneath the insole.
Will they perform well under weight?
He did it!
Squatting in Lifting Shoes vs Goodyear Welted Boots
"If we're only focusing on the heel, these boots are not that different to lifting shoes in the context of how this heel is going to translate into lifting performance," says Jake. "Honestly, they didn't feel that different from lifting shoes. Other than the mid foot structure and the toebox width, they didn't feel incredibly different, given the main focus is the heel elevation."
Once he was squatting around 365 pounds, he noticed that the midfoot area compressed more than he would have liked because the construction is more angular than a lifting shoe: a regular athletic shoe slopes downward in more of a straight line from heel to toe, while the boot is flat under the heel and then dips.
But he didn't feel like this difference was enough to impact his performance. This boot really did work surprisingly well under weight.
[SHOP EITHER OF THURSDAY'S CHELSEA BOOTS HERE]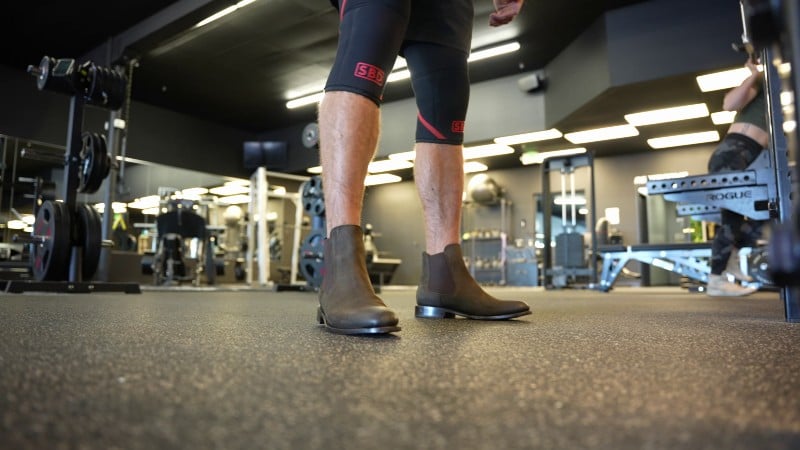 Can You Squat In Chelsea Boots?
Thursday's Cavalier didn't fare quite as well for two reasons: as a Chelsea boot it's less secure around the ankle, and as a dressy boot it's made with a leather sole. That means the grip isn't that great.
"The toe box in this shoe is super narrow," says Jake. "If you were thinking about getting the classier pair of Chelsea boots for squatting, I would recommend not doing so. The leather outsole just didn't grip the rubber floor well, so with 355 pounds on my back I thought, 'maybe I could squeak this out but if I slip out, I would be pretty bummed.'"
[Review: Comparing Thursday's Chelsea Boots]
Wrapping Up
Don't lift in leather-soled Chelseas and, to be honest, you shouldn't lift in boots either. Jake is a pro who knew how to take every risk factor into consideration and while he was surprised at how well the boots performed, it's still not ideal — and when you've got hundreds of pounds on your back, you want your footwear to be ideal.
"Of all the activities you can do in the gym, static lower body work would probably be the one area where a boot might excel," says Jake. "But relative to everything else you could squat in, it'll be really bad."
That said, boots can be a healthy choice of footwear for a lot of dynamic activities like yard work or manual labor, as the construction can help to stabilize the ankle and appropriately distribute load.
Just leave them out of the weight room.
The following two tabs change content below.
Nick English
By day: Manhattan-based journalist with reporting experience on four continents, published in Vice, Men's Health, Popular Science, and a bunch of other places.By night: ravenous consumer of anything and everything related to high end men's boots.Stridewise is where I nurture a maniacal obsession with footwear and share my findings. Say hey:
[email protected]
.
Latest posts by Nick English (see all)