This post may contain
affiliate links
that at no additional cost to you, I may earn a small commission from.
I've been hugely fortunate to visit factories around the world, from London's last jeans factory to Guatemalan shoe factories, and as much as I love meeting the artisans and experts who pour their hearts and souls into their product, I realized there's one part of the process I'm still pretty ignorant about: the design phase.
How do these companies go from an idea to a tangible product?
To learn more about how companies decide whether to build a cap-toe with a novel leather or a moc-toe with modern foam, I sat down with CEO of Thursday Boot Company Nolan Walsh and his design team in León, Mexico, to learn all about how the brand executed a design process that's helped them take over the boot industry with their well-priced, high-quality, not-too-dressy and not-too-causal boots.
We built Thursday Boot Company for ourselves, for our friends, for our family. We wanted the highest quality product at a great price and we really think a lot about the use case. Which product we want? Why do we want it? How do we think we would wear it?

– Nolan Walsh, CEO Thursday Boot Company
Step 1: Ideation
Before anything else, the design process starts with ideation: a brainstorming process where ideas are formed and approved or rejected until the best one is left.
"It starts with the ideation, which a lot of times comes either from customer feedback or people who love wearing boots," says Walsh.
This philosophy is manifested in Thursday's products: you can tell these are boots for real people, using feedback from a wide range of customers and not just guys who are dedicated to exploring welted boots as a hobby. That's not to say there's anything wrong with that, but most people aren't interested in the thickest leathers and chunkiest heels possible: they just want a durable, resolable boot that is comfortable out of the box and at home in a variety of environments.
This more "everyman" approach to making boots for a wide segment of the population has helped to democratize Goodyear welted boots by combining the ruggedness of a heritage boot with the versatility of more dressy lasts.
Mock-Ups
After they've agreed on the general idea of what the boot will look like, who will wear it, and what purpose it serves, they start the process of turning it into a physical product.
"Once we have (the idea) we go into the design process, in which either I'm mocking something up or one of the partners (in Mexico) is mocking something up," says Walsh. "Then we're deciding who is the project lead. A lot of time, that goes to who's most passionate, but I really try to be collaborative with all our crew members here and make sure everyone has the opportunity to weigh in and add their spice to the mix."
Elsa, a designer at Thursday Boot Co describes the mock-up process:
"First, I receive the idea. What is the last shape that we want to do? If it's for a lady or for a boy, and if it's something formal or not too much," she says. "Then we prepare some sketches and some lines and if they approve my idea, we decide what is the best way to continue the line. We have to check all the details about the quality of the sole, the leather, that it's easy to produce for the factory, and that we have good quality."
[Learn More: Thursday Captain Boot Review: Why It's the Best Boot On the Market]
Prototyping & Lasting
Next comes the prototyping, where they build a sample in order to work through exactly how they will build the boot.
Perhaps the most important part of this process is developing the last. This is the model of a foot that the boot (or shoe) is built around, and it determines both the comfort and the aesthetic. It's a true art form, and generations of craftsmen have been improving lasts for hundreds of years.
"(Making the last) is the first step the company takes in order to build the final product," says Pedro, Thursday's lead last designer. "Measurements are really important to achieve the comfort and aesthetics that our customers want in their shoes. It's a combination of elegance and comfort: that's the challenge we have."
The next step is making a wooden foot out of the structure we choose and we sculpt it by hand, checking the measurements until we get the optimal result. When the last is ready and the wood is perfectly shaped, we digitalize and transfer it to the 3D system to make polyethylene versions for the production.
Sampling & Choosing Materials
Now it's time to talk leathers, and for that we spoke to the brand's resident leather expert Aziz Pereyra Mubarqui. This is the man who finds samples of amazing new leathers and makes sure they're good enough for Thursday's customers.
"Basically, we're always looking for the good stuff," says Mubarqui. "I want to source natural leathers, leathers that will remain the same with the time — or maybe get more beautiful. We're working with vegetable tanned leathers right now, it's one of my favorite leathers in the world , but also with rugged leathers. I think most of our customers like that rugged style."
[Related: How Thursday Makes Their Suede]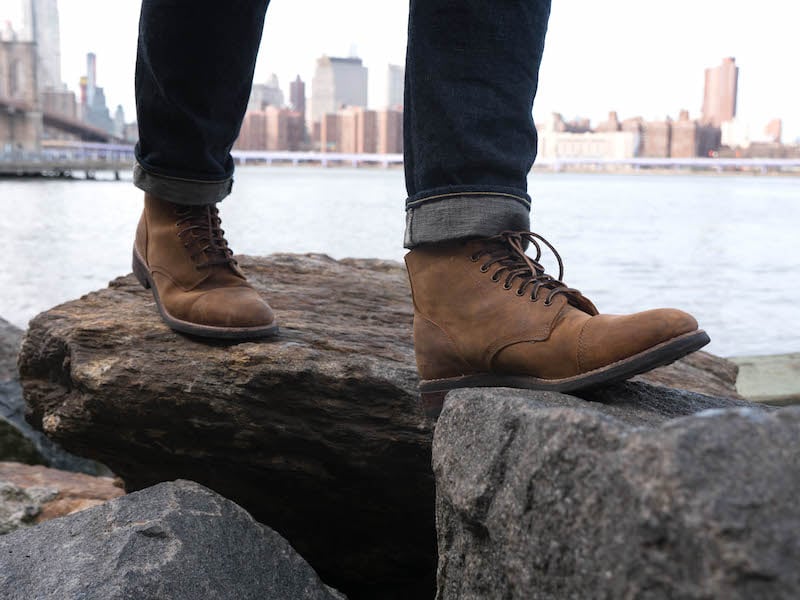 I own multiple Thursday boots made with the line of Rugged & Resilient leathers Aziz is referring to: their made-in-America Vanguard boot and their definitive moc toe, the Diplomat, are both made with their Burnt Copper varietal. My President boots, meanwhile, are made with the darker Tobacco leather. I can attest: the Rugged line of leathers wears hard and needs no care, making it a no brainer for guys who don't want to worry about figuring out the best boot conditioner.
"We launched that and did really well, then we launched things like the Tobacco President," says Walsh. "With that, we wanted something that had the pull up, that really met that qualification of being something that you could just beat the you-know-what out of, while still looking good and almost looking better beat up."
[Learn more: My Thursday President Boots in Tobacco Leather, a 1-Year Review]
"We're having a lot of fun with suedes, and I think what we're doing with the oil snuff suede is pretty original with our type of boots," he says. "Just working with partners to perfect how we want it with the right luster with the right nap."
"We push the tannery to create new retanning processes to make the suede more resistant," adds Mubarqui. "What we do is add our spirit to the leather, so that's the way we work. We try different products of different natural products on the leather and different processes."
[Review: Thursday's Chelsea Boots (Duke vs Cavalier)]
Manufacturing
After the ideation, the mockups, the prototyping, and the materials have been sourced, all of the components come to Tony Thomas, Thursday's Director of Production, who makes the boots come to life.
Once the sample is confirmed we put all the processes into motion with our supply base and with our factories. There are basically five primary phases that each factory that we work with goes through: It's cutting, preliminary, stitching, lasting, and then finishing. Once the final product has been inspected and it meets Thursday Boot Company standards for quality, we then load it onto a truck and bulk ship them to a warehouse that's in the United States where they get distributed individually to our consumers, our final customers.
I actually had the chance to hang out with Tony and check out this part of the process in more detail. You can read more about that here if you're so inclined.
[Check Out: Thursday Logger Boot Review | The Captain's Underrated Big Brother]
Wrapping Up
Those are the people responsible for making your Thursday boots. They're a competent, passionate, and hardworking gang, and I was delighted to meet them and put a few faces on the folks behind my boots.
I'll leave you with one more quote from Walsh about this whole Thursday Boot Company experiment:
We're just having fun. We love becoming the foremost experts in what we're doing and I think it's a lot about perfecting every element of the product we're already doing as well as continuing to push the boundaries so expect a lot coming out from us in the next year.