Minimalist, white-leather sneakers are like the black cap-toe oxfords of a casual wardrobe: it's a shoe that will never go out of style and it pairs seamlessly with countless outfits.
When money is no object and a guy wants the most legendary white sneaker money can buy, he usually winds up looking at the Achilles Low from Common Projects. It's a flex, no doubt.
With its low profile, Italian provenance, and super soft Napa leather, the Achilles Low looks great, sure. But the reason it gets so many eyeballs is the price: coming in at over $400, it's unattainable for most folks — which, of course, increases their desirability and makes them a sign of prestige and luxury.
While many people think the Common Projects Achilles is a wonderful shoe, most recognize that a large part of the price is due to hype, not quality. There must be something that ticks the same boxes as Common Projects without the same price tag, right?
The good news is that there are a lot of options that'll scratch that itch. They might not have the exact same cachet of I-paid-this-much-for-these-shoes, but we've tried enough to be very confident in the list below, which we've arranged by price and how similar it is to the Achilles.
Anyone, even the pickiest person out there, can enjoy a pair of minimal white sneakers for less.
[Further reading: The 10 Best Leather Sneakers for Men]
The Best Common Projects Alternative: Koio Capri
Made with sustainable Italian leather from Leather Working Group Gold-Rated tanneries
Available in wide widths
Fully made In Italy
40% recycled rubber soles
This article looks at alternatives at every price point, but the overall best Common Projects alternative, without a doubt, is the Capri from Koio. This fantastic sneaker is available in a huge range of colorways with different colored soles, trims, and uppers, but if you're looking for that perfect minimalist white sneaker, opt for the Capri in Triple White.
A brand that manufactures out of Italy, literally every step of the production process is done in the Marche region in the country's East — even the box is Italian made.
The Capri is a low-profile, streamlined sneaker that is made out of full-grain leather that's chrome tanned in Italy. An ideal upper for sneakers, chrome tanning makes for a leather that's lightweight, pliable, stain resistant, and water resistant — and it can be dyed any color under the sun due to its superior ability to hold pigment relative to vegetable tanned leather.
The Capris are sold on a modified Margom sole that helps makes the Capris look more streamlined than most of the sneakers on this list. That brand Margom is generally the most sought after for sneakers, particularly since that's what the Achilles Low has.
Overall, in most respects, the Capris are similar to the Achilles both in material and construction. The main difference is that Koio's design utilized more leather panels on the back side of the shoe. At over $100 less expensive, there's ample reason to opt for Koio.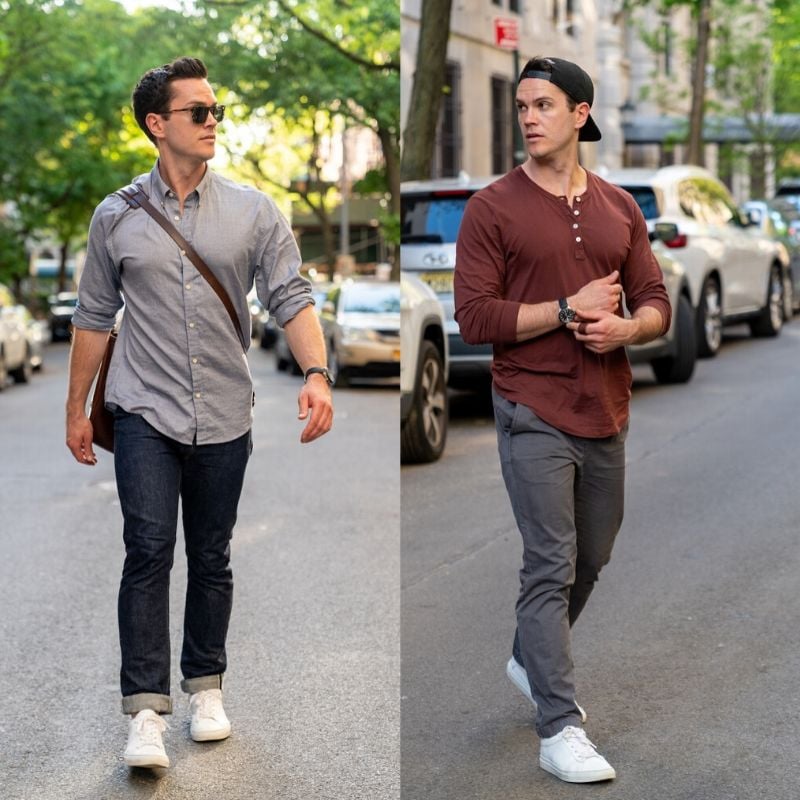 This brand also has far more transparency than the conspicuously opaque Common Projects, and it serves them well. Koio has an admirable commitment to sustainability, using Leather Working Group certified tanneries, recycled rubber in their soles mixed with Forest Stewardship Council®-certified (FSC®) natural rubber, and they even have a line that uses Regenerative Leather, made with vegetable tanned hides from cows bred in the Swiss Alps to help restore Alpine ecosystems.
None of this is at the expense of quality or aesthetics: this is the ultimate stylish white sneaker for less.
The Best Common Projects Alternatives Under $300
This section will further explore the alternatives in the sub-300 dollar range that pays homage to the Common Project Achilles. We named the top pick above — hey, they deserve their own section — but these next items are great options if you want a sleek, low profile, all white, leather sneaker that pairs with any outfit.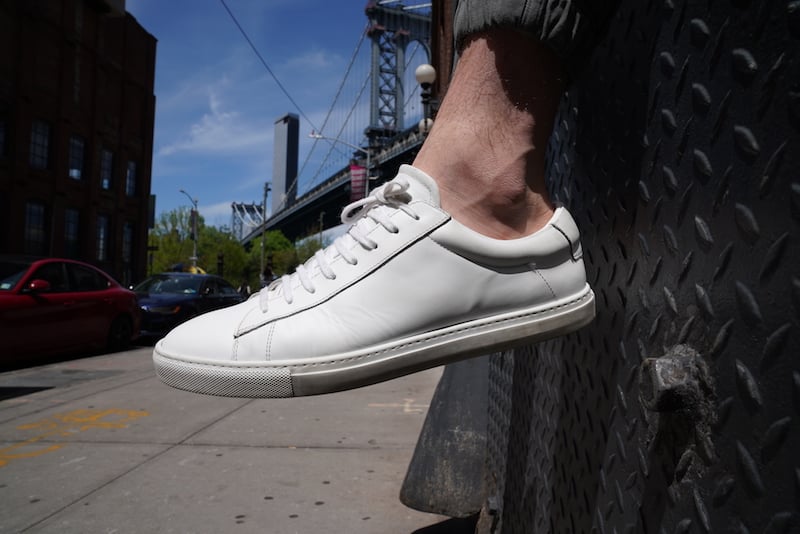 2. Oliver Cabell – Low 1s
Made from Italian calfskin
Made In Italy
$275, but often on sale
To the untrained eye, the Oliver Cabell Low 1s look nearly identical to the Common Project Achilles Low. Both shoes are stitched together in Italy in a very similar fashion, and both have that sleek silhouette that many minimalists desire.
The main differences are the soles aren't Margom, and the Achilles are made from Nappa leather while the Low 1s are more specifically labeled as made from calfskin — which Nappa might be.
What exactly Common Projects means by "Nappa leather" is unclear, or even if it's still made with Nappa leather, as Common Projects don't really put anything on their site besides a list of stockists. (Their utter lack of marketing is their entire marketing strategy.) Nappa (or Napa) is usually derived from calves, lambs, or kids, so it's a less specific term. It's also said to be softer and more resistant to fading than some other leathers.
Other things that you might spot upon further examination are that the Achilles Low has a thicker, more padded tongue and one row of eyelets less than the Low 1s.
The Achilles Lows are between $410 and $490, while the Oliver Cabell Low 1s are $275 full price, but are regularly on sale for around $200. For about half the price you are getting a comparable product to the Achilles Low. They're less transparent and less sustainably made than Koio, but the price is definitely right.
3. Greats – The Reign
Made in Italy
Sleeker than most Greats sneakers
Margom outsole
$230
Greats launched in Brooklyn in 2014 and soon became an international best-selling brand that was acquired by Steve Madden five years later.
We actually have two entries from them on our list: the Reign and the Royale. The Royale is their flagship shoe that's slightly chunkier than the other models on this list, plus it's no longer guaranteed to be made in Italy. Seemingly to compete more directly with Common Projects, and as a response to some customers missing the "old" Royale (which before the acquisition was made in Italy with Margom outsoles) they've released the Reign.
The Italian-made Reign sneaker is a much newer design and in our opinion reflects the desires of the OG Greats fanbase.
The Reign looks strikingly like the Common Projects Achilles Low, with a streamlined aesthetic from the tongue down to the toes. In fact, if you look at the slope of both sneakers, they look nearly identical. The only difference in the pattern is that the Reign uses more leather panels toward the back of the shoe: there is an additional panel cupping the heels and 2 overlapping panels wrapping the heel tab.
If you're a fan of the golden numbers on the Achilles Low, then you'll like branding present on the Reigns. Golden letters spelling out Greats are stamped on the heels of this sneaker. It's low-key, and no one can really see it unless they're walking behind you.
The soles used on the Reign are the coveted Margom, just like Common Projects and Koio. All of these features, such as Italian manufacturing, Italian leather, and using Margom soles, make for a sneaker that of the caliber of the Achilles Low. It's cheaper than Koio's Capri, but not if you use the STRIDEWISE20 discount code we have with Koio.
[Further reading: The Best Leather Sneakers for Wide Feet]
4. SuitSupply – White Sneaker
Key Highlights
Calfskin leather upper
Carbon neutral
Fair Wear certification, guaranteeing ethical worker treatment
Made in Italy
Cemented construction
$225
Suitsupply's minimalist sneaker is fittingly called the White Sneaker. It's nowhere near as well known as the other brands here, which is a shame: this really nails the Common Projects' shape.
From the front and the side, the shape of the White Sneaker and the Achilles Low are practically identical. It has the same stitching patterns, the same amount of leather panels, and even the same number of eyelets. The White sneaker is slightly shorter, but you can only tell by looking at both shoes side by side. Aside from the branding, the only noticeable difference is that the White Sneaker has an extra panel of leather covering the heel seam, while the seam is exposed on the Achilles.
Over the years, SuitSupply has refined and changed the design of the White Sneaker slightly, so older models will look different and could use slightly different materials. But like many shoes on this list, what you'll find consistent about the current White Sneaker is what people covet: it's made in Italy, has Margom soles, and is made out of calfskin.
The differences are this is cemented construction rather than stitched, but an upside is Suitsupply is more transparent about their ethics: the shoe is carbon neutral and certified by Fair Wear, a non-profit that guarantees fair treatment of workers.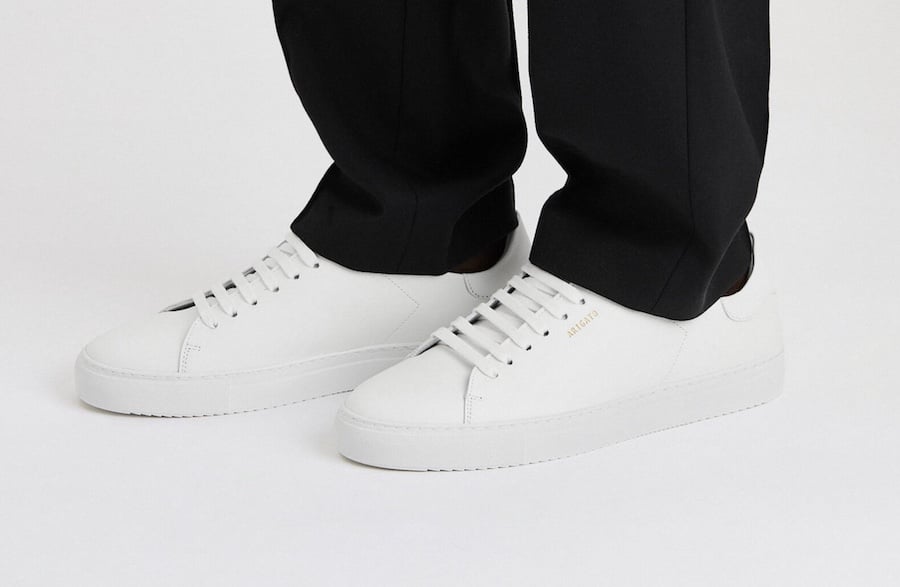 5. Axel Arigato – Clean 90
90% of Axel Arigato's leathers sourced from Gold-certified Leather Working Group tanneries
Slightly chunky look
Relatively high sole
Made in Portugal
$285
This is a Swedish brand that marries Scandinavian resourcefulness with Japanese streetwear design. The Clean 90 sneaker's silhouette is similar enough to the Common Projects to be included on this list, but Axel Arigato's shoe has some notable differences.
Even though the Clean 90 could be described as minimalist, it leans in more of a streetwear direction than Common Projects, making it a good option for guys who prefer looser trousers or a more casual aesthetic.
The heel tab on this sneaker is taller and the platform soles give it a slightly chunkier look. The best way to describe it would be if Achilles Low and the Adidas Stan Smiths had a child together.
Still, it is a great shoe for a minimalist wardrobe as there aren't any distracting design motifs. Note that the uppers are cemented to the sole, which they say makes for a better fit, though the stitched construction of Common Projects or Koio is a bit more longlasting. As an added bonus, Axel Arigato's Clean 90 also has their branding stamped in gold on the lateral side of their sneaker, higher up and closer to the foot opening.
As a part of Axel Arigato's sustainability mission, the Clean 90s' outsoles are made from 20% recycled rubber and the shoes come with dust recycled polyester bags. Overall, the Clean 90 by Axel Arigato is a great sneaker for those looking to own a minimalist white sneaker but want something a little less sleek.
The Best Common Project Alternative for Under $200: Thursday Boot Company's Premier Low
Made from Italian Napa leather
Stitched construction for longevity
Medium density, high rebound foam midsole
30% recycled rubber sole
Slightly wider fit than Common Projects
Made in Portugal
$129
Thursday Boot Company has made a name for itself for being extremely budget-friendly while keeping quality high. It seems like for every piece of premium footwear on the market, Thursday has come up with a way to make a similar alternative that's far more affordable.
The brand's entry in the white sneaker space is the Premier Low Top.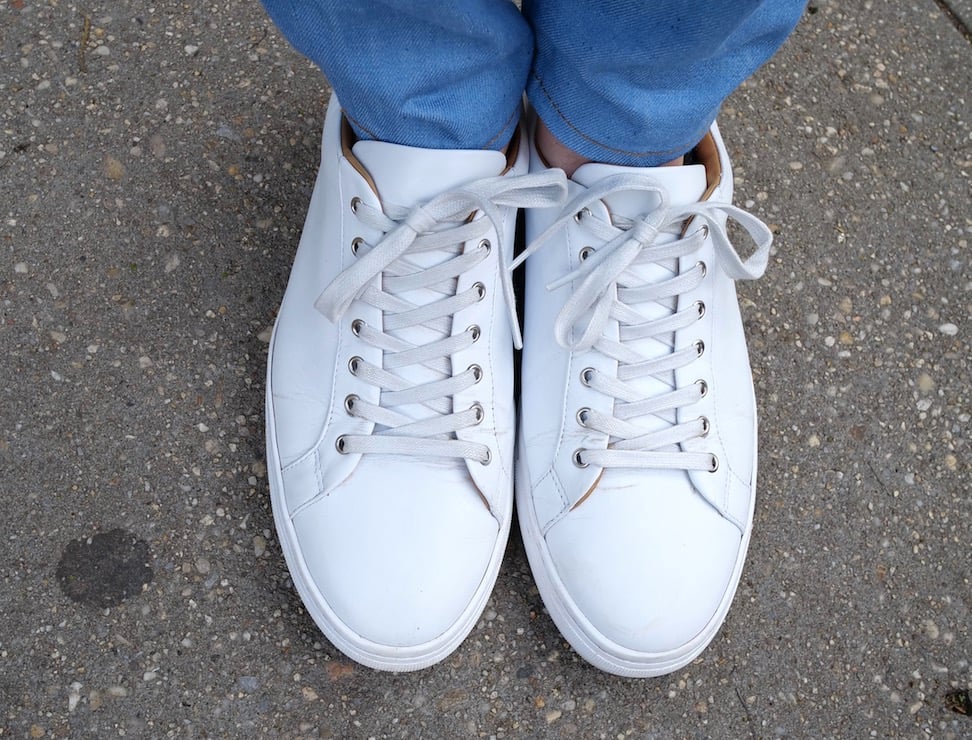 The Premier Low Top is crafted out of Napa leather from Valletri Tannery in Italy, not far from Rome. As an aside, we love that the brand has that much more transparency than other brands that tend to keep their tanneries "trade secrets."
The leather is pliant and soft, and what's great about it is that it isn't heavily finished (or painted), giving the Premier Low Top sneakers a natural and consistent appearance. Under the leather, the uppers are lined with a vegetable-tanned sheepskin that is about one millimeter thick for additional comfort.
The Premier Low's insole is made from Vachetta leather that's about 1.5mm thick — actually thicker than the Napa uppers, meaning underfoot comfort was given a lot of thought in the design process. Under the footbed you'll find medium density, high rebound midsoles that offer a great balance of flexibility and shock absorption.
The soles aren't Margom, which is to be expected, but we found them equally as comfortable, plus Thursday's soles are made from 30% recycled rubber and produced in conjunction with Vibram, perhaps the world's most celebrated manufacturer of boot soles. If that doesn't inspire confidence, nothing will.
The main beefs a sneaker purist might have is that the nickel eyelets make them a tad less minimalist than Common Projects, and the fit is a little wider. But given the narrow fit is the most common complaint with the Achilles Low, we think Thursday succeeded.
Best Common Projects Alternatives Under $200
We named the top pick above, but here are more! Even though we've covered multiple options so far that are over $200 cheaper, let's keep going. Luckily for everyone, there are more brands out there making minimal white sneakers for the rest of us.
7. Beckett Simonon – Reid
Full-grain, Italian leather from LWG Gold-rated tannery
Tall instep and wide waist make a less sleek, but more accommodating fit
Finished with carnauba wax and shea butter for luster
$169 ($135 with the code STRIDE)
This Colombian brand stands out in the industry for two big reasons: super ethical manufacturing and a super lengthy ordering process. The Reid sneaker's design is clean and minimal. There are no embellishments or decorative features. It is just a sleek sneaker that works with any outfit.
First, the good: they produce shoes in specific production runs in order to reduce waste and storage space, resulting in goods that are both more sustainable and less expensive. The leather is hand cut, minimally finished, and sustainably sourced from gold-rated Italian tanneries. The Vachetta lining is one of the most premium veg tan leathers on Earth, the fit is both sleek and less constricting than Common Projects, and a fun bonus fact is that the sneakers being freshly made means they're less likely to crease and more likely to mould to the shape of your foot. That difference isn't huge, but it's nice to know your sneakers were made just for you.
The production is intricate and human-driven, taking over 150 manual steps, so it's slow: it takes six to eight weeks between you clicking "purchase" and the Reids arriving at your door. But at just $135 (with the code "STRIDE") and a lot of extra ethics and sustainability points over Thursday, there's a good reason to pay the extra $5 and wait the extra time for the Reid sneakers.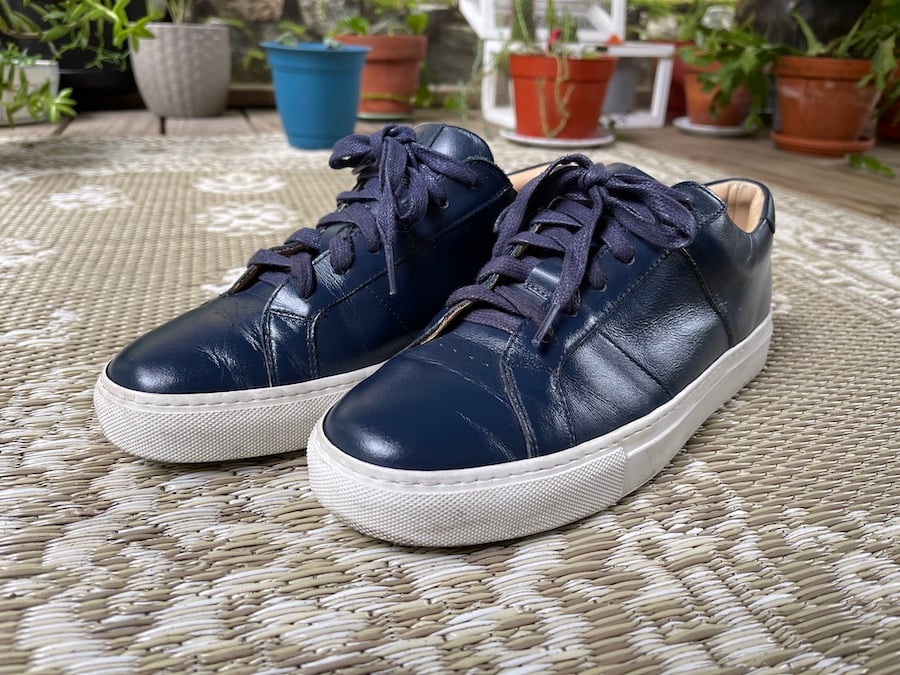 8. Greats – Royale
Made from full-grain, vegetable tanned leather
Chunkier, more '80s vibe
Made In Portugal or Italy
$189
The Royale is the original sneaker that launched the Greats brand into stardom. Back in the mid-2010s when the minimalist sneaker craze was at its peak, you could not go to any blog or article without seeing a mention of the Greats Royale, and how it's the affordable alternative to Common Projects. While the field is decidedly more crowded today (*gestures at this entire article*), it remains true that the Royale is a solid substitute that's also distinctive enough to have its own identity.
Since they were acquired by Steve Madden in 2019 (five years after their founding), some of the Royale's production shifted to Portugal — to this day, you won't know which factory made your Royales until you look at the "Made In" label! The leather is sourced from tanneries closeby the factories in order to reduce their environmental impact, and while some complain that the leather isn't as soft as the original Royales were, Greats confirmed to us that this is because it's vegetable tanned leather. Practically every leather sneaker is made with chrome tannage because it's softer and easier to dye, but many purists prefer vegetable tanned because it's hardier and has more heritage. (Chrome tanning was invented in 1858; vegetable tanning in circa 5000 BC.)
They don't advertise that vegetable tannage on their site so to be honest, which is strange given how much more expensive it is, so we're not a hundred percent sold on that, but the uppers are durable and are balanced with soft leather lining with extra padding.
Overall, the new Greats Royale is a good shoe that has a more bulky, 80s vibe than other contenders. It's not the same shoe it was when the brand was founded, but the price reflects that: at $189, it's good value.
View this post on Instagram
9. Clae – Bradley Essentials
Italian Nappa leather upper
A touch more volume than Common Projects
Neoprene heel for ease of taking off
Flat nylon laces
Molded EVA footbed
Made in Vietnam
$160
Clae is a Los Angeles-based brand that manufactures its shoes in Ho-Ch-Minh City in Vietnam. They have been around for 20 years but surfaced on everyone's radar after they released vegan leather sneakers made out of cactus fibers. Never fear, veganism shunners: the Bradley Essentials do not come in cactus, but rather Nappa leather from Italy, just like the cool kids wear.
Ostensibly based on the traditional court sneaker, the Bradley Essential got a tiny bit more volume than the super sleek Italian brands, which does indeed give it a subtle air of a vintage athletic shoe. The brand has something of a skateboarding heritage, which again is reflected in the (very slightly) more casual look. The nylon laces are unusual for this niche — perhaps less "natural" or "premium" in certain eyes, but smoother to work with than the standard waxed cotton.
One thing we don't love is that the brand isn't very transparent: the site has no answers to FAQs, nor is there any information prominently displayed about the sneaker's country of origin, materials sourcing, or even what certificates their "certified tanneries in Italy" actually have.
Still, the reviews we managed to find — on Reddit, there are none on Clae's own site right now — do conclude that it's a great value sneaker. Just note that some people dislike the neoprene heel. For most guys, though, that neoprene is a bonus because it makes the shoes easier to take on and off.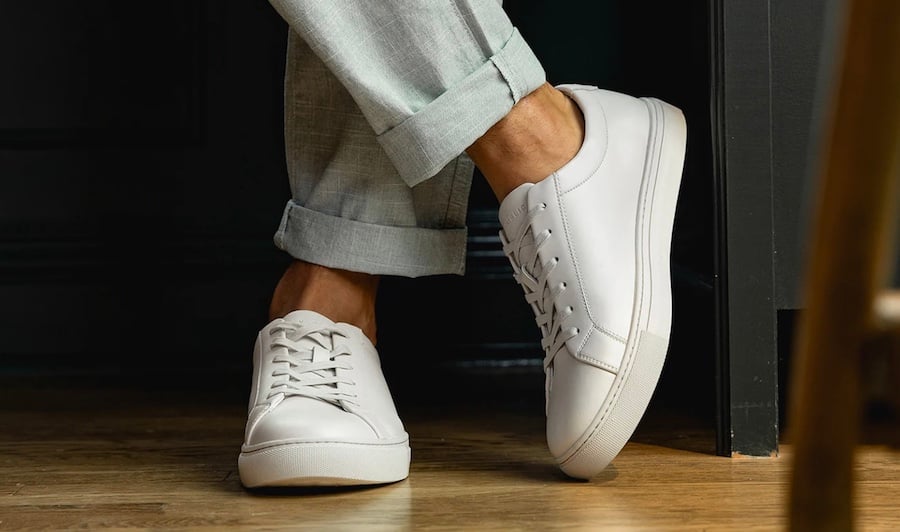 The Best Common Projects Alternative for Under $100: New Republic's Kurt
Made from cow leather coated with a layer of polyurethane
Polyester "suede" lining
Made In China
$89
New Republic is another shoe brand based out in Los Angeles and their mission is simple; make affordable shoes that are devoid of any branding whatsoever. A common theme amongst cheaper sneakers is that the branding is overly distracting. New Republic solves this by making the Kurt virtually like a plain white tee: a piece of clothing without any indications of where you purchased it from.
Now, at the sub $100 pricepoint, lower quality leather is to be expected, but it is indeed leather: New Republic calls it "action leather," which is cowhide that has been coated with a layer of polyurethane to give it a smooth texture. The lifespan is shorter than full grain leather as the polyurethane layer will eventually crack, but it has good water resistance.
The soles of the Kurt sneaker are New Republic's in-house design, made out of rubber and cemented before being given reinforced stitching — an impressive touch at this pricepoint. The sole doesn't have the best shock absorption and the polyester suede lining might be stuffy, but provided it's not too hot out, this is a very solid offering.
More Common Projects Alternatives for Under $100
The shoes found in this range will get the job of being a clean minimal leather sneaker done, however, their materials or manufacturing practices typically aren't as transparent as the others in the higher tier. Still, if you're in a pinch and need a budget white sneaker, these options have the right look. New Republic's is the best aesthetic mimic of Common Projects, however…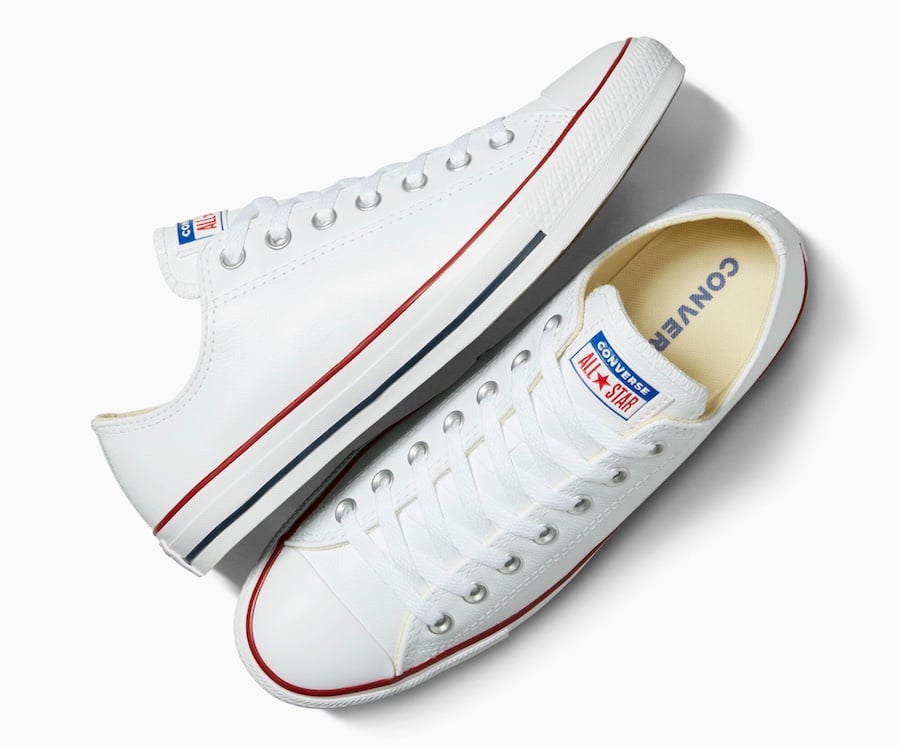 11. Converse – Chuck Taylor All Stars Leather Sneakers
Made from 'genuine' leather
Hugely iconic model
Made in China, India, Vietnam, or Indonesia, depending on the production run
Order a half size down
$65
Converses and the Chuck Taylor model need no introduction. They sell 100 million pairs of the classic canvas sneaker each year, making this old-fashioned basketball shoe one the most world's most recognizable pieces of footwear.
Its popularity has spawned countless iterations, including the retro Chuck 70, but the white leather version is a terrific option for a Common Projects alternative. Switching out the canvas for leather makes for a sleek, low profile, and elegant offering that has the bonus of carrying the massive cultural cachet and recognizability of the Chuck Taylor. They're not identical to Common Projects, but they have a strong identity of their own.
The soles on this sneaker are made from vulcanized rubber traction. Although there isn't any reinforced stitching, Converse usually does a pretty good job at cementing the uppers to the outsole. Most of the problems people have with Converses is the canvas ripping where the soles are cemented but with a leather upper, this is less likely to be an issue.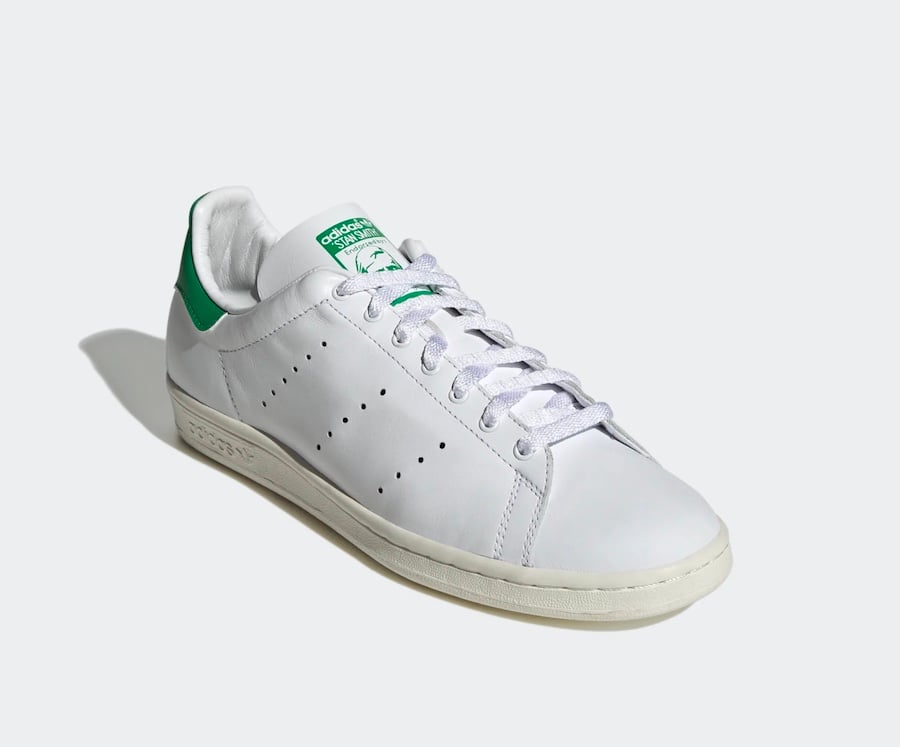 12. Adidas – Stan Smith
Vegan leather ; leather version for $145
Sole made of recycled waste
50% of the upper is recycled
Chunky aesthetic
Three "stripes" of ventilation on sides
Made in Asia
$100
You might not vibe with a vegan shoe, but the Stan Smith is such an icon that it deserves a spot in any man's sneaker collection — even though, at the current price of $100, this one isn't technically a Common Projects alternative for under $100.
Don't want vegan? No sweat, there's a "Lux" version for $45 more.
Made by Adidas, the Stan Smith can almost rival the Chuck Taylor in terms of its pop culture influence. A bulkier fit that's inspired by old skating shoes, the Stan Smith has been a fixture of Adidas's lineup for over 50 years, and it's available in 16 colors.
This model has become a focal point of the company's commitment to sustainability: it's completely vegan, the sole is recycled, 50% of the upper is recycled, and it's made with Primegreen, the construction emphasizes Primegreen, a performance-focused polyester that's 100% recycled.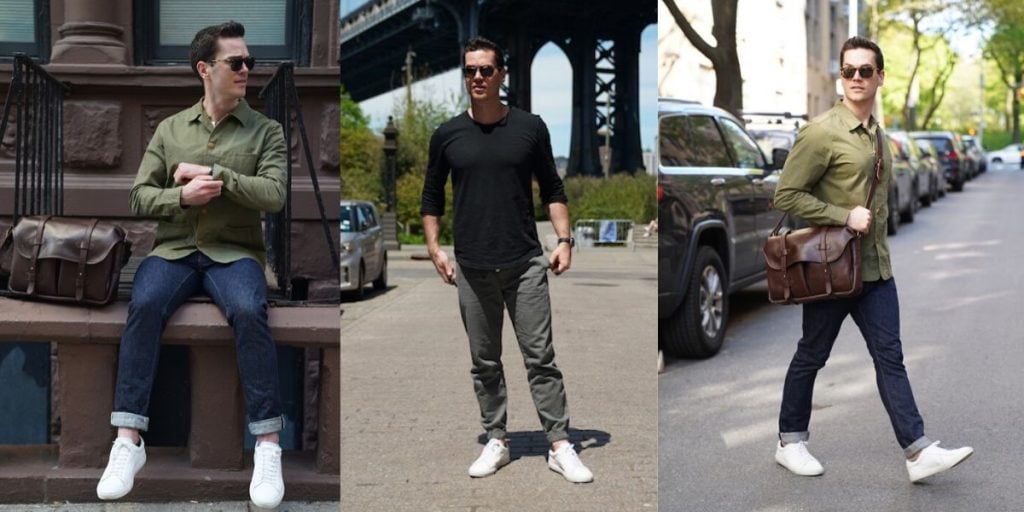 Wrapping Up
In summary, while the Common Projects Achilles Low may be a highly coveted and luxurious white sneaker, its steep price tag makes it out of reach for many. Fortunately, the market has responded with several fantastic alternatives available that offer similar aesthetics and quality at more affordable prices.
The selections in the under $300 section are some of the most reviewed and tested sneakers on the market. Top tiers like Oliver Cabell, Greats, and Koio are some of the most revered Achilles Low substitutes, ticking practically all of the same boxes. A tier lower we have brands like Thursday Boots, Beckett Simonon, and Clae that are making sneakers that are a stellar deal for what you're paying. And finally, if you're in a pinch, New Republic offers a sneaker that will elevate your style without hurting the wallet too much.
Frequently Asked Questions
What is better than Common Projects?
Many brands make comparable products. The best alternative under $300 is Koio's Capri, under $200 is Thursday's Premier Low, and under $100 is New Republic's Kurt.
Why are Common Projects so expensive?
The standard answer is Italian calfskin, they're made in Italy, and are stitched (not glued) to prestigious Margom soles. But brands like Koio offer all of these touches for over $100 less.
How do you look after white leather sneakers?
Wipe the shoes with a damp rag and then simply use a leather conditioner like Cobbler's Choice to moisturize the uppers. Consider using white shoe cream to cover scuffs.