One of the sneaker models that Greats was founded on (and known for) is the world famous Royale. This is a classic, minimalist leather sneaker that's distinguished by boasting a slightly more old-school 80s style, further elevated by using a full-grain leather uppers and a made-in-Europe label.
In comparison, a similar shoe from Koio would cost about $100 more, not to mention the outrageously overpriced Common Projects. Since they were acquired by Steve Madden in 2019, the outsole was replaced with their own in-house, 100% natural rubber, and some of the manufacturing was moved to Portugal.
So is it still worth it? The Royale remains one of the best budget minimalist leather sneakers, with many of the hallmarks of sneakers that cost $100 more. Decide for yourself in our in-depth review below, that includes several alternatives to help you make up your mind.
Greats Royale Pros and Cons
Got somewhere to be? Here are the pros and cons of this iconic, Brooklyn-born leather sneaker.
Pros
Full-grain leather upper
Leather lined for comfort
Pleasantly thick with soft leather insoles
Good overall construction
12+ available colorways
Under $200
Under $200!
Greats - The Royale
With thick, full grain leather and retro style in spades, this meaty, European-made shoe is one of the best value leather sneakers.
Check Best Price
We earn a commission if you make a purchase, at no additional cost to you.
Cons
Chunkier, less minimalist look than most competitors
Thick lining makes sizing tricky
No wide width options
View this post on Instagram
The best known white ("Blanco") version of the Royale.
Greats Sneakers, The Brand
Founded in 2014
Early Direct to Consumer sneaker brand
Made in Italy
Design combines minimalist European style and American, 1980s streetwear
Greats' history only goes back less than ten years. The brand was founded in Brooklyn by Ryan Babenzien and John Buschemi in 2014. They focused on creating a brand inspired by their love of sneakers, but also wanted to disrupt the market by creating one of the first Direct to Consumer (DTC) shoes made using high quality materials, such as Margom outsoles, and producing them in Italy with Italian leather. Their inventory features leather low-top and high-top sneakers, loafers, apparel, and accessories for both men and women.
In 2019 they were acquired by Steve Madden, a brand that shares a similar origin history to Greats. But when you're a brand that buys other brands, you have priorities. Steve Madden is now a publicly traded corporation whose primary goal is increasing its share value through brand acquisitions and vertically integrating its portfolio for efficiency and cost-cutting.
Today, Greats still offers some Italian-made shoes that are clearly branded as such, but the provenance of the flagship Royale is hidden. We had to ask them ourselves: they said it's now made in Italy and Portugal. So, no one can promise you that your Royale will be made in a particular country; you have to wait and see what's printed on the lining.
But my own are indeed made in Italy.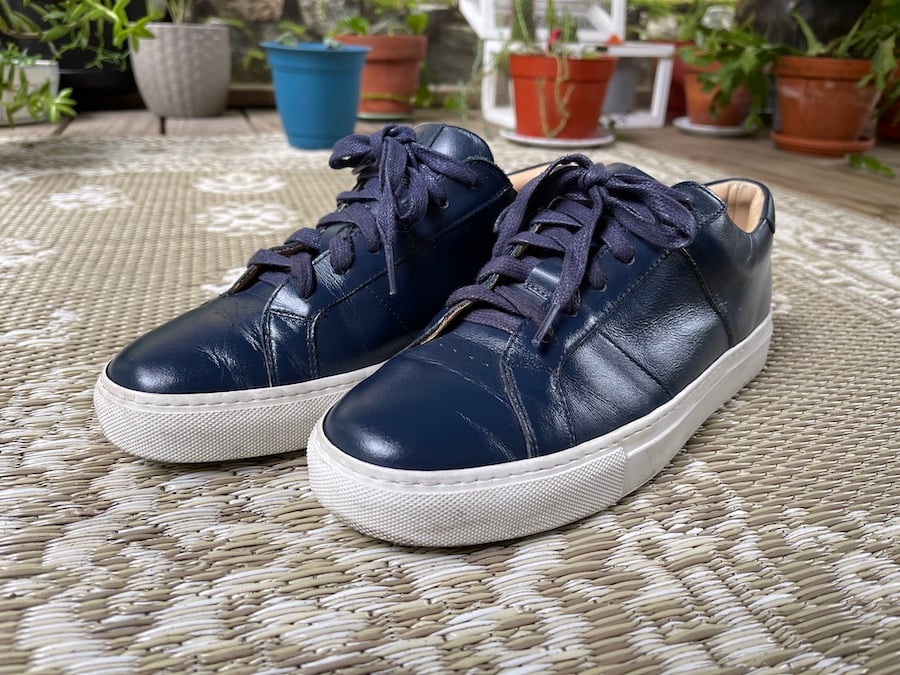 Greats Royale First Impressions
Slightly chunkier and more retro than minimalist sneakers
Greats' Royale is an attractive minimalist sneaker. In the vast sea of "minimalist sneakers" with only slight variations between them, there are three elements you should note:
It's a little more voluminous than the really low profile sneakers,
There are some ventilation holes on the toe, and
There are three panels of leather on the sides, creating two seams to break up the look.
It's not as clean and simple as Common Projects or Thursday Boots Premier Low Top, but it has its own unique aesthetic characteristics. On my Navy Royale, you immediately notice the crisp and supple, deep blue, full-grain leather upper with a few clean stitching details on the sides of the shoe reminiscent of 80s sneakers. There are three rows of small vent holes on the top of the toe box.
The overall aesthetic isn't too far off of a classic pair of Air Jordan One low tops, but it's all one color and it's slightly sleeker looking. That said, they are slightly chunkier looking than your average minimalist sneakers, a look that's enhanced by the relatively tall outsole.
Greats Royale Leather Quality
Full grain, vegetable tanned leather
Sourced from Italy or Portugal
The upper leather feels very good to the touch: it feels supple and the creases in the few years that I've owned have aged beautifully without any loose grain or anything out of character.
The website says the upper leather is sourced from "top rated tanneries", but they don't specify where. When we reached out to them to confirm, we were told that,
The leather Royales are manufactured in both Italy and Portugal and we use full grain vegetable-tanned leather from multiple tanneries near the factories in both cases. These are wholesalers who have long associations with the factories.
It's very surprising to hear that they're made from vegetable tanned leather. Almost all leather on Earth is chrome tanned, a cheaper process that produces softer leather for footwear that's easier to dye and easier to break in. Vegetable tanned leather is hardier and stiffer, and is well known for making boots that are hard to break in. It's considerably more expensive than chrome tanned leather but it has a lot of cachet for traditionalists who like more old fashioned materials: chrome tanning was invented in the 19th century, vegetable tanning thousands of years prior.
Since Greats doesn't advertise that they're made of veg-tan leather on their site, and given that it's so much more expensive and less comfortable (until it's broken in), we're… not inclined to believe this is accurate. These sneakers didn't need breaking in, plus they come in an array of colors that you wouldn't be able to make with vegetable tanned leather, like bright pink.
Greats Royale Sole
100% natural rubber, no synthetic components
The site describes the outsole as a "custom outsole with Greats tread pattern, made with natural rubber."
The sole choice is controversial. High end sneakers like Common Projects and Koio tend to use Margom, which offers a good balance of durability, firmness, and shock absorption.
When they were founded, Greats did use a Margom outsole, but post-acquisition they switched to an in-house sole, made of 100% natural rubber, that's stitched to the upper leather in a traditional minimalist sneaker construction.
Anytime a brand deviates away from this gold standard, it is obvious that the only reason was the cost, but the outsole durability and quality aren't bad at all. I've done a lot of walking on various surfaces and it's barely worn at all. Thus far, its herringbone tread pattern and its "natural rubber" outsole has not been an issue for me. Just note that this sole is a little chunkier/taller than most minimalist sneakers.
Are Greats Royale Sneakers Comfortable?
Leather lining is comfy, with the expected flipside of low breathability
Good shock absorption
The lining of the shoe is fully leather lined. Though the site says "breathable soft leather", they felt kind of stuffy and I wouldn't recommend going sockless in them. To be clear, this is normal with leather lined shoes: comfier on the feet, less breathable because there are more layers of leather between you and your environment.
In fact, the overall leather lining is thicker than most minimalist sneakers on the market — not because it has more leather, because it feels like there's added padding or cushioning material inside the lining. This provides additional cushioning all around the foot.
I wonder if this is the reason for the odd sizing. I ordered both 8.5 (my usual size) and 8. The 8.5 was slightly too big and the 8 felt too snug. I stuck with the 8 in hopes that I could stretch out the shoes using bigger shoe trees, and it helped. Though I sometimes do feel my toes touching the ends.
Like most minimalist dressy sneakers on the market, these aren't intended for long walks or hikes. Its intended purpose is casual wear. These shoes achieve that mission well.
Greats Royale Sizing and Fit
Order true to size
No wide widths available
I'm normally 8.5 in most sneakers. I got the 8 in Royales, and while they fit me, it's a bit snug even with my efforts to stretch out the shoes. Do consider the thick padding inside the shoe which may contribute to your sizing challenge. Additionally, there are no wide widths available at this time.
Greats Royale Price and Value
The Royales are currently selling for $189 from their site. If the fact that Greats is owned by a publicly traded company like Steve Madden turns you off, then I'd suggest spending your hard earned money on a brand that is privately owned and focuses more on material quality and transparency such as Koio, or even a value-oriented brand such as Thursday Boots.
The price unfortunately remains relatively high for what is now a fairly average build quality shoes, especially when you compare them to the alternatives in the next section.
Under $200!
Greats - The Royale
With thick, full grain leather and retro style in spades, this meaty, European-made shoe is one of the best value leather sneakers.
Check Best Price
We earn a commission if you make a purchase, at no additional cost to you.
Greats Royale Alternatives
While the Greats Royales are minimalist "premium" leather sneakers for less than $200, you can get the same quality shoes for less from other brands, though each has their own pros and cons.
Koio's Capri sneakers are the best alternative. They're the closest to the Greats' old build: they're handmade in Italy with Margom outsoles and full-grain Italian leather. They are pricier at $295, but they're $236 with the discount code STRIDEWISE20, and you simply won't find better value if you're after an Italian made shoe with Margom outsole, plus Koio has admirable sustainability commitments that include only sourcing from Leather Working Group rated tanneries.
20% Discount!
Koio Capri Leather Sneakers
This sneaker from Koio is hands down one of the most comfortable sneakers out of the box! Completely made in Italy, get 20% off with the code STRIDEWISE20.
Get the Discount
Read Our Review
We earn a commission if you make a purchase, at no additional cost to you.
Adidas Stan Smith sneakers, conversely, is a good bet if material quality doesn't matter for you. They're chunkier than the other alternatives here so that may be the draw for you. The leather version is a little pricier than Thursday's, but the vegan one is just $100. They're made in China or India.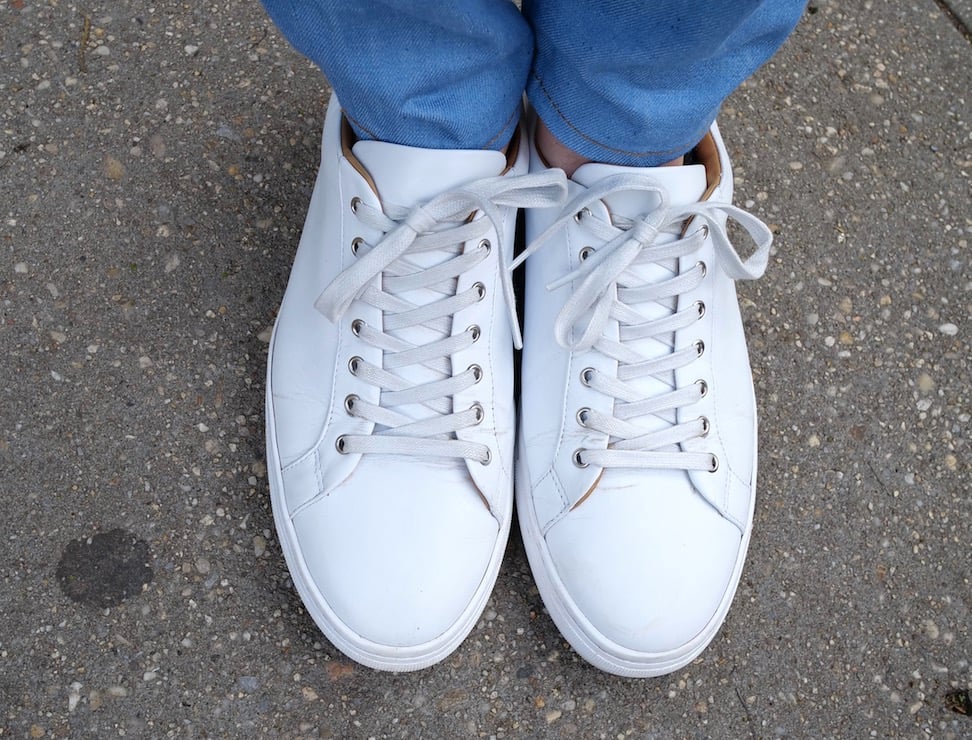 Thursday Boots' Premier minimalist sneakers (above) are built with very similar materials: in-house rubber outsole with full-grain leather upper, made in Portugal, and they're only $129. They're honestly the best value alternative to Greats.
Beckett Simonon's Reid sneaker is another great option that offers a good value with similar high-quality materials for just $169 (or about $139 with the discount code STRIDE). They're made in Colombia, but the major downside to Beckett Simonon is their lead time. You pre-order and typically wait a few months for the shoes to arrive.
Are Greats Royale Sneakers Worth It?
If you're looking for a pair of premium minimalist leather sneakers, I wouldn't recommend Greats Royales. They're overpriced relative to their competitors, and the puffy lining means they don't fit all that well for me.
More importantly, there are better options. You can get similar if not better sneakers from models such as Thursday Boots' Premier sneakers or Beckett Simonon's Reid sneakers for less money.
The main reason I can see preferring Greats over these other models is the aesthetic. There's a broad spectrum of sleek to chunky, or from minimalist to detail-ridden, and the Royales have a unique balance that's hard to find. Not too slim, not too voluminous, and enough detailing to stand out but not too much. If that's what you're after, you could do a lot worse than Greats.
The following two tabs change content below.
Dave Paek
Dave's gateway drug into the world of heritage menswear and boots was a pair of Allen Edmonds Park Avenues. Since then, he went down a very deep rabbit hole and became obsessed with selvage jeans, boots, and all things full-grain leather.His collection mainly focuses on value. His full-time job is serving as an executive director at a private university. Dave enjoys spending time with his wife and two kids. His other hobbies include skis, drums, guitar, and soccer.
Latest posts by Dave Paek (see all)