Thursday Boot Company is a brand that needs no introduction; their stellar marketing has put the brand's name firmly in the public consciousness. I see dozens of people wearing their flagship Captains every week in Manhattan, I've witnessed their ads on the subway, and I'm bombarded by them every time I Google anything related to boots.
But not everybody knows Thursday Boot Company recently started selling cowboy boots. The release of their Western collection caught me off-guard, as their catalog mainly consists of heritage-inspired styles tailored to urban audiences.
The Western collection was created at the request of Tony Thomas, the brand's Director of North American Production, and the man who guided our editor Nick around their factory when we wanted to know how Thursday boots are made. After 40 years in the boot biz, Tony wanted to see Thursday make the perfect cowboy boots before retiring.
As of right now, there are three cowboy boot models in Thursday's Western collection and we're talking about the Maverick, which we picked up in Brandy full-grain leather.

Thursday's Maverick Boot: The Pros and Cons
Got somewhere to be? Here's the long and short of Thursday's first foray into Western boots.
Pros
Fantastic value
High quality, sustainably tanned leather
Lemonwood pegs and leather sole construction will please Western boot purists
Water resistant
Easy to repair and resole
Cons
Limited colorways
Some dislike Poron foam insole, preferring leather
Leather outsole is traditional for Western boots, but not super grippy
Some prefer unlined boots for better breathability
Best Value Western Boot
Thursday's Maverick Boot: The Specs
The Maverick is a traditional-style cowboy boot with tons of familiar Thursday Boot Company features. These include:
13-inch shaft and quintuple stitched Western pattern
Full-grain leather uppers and lining; High quality leather will remain reliable and durable over time.
Goodyear welt construction; GYW construction makes the boot resoleable for many years.
Poron insoles; Poron insoles reduce break in and provide shock absorption comfort for your feet right out of the box.
Cork bed filling; Cushioning properties of cork reduce stress on the knee and joints.
Leather soles and heels; Leather soles and heels are stylish, easy to repair, and breathable.
Steel shank; offering stability.
$249 before shipping; This is a very reasonable price for a Goodyear welted boot made with full-grain leather.
How Are Thursday's Maverick Boots Constructed?
Full grain leather upper
Resoleable Goodyear welt
Leather outsole and midsole
Steel shank
Poron insole
Starting at the top of the boot, the Mavericks consist of full grain leather uppers lined with golden brown glove leather. The uppers are attached to a leather welt that is then attached to a leather midsole. Below the midsole, Thursday Boot stuck by Western tradition and went with leather outsoles. While leather soles aren't as durable as some rubbers, they're known for being easy on the joints, very comfortable, and very breathable. (That breathability is why leather soles are the go-to for sweaty cowboys.) The curved heel is composed of stacked leather and is topped with grippy rubber.
The Mavericks are constructed using the Goodyear welt construction method. This method is considered the gold standard in bootmaking and for good reason: it makes the boot very water resistant and allows it to be resoled an infinite amount of times before the uppers deteriorate.
It's a modular way of making footwear: the uppers are stitched to a strip of leather called a welt, which is then stitched onto a midsole and an outsole. As you wear out the outsoles, you can bring the boot to any cobbler and they can attach a new one on for a fraction of the cost of a new pair. This avoids the need to re-break in the insole, heel, and shaft, particularly time-consuming projects for cowboy boots.
As for the inside of the boot, your feet rest on top of a Poron insole that offers more shock absorption than your traditional leather insoles. For additional support and stability, the Maverick has a steel shank that helps the boot keep its shape as stress is put on them. Thursday opted to include lemonwood pegs to fully secure its placement, which you can spot along the center of the outsoles. Some brands use brass pegs, but they made a good choice by going with lemonwood because the wood will expand and contract with the leather soles.
Thursday Maverick Boots Leather
Full grain leather
Sourced from sustainable Lefarc tannery
Color deepens and shifts with time
Available in 4 colorways
Thursday Boots sources their leather from a renowned Mexican tannery called Lefarc. We've actually visited the tannery before and was impressed with their sustainable practices: poorly regulated tanneries are known for poisoning both the environment and their workers, a sadly common phenomenon in India. Lefarc is certified by the Leather Working Group for their eco-friendly water and energy management systems.
Full-Grain Leather Uppers
The current Maverick lineup has 4 different colorways, all full grain, considered one of the highest tiers of leather because it retains all of the hide's structural integrity and can display the skin's unique characteristics.
A cowboy boot through and through, the Maverick is decorated with ornamental embroidery on the shaft and the toes, which serves to enhance the boot's appearance while also providing more structure, preventing the boot from collapsing when they're not worn.
Lining
The liner on the Mavericks are made of a supple glove leather. This is a thin leather that allows moisture to transfer out of your boots.
In addition to comfort, an advantage of leather liners is that it provides an addition membrane against the elements — you can be confident that the lining will provide an additional layer of protection against the rain. That said, unlined boots are a tad cooler in heat and grip the heel more easily out of the box. I didn't experience heel slip, but if you do (assuming yours are correctly sized) the boot's heel will shape around your own with wear and heel slip will vanish.
Thursday Maverick Colors
Brown (from lightest to darkest): Brandy, Old English, Anejo
Black
For those looking for a variety of playful colors in their boots, prepare to be disappointed. But for those who prefer their cowboy to a shade of brown or black, this collection might be for you. (And given their most popular Captain boot comes in over a dozen colors now, it's a safe bet that more leathers are on the horizon for the Maverick.
One point that needs to be noted is that both the Brandy and Anejo colorways are hand finished leathers. This means that after tanning, the leather is hand coated with a myriad of creams, waxes, and other aniline finishes to give it a rich, contrasting appearance.
Over time, Thursday Boot's hand finished leather will get darker and develop even more contrasting colors depending on where the leather is stressed when worn. On my Brandy Mavericks, I have noticed a significant change in color only after five wears, making the boot look rugged and stylish.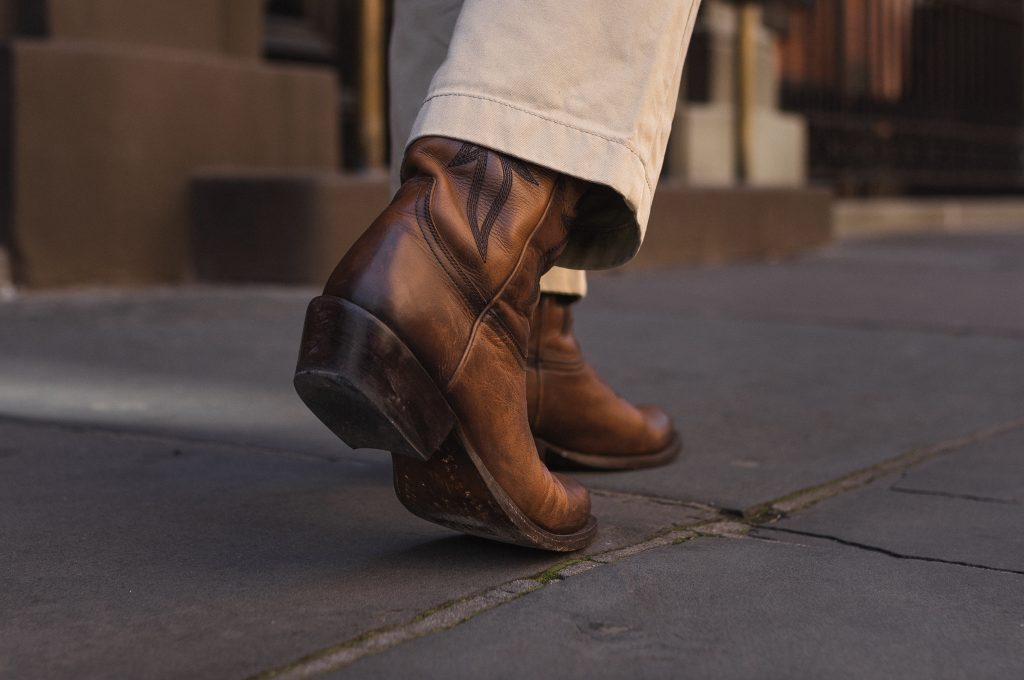 Thursday Maverick Sole Construction
Shock absorbing Poron insole
Leather midsole
Cork filling
Steel shank
Leather outsole
While most heritage boot brands use vegetable-tanned leather footbeds. Thursday Boot uses a Poron insole that is topped with a layer of glove leather. The Poron insoles are made from anti-microbial foam that provides a subtle bounce when you walk.
The foam is excellent at absorbing shock and makes wearing the Mavericks more like wearing a sneaker than your average boot, so they're especially comfortable for people with bad knees. The Poron used in early Thursday boots compressed over time, resulting in some so-so reviews, but their current formula is designed to maintain its structure for… (checks notes) ten thousand years.
The main downside of Poron is that it doesn't mold to the shape of your foot the way leather insoles do in more traditionally constructed boots, but most are happy with the tradeoff for better shock absorption.
Under the Poron is a layer of cork filling, a classic component used at every level of quality in the boot world. It provides heat regulation, softness, and shock absorption. As heat and pressure are applied to the cork, it will slowly compress to match your foot shape, giving you a customized fit.
The main downside of Poron is that it doesn't mold to the shape of your foot the way leather insoles do in more traditionally constructed boots, but most are happy with the tradeoff for better shock absorption.
In the cork you'll find a steel shank. A shank is a hidden piece of hard flexible material, usually steel or leather, that sits between the heel and midfoot. In addition to making the boots more comfortable, shanks help stabilize your gait on uneven terrain and help keep the boot's shape as they bend and warp while in use.
After a leather midsole there's the leather outsole. As mentioned earlier, leather soles are soft and breathable and flexible, the default sole for any kind of Western boot (at any pricepoint). The complaints about grip are overblown: after a day of wear, the scratches offer considerable grip, albeit not as effective as a chunky rubber Commando sole.
Lastly, the heels. Most fashion brands today do not use leather in their heels at all, opting instead for a fully rubber heel or another material to imitate the aesthetics of a stacked leather heel. Thursday uses a true stacked leather heel ,where each layer composes of thinly cut slices of vegetable-tanned leather. This makes them much easier and cheaper to repair if you wear through a layer, but the final layer of the heel is a piece of rubber. This creates a classy look that is still durable and easy to repair.
Price: Are Thursday's Mavericks Worth It?
In short, the answer is yes.
We are talking about a full-grain leather boot that is Goodyear welted for under $250. Cowboy boots priced similarly or lowered are often made with cement construction, corrected grain leather or use inferior liners such as cotton. The best competitor for Thursday Boot's Western collection would be Tecovas, which are of similar quality but $25 pricier.
[Further Reading: Our Review of Tecovas' Roper Boot]
Thursday Boots pride themselves in selling quality at a fair price and in my opinion, the Maverick definitely lives up to their promise. The attention to detail and level of thought that went into the design process shows me that they did not make a cowboy boot just to say they have one in their catalog. For example, instead of using wooden pegs to secure the shank, they could have saved cost and used brass nails that were readily available from other production lines. But knowing brass and leather would have been an inferior combination, Thursday opted for using wooden pegs that they purchases exclusively for their cowboy boots.
Lefarc's leather is sustainably made and many of Thursday's own proprietary hides from them are comparable to the stuff coming out of Horween. For me, being environmentally friendly and transparent about business practices are big factors when shopping, so I applaud Thursday Boot for working with them.
Best Value Western Boot
Wrapping Up
With all of this said, when you buy the Mavericks, you are not getting a product worth $500 like a Chisos boot. But the Maverick punches far above its weight, and would be a worthy purchase even if it were priced $100 higher. If you're looking to dip your toe into Western wear or if you're a tried and true cowpuncher looking for a boot that places a greater emphasis on shock absorption than traditional brands, the Maverick is definitely worth a purchase.
Frequently Asked Questions
What is the alternative to Tecovas?
Thursday Boots are a great alternative to Tecovas. Thursday's Western collection are Goodyear welted and made with full-grain leather, plus they're slightly cheaper than Tecovas.
Are cowboy boots comfortable for walking all day?
Yes! The leather outsoles are easy on the joints and very flexible. Options like Thursday's Mavericks also have Poron insoles that offer even better shock absorption.
Are Thursday Cowboy Boots supposed to be tight?
They should fit snug at first. It is okay for your cowboy boots to have a slight heel slip initially. With time, the heel will mold to the shape of your foot and reduce slippage.
The following two tabs change content below.
Humphrey Tsui
Humphrey is a native Brooklynite who loves clothing! He is an expert in leather, shoe construction and American pop culture history. Message him on Instagram for any inquiries.Follow him
on Instagram
.
Latest posts by Humphrey Tsui (see all)