This post may contain
affiliate links
that at no additional cost to you, I may earn a small commission from.
Don't buy Timberlands until you've read this guide, as many of their boots run big. I learned that the hard way when I bought my premium 6-inch waterproof boots.
The only exceptions to this are the Timberland White Ledge and Mt Maddsen ranges which are true to size.
Meanwhile, the original Timberland waterproof boot and their Earthkeeper range are at least a half-size larger than usual. If we're being pedantic, my boots were exactly ¾ of a size too large. My Brannock device size is 11.75 and I tend to wear an 11.5 in sneakers. I ended up getting a size 11.
Honestly, I could have gone down to a 10.5, which is way smaller than any other boot I own.
If you are thinking of buying a pair of Timberland boots or shoes, there's no shortage of online reviews.
So, do Timberland boots run big? Yes, most of the models do run big. If you're specifically looking at their famous 6-inch premium waterproof boot, order a whole size down from your sneaker size.
Are Timberlands true to size?
Our ultimate guide to Timberland boots and Timberland shoes will provide everything you need to pick the perfect size and style without the hassle and expense of a return.
The Ultimate Timberland Fit Guide
As there are dozens of casual boots, work boots, shoes, and women's boots, be sure to read the full guide. Doing so will ensure whatever you buy is a comfortable fit, even if you have wide feet.
Which Timberland boots run big?
When people picture a pair of Timberland boots, the image that pops into mind is the iconic 6-inch waterproof boot. This golden nubuck leather wonder is synonymous with the brand.
However, as mentioned earlier, you should go down a whole size smaller than your usual sneaker size to get the perfect fit — that's half a size smaller than your "true size" you'll get on a Brannock device.
Sneaker-sized tip
For example, say you usually take a size 10 sneaker. When buying Timberlands, you are, with a few exceptions, going to have to choose a size 9 to get them to fit perfectly. This is particularly true of the Timberland Waterproof.
Already own a pair of heritage boots like Red Wing or Wolverine? You're probably the same size in them, as most boot companies run large with their sizing.
Timberland Premium 6-inch Waterproof Boot
The flagship of Timberland boots, the six-inch waterproof is a timeless classic that's well constructed. The iconic design features quadruple stitching, waterproof construction, insulation, a chunky rubber heel, and the classic padded collar. It's built to last, and Timbs will keep your feet comfortable on any long walk.
[Love these boots? Get your Timberlands here!]
Cons
The only potential downside is the cemented outsole which, while waterproof, is not as robust as a Goodyear welt. You can't really resole a pair of Timbs, but they are better at surviving wet conditions than Goodyear welted boots like Red Wings. Just don't expect your Timbs to last through resoles.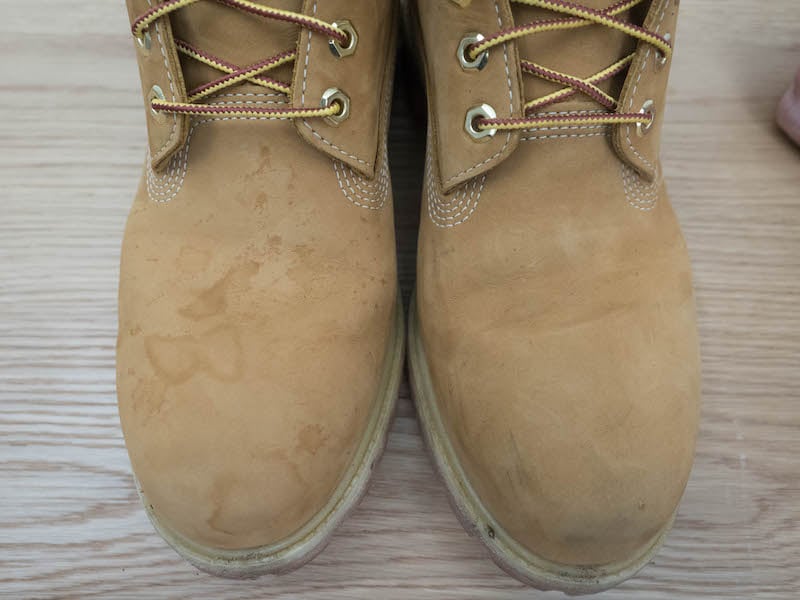 Timberland Earthkeepers
For our Earthkeepers testing of Timberland boots, we chose a half-size smaller than our true size but, surprisingly the boot still felt a bit big. So, if you prefer to feel snug, you might wish to consider dropping down a whole size from your normal shoe size.
Check the reviews
If you read most Timbs reviews on Amazon, they will be in broad agreement about one thing: always closely read the return policy before you reach the checkout, in case you need to exchange for a different size. So long as you haven't worn the boots outdoors, you can be confident they will accept any return.
Which Timberlands run true to size?
The two exceptions to the Timberlands run-big-mantra are the Mt Maddsen and the White Ledge.
The Timberland Mt. Maddsen
Our review of these Timberland boots found that they are true to size. (Though if you have wide feet, you may feel these Timberland boots run narrow.)
Like many Timberland boots, the Mt Maddsen hikers are light and feel a little like sneakers. They also include extra support for your foot arches thanks to the combination of insole and shank — a rarity in hiking boots that are sub-$100.
Indeed, you can say the same thing about all Timberland hikers, which are true to size.
[Shop the Timberland Mt. Maddsen Here]
How to buy the right pair of Timberland boots
To ensure your Timberland boots fit perfectly, the foolproof method is to stick with the boot and shoe company's sizing chart and foot measurement recommendations.
What you will need
a pencil
two pieces of paper
a pair of socks
What to do
The next step is to wear your regular socks, not the super-thins or your thick wooly ones reserved for winter. Then do the following:
Stick the paper to the floor and place your foot on it. Make sure your heel is making good contact with the floor. (You may have to stick two sheets of paper together for this.)
With the pencil, mark the paper where your toe reaches.
Remove the paper from the floor and measure the length of your foot.
Then compare your measurement with the Timberland size chart available online.
For example, if the distance from the bottom of the paper to your toe mark was 10.6 inches (27 centimeters), you are a US size 9, an EU size 43, and an eight and a half in the UK.
From our research, we would have found that measuring in centimeters gives the most accurate sizing estimations.
Timberland Return Policy
Before buying Timberlands, always check the returns policy first in case the sizing winds up wrong. Generally speaking, you will be refunded in full if you haven't worn the boots outdoors.
To ensure the boots fit well and aren't pinching your feet, walk around indoors in your Timbs for a few hours. This will be more than sufficient time to decide whether you could do with half a size bigger or a smaller size.
Just scanning? Here's the short answer
If you are buying the classic six-inch-high Timberland waterproof boot or the Earthkeepers, they are not true to size. These Timberlands run big, so always select at least a half size smaller than normal.
Looking to buy Timberland hiking boots? Stick with your true size.
Why different fits?
The boots Timberland manufactures are inconsistently sized. This is partly due to Timberland being a massive international company with facilities producing boots all over the world.
(Yet somehow, the Big Mac you buy in Chicago, London or Sydney is virtually identical. Go figure.)
Timberland Boot Fit: Do's
If you are worried about which Timberlands run small and ensuring you get the right size, make a point of checking the returns policy first. If the boot were on the other foot, you would want your customers to do this.
When your boots or shoes get delivered, wear them around the house for an hour or more. This way, you can check how they feel on your feet. And whether you should buy half a size bigger or smaller.
Test Your Timberlands Inside
Resist the temptation to go outside to try out your new Timberland boots or shoes. If you do so, you have invalidated the returns policy and are very unlikely to get a refund.
Wear all styles indoors only and check if you need a size smaller. You may adore the Timberland style, but boots or shoes that don't fit properly are a real pain.
How to break in boots the pain-free way
I've written an entire article on breaking in boots, but here are the main points.
Start off right
Make sure you have the right size, and they are comfortable. For example, your toes shouldn't feel pinched, and the footwear is wide enough.
Start off gentle
Wear your boots indoors for a few hours while wearing thick socks. This will speed up the process of stretching the leather and making it more flexible.
Use wax or oil conditioner
Treating the leather with conditioner will help to soften it up.
Band-aids
These or blister pads are recommended if you want to wear your boots outdoors straight away.
Let them dry
Leave your footwear to dry out. Leave them for a day or two.
Have backups
Until your boots are broken in, always take your old ones with you.
Patience
Sometimes, you just have to be patient and put up with some initial discomfort. Breaking in boots takes time and wear.
Are Timberland boot true to size?
Yes and no. It really depends upon which model you are talking about, but if you're referring to the classic 6-inch Premium Waterproof boot, the answer is no: they run a full size large.
Which models of Timberland run true to size?
The ones that run true to size are the Timberland hiking boots, such as Mt. Maddsen and White Ledge. However, the original Timberland waterproof boots and their Earthkeeper range are a full size bigger than normal. So factor this in when buying your work boots.
Do work boots in general usually run big?
It's not uncommon to find work boots sized a half size larger than normal. If you can't try a pair on to check, take a look at the bootmaker's official website. Otherwise, buy half a size down from normal is the general advice. But always check the returns policy first and only wear the boots indoors for a few hours until you decide if they are comfortable. The boots Timberland makes are inconsistently sized. So if you plan to wear them all day long, you want your feet to be comfortable.
Which Timberland boots run true to size?
There is wide variation in which ones run true to size depending on the style. For instance, your feet may feel a touch snug in Pit Boss boots but a shade loose at the toe box and ankle when you wear Direct Attach work boots.
Do Timberlands run big for toddlers?
If you're starting them young with Timbs, their toddler-sized range is a true fit. However, check every toe regularly as the toddler may outgrow the shoe faster than you think despite being true to size.
Can I use a leather conditioner on Timberland boots?
A spray-on conditioner or wax will help keep a Timberland shoe or boot in good condition. To make things easier, Timberland makes their own dry boot cleaning kit you can get on Amazon here: https://amzn.to/2t3Vt4C.