Most people's introduction to well-made footwear is usually going to be a pair of boots from Red Wing's Heritage label.
There isn't really a mystery as to why: Red Wing just makes reliable boots that look good no matter what style you're into. If you like a rugged look, you might buy a pair of Iron Rangers, but if streetwear is more your thing, you might gravitate towards the more colorful moc-toe options. This brand really makes boots for every type of style out there.
On top of that, Red Wings have been around forever (read: since 1905), they have been made the same way forever, and if you take care of them, they will probably last forever.
Despite their popularity, one thing remains constant for new buyers: sizing Red Wing boots can be as enigmatic as the dark side of the moon. Just browsing through Reddit's r/MaleFashi0nAdvice or r/GoodyearWelt will give you an idea of how many people struggle with selecting their correct size. You'll find people who believe that their boots should be so tight out of the box that it hurts to wear ("the leather will stretch!" or so loose that they can just put on two pairs of socks to accommodate a loose fit ("gotta be able to rug up in winter!").
We're here to help. Nick went to the Red Wing store in midtown Manhattan and sat down with the all-knowing store manager Christian Pinto to discuss the Brannock device, various lasts that Red Wing uses, and how your feet should fit in each model.
Our Top Choice!
Red Wing Heritage
The heritage line consists of designs that have not changed in a century and the boots can definitely last just as long if properly taken care of them!
Check Best Price
Read Our Review
We earn a commission if you make a purchase, at no additional cost to you.
Why You Need a Brannock Device
Before we go into the different lasts and boot models, let's talk about the Brannock device. What is it and why is it useful?
The Brannock device is the standard foot-measuring apparatus that is used across the United States. It doesn't matter if you think you're a 9 US but a 42.5 EU. Your size displayed on the Brannock device will be the same wherever you go. This is useful because knowing your Brannock size will help the shop approximate your size in that particular brand's products.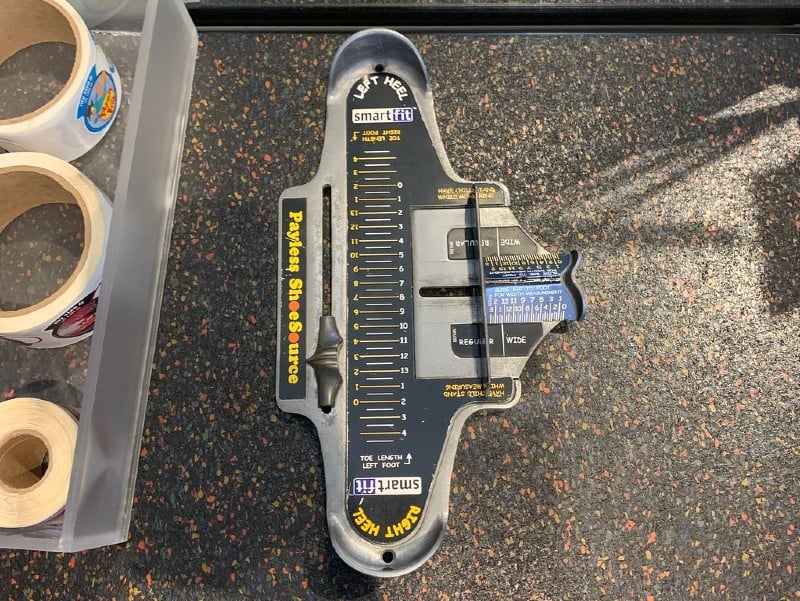 Think you can just use your sneaker size? Think again: most sneakers on market are marked 0.5 to 1 whole size above your Brannock. This means if you measure 8.5D on the device, then you most likely wear anything from 8.5 – 9.5 in athletic shoes. And your boot size is probably at 0.5 to 1 whole size smaller than your Brannock.
So your Brannock size is not the perfect number that you have to abide by; it's a baseline to get you started on your sizing journey.
Brannock Widths Glossary
Some letters on the Brannock device that you may want to be familiar with will be listed below. They will tell you whether you have narrow, typical, wide, or extra-wide feet.
C – This letter denotes that you have a narrow foot
D – This letter denotes that your foot is of average width
E – This letter denotes that your foot is wider than average
EE – this letter denotes that your foot is extra wide
In some cases, you might even find that one foot has a width of EE while the other has a width of E. This occurs because your dominant foot is sometimes slightly larger.
[Related: The Best Boots for Wide Feet]
How To Size Red Wing Iron Rangers and Blacksmiths
Up first, we have Red Wing's most service boots: the Iron Rangers and Blacksmiths.
Last: No. 8 last
Construction: Goodyear Welt
Models: Iron Ranger, Blacksmith, Rover (rarely in stock).
Widths: These boots sometimes come in EE widths.
Sizing: Most people go 0.5 – 1 full size down from their Brannock size (not sneaker size).
Notes: Features a bump toe that allows toes to move more naturally.
The reason why the boots on this list are so popular is that the No. 8 last works with most feet. Its low profile, open lace design, and roomy toebox make it very spacious and comfortable. Many E-width feet fit comfortably into the normal D width for this boot.
Being that Red Wing's boots on the No. 8 last tend to be 6 inches in height, many first-time buyers buy these boots as their go-to bad-weather stompers.
When trying them on, Christian emphasizes that when buying these boots, you want them to feel like a firm handshake. He elaborates by saying "you want to secure the width without having too much slip in the heel". Your Iron Ranger should neither stop your circulation nor allow a lot of movement within the boot.
Best Casual Work Boot
Red Wing Iron Ranger
This resoleable boot hasn't changed in almost a hundred years, it's the ultimate casual lace up boot that deserves the reputation for quality.
Check Best Price
Read Our Review
We earn a commission if you make a purchase, at no additional cost to you.
Ideal All Rounder
Red Wing Blacksmith
Goodyear welted and crafted from leather tanned by Red Wing themselves, the Blacksmith is a must-have for those looking for a clean, all-season boot.
Check Best Price
Read Our Review
We earn a commission if you make a purchase, at no additional cost to you.
[See Also: Is The Iron Ranger The Ultimate Boot?]
How To Size Red Wing Moc Toes
Next up we have the moc-toe boots, another Red Wing classic that Red Wing staff named the brand's most iconic boot in our video on the best Red Wing boots. Footwear built on this No. 23 last is based on shoes worn by blue-collar workers in the 1950s and 60s. It is a timeless style that is still very popular.
Due to the range of colors that Red Wing has released over the years, the Moc Toe boot has been worn not only by classic style icons like Ryan Gosling and Chris Pine but also hip hop superstar Drake.
Last: No. 23 last
Construction: Goodyear Welt
Models: Various leathers including the golden Oro Legacy (875 model) and the subdued Charcoal Rough & Tough (8890 model).
Widths: These boots come in D-EE widths (EE availability will vary between styles).
Sizing: Most people go 0.5 – 1 full size down from their Brannock size (not sneaker size).
Notes: It has a higher instep and a voluminous forefoot, and will feel roomier than the No. 8 last.
Due to the higher instep, Christian recommends that people should go for a full lacing with their moc toes (instead of leaving eyelets unlaced) to prevent their feet from sliding or getting blisters.
One popular question that people often have when they go for their first (or fifth) pair of Red Wings is,
Should I get the moc toes in the same size as the Iron Ranger?
Christian said that typically, people will get both boots in the same size, however if you have wide feet the sizing of each boot can vary. The main note is that if you have a high instep (the are of your foot closest to your shin), the moc toe will probably be more comfortable.
[SHOP THE RED WING CLASSIC MOC HERE!]
[See Also: Is The Iconic Moc Toe Boot Worth It?]
How To Size The Red Wing style #1907 Moc Toe Boot
This is very similar in appearance to the Classic Mocs is the 1907 Moc Toe, but it's made on a different last called the No. 45. In comparing the two makeups, the No. 45 last moc toe would be the No. 23's more rugged brother. Looking at the welt, you will see that this boot is actually made on a Goodyear welted "storm welt". This added piece of leather gives this boot a higher water resistance.
Last: No. 45 last
Construction: Storm welt (for extra water resistance)
Model: Red Wing style #1907
Widths: These boots come in D and EE widths.
Sizing: Most people go 0.5 – 1 full size down from their Brannock size (not sneaker size). This may vary depending on the insole want to use.
Notes: The main difference between the 1907 Moc Toe and the Classic Moc is that this boot is designed with a removable footbed in mind. This means if you're someone who needs orthotics, this style will be a fitting choice. If you remove the insert, it will be roomier.
Red Wing understands that many after-market footbeds are clunky and not ideal for their boots. To accommodate customers who require a footbed, Red Wing has a line of inserts of varying thicknesses to suit the needs of every customer.
This makes the 1907 a slightly more voluminous boot if you decide to remove the insole and walk on the classic leather footbed instead. This would make it even more ideal than the Classic Moc for large insteps.
How To Size The Red Wing Weekender Chukka or Chelsea
The Weekender Chukka is one of Red Wing Heritage's lightest boots and it uses the same last and construction as the Weekender Chelsea we've reviewed. Unlike the rest of the collection, these are made with a more lightweight and flexible stitchdown construction.
Last: No. 60 last
Construction: Stitchdown
Models: Red Wing style 3322 Weekender Chukka and 3311 Weekender Chelsea
Widths: D widths only.
Sizing: Doesn't run as large as other models; people will go true to size or go 0.5 down from their Brannock size.
Notes: This shoe also comes with a removable insole for added comfort.
The Weekender boots are noticeably easier to break in and more flexible and lightweight than the more rugged Goodyear welt construction on other models. (This isn't always true of stitchdown, which can be extremely tough, but Red Wing went a lighter direction.) These are best suited for people who like the look of heritage-style footwear and not so much the initial break-in time. These models are sometimes called "leisure boots" because they're ideal for slipping on to run errands without much thought.
[SHOP RED WING'S WEEKENDER CHUKKA OR WEEKENDER CHELSEA!]
How To Size The Red Wing Work Chukka
The next chukka boot will fit more like the earlier boots mentioned on this list.
Last: No. 210 last
Construction: Goodyear welt
Model: Red Wing style #3137
Widths: Comes in D and EE widths based on availability.
Sizing: Typically, people will size 0.5 down from their Brannock size.
Notes: The 210 last has a lower instep and is a bit narrower than other lasts in the Heritage line.
When we spoke with Christian, he mentioned that people with wider feet or a high instep may have a harder time breaking in this boot. A slightly narrower boot, there's less wiggle room for unusually high insteps or toeboxes.
[SHOP THE RED WING WORK CHUKKA HERE!]
How To Size Red Wing Heritage Women's Boots
While the men's collection has lengths from D to EE, the women's collection only comes in B widths, as women's feet are typically narrower. Being on a narrower last, ladies looking to buy Red Wing Heritage boots should go true to size to their Brannock sizing. However Christian recommends that most women will go 0.5 down for roomier models.
Red Wing Heritage's Women's Boots vs Men's Boots
Here is how the women's collection differs from the men's.
Women's styles come with a B-width
Women's styles should be ordered true to size
Women's styles are made using more supple leather
Women's styles have more color variety
Women's styles come with a poron footbed as opposed to a leather footbed. This means a shorter break-in period.
Even though there are clear differences, the ladies' collection still boasts a Goodyear welt and full-grain uppers, and will last just as long as the gentlemen's collection.
[SHOP RED WING HERITAGE'S WOMEN'S BOOTS HERE!]
[Learn more: The Best Resoleable Boots for Women]
Learn more in our Ultimate Guide to How Boots Should Fit
Conclusion
In conclusion, there are two main takeaways here.
Men's boots – go down 0.5 to 1 full size down from your Brannock
Women's boots – go true to size to your Brannock
Get measured by a professional to see if you have an unusual width, instep, etc.
Shopping for new Red Wing Boots can be nerve-wracking since there are so many guides out there offering so many different opinions on how a boot should fit.
Despite this comprehensive guide, Nick, Christian, and I still think it is best to take a trek down to your nearest Red Wing retailer and try on different boots before making a huge purchase.
I learned this the hard way — several times, in fact. When I was first starting out, I had purchased numerous Red Wings Heritage boots in sizes too small in the hope that they'd stretch. Today, those boots have all gone to a thrift store because they just didn't fit my feet properly. I hope this guide will put you guys in the right direction. Happy Bootin'!
Frequently Asked Questions
Do Red Wings fit like sneakers?
No! Sneakers are usually a half size larger than your 'true size,' Red Wing boots are usually half a size smaller than your 'true size.'
Are Red Wings true to size to my Brannock size?
Most of the time, no. You would want to size down 0.5 to 1 size from your Brannock.
Does Red Wing make boots for people with wide feet?
Yes! Most Red Wing Heritage styles offer both D (normal) and EE (wide) widths.
The following two tabs change content below.
Humphrey Tsui
Humphrey is a native Brooklynite who loves to talk about personal styling! He is an expert on leather, shoe construction, and the history of American pop culture. Message him
on Instagram
. here!
Latest posts by Humphrey Tsui (see all)