This post may contain
affiliate links
that at no additional cost to you, I may earn a small commission from.
I love Filson bags. I own a lot of them. The Journeyman backpack I've used for years. Their enormous duffle I take every time I travel. Their thousand dollar briefcase… I don't use it so much, that one's just okay.
And I just took their rucksack with me to Mexico.
The Rugged Twill Rucksack is… actually just OK. Depending on what you use it for. By and large I think Filson makes the coolest bags in the game, but the Rucksack just isn't as functional as I would have liked. Let's take a closer look and you'll see why.
[LIKE THIS BAG? SHOP THE FILSON RUCKSACK IN 2 COLORS!]
Who Should Buy the Filson Rucksack?
Guys who want a pickpocket proof bag
Anyone who wants a bag that'll last the rest of their life
Folks who love a good patina
People who value American made products
Guys who love the vintage aesthetic of twill and leather
Who Shouldn't Buy the Filson Rucksack?
Anyone who likes functionality; there's no laptop sleeve or internal pockets
Penny pinchers; this bag isn't cheap
Guys who want to carry a heavy bag with a t-shirt; there's no padding on the leather shoulder straps
Anyone who wants to be able to easily access their belongings on the go; the buckle closure system makes this tough
Filson, the Brand
Filson, if you're not familiar with the brand, is a company that used to outfit miners headed to Alaska's gold rush. When it was founded in 1897, it was called C.C. Filson's Pioneer Alaska Clothing and Blanket Manufacturer. Today, people don't use them for hiking the Yukon as much as they use them for looking really cool in urban environments and, to be clear, I don't think there's anything wrong with that. They're very cool.
The products are typically really well designed and really, well, overpriced. I always say you're never happy you paid for a Filson product, but you're glad you own it. Fun fact, this Rucksack I'm reviewing is actually the only thing Filson has ever sent me for free to review — unfortunately it's my least favorite bag of theirs, so they might never talk to me again.
But you might like it.
Design
Holds 21 liters
17″ high x 15″ width x 5″ depth
No laptop sleeve or inner pockets
3 exterior pockets: two snap closures at the front, one sleeve on the back
Very secure and water resistant
This is a very simple bag. If you compare it to the Journeyman, it's got a laptop sleeve and interior pockets and water bottle holders; the Rucksack is just a big old cavity.
There's an open sleeve pocket on the back, which you can't really put much in before it's too uncomfortable to wear, but you can slide a magazine or wallet in there. Then there are two snap closure front pockets beneath the two leather straps that buckle the flap closed.
That's it.
Now, it's a very rainproof and pickpocket-proof: the big old flap on the front must be buckled down whenever you use it (or else the buckles flap and jangle). But that means you have to buckle the big old flap down every time you use it, and there are two buckles, so it gets old fast.
Every time you want to get something out of the bag, even out of the front two pockets, you have to go through this rigamarole of unbuckling and re-buckling. Can you just leave it really loosely buckled, so you can get in the front pockets easily? Yes, if you use the loosest setting on the belts, but even then you need to buckle and rebuckle when you're trying to get into the main compartment on the go. It's just not the most practical design.
Materials
Slightly waxed twill that ages beautifully
Vegetable tanned leather from Pennsylvania's Wickett and Craig
This bag is made of Filson's famous "rugged twill," a dense cotton made by British Millerain. While many of their other bags (like my Journeyman) are made of Tin Cloth, their name for waxed canvas, twill is woven into more complex, textured structures — a telltale difference is that canvas is relatively uniform in appearance while twill has these diagonal lines. Both are insanely resistant to tearing and snagging and will last you a lifetime.
[Related: Canvas vs. Twill, Is One More Durable?]
While the Tin Cloth is 14 ounces per square yard, the Rugged Twill… well, it depends on the product. Their famous Rugged Twill briefcase, for example, is a smaller and lighter bag, so you want a lighter and more flexible twill. The Rucksack, though, is 20 to 22 ounces per square yard — making it Filson's burliest fabric.
Contrary to popular belief, this twill is slightly waxed, but it's a superficial application called an aqueous wax finish. It doesn't provide a ton of water resistance, rather the idea is that the wax coating will help it to age beautifully. Waxed twill will get nice permutations of color as it ages, and people love old Filson twill — people even sell old bags for a tidy profit.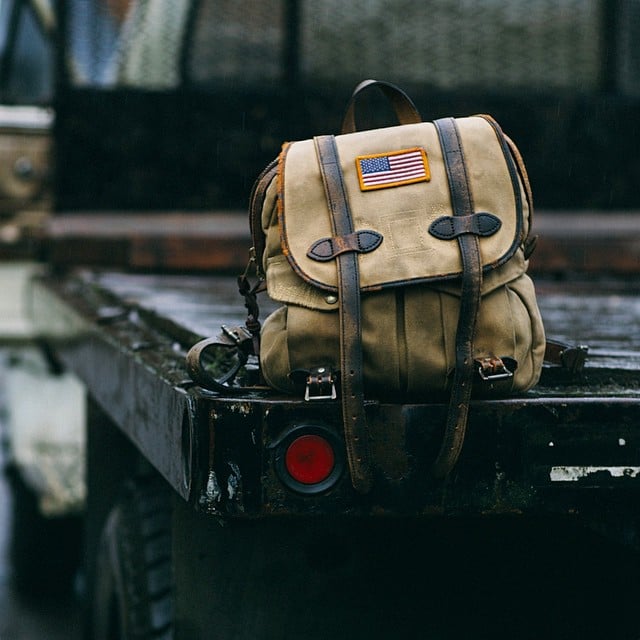 The leather meanwhile is vegetable tanned leather from Pennsylvania's Wickett and Craig. It's super high-quality leather that will also age really well.
Price
The price is $395, the same price as the Journeyman.
Filson's stuff is expensive, but I do encourage you to shop around for American-made canvas and leather bags because they're not usually much cheaper, I've got an article with a dozen good competitors and if you're prioritizing made in America, and you're unlikely to get anything for under 300.
[LIKE THIS BAG? SHOP THE FILSON RUCKSACK IN 2 COLORS!]
Wrapping Up
It's not without pros — the materials, the twill and leather are primo, top of the line, the best of the best. The bag will age beautifully, it looks cool. It's a backpack that doesn't make you look like a student or like you're going camping, and it's very pickpocket proof. It's a very secure bag. These belts will keep anyone out of it, so it's also a good travel bag in that regard.
There are downsides, though. As someone who has been traveling around in it, it's more than a little frustrating that it takes so long to get into it when you're on the go, and you have to buckle it closed every time you want to get moving again. It's not a good everyday carry bag in that regard, even though the closure system makes it very secure.
The lack of an easy-to-access exterior pocket for sunglasses or your wallet is an issue for me as well, but perhaps more importantly, if you actually stuff a lot of things in this bag, then a few problems arise.
The straps are attached pretty far down the back of the bag, so when it's fuller, the top of the bag pulls away from your torso. The weight distribution is weird and doesn't feel great on your back when it's heavy — especially because the leather shoulder straps are unlined, so they can cut into your shoulders if you're just wearing a t-shirt. All of this is in stark contrast to the Journeyman, which has padding on the shoulder straps and the back.
Another issue is that when there's a lot of stuff in the bag it takes on this squat, flat appearance that's wider than it is tall. When my girlfriend saw how squat it is and how high up the back it sits she said she thought it looked… feminine. Not something you want to hear from your girlfriend.
One of the biggest issues for me is that there are no internal compartments at all. I know that it's an old-timey bag and everything, but no bag can be without a laptop sleeve. That simple fact alone easily reduced number of times I was able to use this bag by a good eighty percent, because I always have my laptop with me.
Wrapping Up
It's fine for an overnighter. If I'm just bringing some clothes and toiletries and no laptop to a friend's place, it's OK for that. But there are too many things the bag is bad at for me to recommend it, unless your priority is something that can't be pick-pocketed. And even then I'd tell you to buy something with shoulder strap padding and a laptop sleeve.
More Filson Reviews