I like wearing boots. I like researching boot brands and styles. I like learning about the craft. I love the online community around boots.
But I don't really like buying boots online.
After you've spent an inordinate amount of time researching the leather, the construction, the sole, the style… you finally figure out which model you want, wait a few days (or months) and it turns out that your perfect boots don't fit your feet.
Ensuring the proper fit is a tough problem to solve, especially when ordering online, so when I heard about Kyle Moredock's new platform Grayle Technology, which aims to help the boot community find boots that fit well, I was very interested.
But, why is it so darn tough to find boots that fit online?
Background: The History of Buying Shoes Online
It's never been easier than it is today to shop online, and in the early days it was really tough.
The first secure payment over the internet happened around 1994 on a platform called NetMarket. To honor this milestone, The New York Times ran a press release titled, "Attention Shoppers, The Internet is Open." (Yeah, that links to an old-timey photocopy of a physical newspaper.)(And a paywall, sorry.)
This press release wanted to show that people can trust an online marketplace. Handing out your credit card number was terrifying idea to the average pre-millennial internet user. How can you trust a random company on the internet? What if I don't like the product? Can I return it, or will I get shafted?
From 1995 to the 2000 dotcom bust, people started trusting online sellers more and more. These newfangled "virtual stores" started selling everything: CompuServe sold electronics, Amazon sold books, eBay auctioned $32,000 PEZ dispensers, and pets.com sold dog toys.
But, back in the early days of the internet, traditional retailers and consumers were still very skeptical about the practicality of buying and selling apparel online.
Buying clothes requires trying on a few garments to find the right size and style. Shoes are an even tougher problem because there are so many variations of lasts and feet that even shoes by the same brand may not be sized consistently.
Even today, the 6′ 5" Moredock ran into some of the same problems trying to buy boots online as shoppers did 20 years ago.
"How do you size someone who is like me? How do I go about getting the good information? So that's what led to Grayle."
The Future is 1999
While researching the sizing problem, Moredock found that Grayle "appealed to brands because it helps them reduce their returns."
Returns are one of the largest hurdles for online retailers. The first company to take on this challenge was shoesite.com, which became Zappos.
By 1999, more people were confident about paying for things online, so the trust problem was largely solved. But the other problem of getting what you want — something that fits well and looks good — remained.
And while Zappos was successful from the get-go, one policy took them from average dot-com to a mega online retailer: their flexible return policy.
Zappos founder Tony Hsieh summed it up pretty well in 2003:
Buying shoes online can initially be a scary process for people. But Zappos has withstood when other dot-coms have failed because we provide the best customer experience, such as free shipping both ways. Even though free shipping of both orders and returns has cost us more, it has enabled us to keep our customers longer.
Zappos-with-free-returns was a big deal for online retail and by 2007, news articles were mentioning "Zappos addiction" alongside anecdotes of bored housewives hiding their excessive shoe purchases from their husbands.
Returns Sorta Solve the Sizing Problem
Fast forward to 2021, and we buy a ton of stuff online: $565 billion worth in 2020, according to the US Census.
Amazon hoovered up Zappos and super-charged their no-hassle return policy to such a degree that it's standard for companies to have very lax, if not "no questions asked" returns.
One of the first companies Grayle partnered with was Grant Stone, who are well known in the heritage boot scene for being fantastic about providing accurate fit information. It's not uncommon to talk to the owner's dad about fit if you call them up.
"I took an informal survey where I called thirty or so brands' customer service lines" says Moredock. "I just asked them what percentage of their day is spent answering questions about sizing, and it's about twenty to fifty percent, depending on the brand."
Small to medium-sized online-only heritage footwear companies like Grant Stone can't absorb the expenses of returns like Amazon and Nike can. Returns and full-time customer service reps are significant hit to their bottom line. The pressure to sell high-quality shoes and provide excellent service is very real.
According to the National Retail Federation, over $100 billion dollars of online goods were returned in 2020. Nine percent of those returns were for footwear, about $9 billion dollars in shoes and boot purchases were returned, in just the United States, in just one year.
This expense adds up to lost revenue as extra logistics and lost sales opportunities for companies. You can't resell a pair of boots that are in transit or are sitting on a shelf in a warehouse waiting to get checked and re-enter an inventory system. Retail Systems Research analyst Paula Rosenblum estimates retailers can lose up to a third of their revenue paying for returns.
"You've got a customer service rep who gets paid twenty dollars an hour and they're spending at minimum twenty percent of their time helping with fit," adds Moredock. "That's $640 a month worth of their time that the reps are spending on fitting questions. I don't know, it seems like a waste."
For small brands, that adds up to having to sell quite a few pairs of boots just to pay for someone to help with fit over the phone.
And returns are terrible for the environment. Vogue Business reports that returns account for 5 billion pounds of landfill waste. The extra shipping puts 15 million tonnes of carbon emissions into the atmosphere. There are so many returns that 10 percent are donated or incinerated.
Again, that's just in the United States.
Solution: Find a Trusty Boot Loving Community
Moredock recognized that boot enthusiasts have already found solutions to sizing and limiting returns.
"You can find and get information from people you trust from these third-party neutral players. So we wanted to sort of build that in to Grayle. You've got this community of individuals who share styles and sizes they have in common with you."
These "neutral players" are sites like The Fedora Lounge, Style Forum, r/goodyearwelt, discord servers, and YouTube.
There's so much info out there — which is great — but we all have very different feet, so only a bit of it may actually be useful. To make it more difficult, the information is ephemeral; it gets lost to the sands of internet-time, buried underneath hundreds of comments or becomes outdated when companies change lasts, manufactures, or get bought out.
With all the disjointed knowledge spread across the internet, buying a new a pair of boots from a company for the first time still feels like a gamble. With Goodyear welted shoes, the stakes may exceed $500 and even approach a couple of thousand bucks.
With risk like this, one would think there was a one-stop-shop for all of our boot sizing needs.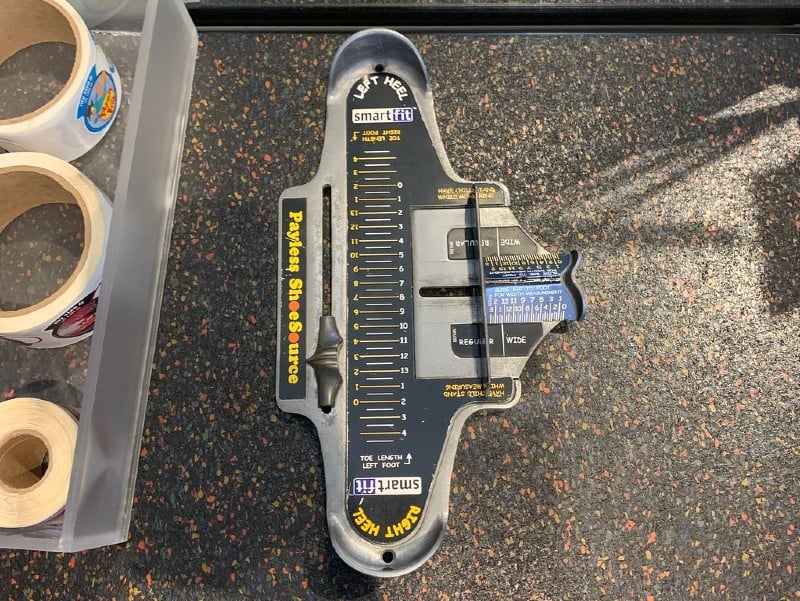 The disjointed information is why Moredock built Grayle as a resource for guys in the boot community to solve this really thorny problem of sizing.
The thing that we've sort of figured out along the way is folks don't really trust brands for correct fit information.
The distrust isn't unfounded. It's in the brand's interest to sell you something, even if you return it.
"Your best shoppers make the most returns," writes The National Retail Federation. "Returns are a chance to increase interaction with that consumer, provide them with a great experience, and engender their loyalty for future shopping trips."
Basing the entire online boot shopping experience on "just return it" isn't sustainable. So, Grayle sets out to do something straightforward: match your fit and subjective criteria like style to other people who share the same size and tastes, and in doing so, matching your boot collection to their boot collection. Like online dating, but less soul crushing.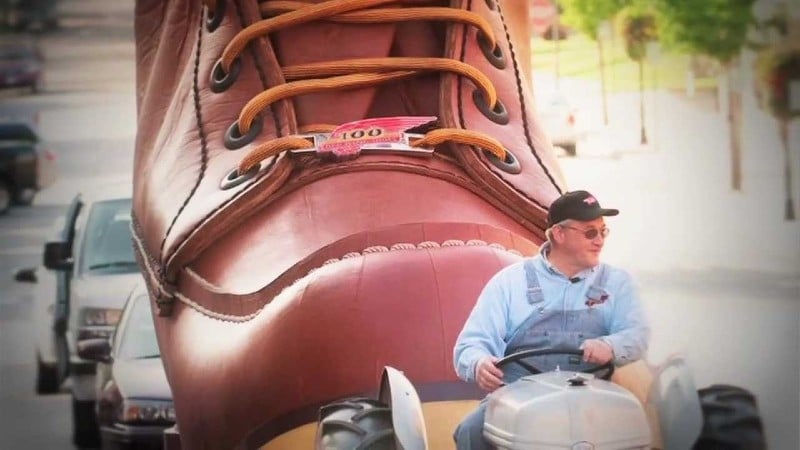 How Grayle Works
"We're able to collect a bunch of information about people's footwear preferences, styles, sizes, that sort of thing, and then use all that info to feed into a fit algorithm to help decide you know what to recommend to someone based on their purchase history," Moredock explains. "Grayle created a database focusing on getting people together who have similar characteristics, and then you can use that community as your advisor group when you go off to make a purchase."
I spend like half my life researching boots. I used to fit boots for a living, so of course I wanted to test this out.
First, I set up my account; it was very easy and took less than 5 minutes all in.
But, it's best to have some information handy before you register on the website: you want to have your Brannock device measurements for width, length, and arch length. If you don't have your Brannock measurements, I recommend going to a shoe store, measuring them, and saving them somewhere.
Grayle also asks for three pairs of boots or shoes that fit well to serve as a baseline for suggestions. I used my running shoes from Nike and New Balance and my favorite pair of Scarpa hiking boots. I choose these because I put the most miles in them, and I was also curious how well the Grayle fit algorithm could match these to a Goodyear welted boot I've worn.
My foot shape is quite difficult to fit. Most loafers, Chelseas, flip-flop, slip-ons — anything without laces are too high in volume for my feet. My feet are also different widths: one is almost a full width narrower than the other because of surgery from an injury. I need laces to cinch down the uppers to reduce the volume. I also have flat, rigid feet that make it difficult to wear boots with a full length shank or a molded arch.
While my Brannock size is a 9.5 C – D, my running shoes are both size 10 D. My Scarpa hiking boots are 10.5 D. I like my hiking boots larger because my feet swell and I often wear thicker boot socks when I'm backpacking for multiple days.
How Well Does Grayle Work?
I have to say I was impressed with the suggestions. The fit algorithm suggested Wolverine's 1000 miles in a size 9.5. I've worn these and that's the best fit for me. I put a 3/4 insole them to fill the volume on my smaller foot, but overall they are a good match.
It also suggested Quoddy's Canoe Shoe in a 9.5 and that was accurate as well. My feet fit Quoddy well. I enjoy wearing them.
I wanted to see how well it could size a sneaker to see if it just matched the Brannock size to the shoe size or if they adjusted for suggestions based on last and model. The fit algorithm suggested Van's Authentics in a 10.5, which I own in that size. They are bit roomy, but I like that I can wear them with different thicknesses of socks.
I haven't tried on the all the brands that were suggested, but I've worn the ones above and the fit is correct.
The only ones I am skeptical about were the few pairs of Chelseas they suggested. I've never been able to find a Chelsea that fit, and I've tried on a ton of them in a wide range of styles and brands with and without insoles and thick socks. They're always too high in volume or way too short.
That being said, they suggested the R.M. Williams Craftsman in size 9. They come in narrow widths, so there's a possibility I could find one that fits my feet. It's very impressive that the fit algorithm pointed me to these as they are possibly one of the few Chelsea style boots that would work for my foot shape and volume.
Moredock said that the app's recommendations shouldn't be taken as gospel, and it's meant more like a recommendation from a friend. I found that to be a very accurate description.
I'm in the camp of trying on boots until I find a brand and last that work and pretty much just stick to buying within that brand. For heritage boots and high-end dress shoes, this works well because brands like Alden, Red Wing, and White's are very clear about which lasts they use so you can easily keep track of ones that work for you. I'm a huge Alden fan as they cater to oddly shaped feet.
General Boot Sizing Tips
I'll leave you with a few general boot sizing tips.
Keep in mind the foot is 3 dimensional while Brannock devices and modern sizing systems are based on 2 dimensional models. Consider your foot's volume as length, width, arch length, and arch type.
Identify a last that works for you. Lasts are pretty accurate as they are 3 dimensional representations of feet.
Foot volume isn't static, it changes significantly. Your feet become more swollen during the day as gravity pulls blood into your feet. This is exacerbated by physical activity, like running and walking.
There is no universal shoe sizing system; one company's size 9 won't fit like others.
Get your Brannock size and use that as a reference, not as a single source of truth.
Fit is subjective, some people like roomier boots and others like snugger boots.
Feet are really complicated. Everything from toe shape and heel shape can affect fit. There are over fourteen dimensions that you can measure.
Leather shrinks and stretches, the amount of stretch and shrink depends on the type of leather.
Wrapping It Up
Moredock has been making the rounds, and he sat down with Dale from the Aerosurferlv YouTube channel recently — watch it above and learn all about Grayle's M.O. (Dale is the boot guy's boot guy — he owns over 75 pairs.) Dale is on the app and his data helped me find my fit.
If you're going to try Grayle, and if you're into boots, I recommend it. Make sure you have a few of your favorite boots or shoes picked out and your Brannock device length, width, and arch length to get the best experience.
If you're a regular here on Stridewise, you'll be able to help the community by sharing your knowledge and experience.
The following two tabs change content below.
Karl Wasson
Karl is an IT product manager living in South East Asia who gets a kick out of durability and dependability. He believes form and function are not mutually exclusive. When he's not working, he's searching for the best bespoke menswear in South East Asia and beyond.
Latest posts by Karl Wasson (see all)