Helm is an Austin-based shoe company that has become a fixture of the city's boot scene. Well known for their trademark white stripe in the midsole, their shoes pull off a rare feat of being distinctive but traditional, with silhouettes that work in a ton of different outfits and environments.
I've reviewed their flagship Muller boot in the past, but the Zind they sent me is actually quite different, not just in the leather but in the construction and the last as well. This was originally a limited release, but it proved so popular that it became one of their signature boots. So let's take a closer look.
CLICK TO GET 15% OFF ANY HELM BOOT WITH THE DISCOUNT CODE "STRIDEWISE"
Helm Zind First Glance
Relaxed, not military-like
Signature white stripe in sole
Fineline rubber grip
Taller, less snubby than Muller
Now, I'm not normally a huge fan of black boots, just because they're not as versatile and it's easy for them to come off as serious and military-like. (Not that there's anything wrong with the military, of course.)
But that's not what I found with the Zind. It beats the overly formal stereotype with a nice, relaxed look that pairs well with just about any outfit. The signature white strip on the sole is a big part of helping the boot dress down and work with a t-shirt, but I've also worn these with khakis and a button down. They'd be hard to wear with a suit but maybe not impossible — these are some of the most versatile boots I own.
When compared to the Muller boot, the big thing difference is that there's no cap toe, which makes the Zind a bit easier to blend in at the office, but it also has Fineline rubber one the sole for extra grip and it's about an inch taller.
More importantly the last is different. The Muller has the 323 last and the Zind has the 415 last, the difference being that the Zind isn't as snubby. It has a longer toebox and I also found it to be less tight around the forefoot, which I liked because that tightness was one of my biggest complaints about the Muller.
So overall it's a taller, longer, leaner looking boot.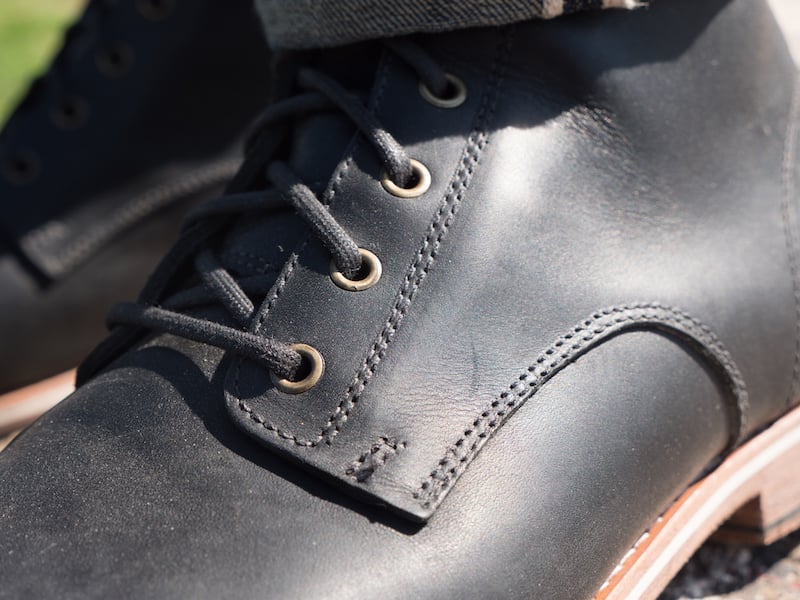 Helm Zind Leather
Black Balthazar leather
Made by B Leather Company
Hot stuffed with waxes
Soft and durable
Now this boot is available in four different leathers right now, I (obviously) got the black one and while the black Muller is made with Chromexcel® this full grain, vegetable tanned leather called black Balthazar leather. (Which is just the coolest name.)
It's relatively thick, 2 to 2.2 millimeters thick, and it comes from B Leather Company, which was founded in 1940 and it's a third generation family owned tannery in Santiago in the Dominican Republic. (They also distill rum, which makes it the kind of place I'd like to visit.)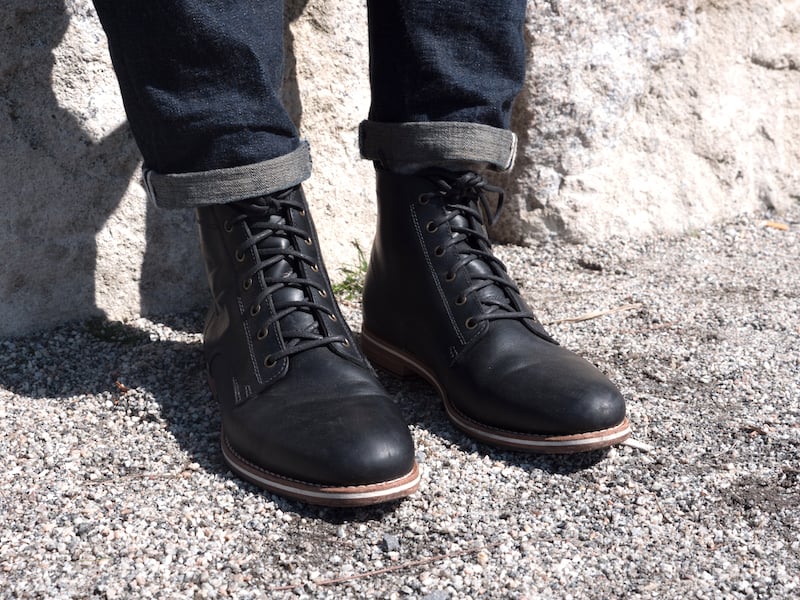 Their most famous leather is probably the Balthazar leather and it's hot stuffed, which is like a process of pushing waxes and oils really deeply into the leather that also gives it natural polishing capabilities too. It also means it's actually quite soft while also being pretty durable. So it's kind of similar to Chromexcel with all the hot stuffing, but they told me it's vegetable tanned as opposed to combination tanned, if that matters to you.
[Learn more about the difference between vegetable tanning and combination tanning!]
Leather Care
For taking care of the leather they like using Venetian Shoe Cream on the white midsole and the outsole and for the uppers they recommend Blackrock's Leather 'n' Rich.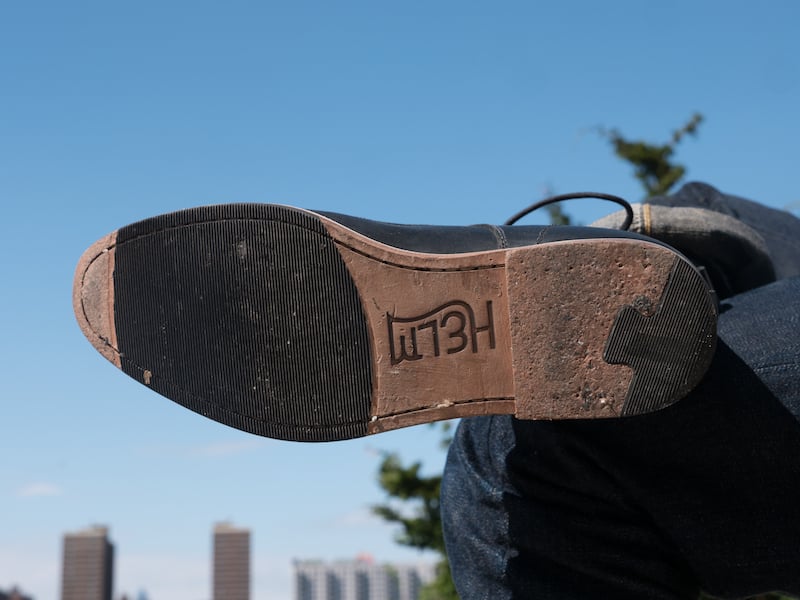 Helm Zind Sole
Fineline rubber outsole
White strip made from composite rubber
Cushy foam footbed
Blake rapid stitch
So this outsole is leather but with this Fineline rubber which gives it a really nice sort of compromise between leather and rubber outsoles. You get the flexibility and softness and profile of the leather outsole but the Fineline helps to remedy the grip problems that are pretty common with leather outsoles. Obviously it's not going to give you as much grip as like a Commando sole, but it's a nice compromise.
[Learn more: 6 Kinds of Boot Soles You Should Know About]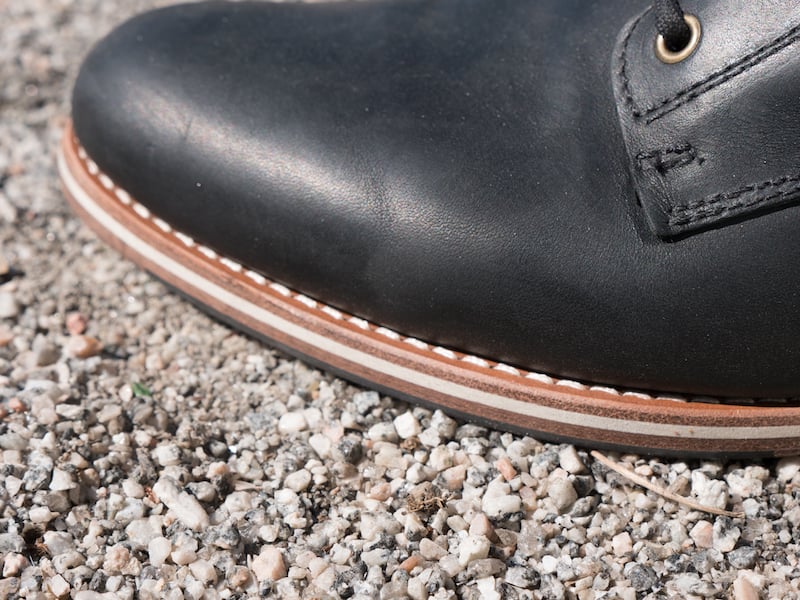 After the leather outsole there's the famous white strip, made from composite rubber, then there's a leather insole and a plastic shank. The footbed is made from a foam like substance that gives it a really cushy feeling which, when combined with the leather lining, makes for a very kind of luxurious feeling and it helps the shock absorption too.
The sole is attached with a Blake rapid stitch which helps keep the boot lightweight and flexible. It's also easier to resole than a regular Blake stitch but it's not quite as water resistant as a Goodyear welt.
Finally, the footbed also comes with an inscription which changes seasonally depending on when you get the boots. Mine is a quote from Aldous Huxley that says,
"The goal in life is to discover that you've always been where you were supposed to be."
Helm Zind Fit & Sizing
True to size
Good grip
Leather softens over time
Not a fun break in
Sizes go from 6 through 16 in D and EE widths. They stop doing half sizes after 11.5 but fortunately I happen to be an 11.5, so it worked out well for me.
I was concerned about the fit because the main thing I didn't love about the Muller was it was very snug around the forefoot, but this has a different last and the 11.5D worked really well for me.
I didn't have a great break in, though. I'm reluctant to put pictures of my feet on the internet but I'm nursing a pretty ugly blister on my left heel as I write this. But hey, most people expect some difficulty wearing in boots and the leather did soften up after a few wears.
Helm Zind Price
A pair will run you $295. (It's dropped since I published the video.) I really like these shoes, and when they used to cost $399, I called it overpriced. But for under $300, this is fantastic value.
CLICK TO GET 15% OFF ANY HELM BOOT WITH THE DISCOUNT CODE "STRIDEWISE"
Helm Zind Pros & Cons
Pros
Super versatile
Minimalist design
You get two sets of laces
Flexible and lightweight
Fully lined with a cushy footbed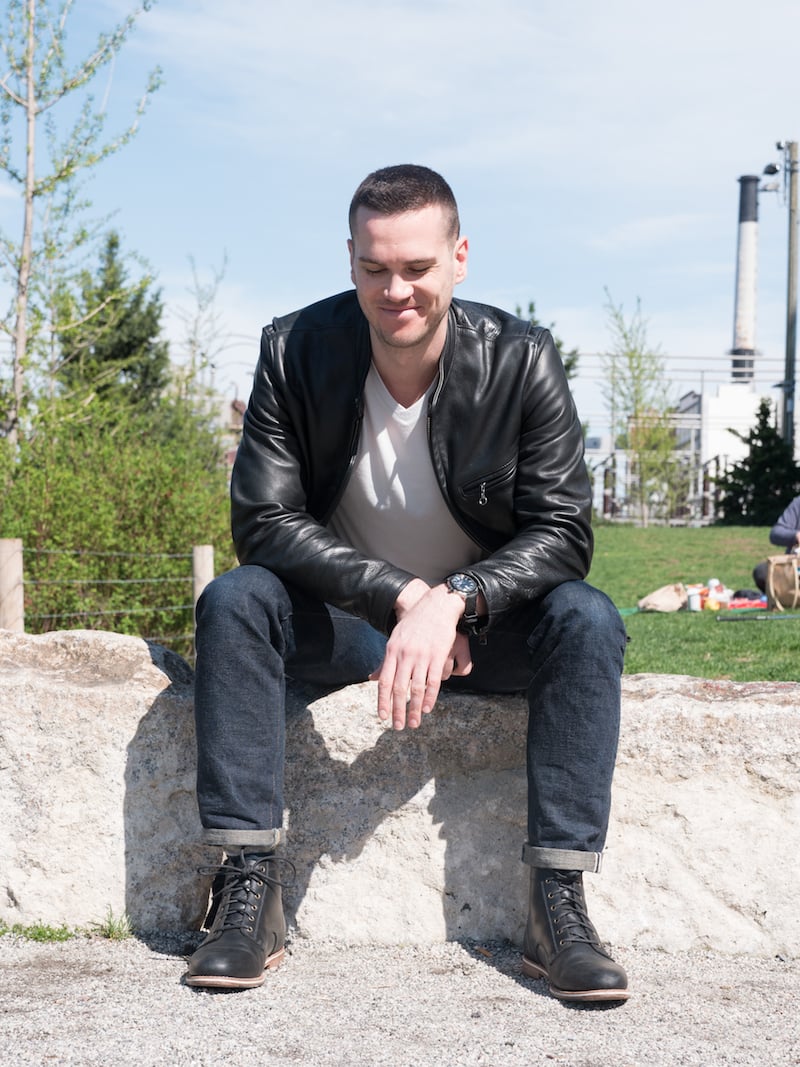 Cons
Pricy
Not a great breakin
Unlike a lot of Helm's USA made boots this one's made in Brazil, if that's important to you
Not everyone likes the white strip
Not super water resistant
Overall, I'm a huge fan of these shoes — they're far and away my favorite black boots. The Blake Rapid stitch is a nice compromise between Blake and Goodyear, its fully leather lined, the lining and footbed are very fancy, and they're crazy versatile. Add that to the fact that they're $100 cheaper than they used to be, and I'd recommend you pick up a pair of Zinds if you like them.
The following two tabs change content below.
Nick English
By day: Manhattan-based journalist with reporting experience on four continents, published in Vice, Men's Health, Popular Science, and a bunch of other places.By night: ravenous consumer of anything and everything related to high end men's boots.Stridewise is where I nurture a maniacal obsession with footwear and share my findings. Say hey:
[email protected]
Latest posts by Nick English (see all)