I always thought a Chelsea was a Chelsea was a Chelsea until I came across the Holt, the aesthetic of which I can only describe as a Chelsea from the future.
Founded in 2009 by Josh Binghaman and now a fixture of Austin's shoe scene, Helm is a company that I've always liked for their ability to modernize classic aesthetics. They take heritage fashion and give it a dash of modernity — a white midsole here, a sleeker toe there — they manage to stand out in the crowded boot market by offering fresh twists on vintage styles, and nowhere is that more apparent than their Holt boot.
With its hand stitched accents on the counter, a white midsole, and unusual, V-shaped elastic (no functional benefit, it's just meant to make the boot look sleeker), it's both rugged and streamlined, old and new.
Besides, well, that thorough first glance I just wrote, the boot has a round toe — it's no sleek, dress Chelsea like Carmina or even R.M. Williams — it comes with grippy rubber lugs on a leather sole, a Blake rapid stitch, and the leather is vibrant and chrome tanned. Let's take a closer look at the leather after I spent two weeks in them.
[GET 15% OFF THESE BOOTS WITH THE CODE "STRIDEWISE" AT CHECKOUT]
(Disclosure: This post contains affiliate links, meaning when you click the links and make a purchase, I receive a commission — but you don't get charged any more.)
Helm Holt Boot Leather
Full grain "Balthazar leather"
Meant to look like aged, undyed leather
Chrome tanned in Dominican Republic
Hot stuffed with oils and waxes
This leather is called Balthazar leather, which is my favorite name for a leather, and of course it's full grain, meaning it's made from the top layer of the animal's hide. Basically, it's the best layer of leather when you want boots that will age well, relative to split hide and genuine leather.
The boot is also available in Dark Grey but this is Dark Natural, a color I've never heard of before. After all, "natural" colored leather is undyed; it's close to the color of the animal's skin, like you can see on my boots from Oak Street or Parkhurst. But Helm's leather is indeed dyed a little in the tanning process: the idea is to make the leather look the way natural leather does after about a year of wear and conditioning, by which time the color has deepened. It's an interesting approach, and after all, most folks can't wait until their leather looks a year old.
As far as the tannage goes this is chrome tanned leather, produced over 28 days in a third generation, family owned tannery-slash-rum distillery in the Dominican Republic called B Leather Tannery.
I wrote a whole article on the two main ways to tan leather, chrome and vegetable, but the long and short of it is that chrome is softer, more flexible, more easily dyed, and cheaper to make. Vegetable tanned is a bit tougher and it ages better, plus it's nowhere near as bad for the environment, but for our purposes the chrome tanned leather looks great: it's hot stuffed during the production, so the hides are put in a bath with melted waxes and oils that provide the leather with a lot of luster. After that it's buffed, so it has a nice depth of color and a lot of pull up, or color variation.
The only real downside to this sort of super oily leather is that it sometimes lightens on the toe break, as you can see here.
[Check out my review of Helm's most famous boot, the Muller]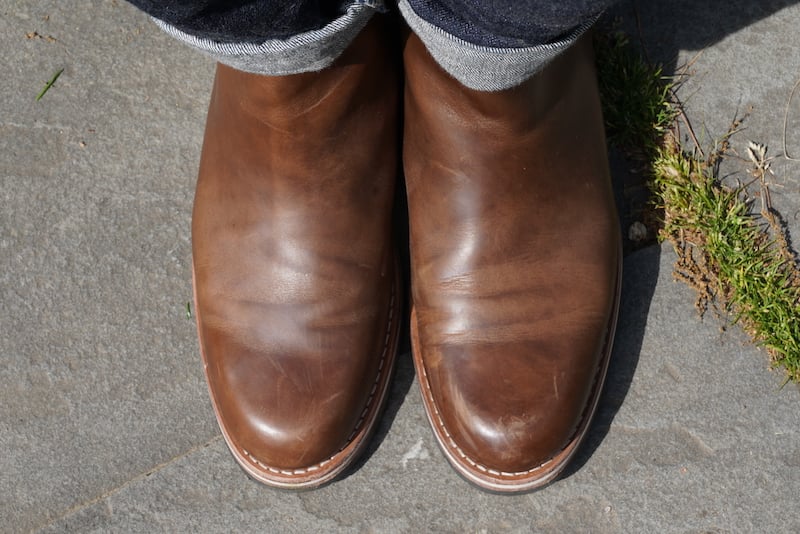 Balthazar Leather Care
Use Blackrock Leather n Rich
Moisturizes and covers up scuffs
Keep cedar shoe trees in them between wears
Also brush it now and then
For taking care of the leather, Helm says to use the all natural Blackrock's Leather n Rich. It's made with carnauba wax, which comes from a kind of palm tree that only grows in northern Brazil, which makes sense as that's where these boots are made. Apply it with your hand or an old t-shirt a couple of times a year to cover up scuffs and keep the leather moist and oily.
Don't forget to keep some cedar shoe trees in these between wears, which help the boots to maintain their shape and extend their lifespan.
Helm Holt Boot Sole
Rubber lugs on a leather outsole
White, composite rubber midsole
Plastic shank
Cushy footbed
Blake rapid stitch
This is a slightly chunkier sole than you might be used to for a Chelsea boot, which as I mentioned above, are often dressy and sleek. (Though there are plenty of exceptions to that rule, like the Red Wing Weekender I reviewed.) This outsole is leather with rubber lugs affixed to the heel and forefoot to enhance the grip. I like this approach: leather outsoles are flexible but their grip is crummy, so it's a nice compromise.
After the outsole there's Helm's famous white strip, made from composite rubber, then you've got a leather insole and a plastic shank.
[Related: The 6 Kinds of Boot Soles You Should Know About]
The most striking thing when wearing these boots is the footbed, which is unusually cushy. It's made from a foam like substance and I've asked Helm a million times to tell me the composition of, and they always say they'll find out and they don't, but. Whatever. It's soft and squishy, moreso than almost any other boot I've worn. That, combined with the leather lining, makes for a pretty pampered feel on your feet, which is helped by the terrific shock absorption.
Lastly, the sole and the upper are attached with a Blake rapid stitch which is basically part Blake stitch, part Goodyear welt: it's not as flexible or lightweight as a Blake stitch, but it's much easier to resole.
Finally, all Helm boots come with a quote stamped on the footbed, which changes depending on the season. Mine is from the Welsh poet Gwyn Thomas:
The beauty is in the walking – we are betrayed by destinations"
Helm Holt Boot Fit & Sizing
Sizes run 6 to 16 in D and EE widths
Gnarly break in
Good shock absorption and arch support
Helm is celebrated in the boot community among guys with big feet: they come in EE widths and run all the way up to size 16. They fit true to size, so unlike most boot companies where I have to size down, I got an 11.5 and it fit well.
I already mentioned the main points with the comfort: soft footbed, good arch support, good shock absorption, but the main downside is that the break in sucked. For the first week or two, I could only wear these for a few hours at a time before needing to switch to sneakers.
A tough break in is pretty common in quality boots and they're very comfy now, but I won't act like I loved the first week.
[Related: 12 Tricks for Breaking In Tough Boots]
Helm Holt Boot Price
Prices change a lot at Helm — this boot has dropped $50 in price since I first started looking at it but right now it's $295 for a pair. If you use my discount code STRIDEWISE, it drops 15% to $250.75.
For a resoleable boot that's as sturdy and cool as these, it's a very fine price. I'd look askance at it if it were over $350 but for about $250, it's good value.
Helm Holt Boot Pros & Cons
Here's my summary.
Pros
Great range of sizes
Innovative aesthetic
Rich leather
Very comfy
Decent price
Cons
Break in sucked
Made in Brazil (if that matters)
Too unusual looking for some more traditional boot lovers
Developed some loose threads on a pull tab
Shank is plastic, not steel (though this makes it more airport friendly)
Listen, I really like these boots.
They look cool as hell. I love the V-shaped elastic, the hand stitched accents underneath it, the white midsole — all of this makes for an ultra modern boot that stays true to its heritage boots. Seldom does a company pull off that combination as well as Helm. It's hard to stand out in the world of boots, and Helm does it well.
The dark natural is a cool, unique leather that even I've never seen anything like before. It's waxy, it has great pull up, and it'll develop character as it ages. The grip is good, the footbed is soft, and the price is fair.
Besides the no-fun break in, the main issue people have with Helm is that they aren't traditional looking: some absolutely loathe the white midsole and I'm sure there's no shortage of guys who hate the V-shaped elastic as well. But if you want something that stands out and blends in in all the right ways, the Holt is one of my favorite Chelseas.
The following two tabs change content below.
Nick English
By day: Manhattan-based journalist with reporting experience on four continents, published in Vice, Men's Health, Popular Science, and a bunch of other places.By night: ravenous consumer of anything and everything related to high end men's boots.Stridewise is where I nurture a maniacal obsession with footwear and share my findings. Say hey:
[email protected]
.
Latest posts by Nick English (see all)