This post may contain
affiliate links
that at no additional cost to you, I may earn a small commission from.
While a lot of the world's bootmakers are amazing craftspeople, they aren't always great marketers or tech aficionados, so their amazing products languish in the shadows… until a couple of doofus shoe fans make a list like this one.
For this video (and article!) I needed help from someone with even more in-depth and niche knowledge of traditionally made footwear than me, so I enlisted the mysterious Ticho Blanco, the host of the excellent podcast The Stitchdown Shoecast, manager of Standard and Strange's Manhattan store, and the feet behind the popular Instagram account @tichoblancoshoes. (If you already follow it, there's a 100 percent chance you've never seen the surprisingly handsome face above the feet.)
Ticho dropped by the filming studio to help me highlight the most underrated boot brands currently on the market, and we stress that word currently: more than one of these companies are on the verge of going out of business, so be sure to grab something if you like the way it looks — it might be your last chance.
First on the list is perhaps the hottest shoe brand in Southeast Asia — especially if you like Chelsea boots.
1. Benzein
Known for: Whole cut Chelsea boots
First up on our list is an Indonesian company called Benzein that's based in Bandung.
"One thing that people are looking for from them are these Chelseas," says Blanco, referring to their 'Seventh' model. "It's a whole cut Chelsea, which means that it's just one piece of leather for the entire upper with one seam in the back. It's hard to get a nice big piece of leather like this but when it can be done on a Chelsea, you end up with such a comfortable fit. It just molds to your foot, it's like a sock."
Even on really esteemed Chelsea boots like R.M. Williams' Comfort Craftsman, you'll find stitching under the elastic goring that's holding at least two pieces of leather together for the upper — but that doesn't cut the mustard for this tiny Indonesian company.
"(Mine) are in an Indonesian waxed flesh. It's great for bad weather,I just leave these by my front door," says Ticho. "It's hand welted too, so what you end up with is a really nice fit that breaks in super well over time."
There's a long and interesting history about why there's such an established boot making scene in Indonesia, but it's a remnant of the period of Dutch colonial rule in Indonesia. Today, there are many boot brands that are becoming well known internationally, including some I've reviewed before like Sagara and Santulum.
[Related: The 8 Best Indonesian Boot Brands You Should Know About]
How To Shop Benzein Boots
No website at the time of writing, but you can try:
Instagram: @benzeinshoes
Email: [email protected]
Whatsapp: +62 8112258998
One of the befuddling aspects of some of these smaller Asian brands is that they often don't have websites — you just need to hit them up on Instagram or Whatsapp. It's understandable that Westerners might find this system difficult to trust at first, but these brands are established and have built a strong reputation for integrity and quality. You can be confident you're going to receive not just a good pair of boots, but some of the best boots you ever like to get your hands on.
2. Rider Boot Co
Known for: The Dundalk and their Chelsea
Number two on the list is Rider Boot Co., not actually a riding boot company but the brainchild of one Ron Rider. Rider makes some of the nicest boots in the game but they're yet to amass 5,000 followers on Instagram and they had to close their Virginia store in recent years.
When I spoke to Rider, he told me that he created his designs to fall between Red Wing and Alden in regards to dressiness: not super casual, not super formal. Now made entirely in Italy, their footwear combines a smart European last with sturdy, American construction methods, making for a boot that deftly walks the line between the New World and the old.
"This 'Reverso leather' is super nice," says Ticho. "It's a calf suede that's been treated with salmon oil, so it has a slightly fishy smell but it holds up. It's basically waterproof, it does excellent in bad weather. It's just an awesome everyday boot."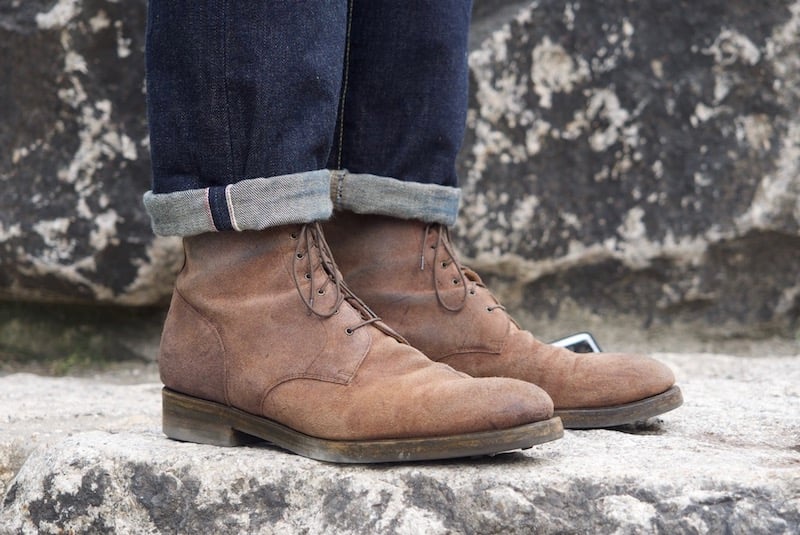 How To Shop Rider Boot Co
Riderboot.com is no longer in operation, you need to buy from the manufacturer in Italy.
Website: https://cortina-rb.com/rider-boot-co/
Facebook: https://www.facebook.com/riderbootshop/
Email: [email protected]
Related
3. Iron Boots
Known for: Crazy attention to detail, hand-welting, hand-dying, hand-distressing
Next up we have Iron Boots out of Guangzhou, China.
This is a small workshop of seven guys and it's run by a man named Kai, who is incredibly passionate about boots.
"He puts a level of thought into these things that is just next level," says Ticho. "He thinks about things I couldn't even possibly describe what he's doing."
Ticho is currently collaborating with Kai on a project with Iron Boots and Østmo Boots out of Norway, using Norwegian designs on Kai's lasting patterns.
"The level of obsessiveness between Lars and Kai for the angles of things, for the temper of the leather, it's just incredible," he says.
These boots are handmade to a degree that's extremely rare and exceeds the threshold for what most companies have for the term "handmade": they're hand lasted, hand welted, they even hand sew the outsoles.
The price is between $650 and $700, which is remarkably low for the level of craftsmanship — they even hand dye this vegetable tanned Italian horsehide themselves, plus they often distress the boots for an extra touch of cool. (Like they need it.)
How to Shop Iron Boots
Instagram: @ironboots_usa
4. Helm
Known for: Blake Rapid Stitching, Cool white leather midsole
This one feels a little silly because I posted a poll to my YouTube community asking what they think the most underrated boots are, and Helm was the most common response.
But if lot of people consider a brand underrated, is it actually underrated?
Navel gazing aside, I have three pairs of Helm boots and I'm a big fan of their unusual aesthetic and construction methods.
Based in Austin, they're fairly well known for using a white rubber midsole that results in a funky strip of white running around the boot's perimeter. Sure, it's controversial in some circles (isn't anything?) but I adore the way it helps the boot to subtly stand out in a crowded marketplace.
They're also made with an underrated shoe construction method: Blake rapid.
"I think Blake Rapid Stitch is a pretty underrated boot construction method," says Ticho. "It leads to a really nice, lightweight kind of fit, but it breaks in and it's just as hard-wearing as a Goodyear welt."
There's this common misconception — and I'm as guilty as anybody for spreading it — that if a boot isn't Goodyear welted, it's hard to resole. But so long as a cobbler has the right equipment (call ahead to find out), Blake stitched and Blake rapid stitched boots can indeed be resoled, plus they're lighter and more flexible than their Goodyear welted counterparts.
How to Shop Helm Boots
Website: https://helmboots.com/ – STRIDEWISE lands you a 15% discount!
Related
5. Parkhurst
Known for: Versatile dress/work hybrids, great value
Next up from we have Parkhurst, who make all of footwear in Batavia, New York: Goodyear Welted boots, made in the USA, and priced in the mid to low three hundreds. (A little more for a made-to-order.) This is excellent quality for the price.
"People in my normal life who ask what boot they should get, I always send them to Parkhurst," says Ticho. "It's just a great entryway into this whole game. Cool leathers, really easy to wear, easy to get the sizing right, and made in the USA."
Parkhurst nails the dress boot/work boot hybrid aesthetic that's become so popular, making a boot that works in practically any situation, from business casual to a faded t-shirt. Another interesting aspect is that their designs emphasize the split reverse welt, a construction method that's similar to the very water resistant storm welt, but it's a hair more flexible.
In this space, people are always looking for spectacular, heavy, meaty boots that are cool and all, but most guys don't want to wear every day. But these might be the perfect daily beater boots.
How to Shop Parkhurst
Website: https://www.parkhurstbrand.com/
Related
6. Russell Moccasin
Known for: Handmade moccasin style boots, double and triple layered vamps
A tiny operation based in Wisconsin, Russell has a fanatical following owing to its incredibly well made, borderline artisanal moccasin-style boots. Often the brand of choice for hunters and park rangers (catch a lot of heavily worn pairs on their Instagram), their store sells plenty of boots with shafts that stretch all the way to the kneecaps and incorporate innovative double and triple layers of vamp leather for terrific water resistance.
There's also a lot of customization available to customers: up to three layers of leather in the vamp, a range of outsoles, and multiple layers of insulation, among other options.
Russell boots aren't quite as popular as they should be for a few reasons: they're relatively expensive (expect a minimum of 500 dollars and up to a thousand) and because it's such a small operation you can expect very long wait times. When I called them last October — in the middle of boot season, to be fair — I was told to expect between 12 and 20 weeks of wait time. Most people just don't want to wait that long for a pair of boots.
But this brand is over a hundred years old and will make some of the most comfortable, hard wearing boots you'll ever find, so if you can endure the wait time you'll not only have some tremendous footwear but you'll also enjoy the nice feeling of supporting a small, independent American business.
How to Shop Russell Moccasin
Website: https://www.russellmoccasin.com/
7. Clinch
Known for: High end Engineer boots
Ticho and I had a debate as to whether this brand is underrated or not as it's relatively well known among guys who obsess over Japanese footwear… but that's a subset of a subset in the boot world. There's also very little official about the company that's available in English, so we thought it was worth talking about them.
We're talking about Clinch boots (@brasstokyo on Instagram).
"They're made handmade and hand lasted in Japan," says Ticho of his natural horsebutt boots. "This is a boot for somebody who is looking for something special, something different than pretty much anything else you can get, and something that's gonna age incredibly well. They put a lot of thought into how these things are going to age, how it's going to look, the creasing, the rolls. Some of the worn pairs from the guys at Brass Tokyo are insane."
In fact, they look so good worn in that people are clamoring to spend over a thousand dollars for their boots.
"They take a lot of influence from Americana and put it right back into the product and make, I think, incredibly beautiful things," says Ticho.
With Clinch, you get boots that are a great embodiment of decades of skill and craftsmanship on the part of the makers, and that's what makes people jump at the opportunity to spend four figures on them. You're wearing hard earned, inimitable skill and love of the craft.
How to Shop Clinch
Instagram: https://www.instagram.com/brasstokyo/
8. Taylor Stitch
These boots are actually the reason why I thought of creating this list, so I naturally forgot to include them.
Taylor Stitch is a company that's best known for making heritage style clothing at pretty reasonable prices because, well, they're made in China. But everything else ticks all the boxes you'd want from a heritage style brand: great old timey fabrics like chambray and selvedge, terrific craftsmanship, and best of all: modern fits. That solved the most pervasive issue in heritage fashion for me, which is boxy, short, baggy silhouettes.
I've reviewed their Ojai jacket before, but their boots really impressed me and I named them one of the best Chelseas on the market in my list of the best boots for men. I really think everyone has slept on these: they're extraordinarily tough and durable for Chelsea boots, they're made with a water resistant storm welt, a variety of cool leathers, and I think the silhouette is a great balance of sleek and rugged.
Be sure to check out my dedicated review of the Ranch boot and the rest of the brand's surprisingly great footwear below.
How to Shop Taylor Stitch
Website: http://taylorstitch.com