If you've ever shopped around online looking for moc toe style work boots, you have more than likely noticed that they can often be pricey. Which has probably led you to searching for cheaper alternatives, and then you saw RockRooster.
Like most of us on the hunt for the best work boots we can find, you have probably wondered if RockRooster boots are good given their low price tag. That is exactly what we are going to cover in this review.
If you've found yourself wondering if RockRooster moc toes are good or not or if RockRooster boots are durable then I suggest you stick around because I'm gonna take you through a deep dive on everything you need to know about them. But after the quick specs below, I'd like to mention a little about what I do for work. Yes, I actually work in my work boots!
RockRooster Moc Toe Pros and Cons
Busy guy? If you want to get the pros and cons right here at the start of the review, we've got you. Keep reading for a more detailed breakdown of the RockRooster experience.
Pros
Affordable
Comfortable Vibram Outsole
Welted construction is tougher than cemented
Very soft, shock absorbent insole
Lightweight
Moisture wicking liner very effective
No break in period
Looks great, despite being cheap
Cons
Synthetic welt is prone to cracking, hard to resole
Vibram sole not ideal for abrasive floors like unfinished concrete and rebar
Very thin leather (1.6-1.8mm)
Toe box is a bit narrow
Not waterproof (though it is water resistant, and there's a waterproof version)
Quick Specs
Here is a quick list of specs to help you determine if the boots will meet your needs.
| | |
| --- | --- |
| Safety Toe | No (see steel toe variant) |
| Slip Resistant | Yes |
| Electric Hazard Rated | Yes |
| Waterproof | No(VAP360), Yes (VAP360-II variant) |
| Construction | Goodyear Welted |
| Outsole | Vibram Christy |
| Leather | Full Grain |
| Height | 6 inch |
| Country of Origin | Made in China |
| Resolable | Yes |
How Did I Review The Boots?
In order to bring you the best reviews possible, I wear every work boot I test to work, Monday to Friday, and I'm in them for 10 to 12 hours a day! By day I do welding and sheet metal fabrication, so I expose the boots I wear to several hazards such as sparks and splatter from welding, cutting and grinding. Other hazards also include walking around on swarf from drilling metal, pop rivet shanks on the shop floor,, and pointy objects that like to put nice gouges and nicks in leather.

Where Are RockRooster Boots Made?
RockRooster boots are made in China and Vietnam
While RockRooster is an Australian brand, the boots aren't made down under — they are made in China. I wouldn't let the fact they are made there cause you to immediately think they are junk. Many popular work boots on the market right now are made there, such as Brunt Boots. Even some Thorogood boots are made in China, as are the high end, smart casual boots from Grant Stone — and they all pass muster with the most discerning of boot nerds.
RockRooster Moc Toe Boot Construction
The next thing we are going to look at is what kind of materials are used to make the RockRooster Moc Toe and how it's put together. If it's not built ruggedly enough to last, then none of the other stuff really matters!
RockRooster Leather
The leather is definitely an area where they went cheap. It looks like it has an embossed pattern in the leather, but RockRooster assures me that the Walker's leather is not embossed. Thickness wise, it's 1.6-1.8mm thick, which is too thin in my opinion for a serious work boot. But it's not unexpected, considering the boots cost less than $130.
Don't get me wrong: appearance-wise, they look great. In fact, the first day I wore them I was unloading a metal delivery from a truck and the truck driver looked down at my boots and literally said, "Hey! Those boots look good!"
He then proceeded to ask me if they were Red Wings. Kudos to RockRooster on that.
Moc Toe stitching
The Moc Toe stitch is a two piece stitch similar to stitch on the Grant Stone Brass Boots and the Irish Setter Ashby boots. When it comes to work boots I think a one piece stitch is better for longevity, but there are plenty of good boots with a two piece stitch, such as the WingShooter ST. I will say RockRooster's stitching seems less robust than the other boots I mentioned, and the two pieces of leather don't seem to be joined together as tightly.
Is that a real Goodyear welt?
Yes! Yes it is! The downside is it has a synthetic welt, which means the welt may be cracked by the time you would need a resole. Most boots made for longevity have a leather welt that's much easier to resole, and several times over. If your plastic welt is cracked, the cobbler will have to charge you to sew on a new welt.
But when a resole costs almost as much as new pair of RockRoosters, most guys don't care too much about resolability.
Plus the welted construction does give it a leg up in terms of durability over a cemented boot because the midsole and the leather upper are stitched together via the welt, rather than the outsole being glued directly to the upper like a cemented boot is.
Outsole Material
The outsole is a Vibram Christy wedge sole, which just so happens to be one of my favorite outsoles. But despite it being one of my favorites it does a have a few downsides.
The reason it's one of my favorites is because it's made from blown rubber: this makes it lightweight, squishy and very comfortable underfoot while walking. But because it's very soft, they don't hold up well in environments where you are walking on abrasive floors and objects.
Unfinished concrete and rebar will wear out a Vibram Christy sole quickly.
Moisture Wicking Liner
They have a CoolMax moisture wicking liner in them which helps to keep your feet dry and help your boots dry out quicker so they are ready to go the next day. It achieves this because CoolMax is polyester, which means it is hydrophobic and does not absorb very much fluid. That includes sweat and humidity, so they dry out quickly.
Are Rock Rooster Boots Comfortable?
Now we'll move on to comfort, since being comfortable enough to wear all day is a top priority for all of us. Nobody wants to be in uncomfortable boots for 10+ hours a day!
Removable Insole
The VAP360, or Walker moc toe has the same ultra comfortable Poron foam insole as the previous RockRooster Chelsea boot I reviewed recently. Like that Bakken chelsea boot, the insole is where the Walker stands out the most. The Poron foam insole feels like a pillow for your feet and the CoolMax layer that insole is topped with helps to wick moisture away from your foot.
Toe Box Space
The toe box is on the narrow side, measuring in at about 3 ⅞ wide at the ball of the foot. Past the ball of the foot the toe box quickly tapers down and becomes more narrow. It definitely feels a tad tight on my toes.
Arch Support
Arch support should be decent enough for people with low to moderate arches. Even with my moderately high arches I didn't have an issue. It has about a half inch heel drop which seems to be pretty standard on most of the Moc toe boots I've worn lately.
Boot Weight
Weighing in at 1lbs 13oz, the Walker moc toe boots are very lightweight. You won't have to worry about the weight of these boots making your legs tired by the end of the day.
Break In Period
The boots were ready to go right out of the box! Due to the leather being so thin there isn't a break in period needed for these boots. You can just throw them on and get to work on day one!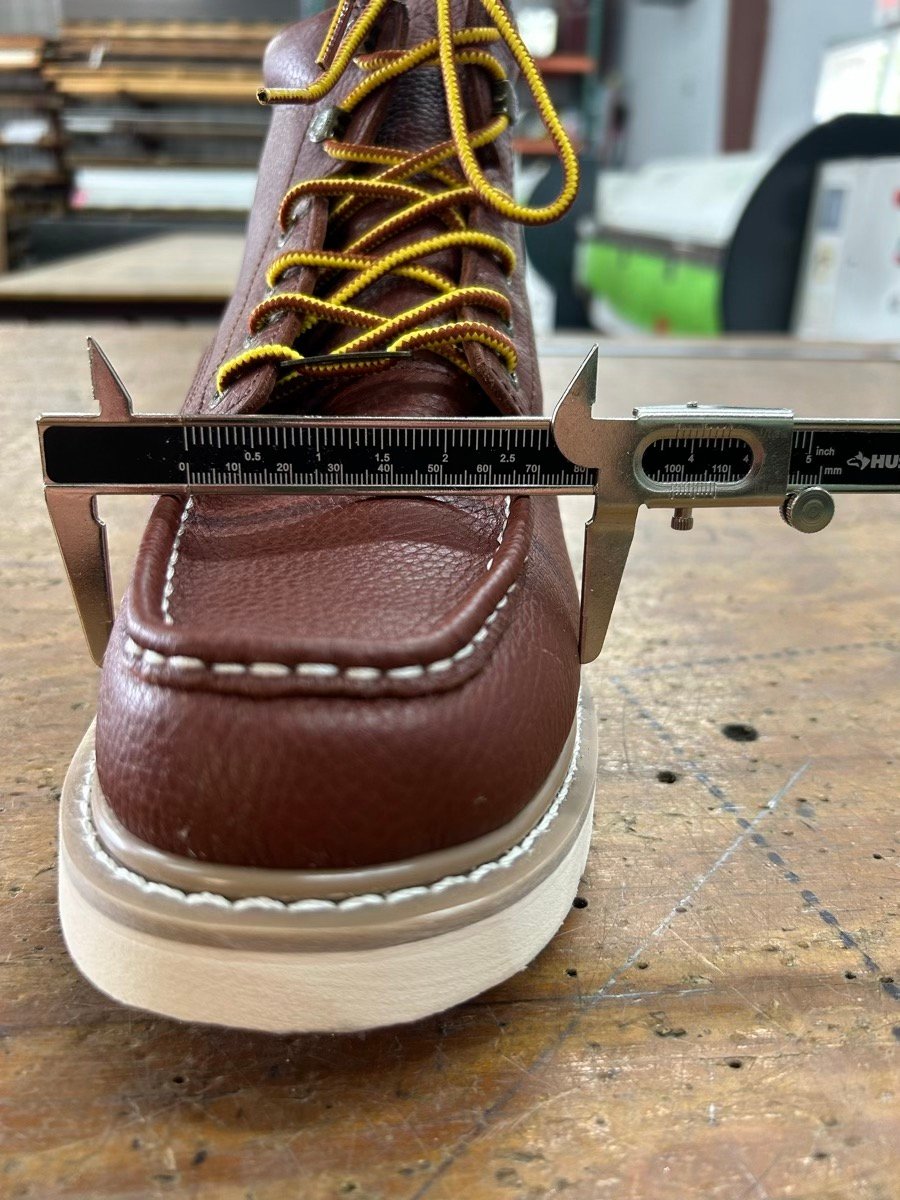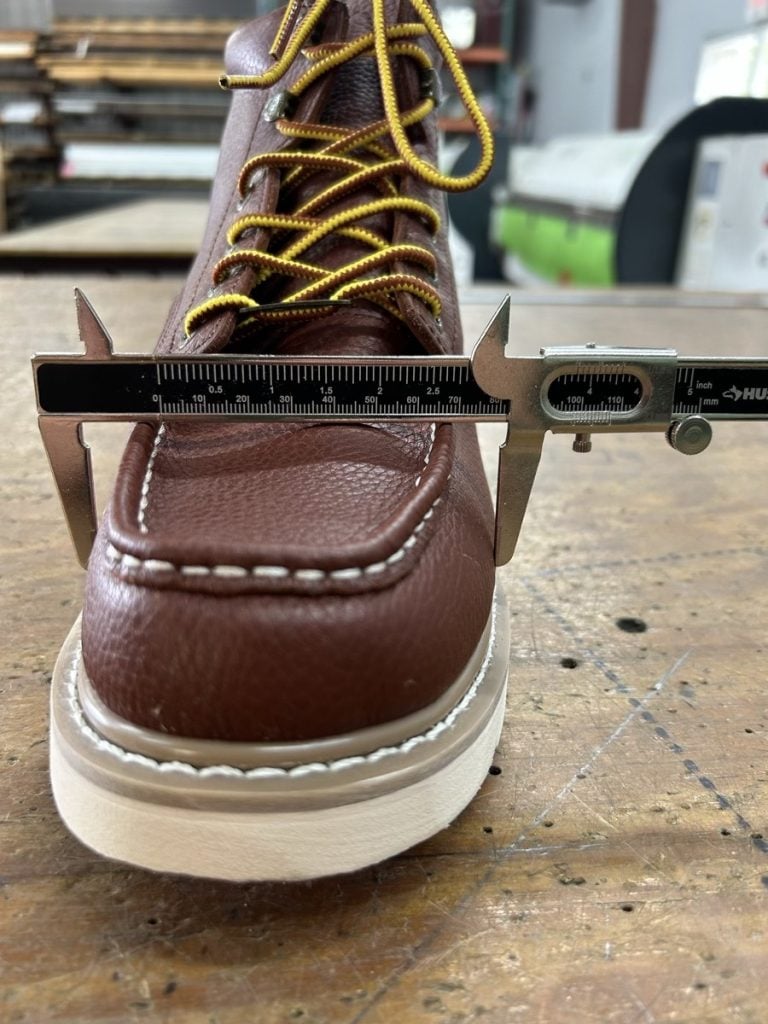 RockRooster Work Boot Safety Features
In this part of the review we'll see what safety features these boots have so you know if it will meet your employer's boot requirements, assuming they have any.
Steel Toe
The Walker moc toe and it's waterproof variant the VAP360-II do not have a safety toe. They are both soft toe only. RockRooster does offer some safety toe options such as the VAP621.
ASTM EH Rating
The Walker and the VAP360-II are ASTM compliant for electrical hazards. ASTM 2892 EH rated boots means they provide protection against electrical shock up to 18000V.
Slip Resistant
The boots are advertised as being oil and slip resistant, however there are no markings on the boots that indicate they meet ASTM standards for slip resistance. So if your employer is the type of place that will check the label to see if the boots are compliant, these may not be for you.
Do RockRooster Boots Run Big?| Sizing & Fit
Unlike RockRooster's Chelsea boots that run big, the VAP360 Walker boot runs a little short.
I ordered the boots in 11.5, my true to size fit, and they were right at the cusp of being too small. I think the reason the boots feel like they run small is because the liner and massive insole take up so much space inside the boots.
I recommend going up a half size from your Brannock/true size, especially if you like to wear thick wool socks.
[Further reading: Do Boots Run Big or Small?]
Are RockRooster Moc Toe Boots Waterproof?
The VAP360 Walker is not waterproof, however, the VAP360-II variant is waterproof.
Weak Points
I alway try to identify weak points in each boot I review that could be problematic down the road. My two main concerns for these boots are the thin leather and the plastic welt. It won't take much to puncture leather that is as thin as 1.6mm.
As far as the plastic welt goes: if it cracks, which welts made of synthetic material are prone to do, it will make the resole cost more than the boot is worth.
How Much Do RockRooster Boots Cost?
This particular pair cost a very affordable $124.99. In fact most of the RockRooster Walker Moc Toe boots are very budget friendly and cost less than $150.
Final Thoughts
I know I had some harsh opinions in a few parts of this review about these boots but that's what I'm here for. To give you the facts whether it's good or not. So despite my criticisms, I think the boots are good for what they are: dirt cheap Moc Toe boots.
I personally wouldn't put them through any serious work where they'll face a lot of abuse nor would I recommend them for such work. But, if you work at a place like Home Depot or Lowes, the RockRooster Walker Moc Toes would be a good choice. Delivery truck drivers, service industry and a clean manufacturing environment are places where these boots would do well. If you need a steel toe, try the similar Norwood and if you need waterproof, try the VAP 360-II.
They are also stylish enough to wear casually — I mean someone did think they were Red Wings after all! So if you need a budget friendly casual boot, they would even make a good option.
Frequently Asked Questions
Where are RockRooster Boots Made?
Most RockRooster boots are made in China., though some are made in Vietnam.
Do RockRooster Moc Toe Boots Run Big?
No, I actually recommend sizing up a half size.
Can You Resole RockRooster Moc Toe Boots?
Yes! The Goodyear welted construction means they can be resoled. However it's probably not worth it since the boots are so cheap; a resole might cost more than simply buying a new pair of boots.