For the longest time, newcomers to boots defaulted to the Red Wing Iron Ranger for their first boot. But since the arrival of Thursday Boot Company, there's a new standard.
Their direct-to-consumer strategy helps keep quality high and prices low, which is alluring to any customer. But the design and comfort have also disrupted the industry as they introduced a slimmer silhouette and EVA foam to heritage footwear, making for a streamlined, comfortable, low cost boot that has become ubiquitous on city streets.
Currently, the brand offers two low profile cap-toe boots: the Captain and the Vanguard. When trying to decide between the two, what do you need to know?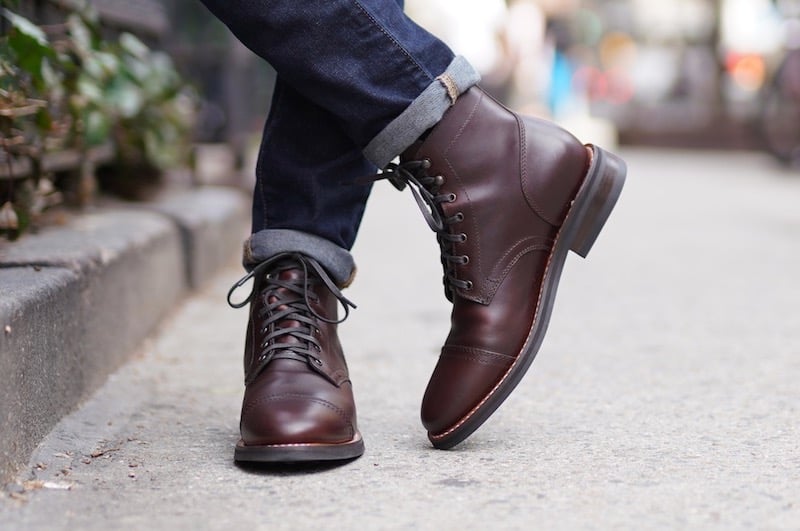 Thursday Captain Overview
This is Thursday Boots' flagship model. Like most of Thursday's catalog, these are made in Mexico. The Captain is super versatile and works well with almost any casual outfit. Here are some reasons why you should or shouldn't buy the Captain.
Pros of the Thursday Captain
Very affordable, Goodyear welted boots ($199)
Lots of colors and leathers to pick from
3 different types of soles to pick from
Standard and Wide widths available
Comfort oriented design
Cons of the Thursday Captain
The Captain's cons are not necessarily factors that make it a bad boot. The cons on this list are more akin to trade-offs that you get for benefitting from another aspect of the boot's value.
Some prefer heavier, traditional boots
Some prefer American made boots
Thursday Vanguard Overview
The Vanguard is Thursday's more robust cap-toe boot. It is based on American service boots from the 1940s and it is one of the brand's only American-made models.
Pros of the Thursday Vanguard
The boots are Made in the USA
The leather on the Vanguard is slightly thicker
Slightly higher heels for comfort
More traditional build; thicker cork
Cons of the Thursday Vanguard
No wide widths available
No speed hooks
Less shock absorption than Captain
Pricier than the Captain at $265
Thursday Captain vs Vanguard: The Construction
On the surface, the Captains' and Vanguards' construction are very similar. They are leather lined, 360-degree Goodyear welted, have a layer of cork under a shock absorbing Poron insole, and are stabilized by a steel shank. But there are several differences that the casual observer may miss.
Captain's Construction
Under the insole, the Captain has a layer of comfort EVA foam before the cork midsole. This layer of EVA foam makes the Captain super comfortable right out of the box. This is one of the reasons why many people do not experience a break-in period.
Over time, the cork midsole will also mold to your feet making the boots even more comfortable.
Vanguard's Construction
Everything in the Vanguard is American made, even the sole components. This means there's a different kind of foam and cork, and although the average person probably won't notice much of a difference, the Vanguards feel closer to traditionally made boots; which is to say they're a tiny bit harder underfoot than the Captains.
The Captain has an EVA strip over a Poron and cork-filled midsole — that's two kinds of shock absorbing foam. The Vanguard has the Poron but doesn't have that EVA, instead containing more cork. So there's extra cork instead of the EVA.
This is great for guys who like the feeling of more old timey boots that their Grandpa wore, though coupled with the thicker leather, the break in might be a tad tougher. To be honest, though, the break in has more to do with which leather you pick.
Thursday Captain vs Vanguard: The Leather
Both styles use full-grain leather sourced from Tier 1 American cattle, however, depending on the boot and makeup, the leather will be tanned by a different tannery.
Captain's Leather
Thursday Boots puts their Captains' leather into two categories: the Classic collection and the more hard-wearing catalog that they called their Rugged and Resilient line.
The Classic leathers include suedes and smooth, while the Rugged and Resilient line are hardy, oil tanned leathers. Thursday's suede is from Alfamex, while their smooth leathers come from several tanneries bur largely Lefarc and Horween.
Thursday Chrome Leather
This soft and supple leather is made using combination tanning. Combination tanning is when the hide is partially chrome-tanned and then vegetable tanned. This process produces a hardwearing pull-up leather with a unique sheen. Since this leather will become lighter and softer as it ages, it is a great material for casual boots.
Thursday Chrome Leather is often compared to Horween's Chromexcel leather. They are both combination tanned and look and feel very similar, though Thursday Chrome, named "Brown" on their site, is closer to a burgundy.
Weathersafe Suede
This is a suede developed by Alfamex for Thursday Boots. This particular suede is tanned with hydrophobic compounds to make it super water-repellent. As moisture makes contact on the surface, the oils and waxes act as a barrier between the leather fibers and water particles keeping the leather dry. This gives the appearance of suede, but without the stress of caring for it.
Rugged & Resilient Leather
Rugged & Resilient leather is oil tanned, making it extra hardy. Its greatest selling point is that they're designed to be 100% hassle-free. They age nicely and do not need a lot of care — in fact, Thursday Boots even recommends that you do not need to condition it at all.
Vanguard's Leather
The Vanguard, as the less popular and more expensive boot, comes in fewer leathers: six versus the Captain's fifteen at the time of writing.
True to its homegrown slant, most of the Vanguards are made with leathers from Horween Leather Company, America's most beloved tannery. They're famous for their Chromexcel leather, which is available on three Vanguard models — just one of the Captains comes in Chromexcel.
The Vanguard, as the less popular and more expensive boot, comes in fewer leather
Many of the leathers on the Vanguard aren't used for the Captain, including an impressive, dark brown waxed flesh called Cacao that's prized by boot nerds worldwide for the way the wax wears away with age, bringing out the natural nap of the roughout.
Horween Chromexcel
This is Horween's most popular leather. It has a smooth texture and a very alluring sheen.
Despite its soft appearance, this leather is extremely hard wearing and it looks better with age. That is because as aniline leather, Chromexcel will develop a natural gradient as the dye shifts around during use.
The Vanguard is available in three Chromexcels: a brown French Roast, a burgundy Color 8, and an exclusive Indigo that Horween produces just for Thursday Boot Company.
Thursday Captain vs Vanguard: The Outsole
Outsoles are one of the key elements that determine how durable, sturdy, and stylish a boot will be. Thursday Boots understands this and do an absolutely stellar job at developing and picking the right soles for each one of their boots.
Captain's Outsole
The Captains come in two soles: the standard Thursday Studded Rubber Sole you see above and the StormKing Rubber Lugged Sole.
Studded Rubber Sole
This is Thursday Boot's most used outsole. Appearance and comfort-wise, it looks very similar to Dainite rubber soles and for the most part, the comfort comes close after breaking them in. Over the years, the brand has changed the rubber's compound but every iteration has been able to grip surfaces very well despite looking flat when viewed from the side.
The first versions of this sole were made from a softer rubber for unrivaled comfort but the brand has since re-engineered the material so it's both bouncy, oil, electrical, and abrasion resistant. The recessed lugs are also water displacing, making the overall boot more water-resistant.
StormKing Lugged Sole
Four of the Captains (at the time of writing) also come in a StormKing Lugged Sole. This is a rubber sole with thick treads for better grip and traction. While it's more supportive, the trade-off is that you lose the stylish stacked leather heel for a rubber one.
Thursday Vanguard's Outsole
Most of the Vanguards utilize the same Studded Rubber Sole as the Captains, but there is also an option for the Vibram Fighter sole you see above.
Vibram 2040 Fighter Sole
This sole is specifically used on the Waxed Cacao colorway of the Vanguard. The Waxed Cocao Vanguard is the most rugged-looking boot in the collection. It draws influence from old-school logging boots and even has a stacked Cuban heel.
The Vibram Fighter sole is composed of hard rubber material and it provides half the boot with supportive lugs. Like all Vibram soles, this sole is slip-resistant, as well as oil and acid resistant.
Thursday's Captain vs Vanguard: The Sizing
Over the years, customers were noticing that between year to year, Thursday Boots fit slightly differently. The reason for this is that Thursday Boots is constantly updating their lasts, materials, and designs based on customer feedback.
In their most recent (early 2023) community update, they mentioned that they will be redoing the last for their Captain Rugged & Resilient (R&R), and Captain StormKing models. The reason for this is that many customers felt there was not enough room in the toes and that the toebox appeared too round.
Captain Sizing
For the Captains, models with different soles and leather may fit slightly differently. However, this doesn't mean they warrant picking a different size from style to style.
For most people, sizing down half from your Brannock size would give an ideal fit. For example, if you're a size 8.5D on the Brannock device, then size 8D would fit you across all Captain styles.
Note that if you're new to boots, your Brannock size is what measures your foot in a shoe store, and it often doesn't line up with your sneaker size. Sneakers tend to run small, requiring you to size up, while boots tend to run large, requiring you to size down. I'm a 12 in a lot of sneakers, an 11.5 on Brannock, and 11 in Captains.
In regard to people with wide or narrow feet, this is what Thursday Boots had to say when we reached out:
Many customers who wear EE widths have had success ordering ½ size larger to accommodate their feet for footwear in our Standard width. Similarly, many customers who purchase C widths have had success ordering ½ size smaller to accommodate their feet for footwear in our Standard width.
With that said, several Captain models are available in wide widths, an important difference from the Vanguards.
Vanguard Sizing
The Vanguard's sizing has been more consistent throughout its production run.
Previously, the Vanguard fit more narrowly than the Captains, however since a last upgrade from the Captain a few years back, the sizing is now the same.
Buy the same size that you would get for the Captains. That is, for the Vanguard go down half a size from your Brannock size.
Remember, the Vanguard isn't available in wide widths, but sizing up should help if you're an E or EE.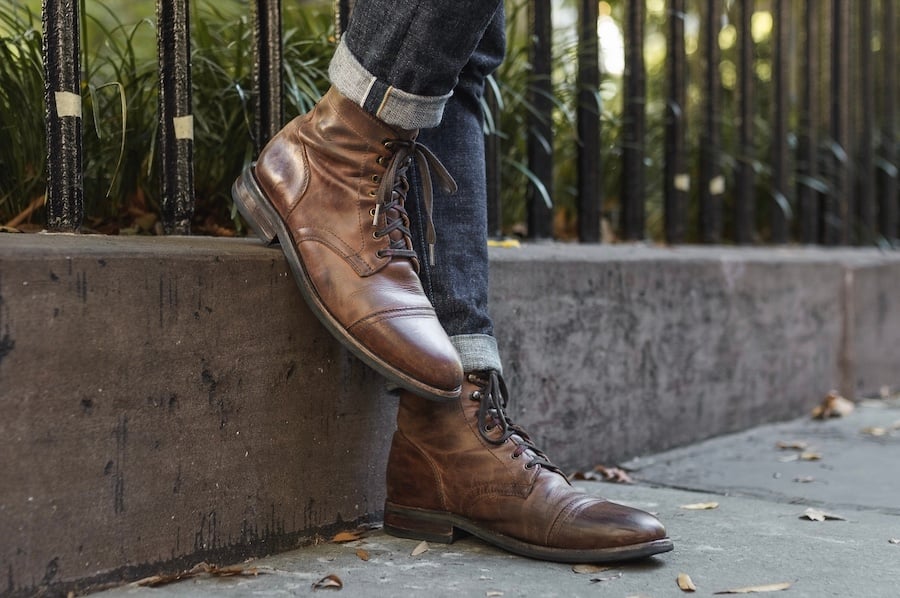 Which One Should You Get?
Thursday Boots really changed the footwear game when they entered the scene by offering consumers affordable Goodyear-welted boots.
For under $200, the Thursday Captains really is a no-brainer purchase if you're someone looking to buy their first pair of boots. They are super comfortable as soon as you take them out of the box as they require no break-in at all.
For the people who are well-versed in boots and want to try Thursday Boots, then the Vanguard will be something that will look and feel familiar. The leather is thicker, they're made in the USA, and they have sturdy outsoles and a dense cork midsole. They will require a short break-in period but once they are fully broken in, you would not want to take them off.
Either way, both boots are extremely affordable and worth every penny.
Frequently Asked Questions
What material is Thursday Captain Boot?
The uppers are made from Tier 1, full grain leather from US hides.
Are Thursday Captains true-to-size?
Generally, you should order a half size smaller than your true size. Get measured on a Brannock device to make sure you're not confusing your sneaker size for your true size, as sneakers tend to be larger.
Are the Thursday Vanguards made in the USA?
Yes, the Vanguard and Logger boots from Thursday are made stateside.
Are Thursday Boots comfortable to walk?
Yes! The layered cork midsole provides excellent comfort and will mold to the shape of your feet over time, while the EVA insole helps absorb shock better than traditionally made boots.