Truman Boot Company is a an American company that's currently based in Boulder, Colorado, although it was founded in Pennsylvania by Vince Romano who named the company after his border collie.
There's a widespread rumor that Romano once worked at Viberg, and he has told me in no uncertain terms that this is patently untrue. But Truman is frequently compared with the Canadian stalwart because like Viberg, Truman's shoes have extraordinarily solid construction and pretty heavy soles, but for a much lower cost to the consumer. (Don't miss my review of the pretty damn overpriced Viberg Service Boot here.)
Founded in 2014, Truman is also about a hundred years younger than Viberg and while they don't offer a huge amount of aesthetically different styles, they do have an impressive array of unique and interesting leathers like moose leather, green mohawk leather, a bright yellow horse rump leather, and the boot we're looking at today: the Java Waxed Flesh. Since this is the boot that I've found to be the most frequently discussed over on Reddit, I decided to try it out.
Truman's Java Waxed Flesh is one of my 5 favorite boots of all time — see the rest of the list!
Truman Boot Company First Glance
Chunky tank of a boot
Thick waxed leather
Wide counter
Commando sole
Stitchdown construction
This style is what Truman calls the "front range boot," which is just their name for their traditional boot with a structured toe. (The company's workers live and work on Colorado's Front Range, which is part of the Southern Rocky Mountains.)
There are rawhide laces, seven pairs of eyelets, none of which are speed hooks — so it's a little annoying to take off and put on — and the sole is a thick, chunky Commando that has extraordinary grip. "Thick and chunky" are the main words that come to mind when describing the boot overall, particularly the counter (heel) which is unusually wide.
Another similarity with Viberg's Service Boot is the fact that instead of going with a traditional Goodyear welt there's a double stitchdown instead, which has its own pros and cons that I'll discuss in the "Sole" section below.
As far as quality control goes, though, it was immediately apparent that the shoes are asymmetrical — the lines of stitching on the welt are much closer together on the left boot than the right. I doubt this has any implications for durability, but it's a little annoying to see on boot that cost over $400.
To sum up: the leather is thick, the sole is heavy, and these are just a pair of boots you just want to immediately take outside and abuse. (In a good way.)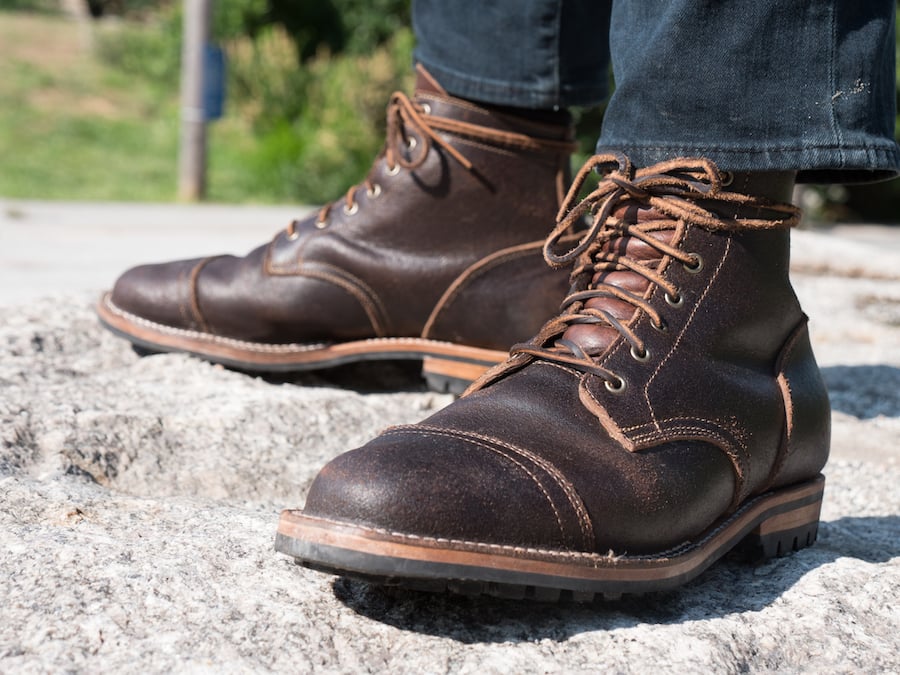 Truman Boot Company Leather
Roughout leather
Exclusive color from Horween
Vegetable tanned
Waxy finish
This here is the Java Waxed Flesh, an exclusive color for Truman that's produced by Horween Leather Company. Horween is a truly beloved institution in leather that's based in Chicago and makes the leather for the vast majority of the boots that I own. They're probably best known to boot lovers as the makers of Chromexcel®, a combination-tanned leather that's famous for its rich depth of color, but this is a vegetable-tanned roughout leather.
This is actually my first pair of roughout boots, and they're rough to the touch because this leather comes from the underside of the hide's grain. If you think of a hide as a loaf of bread, most boots use what would be the "crust" on the outside but roughout uses the "bread." (Note that this is not the same thing as suede, that's made by splitting the leather, so it's not as thick as roughout. Learn more in my kickass guide to leather myth busting.)
Why use roughout? It wears very well and it doesn't require very much care, which is one reason why you often saw it on soldiers' boots during the World Wars. (Who wants to carry Venetian shoe cream all over Normandy?) In other words it's usually used on boots that need to hold up to beatings and rough weather, and it might be useful for guys who don't like thinking that much about leather care. The resistance to the elements is enhanced by a very waxy finish that's applied during the finishing of the tanning process, coating the boot and resulting in a light sheen when the light hits it right.
Of course, you should still consider taking care of that wax.
Truman Boot Company Leather Care
Avoid petroleum products
Use Bick 4 or Smith's Leather Balm
Wax may eventually wear away
While Roughout is sometimes a favorite of guys who don't love spending too much time taking care of their boots, and the wax is pretty resistant to water and muck, Truman Boot Company did give me a few pointers for leather care.
Avoid putting petroleum products on this leather. Instead, they happily recommended two products, which makes things easy: Bickmore's Bick 4 Leather Conditioner or Smith's Leather Balm. Treat the leather like skin, moisturize it when it needs it.
Now, does the wax wear away? Yes, over a long time with hard wear. It might take years, it might take one awful winter, it's hard to really know. Here's what they look like after a couple of years of solid wear.
To extend the leather's life as long as possible make sure you regularly clean and condition the leather, keep salt from sitting on them, and let them rest in shoe trees a day between wears — they help keep the boots from getting too moist.
When I asked Truman if they can reapply the wax they said said no, and a lot of people told me that once it's gone, that's it for your wax finish. That wouldn't be the end of the world, but others have said wax can be reapplied by a good cobbler. Even if it can't be, there are still plenty of waxes and creams you can use to extend its life.
[Related: My list of The Best Boots]
Truman Boot Company Sole
Commando sole
Designed for hiking
Not dressy, very grippy
Leather midsole and insole
Stitchdown construction
This is a Commando sole, patented by Vibram and widely considered the classic sole for working or hiking. As you can see in the images, stuff gets stuck in the grip pretty easily and it's not remotely formal or dressy, but the upside is it is very grippy.
(Not so fun fact: Italian inventor Vitale Bramante invented this sole after six of his friends died in a climbing accident in the 1930s. So he made this sole because he thought they wouldn't have died if they had grippier shoes.)
After the Commando sole you've got a leather midsole and a leather insole, is a type of layering that has traditionally been very popular in old fashioned workboots and which is often favored by people who have to work on their feet. There's also a steel shank in there for stability and arch support.
Then there's the stitchdown construction. Often contrasted with Goodyear welts, which have an extra layer between the upper and the sole, the stitchdown has threads going right from the upper through the outsole. It's still pretty water resistant but it might be a little harder to resole. Of course, the outsole is tough as nails, so you probably won't need to resole for quite a while.
Truman Boot Company Fit & Sizing
Widths in B, D, EE
Fits roughly true to size
Not much of a break in
Very large, thick counter
The sizes can change at any time but right now they run from 5.5 to 14 in B, D, and EE widths. I'm about an 11.75 on a Brannock device and most of my boots are a size 11 because boots tend to run large. Truman advertises this shoe as true to size, and the 11.5 fit well and was pretty comfortable, with one complaint.
The counter is really big and really thick and really wide. If you look at the shoes from above, it's not a natural shape for a foot: it sort of flares out around the heel. I didn't have any issues in the toebox but around the heel I found I slipped a little.
I'd have liked to try a B width to see if that would have fit better, but since Truman made these shoes for me from scratch, I would have felt bad about returning them. But that's all on me — the company does state you can exchange them within 7 days of receiving them for a full refund. You do need to do so by then.
See more: The Ultimate Guide to How Boots Should Fit
Truman Boot Company Cost
The price can change at any time, but right now a pair of these will run you $440. They used to cost $520, but the price has dropped steeply. That's what they cost on their website and I haven't seen them for sale anywhere else. At about $250 less than Viberg, they're clearly winning in the unofficial battle that's going on between the two.
While we're talking about purchasing, a potential downside of this brand is that there's a good chance you'll have to wait for the boots to be made after you buy them. That's not always the case — they do have boots lying around that might be in your size — but you should not be disappointed if you have to wait about 5 weeks from ordering the boots to them actually arriving at your door, which is how long it took for me.
The Verdict
These are solid-ass boots. Maybe they're not super versatile; that Commando sole and wide looking last mean they certainly won't work in your office. But they are boots you can wear with a t-shirt, which is a rare thing.
They'll age extremely well, they'll do great in the yard or with jeans at a bar, the sole is tough as nails and very durable, and I'll admit it's nice to wear an exclusive color from Horween.
That big heel is pretty hard to get past and it remains my least favorite thing about the boot. It's also why I'm personally unlikely to take them hiking or do anything particularly demanding in them, but Truman are happy to take returns so if you're bold enough to send back a pair that won't fit and money is no object, they're certainly worth trying out. Just don't wear them with slacks.
The following two tabs change content below.
Nick English
By day: Manhattan-based journalist with reporting experience on four continents, published in Vice, Men's Health, Popular Science, and a bunch of other places.By night: ravenous consumer of anything and everything related to high end men's boots.Stridewise is where I nurture a maniacal obsession with footwear and share my findings. Say hey:
[email protected]
Latest posts by Nick English (see all)