Red Wing embodies American heritage boots perhaps better than any other company, which is why it has such a dedicated following in… Japan.
Part of the Amekaji subculture, there are dedicated niches in Japanese fashion that revere the rugged, well made, patina-ready workwear apparel popular among the American working class during the early- to mid-20th century. Japan has some hardcore Red Wing super fans, even publishing magazines dedicated to the brand.
Red Wing grew in popularity so much that there are many models that are only available in Japan, though often buyable from Red Wing's Singapore website. These boots use leathers and lasts that aren't available to the US public — and we visited Red Wing Heritage NYC in Soho to get our hands on some of the rarest of the rare Red Wings. According to the store's own employees, these are the best Japanese Red Wing boots.
So here are 10 perfect, or nearly perfect boots made only for this demanding, perfection obsessed market.
[Some Japanese boots are available at Grown and Sewn, the site of Red Wing Heritage NYC]
9893: Irish Setter (Oxford Black Abilene)
The 9893 honors Red Wing's classic moc toe boot, released in 1952 when Red Wing introduced the white, flat-bottomed, cushioned wedge sole built in the moccasin style that's so popular today. It was marketed to hunters and named after the Irish Setter hunting dog.
The 9893 Moc Toe Oxford is quite different from the American Oxford (above). The first different is the American version is double welted, while the 9893 is essentially a six-inch moc cut down to a low shoe. The classic 6-inch moc, and the 9893 both have a single welt, the heel is the same, the slim profile is the same, the last is the same, it's just cut down much shorter than the 6-inch boot. While they are fairly different, both are built on the same roomy, number 23 last.
Other than the height, the 9893 has an unusual leather for the US market called Black Abilene, which is a fuzzy rough out leather. Rough out leathers are super durable and they age really well, developing more character as the fuzz smooth down and change appearance. The Japanese Red Wings' designers choose leather for the boots' function as well as the aesthetics. In this case, a rough out leather would hold up against the wear and tear of tromping through fields while hunting, and the hard use would develop a unique patina.
Although, like all of these boots, they're made in the United States, they're only sold overseas — in this case, for an exclusive retailer called Ships in Japan.
8173: Moc Toe (Hawthorne Abilene)
We've got another Moc Toe called the 8173. This is a regular moc toe like you would get from your classic 875s but in a light tan colored rough out leather.
Guys like it because it's a rare and unique take on the 875 with leather that's not available in the States. Sometimes the Japanese styles don't change much from the classic American styles. (This isn't always the case though, as we'll see with the last few entries that revived old styles of American footwear.) So sometimes only the leather changes, or the hardware might be different, or you may get a different sole. With this shoe, it's all about the leather.
This Hawthorne Abilene is a very nice leather that comes from SB Foot Tanning . The leather is basically the Hawthorne Muleskinner that's relatively popular on American Red Wings, but without the wax applied, which darkens the color and slightly boosts water resistance. It's not available in the States.
[Related: 5 Things You Don't Know About Red Wings]
8011: Munson Ranger (White Ash Settler)
The Munson Ranger is built on the Munson last, so it's an extremely comfortable boot. Why? It's an old military last developed by a doctor who wanted to make a comfortable boot for the largest possible variety of foot shapes. He did this by measuring hundreds of thousands of men in the military, doing some math, and figuring out that this roomy boot was the perfect shape for the largest cross section of men. While some lasts are shaped for fashion and aesthetics, this one is renowned for its comfort, originally designed for marching or working for long periods of time.
CJ Cook, a prominent Red Wing collector, sums this boot up as if the Iron Ranger and a Beckman had a baby. It has the high quality leather of the (now discontinued) Beckman boots, and then the styling of an Iron Ranger. — some call this the Rolls Royce of Iron Rangers.
They add a bit of style with enamel speed hooks and broguing the toe cap. This sort of toe-cap was a staple style during the 1920s and 30s and used to be very well represented well in the Red Wing catalogues.
The leather, called 'White Ash Settler,' is also rare. It could be described as light-tan with tints of fawn and copper, but if you're only checking out Red Wings in the states, this isn't something you're going to see.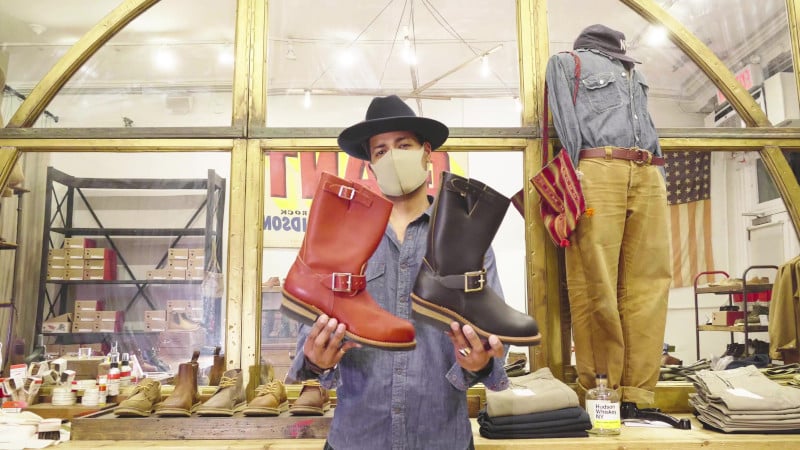 8271: Engineer Boot (Oro Russet)
We've got two Engineer boots, first up is the 8271, originally developed as protective footwear for firefighters and engineers on steam locomotives. The Engineer's pull-on styling and minimal stitching was designed to protect feet from hot embers and other rail road related hazards. A lot of Engineers released in Japan have steel toes to keep the design true to the heritage.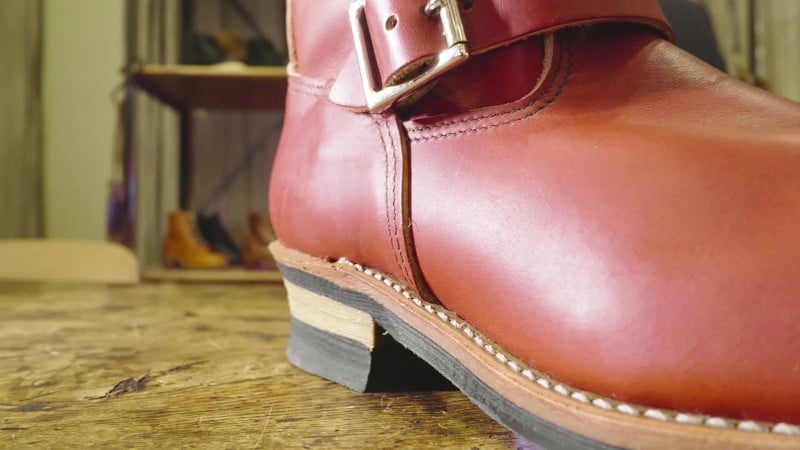 The 8271 has one of the company's most famously rare leathers, called Oro Russet. I'm not sure why this bright red color isn't more popular in the States, but collectors truly covet this beauty.
2966: Engineer Boot (Black Klondike)
The 2966 comes in Black Klondike. This one isn't a steel toe, instead designed with the less structured flatbox style — let's be honest, most guys don't need steel toes, and the flatbox Engineers have a roomier toebox that's considered more comfortable to walk in.
The leather here is also notable because Black Klondike is a teacore leather, which means the black is "painted" over brown leather, so as the boot ages and scuffs you'll see the brown revealed underneath.
The stacked and fluted "Woodsman heel" is also worth noting. The Woodsman heel tapers in, as having a tall tapered heel was useful while working on the railroad because they help to reduce heel drag and made it easier to walk on ground that was uneven or wet. These heels are also popular on logger boots.
Note that this boot is very difficult to break in.
[Related: 12 Tips for Breaking in Tough Boots]
9063: Beckman (Teak Featherstone)
Is the Beckman the perfect boot? Lots of guys think they are: and the Beckman's attention to detail is amazing. The leather, the unconstructed toe box, and the hardware work together to make a true symphony of a shoe.
Named after Red Wing's founder Charles Beckman, the "Flatbox" is based on a boot style from the 1920s and 30s. During this time, about half of Red Wing 6-inch toe boots had these "flatbox" features. "Flatbox" basically just means that the boot doesn't have a toe box. They are easier to break in because they don't have a rigid molded plastic or canvas in the toe box and they are more comfortable to walk in.
9060 Beckman Flat Box (Black Klondike)
The 9060 a perennial favorite as far as Red Wing boots are concerned. People love the teacore leather because of the way it ages and the patina it develops. This boot was built to age, and as the brown is revealed beneath the black, your boots acquire a harmonious story that sees brown play off of the enamel hardware and tonal stitching.
This Beckman went off the American market for a long time at Red Wing, although it's rumored to be making a return. It's not totally dissimilar to the very popular Blacksmith boot, but it's considerably less "chunky" and looks more at home in the city than the work boot-esque Blacksmith. It's also based on the Munson last, so it fits a wide variety of feet comfortably.
It's a very subtle design and people were a bit upset when it was taken off the market, because it really hits all the right notes as a boot that's a bit dressier but it's not a dress boot, per se.
[Related: The 10 Best Dress Boots for Men]
9077: Mil-1 Congress Boots (Black Cherry "Featherstone")
The 9077 is based on a type of boot that was popular from the end of the 19th century to the early 20th century. Built on the Mil-1 last, they were designed for military officers, and are more formal than a lot of Red Wing boots on the market.
The lightweight and durable Black Cherry "Featherstone" is considered a dress leather and was made by the S.B. Foot Tannery, based in Minnesota's Featherstone Township. They also come with Gro Cord Medallion outsoles made from offcuts from left over cord that's mixed with rubber, providing a fair amount of grip as you walk.
It's Chelsea style boot that was popular with the upper class, particularly politicians, hence that name: the Congress Boot.
8826: 1920s Outing Boot (Teak "Featherstone")
The 8826 was released for 2018 the Fall/Winter season in Japan and Singapore. It revives another old American style of boot called an Outing Boot. They were created as lightweight, flexible sport boots, almost like modern running shoes in boot form. In those days they served the same market niche as sneakers, and their utilitarian design made them fantastic everyday footwear.
Like the Beckman, these were built using the comfortable Munson last and an unstructured toe box. The Munson last provides more room in the toe. By not including the rigid material found in structured toes, they are more suitable for moving quickly because weight is shifted onto the ball and toes during your stride. As your toes spread out when weight is shifted to the forefoot, a structured toe would be too narrow and stiff.
They also the have unique soles called Gro Cord King-B, like the other Gro Cord they made from left over cording. Unlike the regular Gro Cord, they have a deeper lug, so athletes can get better traction when playing baseball, football or hiking.
While these boots seem very designed to be worn outside (at least to boot nerds), they come in the lovely smooth Teak Featherstone leather. There are two other 'Outing Boots' that are both are lovely in their own way: the 8825 comes in Black "Prairie" leather with tonal stitching, the 8827 comes in a more rugged Hawthorne Muleskinner rough out leather, perfect for taking outdoors.
8070: 1930s Sport Oxford (Black Klondike)
The 1930s Sport Oxford was a popular style of shoe pre-WWII. Like the Outing Boot, these were designed for outdoor sports. They have a flatbox, unstructured toe, and luggy Gro Cord King-Bi soles. They're built on the famous Number 8 last which has a roomy round toe that works well for walking.
One thing I really geek out about with these Japanese Red Wings is the attention to detail. This shoe was recreated to pay homage to the functionality and design of classic early 20th century outdoor wear. Every detail of the shoe, from last to leather, was chosen carefully.
Since these are made with that Black Klondike teacore leather, the more damage these shoes experience while playing sports and being active, the more color variance they'll attain, and the more your sporty life is made apparent!
Wrapping it Up
I wish I had them all, but I don't — they're only available in Asia. Sometimes you can pick them up at speciality Red Wing stores like Red Wing Heritage NYC, so check out what's available at Grown and Sewn. (Their store is in the Red Wing store and they manage sales for the place.) The attention to detail isn't just a merchandising or marketing gimmick, but it's a result of a shared passion between Minnesota and Japan for recreating functional, historically accurate, and aesthetically pleasing footwear.
The following two tabs change content below.
Nick English
By day: Manhattan-based journalist with reporting experience on four continents, published in Vice, Men's Health, Popular Science, and a bunch of other places.By night: ravenous consumer of anything and everything related to high end men's boots.Stridewise is where I nurture a maniacal obsession with footwear and share my findings. Say hey:
[email protected]
.
Latest posts by Nick English (see all)