This boot is handmade in Italy, made with your choice of suede or full grain leather, it's able to be resoled, and it costs just $215. All of this is hard to believe at this price point, so I did a lot of digging to try and find as many answers as I could.
The long and short of it? Astorflex, despite a terrible brand name, make legitimately great footwear at a shockingly low price. It has some downsides, but nowhere near as many as it should for a boot at this price point — I'd expect it to be made in China if it were $215, but this is made by a family of shoemakers that has been honing their craft for generations, and their passion for footwear shows.
This is the Bitflex from Astorflex.
Astorflex Background
Based in Northern Italy
Family has been making shoes since 19th century
Casual wear focus, especially chukkas and loafers
Big emphasis on crepe soles
Astorflex the brand is a little hard to learn much about because their website is mostly in Italian or broken English — but hey, that's the kind of authenticity a lot of guys love from their brands!
I was able to figure out the company is run by Fabio Travenzoli, whose family has been in Castel D'ario in Northern Italy making shoes since the 19th century. The wording suggests that this company, Astorflex, was founded in the 19th century, but there's no way anyone was calling companies names like "Astorflex" in the 1800s. I imagine this company is a little like Carmina in Spain: their family has been making shoes continually there since the 19th century but the company technically had a couple of different names and iterations throughout the decades.
As you can see in this video footage, they are indeed handmade in a cool factory in Northern Italy about a hundred miles east of Milan. They have a range of different styles and what they all seem to have in common is an emphasis on flexibility, partly from a big focus on crepe soles, and while they've got a range of leathers, suede gets the spotlight at Astorflex.
I was familiar with their chukkas and travel slippers but since I'm on a Chelsea kick, I grabbed their "Bitflex" boots.
Astroflex Bitflex Style
Rounder toe than most Chelsea-style boots
Spongy crepe sole
Better for casual environments
At first glance, you'll note that these have a wider toe than Chelsea boots tend to have, which tend to taper for a more "elegant" aesthetic. This may be because Chelseas didn't start out as work boots: they were Victorian walking boots pioneered by the Queen of England. Chelseas don't have as much work boot DNA as a lot of welted boots out there, and as such you're more likely to see them geared to city folk and built on sleeker lasts.
Good examples are Carmina's famous Chelseas, but even Taylor Stitch's pretty rugged Chelseas, which I adore, have that fairly narrow almond toe. The Bitflex's toe is more round and while it's not as bulbous as Red Wing's Classic Chelsea, there is more room for your toes in these than a lot of competing models. That's a bonus for comfort, just know that it makes them extra casual.
[SHOP THE ASTORFLEX CHELSEA BOOT HERE!]
Astroflex Bitflex Sole
Soft, comfortable crepe sole
Gets dirty easily
Another casual thing about these boots is the crepe sole, of course, which is nice and soft and cushy, as crepe soles are wont to be. The porous rubber also sucks up a lot of dirt, as crepe soles are wont to do, so don't expect the outsole to maintain its caramel color for very long. Crepe soles are much softer than other boot soles like leather or even other rubbers, with the downside being that they're not quite as durable and don't perform that well in water. In short, they absorb what you throw at them: the good (shock) and the bad (dirt and water).
[Related: The Complete Guide to Crepe Soles]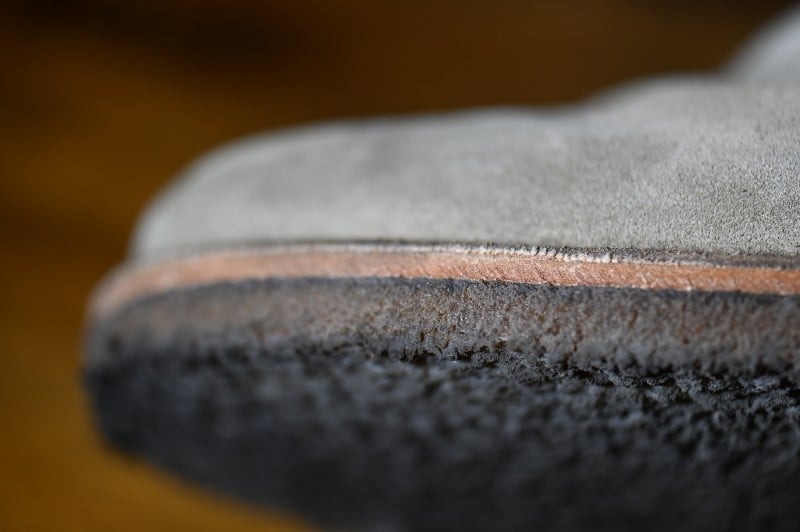 Astroflex Bitflex Construction
Unusual stitchdown construction
Resoleable
Now, I had a really hard time figuring out this construction. If a boot is resoleable, usually that's advertised pretty prominently, but it isn't stated anywhere on Huckberry or Astorflex's site. This led me to assume these were cemented soles with a fake stitch running around the perimeter, which would make sense given how inexpensive these boots are. But after lots of prodding and going back and forth with their retailer Huckberry, I found out they're made with a form of shoe construction that I'd never heard of before: ideal stitching.
It's considered a kind of stitchdown, and very few manufacturers use it. According to findsourcing.com, it features an outsole with an offset in the tread pattern, leaving room for a heavy stitch to stitch down the upper to the welt and through the outsole. There's no stitching through the outsole, so I'm inclined to believe it's stitched through this vegetable-tanned leather midsole you can see above, and then the crepe sole is glued on.
Astrofelx Bitflex Leather
Advertised as eco-friendly
Likely combination tanned, very little information to confirm though
Here I want to talk about the brand's eco-friendly bent. They talk about it a lot, justifying the marketing by noting the glues they use are water-based, the lining and insoles are vegetable tanned, and the rubber is natural. There are pretty good arguments for crepe rubber, being made from rubber trees and not petroleum, is an eco-friendly alternative to more industrial rubbers.
But despite many e-mails to Huckberry, I couldn't confirm how the uppers are tanned. The site says that the lining and insoles are vegetable tanned (and therefore hypoallergenic) but I couldn't get any information like that on the uppers. I'm confident they're chrome tanned, if it matters to you. It doesn't matter a ton to me if the leather's from somewhere like Italy, because they have fairly stringent rules about tannery regulations and ensuring there are no pollutants produced or leached into waterways. That said, no one could tell me where the leather is even produced.
In any case, chrome tanning makes for softer leather that's easier to break in, and I didn't have any break-in issues with these.
[Related: Chrome Tanning Myths: Why Chrome Tanning Can be Better Than Veg]
Astroflex Bitflex Sizing
Half-size down from your normal size
Friendly on wider feet
No half sizes
Sizing wise, it's the same as most boots: half a size down from your true size, a whole size from what your sneaker probably is.
I'm an 11 in Red Wing and Wolverine and Adelante and Grant Stone and Thursday and I'm an 11 in these. They don't do half sizes — a travesty — but there are a lot of bonuses to the roomier fit I mentioned: plenty of guys buy these true to size and say they're fine. I'd just say to size down to your nearest whole size, but if you are a whole size, then just get that.
Likewise, there are no wide sizes, but many wide-footed guys say that these fit them fine because, again, they're roomier than most Chelseas. I wouldn't stress too much if you're an E width.
[Learn More: The Ultimate Guide to How Boots Should Fit (5 Areas to Look At)]
Astroflex Bitflex Pros
Great value
Comfortable, roomy fit
Soft underfoot
Italian-made
Astroflex Bitflex Cons
Leather origin is suspect
No shank
Very casual
That's my review of these Chelseas! Overall, I like them a lot. There's just no beating the value or the comfort, and those are massive advantages for me.
They're resoleable, roomy, soft underfoot, leather lined, and made in Italy by an old-timey family of shoemakers.
The downsides are there's no shank — a hard piece of material under the heel t hat helps the boot keep its shape over time — and the arch support isn't anything to write home about, but they're roomy enough to fit a supportive insole if you need one. The shanklessness also makes some people worry about durability after a couple of years (ditto the glued-on crepe), but again these boots are resoleable, so any issues there can be fixed if they arise.
Lastly, some guys don't care for their more casual look. I saw one guy on Reddit say:
They don't neatly fit into a category in my brain. Like, they're kinda chunky but not really?
And I can see what he meant. They're not as chunky as Red Wing's Chelsea but they're not elegant either. Some guys would say they're too hard to categorize. Others, like me, would call that versatile.