This post may contain
affiliate links
that at no additional cost to you, I may earn a small commission from.
If you want a casual boot that you can comfortably wear with jeans and a t-shirt or khakis and a button down, but if you think most of Red Wing's offerings are a little too casual (and you'd be right), then you'll be glad to learn about their Merchant boot.
Today, we're back on the Red Wing train with the snazzy 8064 model: the dressier-than-most-Red-Wings-but-not-super-dressy Merchant.
For those who are newer to the world of boots, Red Wing is about the most beloved American heritage boot brand. Founded in 1905 by Charles Beckman in Minnesota, they're very well known for their iconic Iron Ranger boot — that was my first review ever, by the way — and the Merchant is a newer model that was launched in 2017 in response to the shifting tides of the boot industry. Basically, the success of companies like Thursday Boot Company made a lot of legacy companies realize that a lot of people want Goodyear welted boots that don't necessarily look like they belong on a factory floor.
Enter the Merchant.
Red Wing Merchant Aesthetics
Slimmer and less bulbous than their more famous work boots
Unstructured toe
Better suited for casual and business casual
No speed hooks
I'm going to try to not compare this too much to other Red Wing boots in case you're not familiar with them, but: this is not as slim as the dressy Williston boots, but it does have a slimmer silhouette than the more popular boots from Red Wing like the Iron Ranger or the Blacksmith or even the famous Beckman, which was actually discontinued in 2019.
What all that means — and feel free to ignore it all if you aren't familiar with those models — is that the Merchant doesn't have a toebox, it's an unstructured toe, also called a bump toe. (This is a pretty important point that I'll circle back on in the Pros & Cons section.)
They claim this lets the toes "move more naturally" and it doesn't have the bulbous toe you'll see in those other Heritage boots.
So while this is still a little more work boot than dress boot, it's a lot better suited for business casual environments than most other Red Wing Heritage boots. This is accentuated by the fact that it has a Chemigum outsole rather than the standard Vibram outsole, which is just a little slimmer to look at from the side.
Adding to the ever so slight dressiness is two of the most annoying things about the boot: it has no speed hooks, instead the brass eyelets go all the way to the top, and it has very, very heavily waxed laces. These two elements combined mean that the shoe is actually pretty time consuming to take on and off, plus even after weeks of wearing these in I still get a lot of wax on my fingers when I tie them.
Otherwise it's got most of the hallmarks of Red Wing Heritage boots: 6 inches tall, a 270-degree Goodyear welt, triple stitching along the vamp, and their most famous, beloved leather: Amber Harness.
Red Wing Merchant Leather
Amber Harness may be Red Wing's best loved leather
Full grain, oil tanned leather
About 2mm thick
Hardy, doesn't need too much care
You can get this in the so-dark-brown-it's-basically-black Ebony Harness, but while a lot of people have strong feelings of affection for the Briar Oil Slick and the Rough & Tough, Amber Harness is the leather for Red Wing. It's a full grain, oil tanned leather — the tanning process includes white mineral oil, but I get mixed messages from Red Wing as to whether or not it's also chrome tanned — and it has a slight pull up to it. That means the leather has as two tone quality: some parts, usually stress points, will wind up a little lighter brown than others.
[Related: What Is Pull Up Leather, Anyway?]
Red Wing actually has their own tannery, SB Foot Tanning Co (we named it one of the five best tanneries on Earth), which is very cool and it means it's easier for them to do quality control than a lot of other companies. And that means you often get more reliable quality with Red Wing.
I'm a big fan of oil tanned leather because it's pretty hardy and doesn't need much care. It doesn't have quite as much depth of color or vibrance as chrome tanned leathers, but it does age really well. take a look at some of these photos of older Amber Harness Iron Rangers, the same leather on a different boot:
You can see it gets a really nice, rich patina and it's exactly the kind of look a lot of guys want from their boots. Which is why you don't want to make the same mistakes I have with leather care.
[Related: Chrome tanned vs vegetable tanned leather — which is better?]
Red Wing Merchant Leather Care
Condition one to three times a year, depending on how often you wear them
Red Wing recommends using their Boot Oil
To minimize darkening, use Red Wing's Leather Cream instead
I own another pair of Amber Harness boots that I darkened terribly by using the wrong conditioner. Click here to see the full story.
Long story short, Red Wing suggests using Red Wing Boot Oil for maintaining Amber Harness leather. That's a combination of mink oil and pine pitch, the sticky sap found in pine trees. Those two products are great for conditioning and waterproofing the leather and making them more outdoor-friendly. If you want to take your boots clomping in the woods, Boot Oil is just fine.
But,
Merchants aren't really that kind of boot, and
Boot Oil will darken the leather, making it harder to get that ultra rich patina everyone covets with this leather.
If that nice patina is what you want and what you don't want is to darken our leather, you should use Red Wing's Leather Cream a few times a year instead. That's made from neatsfoot oil (the rendered shin and feet bones of cattle) and it's moisturizes and conditions without changing the color.
[Related: The 5 Best Leather Conditioners for Men's Boots]
Red Wing Merchant Sole
Chemigum outsole (combination of cork and rubber)
Cork midsole
Leather insole
No shank
Look underneath the shoe and you've got a Chemigum outsole, which I haven't seen on Red Wings before. Normally they have a Vibram mini-lug or, if you've got an older pair (like my Iron Rangers) it might be nitrile cork, which is a mixture of cork and rubber. Chemigum is very similar to nitrile cork, but the mixture contains a little less cork and this particular Chemigum has a grippier pattern. Relative to like Vibram, it's a tad softer, more flexible, slimmer, and more lightweight, if maybe a tiny bit less durable. 
After the outsole there's the classic one-two punch of a cork midsole and leather insole, a combination that's ubiquitous in quality, Goodyear welted footwear because it's good at molding to the shape of your foot over time and eventually making your boots feel like they've been designed for your individual foot.
So, the sole has a lot in common with other Red Wing Heritage models: cork midsole, leather insole, and a Goodyear welt, which means the shoe is easy to resole and is very water resistant.
However, there's no shank in these boots, which is very unusual for Red Wing. Some people will tell you it does have a shank, but I called up Red Wing HQ and a Red Wing store and they confirmed for me that it doesn't.
A shank, by the way, is a hard piece of material (usually steel) that's inserted in or on the midsole under the arch of the foot. It provides support, stability, and helps the shoe retain its shape over time. Whether or not you think it's a critically important part of the boot (as many do) or if you think they're totally overrated is kind of up to you.
[Related: The 6 Kinds of Boot Soles You Should Know About]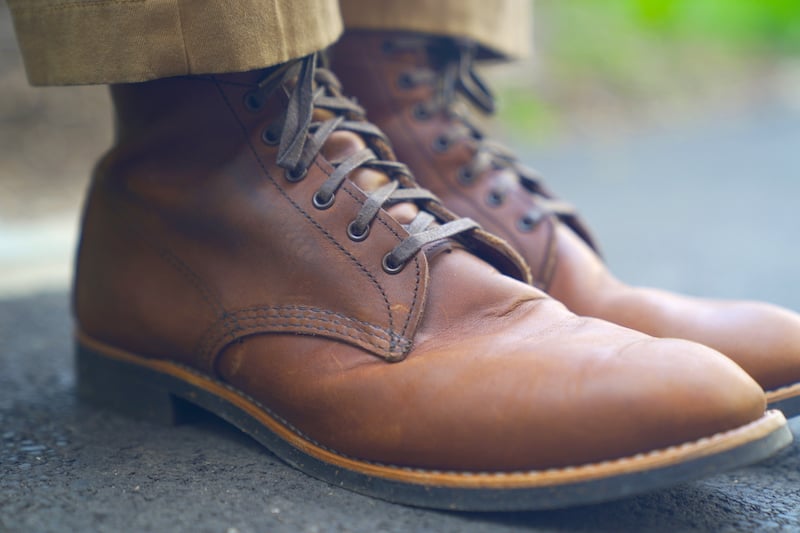 Red Wing Merchant Fit & Comfort
Only available in D widths
Size down half a size
Number 8 last (same as Iron Ranger)
Shock absorption is just OK
This is only available in D widths (that's the "normal" fit) which is a bummer for those with slim or wide feet.
It's made on Red Wing's well known Number 8 last which they use in most of their big name boots, so if you've tried on a pair of Iron Rangers or Blacksmiths then that's the size you'll be in Merchants. If you haven't, it's half a size down from your sneaker size. (A small minority of people tell me they need a full size smaller, but it's rare.)
And the comfort? Well, it's… Red Wing. It's nothing special, but it's decently comfortable. The arch support is just OK (though it improves as the footbed molds to your foot), the shock absorption is a little worse than OK, but this isn't to say they're uncomfortable boots; they're old fashioned boots. They don't have any of the polyurethane midsoles or EVA foam or other super modern soft, shock absorb-y materials you find in newer companies like Thursday Boot Company. Red Wing is proudly traditional and old fashioned, made like your Grandpa's boots. Again, they're not uncomfortable, it's just not the most advanced technology on the market.
[Related: See my comparison of Red Wing and Thursday Boots!]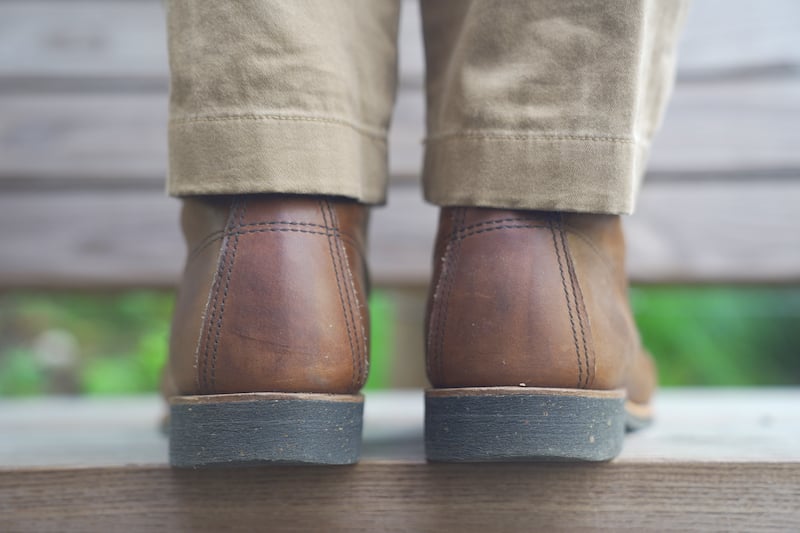 Red Wing Merchant Price
These shoes cost $320. Sometimes they'll pop up on Amazon for $300, but that's rare, plus this Amber Harness color is seldom found anywhere online besides Red Wing Heritage's official site, where you'll pay $320.
That's pretty much exactly what I'd expect and it's precisely what I'd call an OK price. For a Goodyear welted, full grain leather, made-in-America boot, $300 to $350 is what I expect to pay. I don't love the price (who doesn't want everything in the world to be just a little cheaper?) but I have no complaints. It's fair.
[Related: 11 Ways to Save Money on Boots]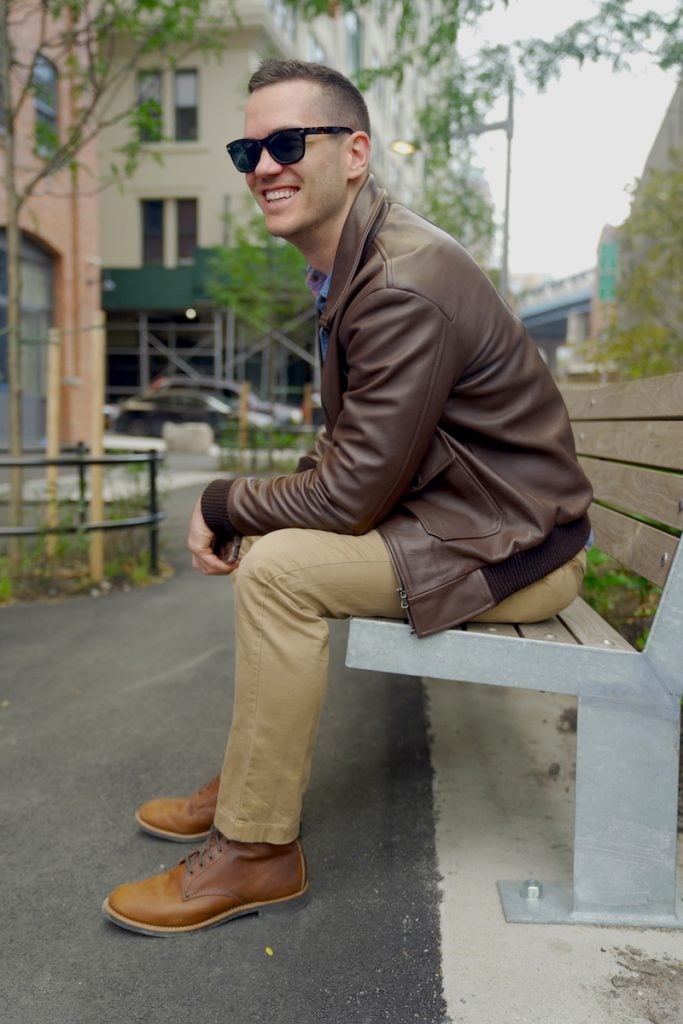 Red Wing Merchant Pros & Cons
Pros
More versatile than most Red Wing boots
Leather ages very well
Can be resoled
Water resistant
Cons
Unstructured toe may show more wear over time
Not fully lined
No speed hooks
No shank
The Merchant might just be Red Wing's best all rounder. It's not their dressy (and $100+ more expensive) Williston, it's not their clompy and informal Iron Ranger, it's a nice, round toe boot that goes great with casual and business casual attire. The unstructured toe helps it avoid the "clown shoe" epithets that many hurl at Red Wing's footwear, but it's not the kind of tapered, formal toe that tends to alienate some working class guys.
The Merchant might just be Red Wing's best all rounder.
The fact that the toe is unstructured means that it might show more wear over time. That's something that will probably only be a deal breaker for guys who ride motorcycles or guys who seriously beat up their boots, and if you're someone looking for a pair of boots to totally annihilate with work and grime, look elsewhere. Or just get the very protected toe of the Iron Ranger.
The Merchants hover in the perfect spot between formal and informal, it's right in the middle of the spectrum. Some guys might find them boring for that reason, but a lot of people will find the Red Wing boot they didn't know they were looking for. They go with almost anything.