Over the years I've made hundreds of boot reviews and during that time I've amassed a pretty sizable collection — and I always come back to moc toe boots as my go-to style for casual situations.
While that moc stitching isn't impossible to dress up (I've got the best dressy moc toe a little later on this list), this is the style of boot most commonly seen in factories, mills, and other gigs where you need a roomy fit for dynamic movement and, usually, a flat sole to keep your heel from catching on nails or what have you.
The roomy fit also makes it a damn good casual boot and one of the few that looks comfortable with jeans and a t-shirt.
To honor the humble moc toe, I've decided to put together a list of the best moc toe boots on the market. (If I say so myself, I'm the guy to ask.) We're breaking these mini-reviews down by best overall, the best value, the toughest, and more.
What's a Moc Toe Boot?
Moc toes are short for moccasin because the toebox stitching draws its inspiration from the traditional footwear first worn by indigenous First Nations peoples. Today, moc toe design comes in so many shapes and sizes that it's hard to say they have any benefits or drawbacks as a whole — there are slim ones, chunky ones, wedge soles, heeled ones, and so on — but generally speaking, people find the moc toe construction to produce a boot that's more flexible and roomy than plain toe boots..
Those qualities lend them to more dynamic movement than your average plain toe, which is a reason you're very likely to see them on job sites as well.
[Learn more: Moc Toe vs Plain Toe Boots]
Let's started! Here are my favorite moc toe boot brands.
The Best Moc-Toe: Grant Stone Brass Boot
Very premium materials and construction
Relatively low price
Leather lined
Available in 9+ leathers
The best moc toe is the Brass Boot from Grant Stone. This is an enhanced moc toe, a moc toe plus — let me tell you why this boot is just a bit better than all the others on the market.
For starters, it's an exceptionally versatile moc toe. You'll notice that while it's still roomy, the toe box is actually less square and more round, making this easier to dress up if you want to while retaining its casual-cool chic.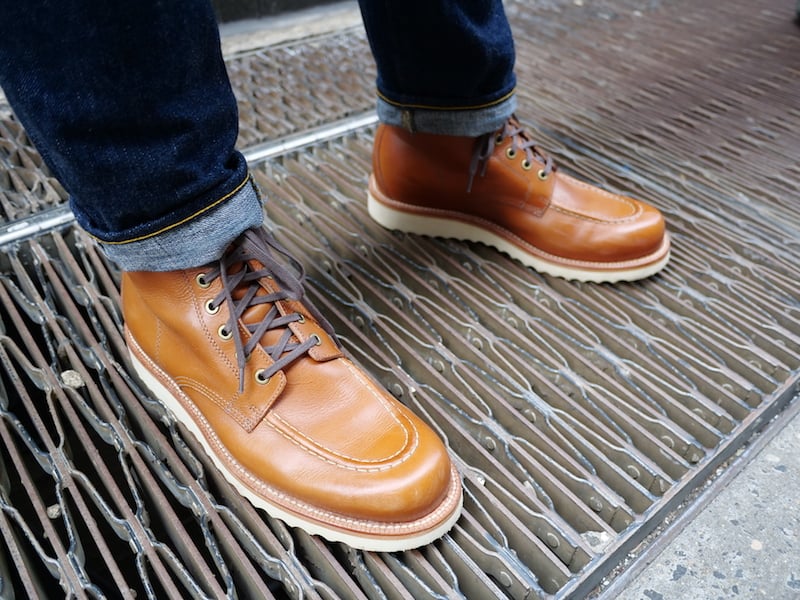 Next is the leather. Grant Stone makes their boots with the most highly regarded leathers in the game: my Saddle Tan pair, above, is vegetable tanned leather from the famous Badalassi Carlo tannery in Italy. "Veg tan" leather is extremely rare because it's made the way we've made leather for thousands of years, tanned with natural plant material over a period of weeks if not months. It's hardy, ages beautifully, and is coveted by boot nerds the world over.
But because it's such a popular boot, it comes in over half a dozen other leathers: several Chromexcels, America's most beloved boot leather; a vegetable tanned leather ("Tan Essex") from Chicago's Horween Tannery, and the very famous waxed commander from Britain's CF Stead tannery. Seriously primo stuff.
Grant Stone is popular because they have very high standards for construction as well. They take a lot of influence from Alden, which makes very high-end American-made leather boots, and although these are several hundred dollars less than Alden most boot fans consider them on par with one another.
To keep the price down, Grant Stone makes their boots in China, but not in a cheap sweatshop — they've worked with the same family owned factory on the tropical island of Xiamen for years, with some craftsmen working with decades of experience under their belts.
Unlike a lot of options on the market, Grant Stone makes this boot in three widths: D, E, and EEE. Making wide widths is basically a public service; it's expensive to do and most boot brands don't make a ton of cash on the huge investment for them to design and construct more than one width.
[Interview: Made in Xiamen; An Interview With Grant Stone]
I can keep going, but I'll just add a few more reasons why I love this boot. They're made with water-resistant Goodyear welt construction, some with even more water-resistant storm welts, and these construction methods allow for multiple resoles and dramatically increase the lifespan of the boot. They're leather lined, making for a softer and more comfortable fit than is typical. Lastly (I promise), they have steel shanks. Most brands don't make moc toe boots with shanks because the soles tend to be flat, but the Brass Boot even has shanks in the wedge soled versions, which guys have told me help with stability as the heel wears down.
I don't want to get too bogged down here but if you need more convincing, check out my full Brass Boot review. It's everything you want from a moc toe but a level above. It's like a luxury work boot. The best of both worlds.
Brass Boot Price
$298 at the lower end (the Earth color) to $370 for the Saddle Tan, with Chromexcels running $360.
These boots are universally considered to offer phenomenal value and would cost hundreds more if they were made stateside — or by any other brand.
Best Moc Toe Runner Up: Red Wing Classic Moc Toe
Made in America
Unlined
Style icon
Under $300
The runner-up for best moc toe is definitely the most iconic moc toe on planet Earth and it's cheaper than the Brass Boot and unlike the Brass Boot, it's made in America. If that appeals to you, you simply must check out the Classic Moc Toe from Red Wing Heritage.
This is America in a boot. This hugely, hugely popular moc toe was my very first big boy Goodyear welted boot, and although I picked up mine in Charcoal, the orange colored "Oro Legacy" moc toe, also called the Red Wing 875, is by far the most popular version. People just love orange mocs, and Red Wing's is actually harder and heavier than any of their other leathers, so it deserves its vaulted status. Depending on availability, you can usually get this boot in black, brown, grey, and sometimes red or blue.
One of the reasons this boot is so popular is that it works with just about any style you can think of: streetwear, lumberjack, manual laborer, Brooklyn hipster, and everything in between. The crisp white sole, simple design, patina potential, and masculine roominess — sure, a chunky boot is a manlier one, right? — makes the Red Wing moc truly irreplaceable in our culture. In my video I filmed with Red Wing employees called The Best Red Wing Boots, they picked the 875 as the brand's most iconic boot.
Like everything else on this list it's made with resoleable and water resistant Goodyear welt construction and full grain leather, it's the roomiest of our top three picks, and it's the cheapest American made option you'll find. That said, the break in is no fun — take a day off between wears when the boots are new and stiff.
Red Wing Moc Toe Price
$299.99 for these, no matter which leather you get. You won't find anything cheaper of this quality that's made in the United States, thanks to the size and economy of scale that Red Wing Heritage has pulled off. This is solid value.
Best Value Moc Toe: Thursday Boot Company Diplomat
Only $199
Sleek, versatile aesthetic
Resoleable and water resistant
Leather requires little to no care
Red Wing makes the best value American-made moc toe, but the best value moc toe period is, without a doubt, the Diplomat from Thursday Coot Company at $199.
For a Goodyear welted boot, one that's resoleable and water-resistant and made with full grain leather and leather lined, it's truly insane to find a boot like this for under 300 bucks, let alone under 200 bucks.
The Diplomat currently comes in offers five different types of leather, including a Harvest that's remarkably similar to the Oro Legacy from Red Wing, though there's also the russet Arizona Adobe, Black Matte, a taupe Pebble, and my golden brown Burnt Copper ones you're seeing in these photos.
Most come in the brand's famous Rugged & Resilient leather, which is loaded with so many oils and waxes so that it doesn't really need any care — a big bonus for guys who don't like sweating the ins and outs of conditioning boots. This leather is designed to be easy to beat up and age well while it's at it. To learn more, check out my video on How Thursday Boots Are Made.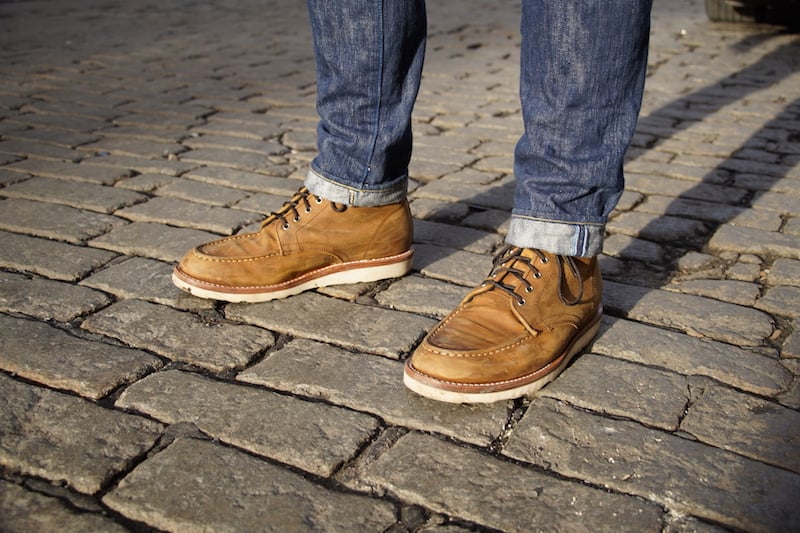 These are also leather lined for extra comfort, which is yet another reason the price is bonkers because I've made boots by hand before and leather lining really does add a significant amount of extra work to the process.
In fact, these have all the hallmarks of a high quality boot — leather lining, full grain uppers, Goodyear welts, steel shank — but on top of all that, I think this might be the most versatile moc toe. I say that because like most of Thursday's boots, it has a sleeker silhouette that makes it look a lot more modern than most moc toes. If you wear tapered jeans or you're just a guy who doesn't love baggy clothes, there's a chance that the generally blocky look of moc toes has turned you off of them. Thursday's design, though, is slimmer and more modern than the traditional work horse moc toes that litter the market, and they're quite easy to dress up and look more at home in urban environments than many of their contemporaries.
Add to that their shock absorbing Poron insole, and this is probably the most comfortable boot on this list as well.
Thursday Diplomat Price
A jawdropping $199. You won't find any better value anywhere on Earth.
The Toughest Moc Toe: Nicks Heritage Robert Moc Toe
Very thick leather
Uncommonly durable construction
Completely customizable
Handmade in USA
We're jumping from the least expensive to the most expensive on this list (so far). This beast of a moc toe lives in the Pacific Northwest, where we're taking a look at Nicks Handmade Boots.
This brand is a real institution in American boots and is known for really, really serious footwear: they have boots for firefighters, loggers, linemen, and anybody who needs dependable footwear that will last not just for years, but decades.
The Heritage Moc Toe (sometimes called the Robert Moc Toe) has very thick leather of about 2.5 millimeters and while it looks fairly fashionable, don't be fooled: this has the durable, handmade construction that makes for a super comfortable boot — (after a torturous break in) and a piece of footwear that can handle most any job where you're on your feet all day.
Perhaps the best thing about Nicks is how customizable they are. You can choose from over two dozen leather options, from Chromexcel to waterproof leathers to rare, vegetable tanned leathers from Pennsylvania's Wickett & Craig. But that's not all: you can pick any width from AA to FFFF, you can choose from eight different soles, three different heels, you can even customize the eyelets to your liking. Rest assured, whatever boot you wind up with will be 100 percent yours.
Nicks' moc toe so thick and well made it'll probably last you the rest of your life. They're American made by master craftsmen, fully customizable, and fit any sized foot on Earth.
The downside is that it's hard to make such complex boots at scale, so you can expect a 4- to 6-month wait time to get them made. And then there's…
Nicks Handmade Boots' Moc Toe Price
$550 to start, but if you get carried away with antique eyelets and rare leathers the cost can soar to well over $600. But the boots will be very yours when you get them.
The Best Dressy Moc Toe: Alden Indy
I wanted to add a dress boot, something that's widely considered a luxury purchase but not in the same vein as Nicks. Something fancy, that looks terrific with a blazer and chinos.
While the Indy may not reach the purists' standard of a moccasin style boot, given the toe stitching is decorative rather than holding two pieces of leather together, we're still including this because, well, Alden is universally considered as the makers of some of the best boots on Earth… and because Indiana Jones wears them in all of his movies. Despite the costume designer assigning the character Red Wings, Harrison Ford insisted on Alden, his go-to work boots while he was a carpenter trying to get his acting career off the ground.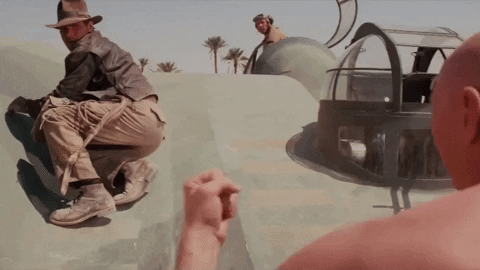 Alden has been making boots in New England since the 19th century, and as you can see, this is not a chunky work boot like the average moc toe. The brand has a history of developing orthopedic footwear, so the last is famously comfortable and anatomically correct. Many of the brand's faithful customers only buy Alden boots because they find it helps to remedy foot pain. (This, of course, isn't medical advice!)
The original Indy was the calfskin 405, but these days the 403 in Chromexcel is considered the archetypal Indy boot. Fortunately, the model is so popular that it's available in a range of leathers and colors, from black to suede to cordovan, with limited edition models coming out fairly regularly.
So American craftsmanship, superb comfort, a dressy bent, and the right to tell everyone you're wearing Indiana Jones's boots. What else could you want?
Alden Indy Price
$607 for the classic leathers, with some models soaring up to $900.
Best Moc Toe Boots for Work: Thorogood Heritage
Lightweight
Extra water resistant
Shock resistant soles
Made in USA
OK, a lot of these boots are very high end — what can an actual working man afford? Well, they'll often shell out for premium footwear if it guarantees longevity but most guys feel that the best compromise of value and durability when it comes to real job sites is Thorogood.
The leather isn't anything to write home about but it gets the job done and certainly looks cooler as you beat it up. Where it really shines is the functionality: a storm welt makes them extra water resistant, they're resoleable, and they come with a shock absorbing insole that many find is easier on the joints after a long day. The boots come in 6″ and 8″ heights and a few different shades of your usual browns and blacks.
Thorogood has a great reputation with the working class because they mostly make work boots that meet safety standards for working on a construction site or other dangerous jobs, they are an employee-owned company, and they make the majority of their boots in the USA. About 30 percent are made overseas, it's true, but these mocs are made in the USA by union workers. Hence that little American flag sticking out of the vamp.
Even though they're great for work, they're fairly lightweight thanks to the fiberglass shank, and the polyurethane sole can "withstand an application of 18,000 volts at 60 Hz for 1 minute with no current flow or leakage current in excess of 1.0 milliamperes under dry conditions."
They used to have the famous Vibram Cristy sole that's found on Red Wing and Thursday, but since it wears out a little fast for guys on their feet all day, Thorogood switched to their own slip-resistant sole which is meant to last 25% longer than the Vibram sole. It's touches like this that make it a favorite for guys who need durable, all day footwear.
Thorogood Heritage Moc Toe Price
$250, which is very solid value for an American made boot. It doesn't reach the levels of quality of Red Wing, who tan their own (thicker) leather, but if you need some dependable boots for most any kind of work, Thorogood's a great bet.
Authentic moccasin style construction
Customizable for waterproofness and extreme cold
Made in Wisconsin since 1898
Lengthy wait time
If you're not a patient man you can skip this section, but if you don't mind waiting for quality, well, I couldn't finish a list of the best moccasin-style boots without mentioning Russell, a company that made its name on high end moc toe boots and has been producing stellar products in Wisconsin since 1898.
Russell really isn't selling boots to be worn in city. They aren't meant to impress anyone, except for maybe your hunting buddies, and they aren't marketing these boots as something stylish that needs fancy leathers, though you won't be disappointed by the range of weatherproof leathers they work with from Chicago's Horween Leather Company.
All of their footwear is authentic moccasin construction which, according to their site,
consists of a flat foot bed with no cushioned insole along with either one, two, or three layers of leather underneath your feet depending on the style chosen.
Their flagship boot is the Birdshooter, which you can customize in myriad ways. Trudging through marshes hunting game fowl? You can get a South 40 Birdshooter made with a triple vamp, meaning you'll get three layers of leather surrounding your foot. Bow hunting caribou on a frosty tundra? Get Birdshooters with up to 400 grams of Thinsulate insulation to keep you toasty warm.
Sure, instead of high-tech modern materials like Gore-Tex you "just" get layers of leather. But Russell has perfected the functional moccasin and you can be confident that your feet will be well protected while you're in the outdoors. (And if you really need some fancy foam, you can get one of their Poron slip soles for extra shock absorption. Don't buy your own insole, though — it won't fit.)
Russell Moccasin Birdshooter Boot Price
$452 for a single vamp, uninsulated model, but but double vamps and insulation will get the price up to $600 and beyond. The worst part, though? Expect a minimum of six months for them to be made.
[SHOP RUSSEL HERE]
Wrapping Up
There you have it: my definitive list of the best moc toe boots on the market. This remains one of the most popular boot styles out there and a fixture in the Goodyear welted boot market, and even if you happen to be someone who thinks they're too bulky and voluminous, I'm confident there's a boot for you on this list. I've worn a huge range of boots and I think there's something for everyone here; I hope there's something on here that helps you find the moc toe of your dreams.