Collectors are a special bunch of people. Their passion is infectious and they're always pumped to share their knowledge and experience with anyone who'll listen.
Dale, a military intelligence analyst and boot aficionado, fits this description to a T. With a collection tallying over 75 pairs of Goodyear welted leather boots. His knowledge and enthusiasm are almost as vast as his boot wall, and his YouTube channel is a great resource for boot fans.
So I headed to Baltimore Maryland to chat with him.
Regardless of whether you're getting your first pair of nice boots or your 75th pair, I think Dale offers great insight into how to find boots that work for you, plus he's got some really fine examples of top-notch footwear.
If anyone knows boot buying, it's a guy with 75 pairs, right?
Why Own So Many Pairs of Boots?
I started off by asking Dale why he loves boots.
It's just the manly aesthetic. I figure I have to live in them every day so I might as well feel like I have my manly uniform on — my kit, as style guys like to say.
I come at it from an everyday carry perspective and so i just feel supported in boots i feel manlier in bots i feel stylish in boots
I feel like myself in a pair of boots. I don't feel like myself when I'm in sandals, if that makes sense. I just don't feel like me.
I like to feel like I'm ready for anything at any point. Maybe some of that draws back to my days in the military, but I feel truly equipped when I have a pair of boots on. Do I need to hike up a mountain? I can do that. Do I need to buy some milk? I can do that. It all comes with the territory and I just never feel prepared in a pair of sneakers or cheap synthetic shoes.
Find The Brands that Fit Your Feet & Personality
Let's talk about that wall of 75+ boots. The interesting thing is that it's made up of mostly just two brands.
Most of Dale's boots are from Grant Stone and Truman Boot Company.
So how did Dale land on these two brands out of the hundreds, if not thousands, of brands available?
Find Your Fit
"First off, the fit for both of them is flawless, just phenomenal. I love Truman's 79 last and their new 20 last. That thing is amazing. It's got raised walls in the vamp, but it's basically the same thing as 79."
If you don't know what a last is, I recommend reading up on it here. Basically, it's a 3D mold of a generalized foot that bootmakers use to build boots and shoes.
Dale says he has wide, thick "troll feet" with a high instep. That's why, "For Grant Stone I love their Leo last. It's nice and rounded in the toe. Nice, generous fit. Perfect for my foot."
For guys with feet like Dale, it's really tough to fit in some lasts, like the narrow New Rey from the Spanish company Meermin. European brands tend to have a narrow fit, so the brand that made him fall in love with boots was Alden. Their Barrie last and True Balance both fit high volume, wide feet and high insteps.
When I discovered the Alden Indy boot, I felt like, this has been calling me my entire life and I never knew it existed. When I stepped into those it clicked: I knew this is for me, this is what I'm supposed to wear. And one Indy led to five Indys, which led to this whole wall you see in front of you.
[Related: The 10 Best Boots for Wide Feet]
Find Your Style
Figuring out your tastes can be surprisingly difficult — do you like Chelsea boots, service boots, moc toes, chukkas, cowboy boots? It might be overwhelming, but knowing the type of boots that match your personality goes a long way to help narrow down a brand that works for you.
(And to be honest, if you don't have many boots you're probably just after a good service boot.)
Unfortunately, a boot may look really cool in a picture, or on someone else's feet, but when you try them on yourself it feels like wearing clown shoes.
Take the engineer style boot, for example.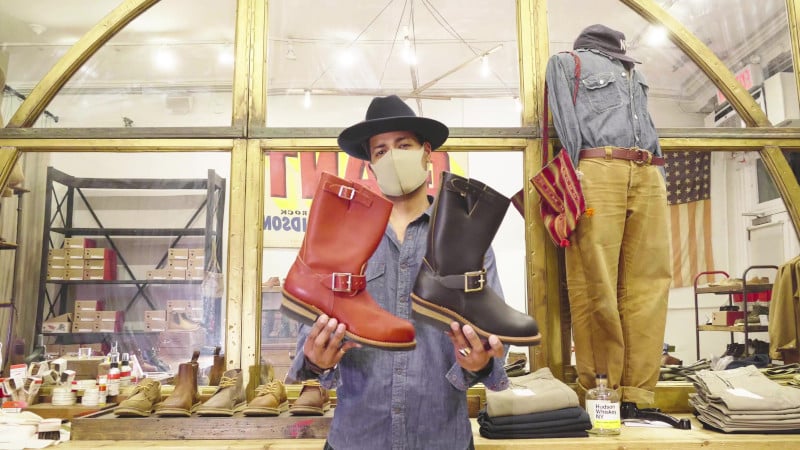 You have to structure your entire outfit around engineer boots; you can't just up and wear them with a pair of Chinos and polo shirt. They fit a certain aesthetic, like big thick jeans and a cowboy hat. They aren't the best entry level boots because they don't really go with everything.
My own first pair of nice boots were Red Wing's Classic Moc Toes, which are super popular, comfy, casual boots. I wanted something that elevated a casual outfit and wouldn't look half bad in my (relatively) casual office: like I was put together, and not just some slob in a pair of beat up Converse.
Moc toes are great for elevating casual outfits, but they're bad at dressing up. If you want something that looks equally at home with a ragged t-shirt as a clean button down, go for a slimmer service boot like in my Thursday Captain review.
Choosing Materials
The materials — the leather, the sole, the insole, the lining, even the laces — are all choices you make when you're shopping for a new pair of boots. They all tell a story about the history of the boot and about how and why guys wore them 100 years ago.
Dale emphasizes the leathers when explaining why he loves Grant Stone and Truman so much: "They are using all Horween leathers, C.F. Stead leathers. Truman gets a little bit more exotic they get into Seidel, Badalassi."
These are some of the world's best tanneries and produce the level of quality that a man should want on his feet.
[Related: The 9 Best Leathers for Boots]
A great example is Grant Stone's usage of Italy's Badalassi tannery (above), who specialize in vegetable tanned leather a very slow and old fashion way of tanning. Both Truman and Grant Stone use a lot of leathers from C.F. Stead, best known for their suede and kudu, while Truman also uses a lot of product from more boutique tanneries like Seidel, a smaller tannery from Milwaukee that produces many exotic skins like buffalo and bison.
Different people are going to like different leathers; this is why it's smart to pick a high quality brand so you can peruse their offerings and be assured that whichever leather speaks to you, it'll be good quality.
Finding Your Brand and Last
A lot of guys shopping for their first pair of boots creates a dilemma of choice — a bad case of boot buying paralysis.
Dale tried a few brands before landing on Grant Stone and Truman as his favorites. While some guys feel a need to try as many companies as possible, Dale has a smarter approach: once you find a brand that works, you keep coming back.
"First off, it's fit," he explains. "Grant Stone's Leo last has a nice and rounded toe, a nice generous fit. Perfect for my foot. (And with) Grant Stone, you can dress it up, dress it down very easily. It harkens to that Alden aesthetic: that traditional American dress boot."
Truman, on the other hand, "is more like a Viberg or those traditional logger type boots, nature type work boots, service boots. To keep these simple in my head, I consider (Truman) to be work aesthetic and I consider (Grant Stone) as having a dress aesthetic."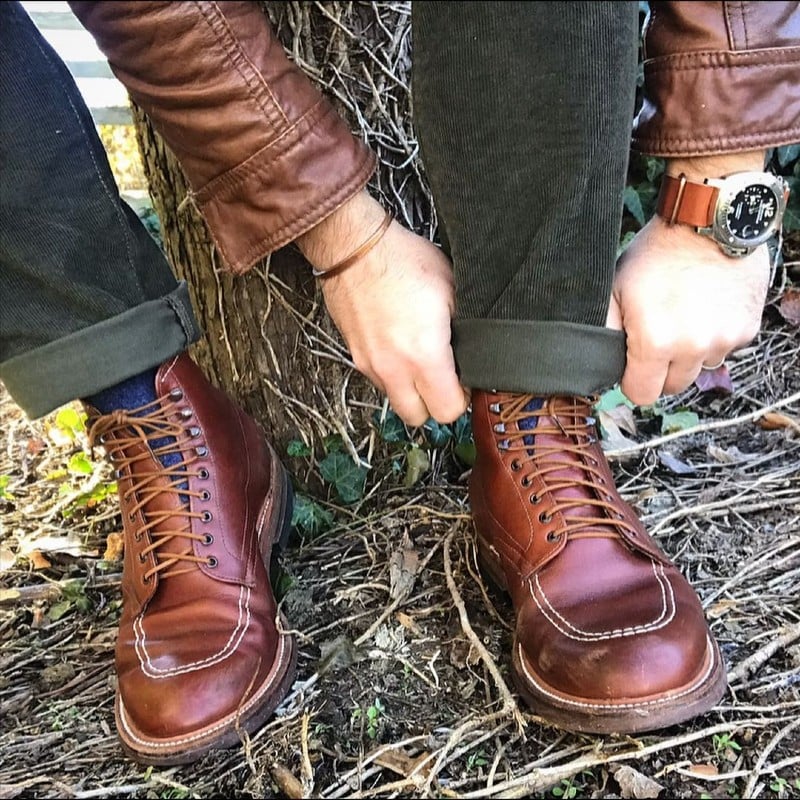 Dales Most Worn Boots: Alden 405 Calf Skin
"Most worn will be these Alden 405 in Calf skin. That's very high-quality. That leather is actually called Austin. It's from Horween. I learned that from Phil at Ashland Leather. And this boot looks still new, and it's one of my oldest boots. I had these 8 years, definitely wear these a lot and you can't tell because the calf skin is so resilient."
The best part of the boot hobby is buy-it-for life attitude. These Alden 405s represent this perfectly—a well worn, yet uncreased pair of boots that are nice enough to wear to casual restaurant and durable enough to hike in.
These will set you back $579.00.
Dales Least Worn Boots: Viberg Service Boot Natural Shell Cordovan
I really want to wear these more. The problem is that they're a bit long and bit narrow, and I just don't wear them as much as I'd like to.
Dale's Dream Boot
My dream boot is actually what I'm wearing right now. These are my Grant Stone Brass Boots in Maduro Shell.
It makes sense that the Brass Boot would be Dale's favorite boot, as it's really a combination of the two brands: it's the dressy Grant Stone's only attempt at a rugged work boot. With a roomier last and more casual silhouette than any of Grant Stone's other offerings, it still possesses the same durable, high end craftsmanship the brand is known for.
While the Shell Cordovan that Dale bought for his pair is a seasonal offering that probably isn't currently available, the boot is still able to be found in four classic leathers including the Badalassi Veg Tan we highlighted above.
The other leathers are from C.F. Stead and Horween Leather Company, extremely high quality leathers one seldom finds on dedicated work boots. Again, the Brass Boot is the ultimate fusion of luxury and casual.
Wrapping Up
Needless to say, I had lots of fun hanging out with Dale and talking about very obscure boots. I hope you had a great time peeking at his collection. If you're just getting into the game, take his advice to heart, find that brand and figure out which style boots make you feel ready to conquer the world.
Big thanks to Dale letting me use his house as a studio for the day and letting me rifle through his boots. Check him out on Instagram and over at his Youtube channel.
The following two tabs change content below.
Karl Wasson
Karl is an IT product manager living in South East Asia who gets a kick out of durability and dependability. He believes form and function are not mutually exclusive. When he's not working, he's searching for the best bespoke menswear in South East Asia and beyond.
Latest posts by Karl Wasson (see all)