This post may contain
affiliate links
that at no additional cost to you, I may earn a small commission from.
Everyone loves a good deal. And what is better than getting that long-sought-after something at a great value… or at least, perceived great value.
When it comes to Goodyear-welted boots, where price tags usually exceed the $350-mark, factory seconds allow many folks to get great footwear articles at anywhere from 30 to 70% off the retail price.
But is the value you get really as good as it appears to be?
First of all, What Are "Factory Seconds"?
Factory seconds, which are often referred to as factory rejects, B-grades, irregulars, or just seconds, are merchandise which — for cosmetic, functional or a combination of these reasons — do not qualify for the prime spot on retailers' shelves, to be sold at full retail price.
As such, they are often sold to consumers at discount, either directly by the manufacturer (as the case with Allen Edmonds, Grant Stone, Parkhurst, and a few others), or through retail channel partners. Some are discarded due to profound flaws, but each instance is determined by manufacturer's merchandising team, in order to safeguard brand image and reputation.
Additionally, some items end up in merchants' seconds designation after they are returned by their retailers or customers, after being displayed on sales floor, and perhaps tried on a few times. There's no hard and fast rule that prescribes a criterion that a boot must meet in order to be considered factory second, and examples tend to range from minor, like lack of original packaging to a loose thread or a surface scratch or two, to more profound material inconsistencies such as discoloration, extreme marbling, or loose grain.
Some flaws interfere with functionality of a boot, therefore causing its designation as seconds, but with these situations, pairs are usually discounted deeper, or in the most extreme cases removed from selling consideration altogether.
Why Buy Factory Seconds?
The retail markup is usually equal to the perceived value of their brand name. A well-reputed company will only assign "A-Grade" status to those items which meet their aesthetic, quality, brand image, status, and other specific criteria. Many companies do not even offer B-grades/ seconds, as they view it as direct violation of their business philosophy: if it's not prime condition, it is not worthy of bearing their name/ logo.
If you enjoy revered, highly sought-after name brand items, but cringe at the idea (or cant even fathom it) of shelling out a the amount of money associated therewith, then factory second route might be a welcome compromise in your book! After all, a BMW 500-series with a wonky paint job is still… well, a BMW!
What to Remember When Purchasing Factory Seconds
Here are a few tips you should be mindful when embarking on this adventure.
"Blind" Buy
This is something that applies almost exclusively to online retailers. As mentioned above, prominent players in the GYW arena, such as Allen Edmonds, Grant Stone, and Parkhurst, sell factory seconds on their sites, but pictures used are often the same stock images which are used on their prime product categories, so it is not easy to discern what dubs a pair you're contemplating as B grade.
Based on personal experience, in case of Grant Stone and Parkhurst, I was able to email the company directly and ask for more specifics on their inventory. But with other larger retailers, it might be harder to do so. With many newly-emerging retailers nowadays operating on strict direct-to-consumer basis, with no physical retail locations for you to step into and see/try items on, this is a big factor to consider when contemplating spending couple hundreds of dollars.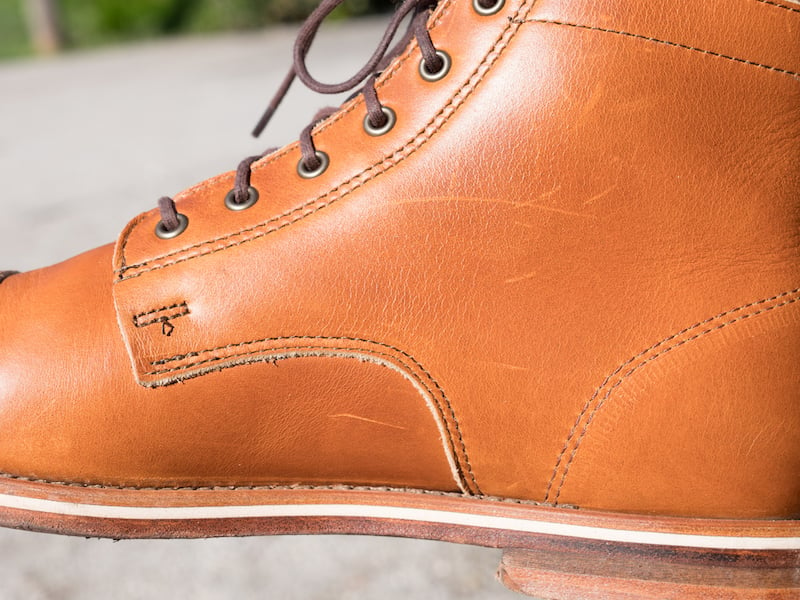 Availability
Often times, whenever factory seconds are put on sale, there are only a few sizes to choose from. This makes perfect sense, on account that by and large, any seconds' very existence is not planned by the manufacturers. Be it due to returns, short-comings in their production process, or any other business reason, all efforts to sell factory seconds are aimed at salvaging "anomalies", and companies place much emphasis and effort at making sure that such issues are brought down to an absolute minimum.
So keep your eyes peeled, if you are looking for a pair in your size with a particular retailer. It might be slim pickings!
Terms of Sale/ Warranty
With factory seconds, manufacturer's warranty is often altered or voided altogether at point of sale. After all, part of the reason their prices on prime merchandise is set where they area is often that their guarantee no longer applies.
Many times, when seconds are sold, the sale is classified as final, with no options to return/exchange said merchandise. Some retailers do allow returns, but will impose a restocking fee, which can range from nominal to quite steep.
Remember all of these factors before making a decision.
[Related: 5 Things to Look For When Buying Second Hand Boots]
Where to Buy Factory Second Boots
Aside from companies that sell their own seconds directly on their site, you may wish to check out the following retailers for sporadic appearance of B grades:
Nordstrom Rack
I have seen Red Wing, Frye, Chippewa, and other sought-after quality shoes pop up at Nordstom rack stores in my neighborhood over the years.
Sizes are few and far between but with any luck, you just might run into your beloved shoes on the shelf — likely in the vicinity of ~50-75% off MSRP. I have even found a few models not typically sold in US, like a Red Wing Blacksmith in a rare Hawthorne Roughout. Blemishes and other minor imperfections are to be expected, but for the price, these are still fantastic finds.
Nordstrom Rack runs periodic "Clear the Rack" sales, where the deal can be further sweetened by you getting an additional 25% off clearance stock.
[Check out Nordstrom Rack's boots here!]
Sierra Trading Post
This retailer is owned by TJX Companies (other retail stores under the same corporate umbrella include TJ Maxx, Marshalls, and Home Goods) and has select locations throughout continental US. They're known to make wholesale purchases of overstock/ factory seconds of various heritage brands mentioned above. Other brands frequently found amongst their inventory are Filson, The North Face, Patagonia, Blundstone, and Carhartt, just to name a few.
Once again, the inventory is not consistent from store to store, so shop diligently, and take this into consideration. If you happen to find an article in your size; it is not likely to be found at another Sierra location in the same county or even state.
[Check out Sierra Trading Post's boots here!]
6pm
This is a discount retail division of Zappos, which has been serving customers some of the best deals and discounted fashion online since 2007. I have seen numerous offerings from brands such as Wolverine, Red Wing, Frye, Ariat, and even some of the Haute Couture labels like Yves Saint Laurent, and Dior has made appearances there as well.
Recently, I found a pair of Red Wing Carol low-cut chelseas for my girlfriend for $199—down 45% from their MSRP of $360!
Moosejaw
This retailer has a handful of physical stores in CO, IL, KS, MI, and MO, but if you don't live in one of these states, you may be in luck checking out their online store, as they do have a decent selection of famous heritage brands at budget-friendly prices.
[Check out Moosejaw's boots here!]
Auction sites (such as eBay and Grailed)
These are some of my favorite places to shop, and honestly, I've seen and purchased a few very nice pairs of Goodyear welted and Blake stitched footwear on them. My recent find included Sutro's Alder II boot, which I got for a steal at $85, nearly 70% off original price of $265. These sites offer buyers great chance to get well-made, gently-used items that have a lot of life left in them for a fraction of their original price.
Similarly, if you own some items that you no longer enjoy, you can give them a new life by selling on these sites and making someone else's day!
[See our guide to eBay and other places to save money on boots!]
Antique stores, thrift stores, and pawn shops
Let the treasure hunt begin! I love perusing local Goodwill, Salvation Army, Habitat for Humanity, and other second-hand neighborhood stores for great finds. Just the other week, I found a pair of vintage Stacy Adams dress boots for $9.99. Four years or so ago, while living in Cleveland, I found a great pair of Born Crown Brogue Wingtip bluchers that were pretty much brand new and fit like a glove, for just $6.00! I own those to this day, and have put new soles one them two times!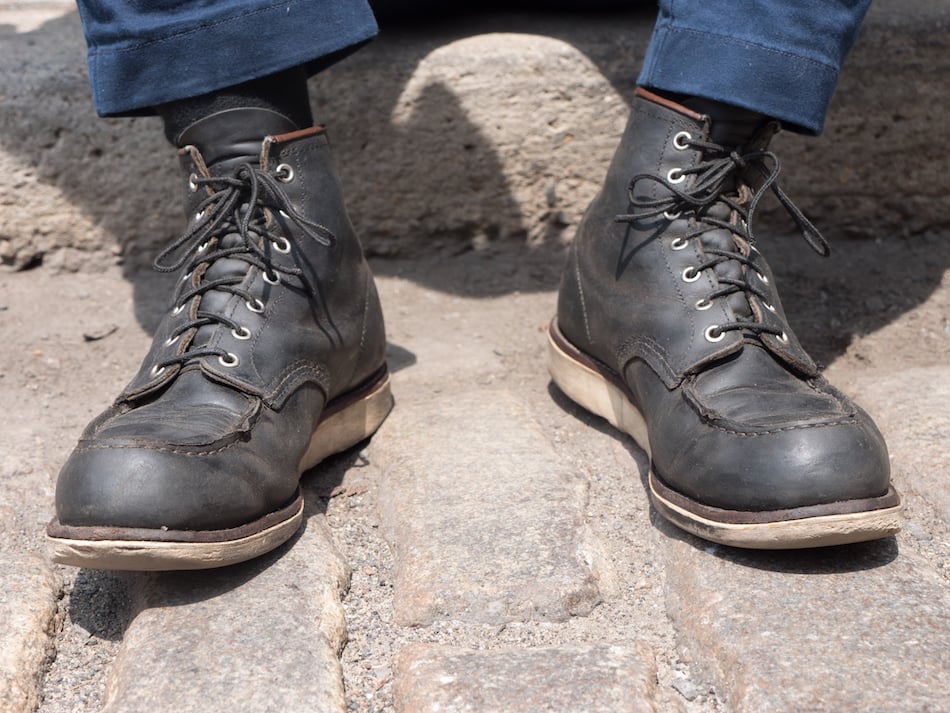 Where to Buy Red Wing Seconds
Nordstrom Rack (physical & online stores), Zappos/6pm, and eBay.
These are the most optimal venue for most folks to get access to name brand labels, as Nordstrom Rack stores are usually present in most metropolitan areas, with 2-3 locations within an hour drive (or closer) from each major city's downtown area. Unless you live way out in the country, there's usually a Nordstrom Rack or a few near you. Check out nordstromrack.com where you can input your zip code to find stores near you — and while you're there, check out their online selections of awesome name brands!
Where to Buy Allen Edmonds Seconds
Allen Edmonds stores and website, along with Nordstrom Rack.
Allen Edmonds is a premier men's footwear powerhouse, with quality, comfort, and innovation being synonymous with their name. To own a pair is to pay a homage to traditional American values and traditions. Their own website is a place you want to check out for periodic updates of full-priced, as well as sale/seconds merchandise. With their quality control being top-notch by default, most factory seconds depict only minor imperfections, most often unnoticeable to a common eye, yet they are discounted by an average of 25-40% off MSRP.
If you are in the market for great shoes at a great price point, check Allen Edmonds out!
[Visit Allen Edmonds' Seconds Store here!]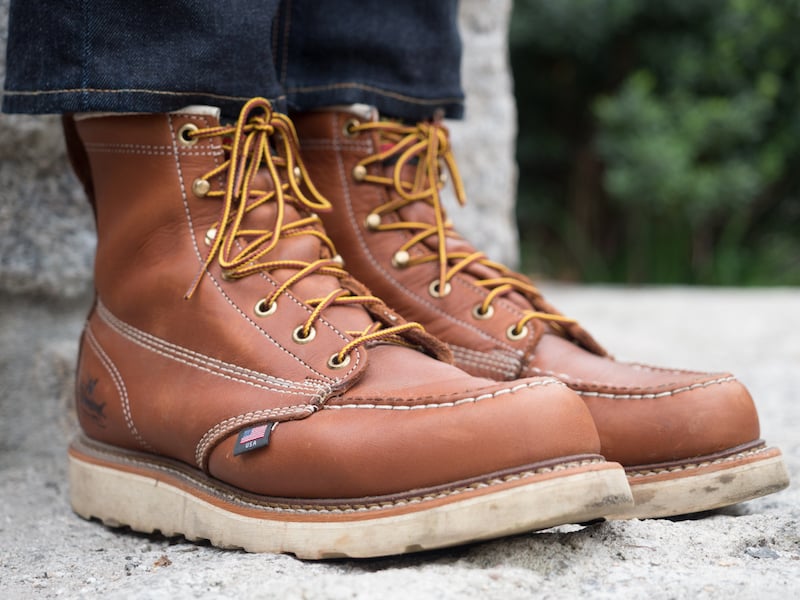 Where to Buy Thorogood Seconds
Thorogood outlet, Boot Barn, and eBay.
This boot brand, somewhat overshadowed by Red Wing, is a prominent player in the arena of work and heritage footwear, blending the line between the two with a great rate of success.
Perhaps best known for their wedge sole moc toe model, a friend of mine bought a pair of them when he was a material handler in a warehouse and they quickly became his go-to shoes for just about all occasions, ranging from running errands to fishing and camping trips. He's had them for over 7 years now, and they have seen at least 4 resoles — the uppers are still in great shape, and can probably last him another decade!
If you are in the market for a serious boot that can take a beating all day and all night, smile, and keep going, definitely give Thorogoods consideration… especially if you are lucky enough to come across some of their seconds!
[Visit Thorogood's online outlet here!]
My Personal Take
Undeniably, there's a lot to be said about brand-new, prime assortment of merchandise. A sense of pride, achievement, and ability to start your own story as an original owner of particular article — and rightfully so! Some people might feel like it's not worth the compromise to get B-grade/ second hand merchandise, but that's purely a matter of each case specific to each individual person.
Over the past five years or so, I have purchased a few dozen GYW shoes and boots, which were a mixed bag of A and B grades, ranging from around $120 on the lower end to over $700 at the top. While I am not going to compare a factory first Red Wing Iron Ranger to B Grade Grant Stone boot, as it would not be a sensible or fair comparison, I can confidently attest that I have purchased both A and B grades of Grant Stone's Traveler Penny Loafers, and they looked indiscernible when placed side by side. I even reached out to Grant Stone personally to ask their reasoning for adding the pair I got in B Grades inventory, and was told that it was due to very light vamp creasing on the right shoe. In absolute honesty, I would have not been able to the difference from what I have seen on another loafer I got from them.
On the other hand, I have purchased a pair of Red Wing boots from Backcountry at full retail price standard for that particular model, and when it arrived, I noticed right away that vamp on one of the boots showed much greater amount of creasing, bordering on what I assumed was loose grain. I took it to local Red Wing store near where I live and shared my concerns with the store manager, who speculated that it probably wasn't loose grain, but rather an inconsistency in the way the leather was stretched over the last during production. Based on overall construction, it was evident that the boots' functionality was not at all compromised, and they will serve their purpose in the field just fine. Even still, to me as a consumer, QC on this pair was not standard grade.
Wrapping up
It suffices to say that not all factory seconds are created equal, and it is very important to use your best judgement when making a buying decision. As discussed above, there are many factors to consider, and while not all factory seconds are worth your time and money, investing into some is a terrific way to own a high-quality product at a handsome rate. And as is the case with Goodyear welted footwear, the cost per wear gets even lower over the course of pair's lifetime, meeting at the corner of savvy and lucky!