Red Wing is a formidable institution in the world of rugged American boots, so let's look at what many would consider the complete opposite of rugged: pink men's boots.
On a recent trip to Red Wing's Minnesota headquarters I noticed their wall of women's boots, many of which come in leathers that aren't available on the men's side. Maybe it's fair to assume that men aren't likely to buy pastel moc toes, but I still found myself marveling at the "Rose" leather and I noted to Mike Larson, the brand's Design and Development Manger,
Man, I wish you guys would make pink boots for men.
It was an offhand comment I didn't think anyone was listening to, so imagine my surprise when, a month later, I received a box in the mail with a handwritten letter from Larson:
Hi, Nick! We really loved visiting with you in Red Wing earlier this year. I remember how much you loved the Rose leather, so we made this one-of-a-king 875 moc toe in this leather for you. Thanks for all you do to help educate the world about all things well-made!
Beneath the note, in all their glory, were a brand new pair of my own pink moc toes.
I've already reviewed my gray moc toes, so you should check out my Red Wing 8890 review if you want a full breakdown of the construction and comfort, but these pink boots absolutely deserve their own content. I asked my mate and occasional co-host Troy Barmore to come over to discuss the boots, the style, and how to wear very loud and very cool boots.
Red Wing's Rose (Pink) Boot Leather
The leather is your standard full-grain, chrome-tanned leather from Red Wing's own SB Foot Tanning — the only notable difference is the color. This colorway was made for Red Wing women's Moc Toe which comes in, I must say, way cooler and more numerous leathers than the men's options, including purple. and yellow, and cream.
[Find More Moc Toes: The 7 Best Moc Toe Boots On The Market 2022 | Best Value, Toughest, Best for Work, and More]
But I have the only pair on Earth made for men. And with gender being bendier than ever, I thought these boots were a chance to test the waters and see what people would think of a once-unthinkable color for a boot.
[Related: Green Boots?! Why I Love Parkhurst's Spruce Kudu Boot]
The Pink Boot's Construction
Roomy moc toe style
Vegetable tanned leather insole
Cork filling
Rubber midsole
Crepe rubber wedge outsole
On my YouTube channel that's mostly about boots, the audience tends to get split into two groups: on one side, there are guys who are attracted to boots because of their coolness, durability, versatility, and patina.
On the other hand, there are guys who need a good pair of chunky, steel shanked work boots to wear around the job site.
The reason work boots are popular outside of job sites is that a work boot is more comfortable to wear if you're on your feet all day, especially as you age and foot pain becomes more likely to occur.
For this reason, you get a lot of different people wearing moc toe-style boots both and off jobsites. It's both the classic, original workboot — made with a cork midsole and leather insole that are great for working on your feet — and the most urban and stylish Goodyear welted boot on the market.
I won't pretend that a good chunk of people would say "there's no way in hell I'm going to wear pink boots," but these are the exact same as any other Red Wing Moc Toe.
They're Goodyear Welted and resolable, they've got a cork midsole, and Vibram's christy wedge sole. They are not ASTM certified and do not have a steel toe, so if you need work boots that meet specific safety standards they may not do the trick. But if you just need a boot that provides stability so you don't roll your ankle and a wedge sole so you won't catch your heel on stuff, the Red Wing moc toe is for you.
Yes these are pink, but they are also well-constructed heritage work boots. (It's almost like the wavelength of light reflected off the surface of the leather doesn't affect how rugged and durable the boot is.)
[Related: The 5 Best Red Wing Boots for Men]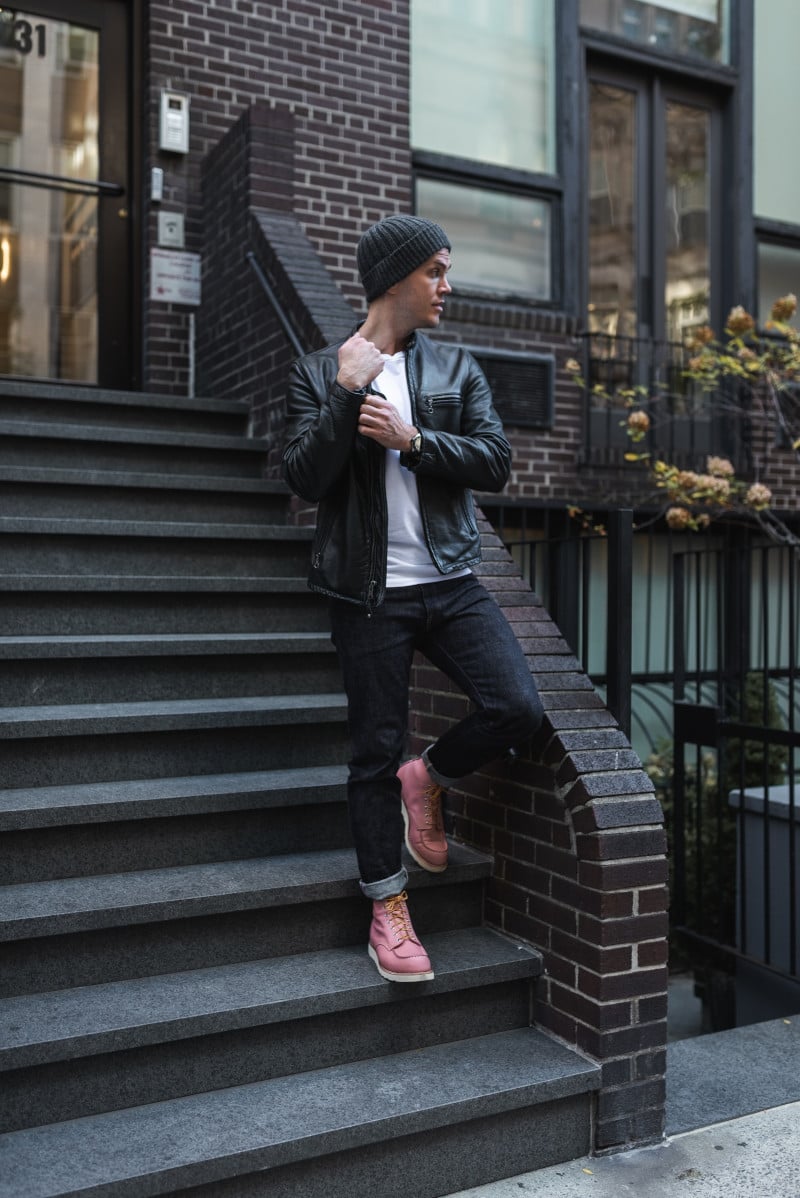 How to Style Pink Boots
For me, this was a no brainer. Plenty of guys would struggle with a pair of pink boots, but I knew exactly what to wear with them:
Black, grey, and navy.
I'll give the same advice I gave when I reviewed a pair of green boots: if you've got a brightly/unusually colored piece of clothing, make the rest of your outfit subdued.
Don't wear patterns. Don't wear other colors with colored boots, wear dark colors. Above, I wore my Momotaro jeans and Schott leather jacket with a thick white tee from Kato, and it looks badass.
As Troy said,
Your boots become the accessory, they becomes that statement. This is not the time for lots of different dynamic elements. This is the statement piece for your outfit.
Multiple people have stopped me on the street to ask about these boots, though I do need to point out that my girlfriend is not a fan of them. Sometimes, she countered, if you see something that catches your eye, you'll feel a need to remark upon it — even if you actually don't like it. She thinks that's why strangers have commented on them.
Well, I don't care if anyone has a problem with these boots. I wear what I like and they're awesome.
View this post on Instagram
Wrapping Up
You can't buy these boots, yet, and in all likelihood, ever. But there's always the possibility that Red Wing will test these out in a market like Japan, so there may be a limited run — which is more likely if you bug them on Instagram to tell them how much you love my pink boots.
As Troy noted,
Guys wear pink. Pink is not a forbidden color anymore. If your vision of what a man is supposed to be wearing doesn't involve colors, then you have an unhealthy relationship with what masculinity is.
Thanks again to the team at Red Wing for sending these my way, I really do cherish them.
The following two tabs change content below.
Nick English
By day: Manhattan-based journalist with reporting experience on four continents, published in Vice, Men's Health, Popular Science, and a bunch of other places.By night: ravenous consumer of anything and everything related to high end men's boots.Stridewise is where I nurture a maniacal obsession with footwear and share my findings. Say hey:
[email protected]
.
Latest posts by Nick English (see all)