Urban Shepherd is a company that specializes in traditional Portuguese boots, and it's a business that really leans heavily into storytelling, so much so that they have this funny tendency to make super artsy films about their bootmaking. (I've embedded one a little further down in this review.)
A lot of companies use Portugal as a base for outsourcing their shoe manufacturing as it's a pretty inexpensive place to make footwear, but although Urban Shepherd's boots are made in Portugal, it's not to save cash. These boots have Portugal in their DNA.
All the shoes are designed and handcrafted at a small, fifth generation family-owned workshop in Benedita, Portugal (apparently the traditional home of Portuguese shoemaking) and they're all made with leather from local tanneries from Alcanena (the traditional home of Portuguese leather production).
The story goes that Mike Lodzinski, an attorney from Houston, was on a work trip to Barcelona and had an afternoon to kill, during which he walked into the store of Tiago Maximo, fell madly in love with his footwear, and he and his wife decided to become business partners with Maximo.
They blew up his production, established a U.S. office in Houston, and with some smart digital marketing — I should disclose here that they sent me a free pair, but I'm also talking about the very story-driven style of their website and brand voice — the company is really making its mark in the busy world of Goodyear welted footwear.
So what is it about this boot that got the Lodzinskis so hot and bothered?
[SHOP URBAN SHEPHERD BOOTS HERE!]
Urban Shepherd Aesthetic
Natural (undyed) calfskin leather
5.5-inch shaft
Fluorescent red stitching
Unique oblong toe
Based on traditional Portuguese boots
So, I've got Urban Shepherd's flagship Original boot and it's made with natural, undyed calfskin leather. Right off the bat, that makes it a bit unusual, but there are two other components of the shoe that are remarkable:
The quadruple stitching along the vamp is a fluorescent red color
The toebox has an atypical, oblong shape
The toe isn't round, it isn't sleek, it's also not square or particularly angular. The best word I can think for it is oblong, like a toebox-shaped rectangle with rounded corners. I mean, it looks like this:
I actually like the toe. I wasn't sure what to make of it at first, but after wearing these for a few weeks I found myself really enjoying these as a new kind of casual boot.
I was talking to Tiago Maximo, the guy who started the company, and he said,
The look and shape is modeled after what our Portuguese ancestors wore. This is a boot you would see on the working men who were shepherds, farmers, masons in the mountains of Portugal. I don't know why they chose this shape. The only thing I can say, is that they nailed it, in terms of looks and comfort. As a shoe maker I wouldn't touch a bit!
Sometimes I'm a guy who's easily marketed to, it's a weakness of mine, but I'll say it anyway: that's pretty cool. They are uncommon boots, but if you're looking for something that isn't your average service boot, this shoe does stand out in the crowded market of Goodyear welted footwear.
Let's take a closer look at the leather.
Urban Shepherd Leather
Undyed, chrome tanned calfskin
Sourced from Alcanena, Portugal
Hand waxed twice with Probtim
Boots can be "fire aged" for extra cost
This is chrome tanned, hand waxed calfskin. They picked calfskin because it's a bit more pliable than cowhide while still having a good amount of firmness and tensile strength. I've been wearing these boots for a few weeks, and I decided to not clean them so you can see that the natural coloring does mean it shows dirt kind of easily, so you need to clean them now and then with a Leather Spot Cleaner.
As I mentioned, the leather comes from the tanning center of Alcanena, Portugal, in a facility that has been using traditional methods to tan leather for more than a hundred years.
It's hand waxed twice at their workshop after the boots are constructed to help make them more water resistant and to deepen the color of the leather.
Blowtorched Boots?!
Something very weird that Urban Shepherd does is give you the option of getting these boots fire aged for an extra cost.
That's when Tiago himself takes a blowtorch to the leather, which is meant to make the boots look older and, well, cooler. Watch it happen:
It's inspired by the fact that Portuguese shepherds used to dry their boots in the fireplace, which would give them a strong patina. Basically, the boots are meant to, eventually, with natural wear, look like fire aged boots but if you want them to have that look out of the box then fire aging will do that for you. If you're happy to pay an extra $150.
[Related: What's the difference between chrome tanned and vegetable tanned leather?]
Urban Shepherd Leather Care
The wax they use before it leaves the workshop is all you're advised to use to condition these: Probtim wax, a colorless conditioner that's made by the same tannery that makes the leather. You can get Promtim on their site and you apply it every three to six months to deepen the color, maintain the water resistance, and keep the leather from cracking.
Urban Shepherd Sole
Vibram Gumlite outsole
Super soft, maybe not super durable
Leather midsole and insole
Cork filling
360° Goodyear welt
This outsole is Vibram, but it is not the normal Vibram you might be used to, like the mini lug on the Red Wing Blacksmith or the Commando sole on my Truman boot.
This is the Vibram 2656 Cape Town Gumlite flat sole. It is far and away the softest Vibram sole I've ever worn and one of the softest boot soles I've had, period. This means it's great at shock absorption, which is helped by the cork filling in the midsole.
The downside of such a super soft sole is the fact that it isn't crazy durable. That's just how these things work, and you can see that after just a few weeks of wear I've lost a little bit of the heel:
[Related: 6 kinds of boot soles you should know about]
Anyway, I'm still happy with the outsole. It's comfy!
After the outsole there's the cork that fills the space between the wedges of the welt and around the shank, then on top of that you get a genuine leather midsole and tan genuine leather insole. The insole is the same leather as the midsole, just a little thinner.
Finally, this has a 360-degree Goodyear welt, which means it's easy to resole and it's very water resistant. Combine that with the fact that the leather is heavily waxed and you've got a pretty water resistant boot.
[Related: The difference between a Goodyear welt and a Blake stitch]
Urban Shepherd Fit & Comfort
Size up 1 full size (at least)
Soft sole, great shock absorption
Takes a few wears to become comfy
You have to be very careful with sizing, here.
Unlike practically every other boot company, where you have to size down, Urban Shepherd makes you size up.
And you size way up.
My true size is an 11.5, and in these boots I'm a 13. Thirteen! And at the moment, that's the biggest size they have.
And there are no half sizes. If there were, I would have gone with a 12.5. But they don't have it.
And there are no other widths.
Now this lack of sizing diversity isn't that unusual for a newer company, but it might be distressing that size 12 is as big as they come. (Because 12s have to size up to a 13.)
As for the break in, it wasn't super fun. Even after a couple of weeks, my feet get pretty beat up if I wear these with thin socks. I can feel the midsole molding to my feet and they are getting more comfortable with time, but you'll need thick socks from the outset.
[Related: 5 things to look for when buying a pair of boots]
Urban Shepherd Price
Like a lot of newer companies, the price changes a lot, but for now — and I've edited this section a lot since it was published — the boots cost 199 Euros.
I think they're pretty well priced. For calfskin, Goodyear welted boots with a shank, leather midsole, and leather insole, anything under $300 is considered a pretty good deal. A lot of that is because the boots are made in Portugal, which is a pretty inexpensive place to get shoes made. (Ask Taft and Wolf & Shepherd.)
Urban Shepherd Pros & Cons
Pros
Under $300
Good shock absorption
Lightweight
Water resistant
Comes with 3 pairs of laces (brown, cream, and red)
Unique look and ethos
Cons
Kind of divisive look
Natural leather shows dirt
Outsole not super durable
Weird sizing, no half sizes or other widths
Very casual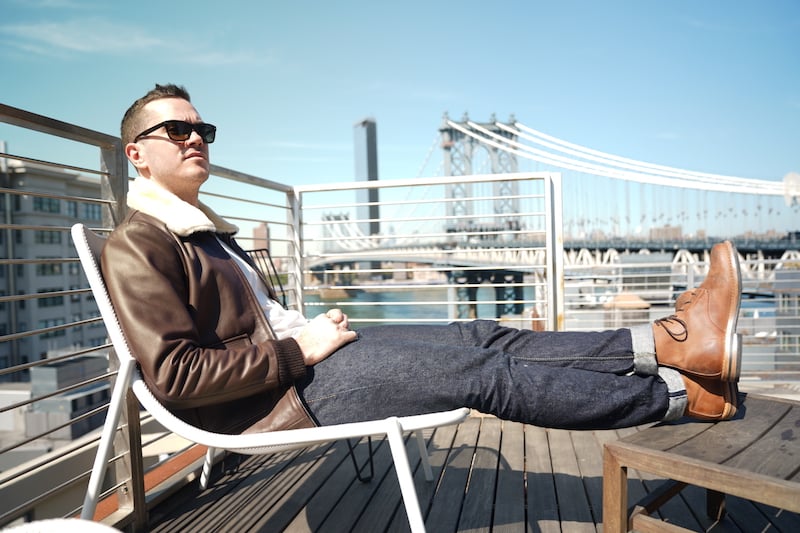 So these shoes are reasonably priced, they have great shock absorption, the leather is gorgeous, they're very water resistant, and they have a really cool look and story.
Not everyone likes how unusual they look. If that's you, you might be more interested in their Lake boot, which has a more traditional, rounded toe. Just recently, they also started selling these in black, if the color is what's keeping you on the fence.
They're not for everyone and they're very casual (don't even think about wearing these with business casual), but I do like these boots as a new way to dress informally that's infused with a dose of Portuguese history and handcraftmanship.
The following two tabs change content below.
Nick English
By day: Manhattan-based journalist with reporting experience on four continents, published in Vice, Men's Health, Popular Science, and a bunch of other places.By night: ravenous consumer of anything and everything related to high end men's boots.Stridewise is where I nurture a maniacal obsession with footwear and share my findings. Say hey:
[email protected]
.
Latest posts by Nick English (see all)