This post may contain
affiliate links
that at no additional cost to you, I may earn a small commission from.
A kiltie is a false tongue that protects the softest part of your boot, improves fit for certain feet (and certain boots), and helps to add a pop of style to your footwear.
Boots can be customized in various ways to enhance their durability and style, and one notable option is the kiltie. While commonly associated with work boots, particularly logging footwear, kilties have their origins in golfing: early golfers would attach a strip of leather over the tongue of their shoes to keep debris and dirt from invading their footwear.
Over time, this practical addition gained popularity among outdoorsmen and eventually found its place among enthusiasts of casual boots. Kilties are now often used to personalize footwear and prolong the life of boots subjected to rigorous use.
To help you decide whether to add a kiltie to your boots, let's explore their advantages and disadvantages, show you how to use them, and point out our favorite brands.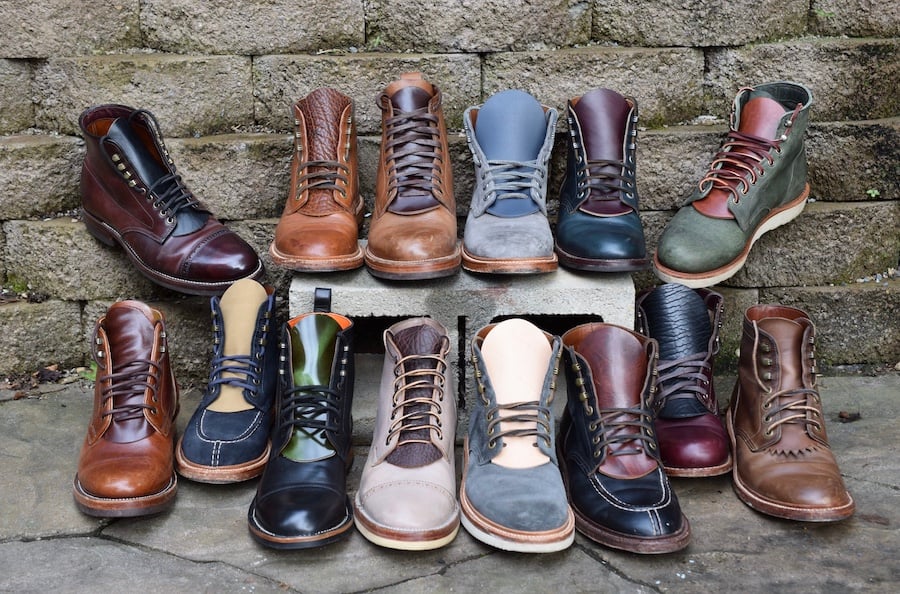 What Is A Kiltie?
"A kiltie is a false tongue," says Dale Basista, a boot YouTuber and leatherworker who creates and sells kilties at Dale's Leatherworks. (We've visited him before to explore his 75 pair-strong boot collection.) "It is a tongue that overlays the tongue of your boot that you insert the laces through at the base. It adds cushioning to the instep area — and it looks cool."
A kiltie is a piece of leather, often designed with (purely aesthetic) jagged edges, that is secured to a boot's tongue with shoelaces. Its primary purpose is to protect the delicate leather on the boot's tongue, shielding it from punctures and scuffs while helping keep debris out of the boot's interior. It also keeps the thinner tongue leather from fraying or developing creases from lacing over time.
"It can protect the tongue from the wear and tear of your laces because they tend to warp the original tongue," Dale explains.
But there are a few more benefits we'll get into in the "pros" section below.
Types Of Kilties
There are three main types of kilties, and the differences are purely aesthetic. All of these will serve boots in the same way, the right kiltie for your boots depends on which one you find more stylish.
"There's no wrong way to do it, but they're typically very simple patterns because this isn't a functional part of the boot. It's basically just an insert," says Dale. "You can have smooth, you can have jagged, there's no real limit on custom things you can do to make them outrageous looking."
Logger: The Logger design is as old as the kiltie itself and can be found on both golfing shoes and work boots alike. It's easily recognizable by its jagged edge, and anyone can a plain kiltie into a logger with a sharp knife. Just note that the zigzag pattern can get frayed over time — something you can fix with another scissor session.
Packer: The Packer is similar to the Logger in that it has a zig-zag pattern running through the edge. There are different definitions of it out there: some say packer kilties have slits running throughout the leather to make it more flexible and breathable, others (like Nicks Handmade Boots) sell "Packer Kilties" that are similar to tassle kilties we discuss below, with a short fringe of blunt strips instead of harder zigzags.
Classic/Heritage/Casual: The simplest style, with no eye-catching perforations, frills, or tassels that take the attention away from the boots itself. It is simply a piece of leather with a rounded edge.
Lightbulb kilties: Dale's favorite kind flares as it approaches the mouth of the boot, offering some extra coverage under the eyelet panel.
Blind kilties: "Which do not extend beyond the eyelet facings. Mine just cover the tongue and they're not visible on the vamp at all," says Dale. "I can cut them in a certain way that removes the protrusion so it's only covering the tongue, so it's very discrete. It's for guys that don't want a flashy look but want the benefit of the cushioning on their instep."
Brogue kilties: Designed to dress up a pair of boots. It has decorative perforations on the leather that ostensibly add a touch of sophistication and ventilation if you're looking for a more English country boot look… even though you can't really see the broguing under the laces.
Tassel kilties: The tassel is designed with straight cuts at the end of the leather to give it a fringe-like appearance. Typically reserved for more dressy footwear, this kiltie will come with dangly tassels that sway back and forth with your every step. You'll almost certainly only find these on loafers, which don't even have laces. They're purely decoration, and probably shouldn't be called "kilties" to begin with, but they get called tassel kilties.
Pros Of Using A Kiltie
There are numerous reasons why guys add kilties to their boots. Below are some of the most important ones that you should know about.
1. Kilties protect the tongue
Now, we should be clear: most guys don't use kilties and their tongue doesn't fall apart.
Still…
"Brands typically use a pretty low ounce leather for the tongue, like two ounces, or under one millimeter thick. It's extra soft, thin, and flexible because the tongue is so close to the foot and it's an area that flexes a lot," says Dale. "So when you throw on a kiltie over the top, which is typically five ounces, and it really helps keep the tongue from fraying, drying out, and developing grooves from the laces."
As thinner leather that's also under a lot of pressure and chafing from laces, tongues are technically more prone to sharp edges and developing holes from debris, which might be a concern if you're working in your boots. Loggers working in dense forests often encounter hazards such as broken branches and rocks that could potentially penetrate the tongue. This is why kilties are probably best known for being used by loggers.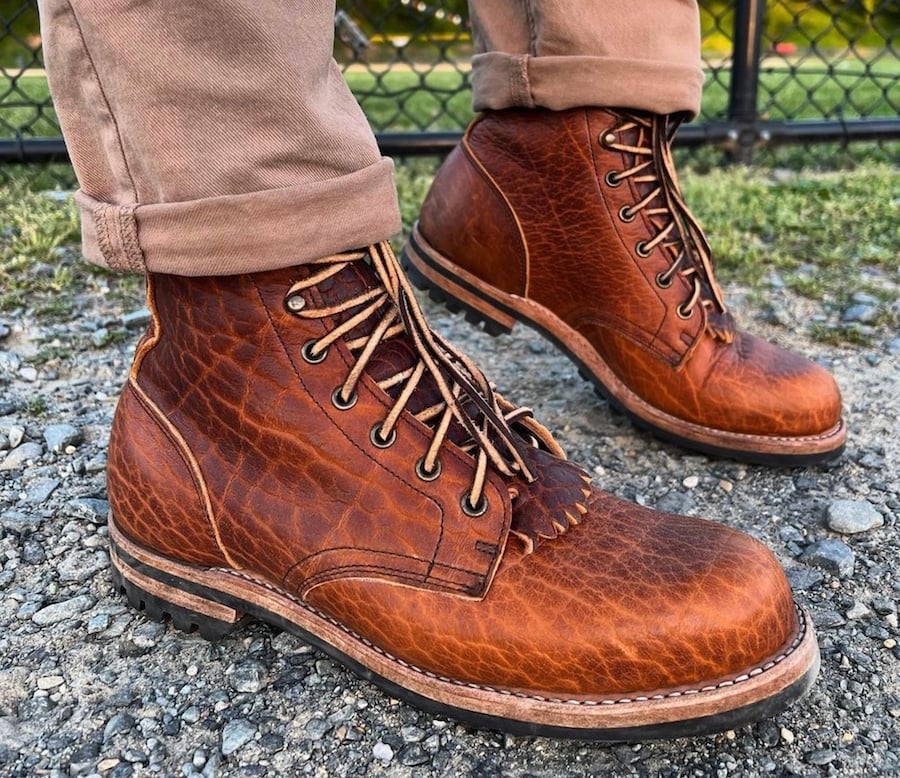 2. Kilties improve fit
Most boots are made to fit most feet, so most guys won't need a kiltie. But if you have skinny ankles or a low instep — the bony structure on top of the foot — kilties can be very useful.
"Guys with low insteps, their tongues can feel a little loose," says Dale. "They'll lace up their boots and they have to lace them extra tight to fill that missing volume. That brings the eyelets closer and it looks like they've sized too big. The added volume of the kiltie brings the eyelet facings further apart, it creates a more natural look when they're laced up, and they fit better."
Something similar can happen if you have skinny ankles: the boot has to close tighter around the shaft to secure the fit. This brings the eyelet facings close together, sometimes so much so that they're touching.
"By creating more of a distance between the eyelet facings, you're allowing the laces to come in and finalize the fit," says Dale. "If the eyelet facings are too close, because of a skinny ankle or low instep, they look terrible and don't fit well."
3. Kilties can make boots more comfortable
On a similar note, some boots either have tongues so thin or laces so tough that they can feel like the laces are biting into your foot when they're laced. (This can also happen when your boots are a little big and you need to tie them extra tight.) A kiltie softens that pressure and distributes the tension more evenly.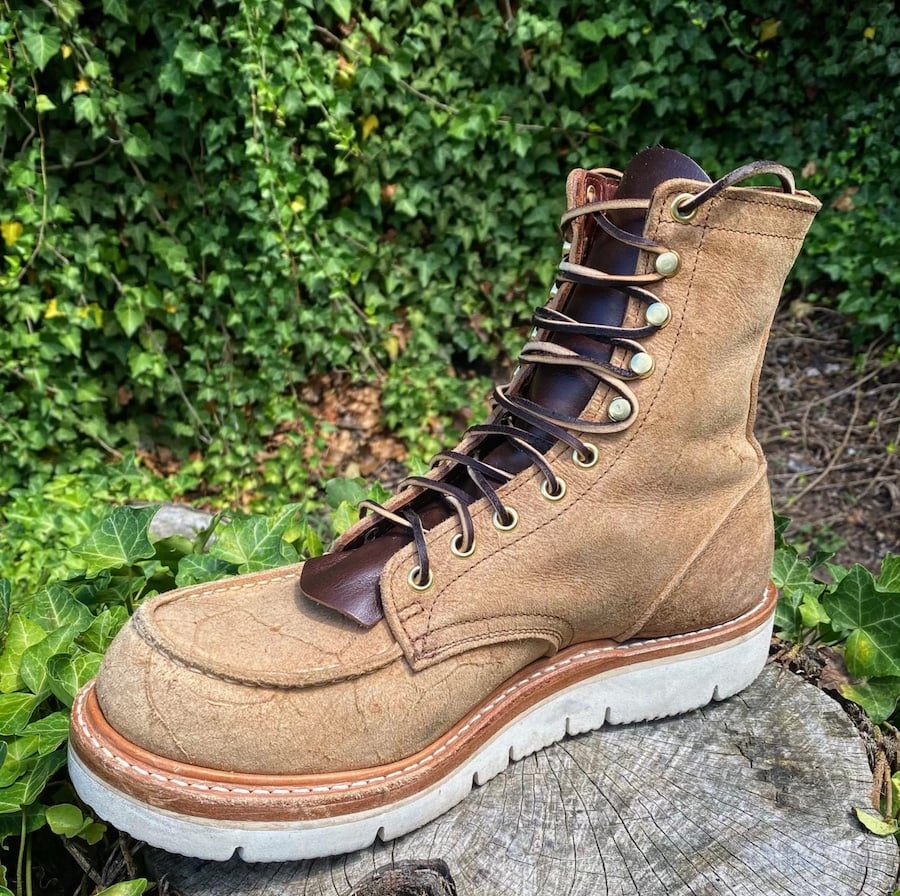 4. Kilties look cool
OK, that's debatable, but especially if you're a guy who really loves his boots, it can be fun to mix and match kilties to bring new color and texture to a favorite old pair. The option to switch to a different color kiltie can help you customize your boots so they complement your outfit perfectly.
"Much like the laces, it can augment the look of the boot," says Dale. "Depending on whether you match the kiltie to the upper or if you contrast it, it can look really cool. I like to contrast, personally. Similar to laces, you don't know until they're on the boot that they're gonna look good, but they look cool."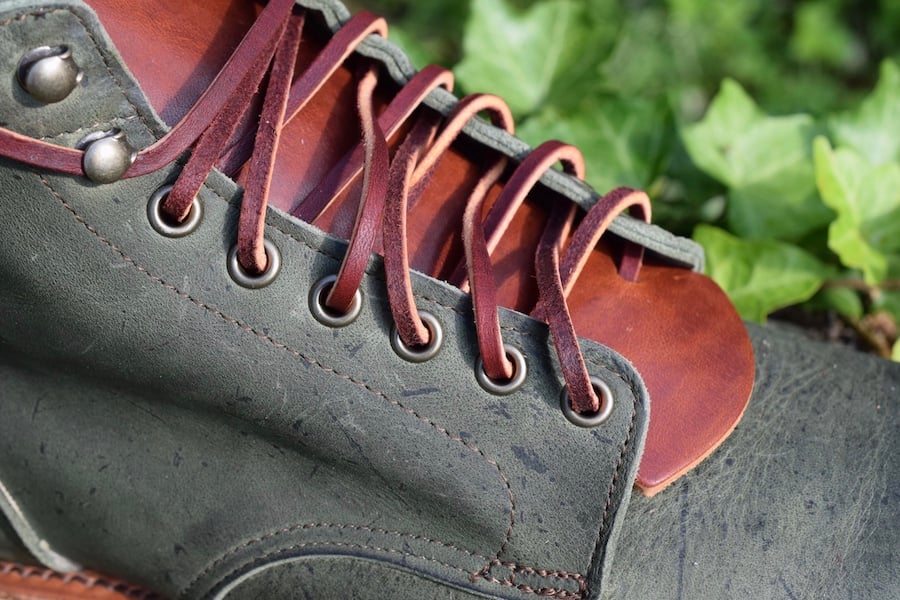 5. Kilties are easy to put on
Adding a kiltie to your boots is a straightforward process, much like lacing up a pair of boots.
You just align the first row of lacing, down near the toe, with the holes at the end of the kiltie. Then you feed the lace through one hole, underneath the space between them, then up out of the other hole. When you're looking at the boot, the laces should look like they appear out of either side of the kiltie, the lace running underneath it in the middle, like in the picture above.
You can easily remove kilties too, allowing your boots to adapt to various occasions and styles. While you might want protection at work, you might not want a kiltie if you're wearing your boots out after clocking off.
Cons Of Using A Kiltie
Now, I am using the word 'con' here with a grain of salt. There are real benefits to them, but they don't apply to everyone.
1. Kilties look odd to some guys
That's the main con. They're unusual. Some guys love bringing something different to the boot game, others like boots precisely because they're subtle and plain. (In contrast to the latest sneaker trend, for instance.)
"Looks like you got half of a different boot on top of your boot," a hypothetical person might say to you.
Kilties have largely disappeared from a lot of modern workwear boots. They're not so widespread that people will know what you're doing by adding one, and you might get more questions than approving smiles.
2. Most guys just don't need kilties
People who can materially, practically benefit from kilties are guys with:
low insteps
skinny ankles
boots that are too big
a need for marginal extra protection from sharp objects
a preference for preserving the tongue of their boots
No one else really needs them unless they think they look cool. If you do, then great! If not, someone might roll their eyes when they ask why you've got a false tongue.
3. Not Many Brands Make Them
Like we mentioned above, kilties are just not that widespread. Aside from a few Pacific Northwest brands or specialty fashion retailers, kilties are hard to come by. But we wrote out a couple of options for you.
The Best Kilties
There really aren't that many brands that sell these, so our list is short, but it's as short as it needs to be. There are two great options.
Dale's Leatherworks
We sought an interview with him for this article because he's the best. A one-man show with his own YouTube channel and leatherworking studio that also includes badass leather backpacks, Dale is a leather guy's leather guy. Everything from Horween's waxed flesh to Maryam horsebutt to bison from Milwaukee to CF Stead's rambler, a shrunken suede he wrote a whole article about for Stridewise, Dale's offerings change seasonally but there's something for everyone. He'll also customize to your heart's content, just send him a DM.
Nicks Handmade Boots False Tongues
Nicks' Handmade Boots' Kilties
With over 20 leather choices, three kiltie styles, and two options for length, Nicks is the best value option for kilties.
Check Best Price
We earn a commission if you make a purchase, at no additional cost to you.
Deciding to go with "false tongue" over "kiltie" (they're the exact same thing) Nicks has surprisingly affordable options, given they're known for boots that almost all cost over $600.
They're less customizable than Dale's and they have fewer options for leathers and styles and lengths, but you're unlikely to be disappointed with the offerings: a nice twenty options for leather that include American greats like Horween Chromexcel and Wickett & Craig.
How to Use a Boot Kiltie
There aren't many ways to get this wrong, but it can still happen.
Take your laces out
Thread the lace under one hole and up out of the other, so that the lace disappears under the kiltie in the middle. Doing it like you see in the red boots above is less secure and the kiltie will shift around more when you walk.
Place the kiltie over your tongue, the end with laces lining up with the very first eyelets, near the toe
Lace your boots normally.
Kilties With the Extra Lace Loop
Sometimes you'll see kilties with either an extra loop attached (left) or an extra slit (right) further up the shaft.
This is just in case you want a really secure fit, or if the kiltie happens to slide to the side when you walk. It's rare, because your standard kiltie is secure enough, but you can find them with this basic "addition." (Or you can just cut the slits yourself.)
"Every boot has the eyelets at a different distances, so nobody makes kilties with multiple sets of holes," says Dale. "So everyone gets holes at the bottom, and sometimes the middle has slits that offer a wider space to feed the laces through — wherever they might cross over at that point."
Wrapping Up
In conclusion, while they have their origins in golfing, kilties have found their place in both hardy work environments and heritage-style fashion. They're are a neat way to personalize your boots and refresh their look, but they're also meaningfully helpful for certain issues with fit, plus they add a little extra protection from the outside world.
Frequently Asked Questions
How do you install a kiltie?
Remove the laces, feed the lace under one hole then back up and over the other hole, place the kiltie on the tongue with the laces at the last eyelet near the toe, and lace the boots normally.
What is a false tongue?
A false tongue is another name for a kiltie, an extra tongue that offers some protection and fit adjustment to a boot.
Where can I buy Kilties?
You can purchase kilties from leatherworkers like Dale's Leatherworks, or some heritage boot brands like Nicks.