This post may contain
affiliate links
that at no additional cost to you, I may earn a small commission from.
I've amassed an extraordinarily sizable boot collection and over the years, I've learned a thing or two about how to store boots so they stay in good condition. I want to share some tips about storing boots to extend their lifespan without needing to convert half your bedroom or basement into a purpose-built boot display.
So, let's jump into how to store boots efficiently, inexpensively, and safely.
---
Key takeaways for how to store boots:
Make sure your boots are clean
Never store wet boots
Avoid humid places
Use cedar boot trees
Space them out
Condition the leather if it's dry
Essential Boot Storage Items
Let's dive into the must-have items you need to store boots properly. We're providing a range of items and storage ideas that work in different spaces and budgets.
1. Cedar Boot Trees
Must-Have Item
Household Essentials' Cedar Shoe Tree
Cedar shoe trees help your footwear to maintain its form, keep the toe from curling upward, dispel stink, reduce moisture, and improve overall longevity.
Check Best Price
We earn a commission if you make a purchase, at no additional cost to you.
12/06/2023 04:23 am GMT
A boot tree is to a boot what a hanger is to a suit. These are shaped inserts, usually made of cedar, that maintain the shape of your boots when they're not worn. In addition to limiting leather creases, this helps avoid "toe spring," when the toe slowly curls up off of the ground, making them look like elf shoes. Cedar boot trees absorb moisture from the boot which extends their lifespan because moisture can break down glues and stitching. This also controls bad smells and even wards away insects.
Odor control
Absorbs moisture
Maintains shape
2. Boot Shapers
For those who prefer a cheaper alternative to wooden boot trees, boot shapers are plastic inserts that keep boots upright and maintain their shape. They are adjustable and fit into most boots. I recommend cedar shoe trees, though: the cost savings isn't that much and they work so much better.
Boot Storage Racks
With their unique shapes and sizes, boots require specialized storage solutions to maintain their form, prevent damage, and ensure longevity. Boot racks are invaluable organizational tools. When buying a boot rack, make sure they are:
Stable and durable
Large enough to accommodate all your boots without cramming them together
Easy to assemble
Customizable and modular
Stylish and complements, your interior decor can seamlessly integrate into your space
Made of robust steel shelves, the Seville Classics storage shelf lets you connect two units side by side, have two or three levels, the height is adjustable, and it's available in several colors and materials to suit whatever decor your room's got.
Pros
Perfect for minimalists or those who prefer clean lines.
Modular design is customizable for different heights of boots
Great for those on a budget without compromising on quality
Quick setup, no tools required
Cons
It's a shoe rack, and while it's customizable, it can only fit about six pairs of boots
Best Hanging Rack
Whitmor Over the Door Shoe Rack
Easy to assemble and designed with non-slip pads that won't damage your door, this also has foldaway bars that can accommodate shoes of any size.
Check Best Price
We earn a commission if you make a purchase, at no additional cost to you.
12/06/2023 05:23 am GMT
If you don't have a lot of extra floor space or closet space, then 0ver-the-door racks are an option — Whitmor's is one of the best I've seen. The rungs fold up to accommodate any shoe size and the materials used are sturdier than most hanging racks.
It's essential to invest in a rack specifically designed for boots. It organizes and ensures the longevity of your prized footwear collection by preventing mold and maintaining your boot's shape.
Pros
Maximizes space by using vertical storage
Keeps boots in shape, preventing creases
Convenient for smaller living spaces
Fold-up bars for versatile storage
Cons
Takes up an entire door
Not very stylish
3. Boot Bags
Best Boot Bag
Case4Life Water Resistant Boot Bag
The perfect travel boot bag: keeps the rest of your stuff clean, keeps the boots dry, the bag can be ventilated, and it comes with a 3-year warranty.
Check Best Price
We earn a commission if you make a purchase, at no additional cost to you.
12/06/2023 04:58 am GMT
Boot bags protect your footwear from scuffs and scratches when traveling. Made typically of cloth or canvas, you want to pick the right material that's breathable, protective, and water resistant all in one. Nylon is the most cost effective option here, and Case4Life is our favorite: it's very inexpensive, has a 3-year warranty, and can be opened up to ventilate when necessary.
4. Boot Care Kit
Otter Wax Leather Care Kit
For your all-in-one leather care needs, this kit provides waterproofing wax, moisturizing conditioner, and saddle soap for the extra tough stains.
Check Best Price
We earn a commission if you make a purchase, at no additional cost to you.
Lightly brush boots after every use
Store near your de-booting zone
Condition when leather is dry
While not strictly a storage item, having a leather boot care kit is essential. At a minimum, you want a horsehair brush, dust cloth, and leather conditioner. Break it out frequently for light cleaning. Condition your boots semi-regularly — at least twice a year — to ensure the leather remains supple and hydrated. Dry leather can crack, so regular conditioning extends the life of your boots.
5. Silica Gel Packets
Best Value
Shuxia Food Grade Moisture Absorber Silica Gel
With 100 packs for under five bucks, there's little to argue with here. These packs not only protect electronics and foodstuff, they're great for keeping your boots dry — which keeps stitching and glue from breaking down.
Check Best Price
We earn a commission if you make a purchase, at no additional cost to you.
If you live in a particularly humid environment, dropping a silica gel packet into each boot can help absorb excess moisture. Just remember to replace these every few months for the best results.
---
Storing Different Types of Boots
Storing winter boots requires extra steps compared to a pair of dress boots. It's important to adapt your storage to the materials and use case for the boots.
Best Winter Boots
Winter Boots
When you store winter boots, ensure they are clean and dry before packing them away for the winter season. It's all too common for snow to make its way inside the boots, and given they're often lined with insulation or wool, it's easy for moisture to get trapped within. Immediately after you remove your winter boots, clean them with a damp rag and brush them to remove debris once they dry.
If they're wet, stuff them with crumpled newspapers and replace the damp paper every six hours until dry.
Learn More
Dress Boot
Dress boots require extra care. First, you'll want to know the type of leather you're working with. Suede ankle boots will require different care than box calf leather or shell cordovan.
Before you store your dress boots, you might want to condition or clean them. Higher end leathers should be regularly conditioned to improve their longevity, especially before being stowed away until next boot season.
Generally speaking, unless you have suede, you'll want to brush, condition, and polish the leather. It also helps to have a boot care kit containing essentials like a brush, polish, cloth, leather conditioner, and extra laces. Store them in a boot bag, boot box, shoe bag, or closed container — just avoid plastic bags as they trap moisture and can lead to mold and rot.
---
Why Store Boots Properly?
Keeping your winter boots or work boots in the garage might seem like a great boot storage idea. But it might be one of the worst places to keep your boots if you want your favorite pair to survive the off-season.
Here's what to avoid.
Humidity
High humidity leads to mold and mildew growth. Leather boots, in particular, can become damaged if stored in a damp environment. Moisture can also cause metal components, such as eyelets, to corrode.
Hydrolysis
Hydrolysis is a chemical reaction where water molecules break chemical bonds in squishy materials found in boots and shoes. It messes them up. It affects materials like polyurethane (PU) used in constructing the sole or midsole. If you have certain Red Wing, Thursday, or Timberland boots, among others, they could have a polyurethane component that will disintegrate over time.
Temperature Extremes
Very high or very low temperatures can damage the material of the boots. For instance, leather can dry out and crack in high temperatures, while certain materials can become brittle in freezing temperatures or snow. All in all, cold temperatures are less risky than hot.
Improper Position
If boots are not stored in their natural shape, they can become deformed over time. For example, if tall boots are not supported, the shaft can fold over. Using boot shapers or stuffing them lightly with balled up paper can help retain their shape.
Pests
Insects such as moths or carpet beetles can damage certain boot materials. Rodents may also gnaw on boots if stored in locations these animals can access. Good news for the bugs, though: cedar shoe trees appear to help ward away insects.
Contaminants & Dirt
If boots are stored without cleaning, residues like dirt, salt, or other contaminants can further degrade the material, especially leather. It's crucial to clean and condition leather boots before storing them.
Chemicals
Storing boots near chemicals or in boxes with acidic content can cause the materials to break down over time. Avoid storing boots in areas where they might be exposed to harmful chemicals.
Pressure or Weight
Storing heavy items on top of boots can cause them to become misshapen or compressed.
---
Boot storage tips
Vertical boot trees or pegboards offer a convenient solution for everyday boots. They keep your boots off the floor, organized, and out of the way. However, be mindful that hanging boots for extended periods can stretch and deform leather. To prevent damage, occasionally switch up how you hang them.
It's worth noting that another type of boot tree is a block that sits inside a boot when it's not being worn. These help maintain the boot's shape and prevent permanent folds and creases.
Boot racks or boot shelves come in various styles. Opt for ones with an open design (like we suggested above) to ensure proper air circulation around your boots. Shelves also serve as a neat and stylish way to display your boots. Consider placing a small boot rack near entryways and high-traffic areas.
Boot boxes are an easy and convenient choice for storage as well, if you have the room — and you got one for free when you bought your boots.
Under-the-bed storage is another space-saving option to store boots under your bed. Numerous under-the-bed boot storage ideas and solutions, including gliding shelves and rolling racks, keep your boots accessible while out of the way.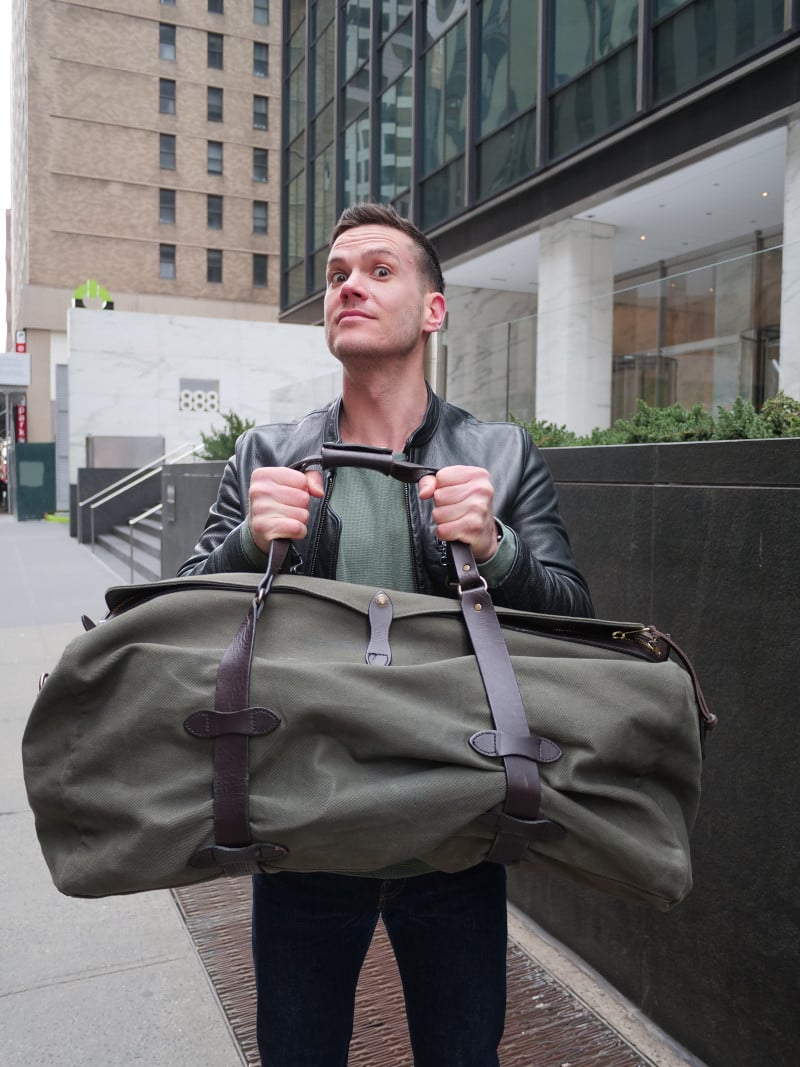 ---
How to Store Boots when Traveling
To ensure a worry-free travel experience, follow these three essential guidelines when packing your boots:
Keep Them Clean
Regardless of how you plan to store your boots during your travels, starting with clean boots is smart. You don't want dried mud sprinkling onto your clothes when you're unpacking.
Provide a Protective Barrier
Best Boot Bag
Case4Life Water Resistant Boot Bag
The perfect travel boot bag: keeps the rest of your stuff clean, keeps the boots dry, the bag can be ventilated, and it comes with a 3-year warranty.
Check Best Price
We earn a commission if you make a purchase, at no additional cost to you.
12/06/2023 04:58 am GMT
Safeguard your boots and prevent them from directly contacting your other items. The easiest way to achieve this is by placing your boots inside a protective boot bag or a sturdy box. In a pinch, a plastic bag can suffice.
Personally, I've adopted a system where I pack casual or winter boots in a dedicated boot bag. I individually wrap dress boots in boot bags to keep them pristine.
Avoid Overpacking
Consider placing your boots toward the top of your suitcase as a practical tip. Many overnight bags even feature special built-in boot compartments. Take advantage of these compartments while ensuring your boots are clean to isolate dirt and odors effectively.
---
Conclusion
Proper boot storage maintains the condition and appearance of your boots, extending their lifespan. Use these great boot storage ideas for all your boots, whether Chelsea or hiking boots. Just don't toss them in a messy pile.
---
FAQS
How can I store a lot of boots?
Use good over-the-door systems. They look neat, typically have vents for good air circulation, and are stackable to save space. Place and stack several pairs in boxes on a shelf, on your closet floor, or under the bed for space-saving storage.
Do boots need ventilation?
Ventilation, temperature, and humidity matter with long-term storage for your favorite shoes and boots, especially during the summer. Trapped moisture and extreme temperatures can encourage mold growth and bacteria that can cause bad odors and mildew stains. In the summer, direct sunlight can also age your boots faster, like it ages your skin.
How to choose the best boot rack for your home?
Pick one that's both stable and durable, ensuring it can withstand daily use and maintain its integrity over time. Equally important is its capacity: it should be spacious enough to house all your boots without squeezing them together. Moreover, the assembly process should be straightforward and user-friendly, eliminating the need for complex tools or expertise. Preferably, go for a modular, customizable design that can adjust to your ever-changing storage needs. Lastly, aesthetics matter; opt for a storage system that complements your interior decor and blends effortlessly into your space.
How to store fashion boots?
When storing fashion boots, cleanliness is key, so start by removing any dirt or dust. Use cedar boot trees to help them retain shape and avoid folding taller boots. If your boot tree isn't high enough, stuff the rest with paper. Store them upright in cool, dry places, away from direct sunlight. Consider breathable storage solutions, like cloth bags, and remember that well-displayed boots can also enhance room aesthetics.