This post may contain
affiliate links
that at no additional cost to you, I may earn a small commission from.
Famed Alden collector JD Sasso joined us for this journey through the best Alden boots on the market.
New England was once home to numerous shoe manufacturers but today, there's just one still standing: Alden. Being one of the last bastions of traditional American shoemaking, this company has a special and deservedly vaulted place in the hearts of shoe enthusiasts, presidents, and pop culture icons.
Founded by Charles H. Alden in Middlebury, Massachusetts in 1884, the company was by no means a pioneer of the industry because, by the time they were founded, there were already dozens of competing brands producing upwards of 15 million pairs of shoes per year. These shoes were all made by hand in simple workshops called ten-footers.
What propelled Alden to success was its willingness to adopt innovations in shoe manufacturing, their adherence to premium craftsmanship, and a little bit of luck. When the company opened up its doors, they were utilizing then state-of-the-art technology such as John Brooks Nichols' leather sewing machine, Charles Goodyear's welting technique, and Jan Ernst Matzeliger's mechanized lasting machine. These innovations, coupled with the right timing during America's expansion and consequent demand for well-made work boots, made Alden a household name.
The company has changed little since the 19th century. They are still run by the Alden family and produce all of their shoes in America the old fashioned way. There are downsides to this stubborn traditionalism — they prefer to maintain relationships with brick-and-mortar stores than step into the age of e-commerce — but still, there is a good chance that if your grandfather owned a pair of Aldens, you could get the same one today.
The 5 Best Alden Boots
There are a lot of exclusives and one-offs from Alden out there. They're known for doing limited-run collaborations with individual stores, so the seconds market is awash with rare Aldens that you can't get anywhere else. That's fine, but we can't include unbuyable, unfindable boots in this list — then it wouldn't be useful to you.
So here is a list of our pick of the top 5 Alden boots that are very accessible and commonly found at Alden stockists. (Shoemart.com is the go-to for online sales.)
The common advice is to size down half a size from your true size, as measured on a Brannock device.
1. Alden Indy Boot (405) in Calfskin
Calfskin upper ages slowly and gracefully
Built on the Trubalance last
Narrow heel, wider forefoot
Dresses up and down easily
Retails for $607

The Alden 405 is the original Indy Boot that Harrison Ford wore in the Indiana Jones films. (More on the Indy-Indy connection after this list.)
Anatomically speaking, the 405 is identical to the more popular 403 (the second boot on this list) in terms of its construction, the heel, and the outsoles.
Both boots are on the Trubalance last, a "combination last" which means the heels are slim fitting and the shape of the boot gets wider at the forefoot.
The 405 hard-wearing Neoprene Cork soles that wear like iron, taking years and years to wear down and easily outlasting crepe soles and Dainite. Much grippier than its flatness suggests, the smooth exterior keeps you from bringing rocks and snow into the house and produces an ear-pleasing click-clack to boot.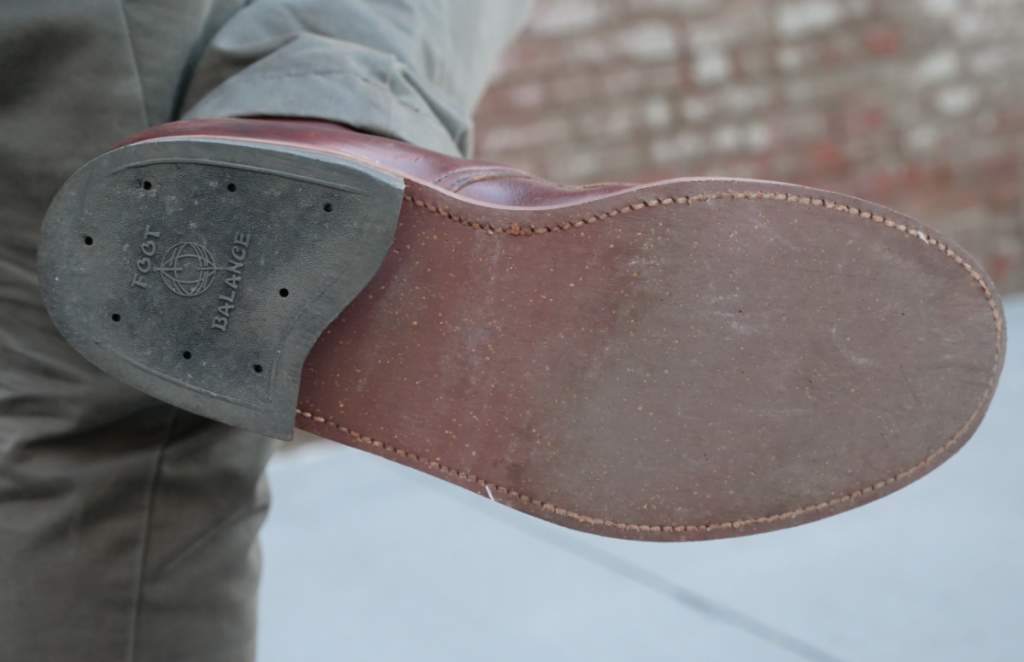 In addition, both boots have the signature asymmetrical heel where the inner heel protrudes a little further. This gives the wearer more support in the arches. These elements combined with the Indy's wider toebox gives the wearer extreme comfort during long hours of use.
The only difference that separates the first two entries on this list is the leather used in the uppers. As the name suggests, the 405 is made with full-grain calfskin. A lighter, more golden color than the 403, the calfskin version is (subjectively, natch) the better option because it ages better. Owing to the fine grain structure of the younger calf and this leather's particular tannage, it doesn't crease as dramatically with wear — old 405s just about always look better than old 403s.
The Indiana Jones boot!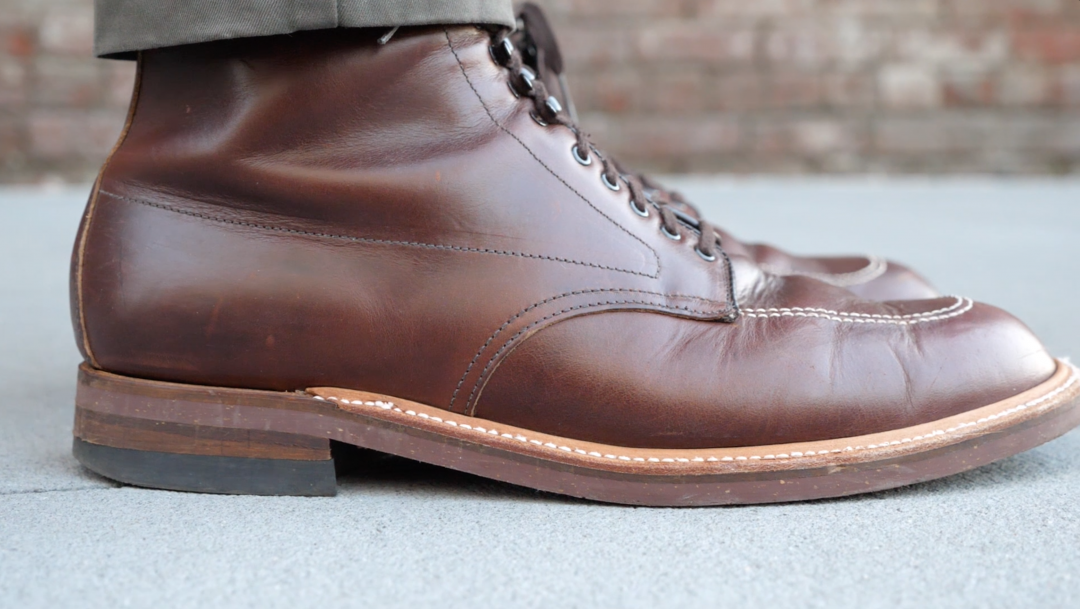 2. Alden Indy Boot (403) in Brown Chromexcel
Chromexcel leather upper has great pull up
Calfskin upper ages slowly and gracefully
Built on the Trubalance last
Narrow heel, wider forefoot
Dresses up and down easily
The Brown Chromexcel Indy boot is Alden's most popular offering. This would be due to the fact that it is widely available and most people associate it with the pair that Harrison Ford wore in the Indiana Jones series. (It isn't, he wore the 405, but this version is simply more widespread by stockists.)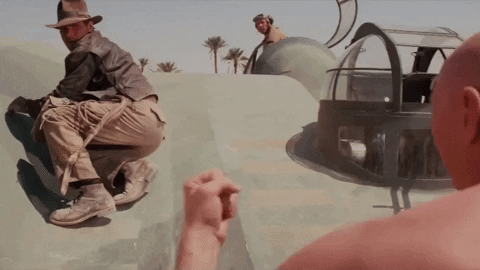 The appeal of the Brown Chromexcel leather, and by extension, the Alden 403 is that it patinas very beautifully. As the boot gets worn, it will show a great deal of depth and color variations.
This is the most famous boot leather from America's most famous tannery, Horween Leather Company. Just about every single American boot brand has a model made with Chromexcel: it looks great, ages well, and is easy to maintain and care for — all it needs is a little bit of brushing and its looks good as new.
The 403 is truly a boot for those who desire a high-quality daily beater that is still high quality.
The New England Classic

3. Greenwich Boot in Reverse Tobacco Chamois
Chamois is both hard wearing and smart casual
Extra water resistant "storm welt" construction
Built on the Barrie last
Retails for $645 exclusively at Leffot NYC
This boot is sold exclusively at Leffot NYC, the city's premier destination for luxury men's footwear. The Greenwich boot utilized a smart casual wingtip design and its rubber soles have a discrete, recessed Commando grip that makes it practical for all seasons.
The leather used on this boot is the backside of Horween's Reverse Tobacco Chamois. While chamois is the name of a European goat-antelope and chamois leather is traditionally made from either that animal or from sheep, Horween's chamois leather is from cow.
But it's still unusual and hard wearing: this is a "fat-liquored" nubuck that's very durable and very water resistant, while being more hard wearing than suede and more dressy than roughout. Due to the fat-saturated leather being inverted (flipped inside out), the uppers have a suede-like texture without giving the wearer any of the drawbacks that come with wearing suede boots.
Hard Wearing Business Casual

4. Wingtip Boot in Black Shell Cordovan
Made with shell cordovan; Alden's specialty
Uppers practically never age and shine easily
Built on the Barrie last
Retails for $855
This is a beguilingly durable boot that shines like a dress shoe but wears like a military beater. The reason is cordovan; a leather (some call it a membrane, not leather) made from the base of a horse's tail that takes months to make, never creases, and always looks brand new. Cordovan can be absolutely abused while maintaining luster, making it a favorite for footwear you want to last for the rest of your life.
The original intent of this design was to provide the wearer with better water-resistant properties. Before liners like Gore-tex were invented, shoemakers sought to improve working shoes by adding broguing to their boot's uppers. Those little holes would serve as a drainage system, helping to shuttle water off of the upper. Today, broguing is more decorative and does not serve much of a functional purpose. Alden's Wingtips are no different, and that's okay.
For the most part, wingtips have graduated from being a country or hunting boot to something that is very commonplace in the office. The black shell cordovan leather helps to elevate the formality of the boot, making it a great shoe to wear to work on a rainy day.
Great for the office!
5. Norwegian Split Toe in Color 8 Shell Cordovan
Built on the Grant last
Grippy outsole
Very hard to find
Retails for $886
Practically impossible to find — sorry for ending on this one, we guess — this boot is casual in design and defined by its vertical toe seam and crescent apron. It has been said that the intent of the split toe was to add additional water-resistant properties to footwear by minimizing stitchings at the welt level.
This version of the boot is crafted out of luxurious shell cordovan leather. From a whole horse, tanneries can only extract about two square feet of cordovan, making this leather extremely rare and expensive. Some of the advantages that cordovan has over calf are that it is extremely shiny, durable, and doesn't develop harsh creases. Due to this, it is very common to see used cordovan shoes look practically brand new after brushing. This boot has Commando rubber soles making it the perfect all-season boot.
Very limited!
Alden and Indiana Jones
The words "Alden" and "Indiana Jones" go hand in hand. The 405, now called the Indy boot, is famous for being worn by Harrison Ford in the iconic film series. Initially the film's costume designer, Deborah Nadoolman had wanted Ford to wear Red Wing 1905s but Ford, who worked in Aldens as a carpenter before making it as an actor, requested that he wear the 405s instead.
The costume team went to Frederick's Shoes, the Hollywood store that Ford frequented, and purchased several pairs of Alden 405s for production use.
The original Aldens that Ford wore in the films differ from later iterations in several ways. The originals were made with brown patent leather and did not have lined uppers. This version of the 405 was discontinued shortly after Indiana Jones and The Last Crusade wrapped production. Today, you can find the re-designed versions of the 405 in many colors and builds.
If you want the original, you might be able to find them at auctions or vintage shops if you're lucky.
Alden's Fit & Lasts
A last is the foot-shaped mold a boot is built around
This dictates the shoe's fit and appearance more than anything else
Alden uses seven different lasts for their boots. Their most popular are their Barrie and TruBalance lasts. The TruBalance last is used on the Indy boots while the Barrie is on their dressier shoes.
The Indy boots and a select few of Alden's other offerings were originally intended to be orthopedic shoes. They have extended, higher heel counters and a wider toebox to accommodate inserts and other foot problems. People who put this boot on are immediately surprised by how spacious it is and there is usually no break-in period. JD Sasso, in this article, writes about how Alden is the one brand that was able to save him from his chronic foot pain.
TruBalance Last
Most people find this last to fit 0.5 size larger than their Brannock size — size down
This is Alden's widest, and most voluminous last.
The medial side of the heel is purposefully higher than the lateral side to counter pronation.
Great for people with foot deformities such as hammer toes, overlapping toes, or enlarged joints.
Can accommodate plantar inserts for added comfort.
Popular models include: Indy Boots, 5-Eyelet Plain Toe boots
Barrie Last
Most people find this last to fit 0.5 size larger than their Brannock size — size down
This is Alden's most used last on casual-dress boots and shoes, like derbies and balmorals.
The Barrie is orthopedic in design with a low profile, slight almond toe, moderate waist, and a narrow heel.
The last's rounded and full toe makes this shoe great for people with wide feet.
Popular models include: 9 Eyelet Perforated Cap Toe boots, 5-Eyelet Plain Toe boots, 9-Eyelet Wingtip boots, Alden Chukka boots
Modified Last
Most people find this last to fit 0.5 size larger than their Brannock size — size down
This is Alden's rarest last for boots. Only a few stockists in the world sell boots made on this last.
The Modified has a narrow waist that hugs the midsection of the foot and wider sides to accommodate the joints.
The shape of this last looks curved on the outside but is significantly straighter on the inside.
The heels and ankles of boots made on this last will sometimes be purposefully asymmetrical with one side longer than the other.
Popular models include: 5-Eyelet Plain Toe boots
Leydon Last
Most people find this last to fit true to size to their Brannock size, or they even go up in width.
This is Alden's most narrow last with a shallow toe box.
The Leydon is primarily used for boots made using the flex construction method.
Popular models include: Unlined Chukka boots (flex welt construction)
Hampton Last
Most people find this last to fit true to size to their Brannock size.
This is Alden's second most narrow last.
The Hampton is great for most average-sized feet but will also accommodate for feet with higher instep and forefoot.
Popular models include: 9-Eyelet Cap Toe boots
Grant Last
Most people find this last to fit true to size to their Brannock size, thouguh many size down by a half size.
This is Alden's "middle last", meaning its shape is between narrow and wide.
The Grant has a narrow heel and toebox and is generally less accommodating than the Barrie last.
Most boots produced on this list are made with shell cordovan leather.
Popular models include: 9-Eyelet Cap Toe boots, 9 Eyelet Perforated Cap Toe boots
Aberdeen Last
Most people find this last to fit true to size to their Brannock size
This last fits closest to a traditional dress shoe.
The Grant has slightly tapered toes that have a soft drop and run a little longer to accommodate wide feet.
The last is well-proportioned, making it great for sleek boots, dress shoes, and loafers.
Popular models include: George boots, 9 Eyelet Dress Boots
This diverse last lineup ensures that Alden's customers can find well-fitting boots for every foot type and occasion.

Are Alden Boots Worth It?
Alden boots are not cheap. Most of their boots cost upwards of $600+ and models made with rare leathers will cost even more.
A controversial question of late is "are Alden boots worth it"?
There isn't a definitive answer — the value of these boots is subject to the individual wearing them. What is affordable and worth it for one might not be for others.
But there are many arguments to be made as to why Aldens are a great investment for your wardrobe. In order to understand why, there are several factors that need to be taken into consideration.
Cost Per Wear
Alden boots are intended to last for many years. Even if the initial purchase cost $650, it would be significantly cheaper to buy Aldens over a cheaper shoe that needs to be replaced every season.
Think about it this way: if one buys a pair of Aldens and wears them for 10 years (they'll last longer, but for the purpose of this thought experiment) then the cost of wear including 2 resoles would just be $950 in that time. This can be further simplified to being $95 a year or $0.26 per day.
Conversely, having to buy a cheaply made, $200 pair of shoes every year for 10 years would add up to $2000, which is equal to $400 per year or $1.09 per wear.
This is basically what Terry Pratchett was trying to convey in his novel, Men At Arms. In the novel, the character, Sam Vines reasons that the rich are able to remain rich because they have the means to buy more expensive items that will last longer. Pratchett's character uses boots to illustrate his point by saying that someone wealthy can buy $50 boots that will last them for a year while poor people would need to spend hundreds of dollars on cheap boots over time because they could not afford to front up the initial cost of boots that will last.
Quality Materials
The uppers of Alden boots are sourced from the finest tanneries from across the world. The leather they use on their boots includes aniline calfskin, calf and kid suede, and shell cordovan leather.
Aniline calfskin is soft leather tanned with soluble dyes. Due to the leather being made from either full-grain or top-grain hides, the finished product still retains the full integrity of the original skin. Their calf and kid suede are also resilient but at the same time offer a more supple and soft texture.
Alden sources its shell cordovan leather from the world-famous Horween Tannery in Chicago. Boots made from shell cordovan are some of the toughest in the world, yet it's also the preferred leather for dress shoes. Unlike other types of leather, shell cordovan does not crease; instead, the leather forms elegant ripples, called "rolls," as they get worn.
If the boot is lined, then Alden uses soft glove leather. Having leather liners help with sweat absorption as the animal skin is naturally porous and semi-permeable. The glove leather lining will also conform to the wearer's feet over time.
Construction
Most Alden boots are made with Goodyear welt construction: the uppers and midsole are attached to a strip of leather called a welt, before it is stitched onto an outsole. This modular way of making footwear revolutionized shoemaking in the late 1800s and it is still used today. Goodyear welted shoes are considered the superior method for crafting a boot because it allows the boot to be resoled and prevents moisture from seeping into the wearer's feet — both elements that dramatically extend a shoe's lifespan.
As an added bonus, Alden also has a great restoration program where people can send in their worn-out boots for repair. By sending the boots directly to Alden, customers can feel secure knowing that their shoes will be serviced in the way that they were intended to be repaired.
Comfort
The inside of Alden boots are fitted with a natural leather insole with pure vegetable tannage. This type of footbed is unrivaled when it comes to breathability and comfort during long wear. Over time, the footbed will mold to the contour of the wearer's feet giving the boot a truly customized feel.
Beneath the footbed is also a layer of natural cork, providing additional comfort and insulation. A steel shank is also present under the footbed to help the boot retain its shape and stability during long hours of use. This vital part of the boot will also help the wearer maintain balance as they do strenuous work or encounter uneven terrain.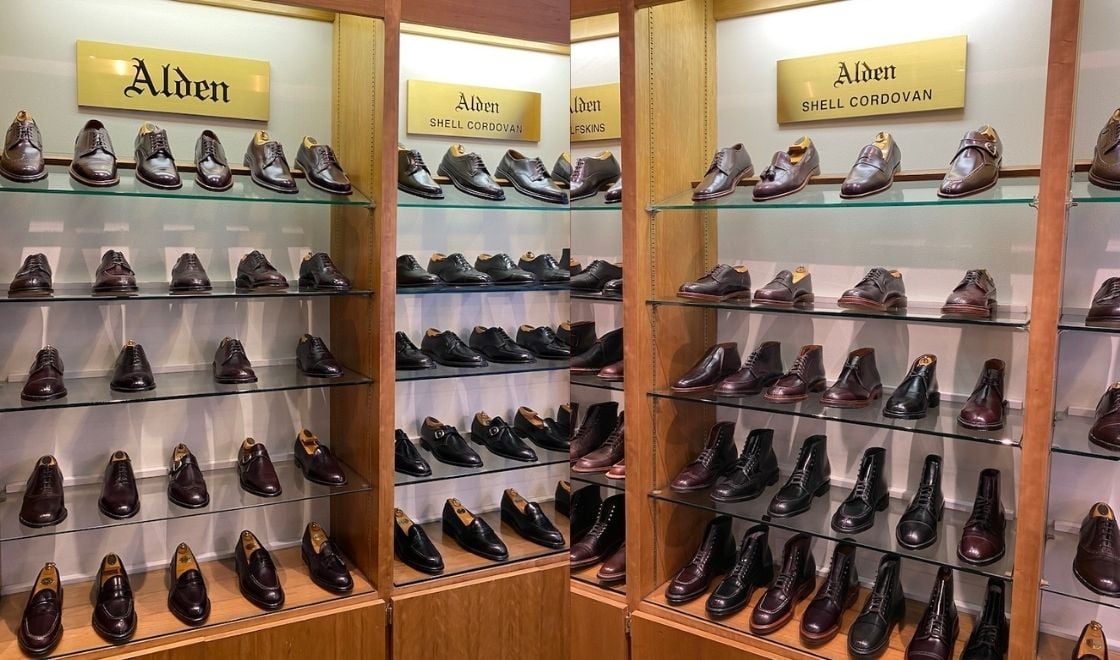 The Verdict
These are four areas that make Alden boots worth the price. There are some critics that will argue that Aldens are overpriced because of the saturated dyes used on the leather or that the heel counter is made from fiberboard instead of leather, however, these points are rendered moot when examining Alden's mission.
Alden is not trying to make a boot for online shoe enthusiasts who desire an intense patina or a work boot that can withstand forest fires. They are in the business of selling elegant, well-made boots that people can wear in and out of the office for a lifetime.
Taking that into account, it actually makes sense as to why some of the leather is overly dyed. The layers of dye prevent the boot from appearing too worn and make it easier to polish when necessary. As for Alden using a fiberboard heel counter as opposed to leather, it is just not necessary to make the counter out of leather if most of the time the wearer will be walking at a moderate pace in their boots.
Unfinished leather and sturdy heel counters are great in their own context, but they are not necessary for the type of consumers that Alden is catering to. Alden is marketing their shoes to mostly white-collar individuals who want a boot or shoe to wear to work on Fridays and the weekend. Their priorities? Style and comfort, which Alden has in spades. Countless enthusiasts online have sworn that when they're spending all day on their feet, nothing compares to Alden.
Conclusion
If you are someone who is interested in owning Alden boots, we suggest that you build a relationship with your local retailer. This isn't a pay-to-win game where you have to buy a ton of boots to gain access to more exclusive models, but it certainly helps if the sales representative can put a name to your face.
Overall, Alden is a superb American shoe and bootmaker and that make investments: footwear that will never go out of style and will feel more comfortable with each passing day.
Frequently Asked Questions
Are Aldens worth the money?
Certainly. The initial cost is very high, but if you take care of them, they will last you for years or decades to come.
Why are shell cordovan models more expensive?
Shell cordovan boots are priced higher due to the scarcity of the hides. Only a couple of square feet from an entire horsehide can be turned into shell cordovan, and the process takes months and months. Most other leathers are tanned in a day.
Which boot did Indiana Jones wear?
Harrison Ford wore the Alden 405 in the Indiana Jones series.