This post may contain
affiliate links
that at no additional cost to you, I may earn a small commission from.
If you're from the South, there's a good chance you're already familiar with Ariat. World renowned for their cowboy boots, Ariat — short for Secretariat, the famous racehorse — has been a mainstay in blue collar jobs and anywhere cowboy boots are welcome, but their sister brand Two24 is a little different. It launched in 2018 and focuses more on lifestyle footwear that's meant to be "stylish and comfortable," the sorts of boots that wouldn't look out of place in Manhattan.
They sent me over their Fairfax boots so that I could see how they're combining a riding boot aesthetic with a modern, urban-friendly silhouette.
It's a pretty interesting experiment. Here's what you should know.
Two24 Ariat Fairfax Boot Aesthetic
"Modern twist on classic paddock style"
Water resistant storm welt
Leather lined
Shiny eyelets and zipper
Unusual stitching along vamp
So, these boots do not look like cowboy boots. True to Two24's mission, they are boots you can wear in the city, but the construction is extremely solid. I'll discuss the sole in detail a little later on, but it contains several layers and is affixed to the upper with a sturdy storm welt. Despite this hardiness, it's fully lined with leather (which always ups the comfort) and it has a relatively tapered toe to make it more urban friendly.
It retains an edge, though: shiny silver eyelets and a zipper and clasp at the back keep it firmly in the casual, outdoorsy category, but what's really unusual about the shoe is the stitching along the vamp.
Folks unfamiliar with horseriding might think it looks a little like the boot is wearing a sock, but it's actually a modern twist on the "classic paddock style" you often see in English riding boots like these.
So the boot, while very comfortable in modern settings, retains Ariat's DNA of horse stables and farm-friendly water resistance.
Two24 Ariat Fairfax Boot Leather
1.5 millimeters thick
Chromexcel leather
Full grain, combination tanned
Creases easily, doesn't scratch easily
This leather is about 1.5 millimeters thick and it's Chromexcel, a very famous leather that's probably the most beloved leather in American boots.
Chromexcel is a combination tanned leather from Horween Leather Company. It's full grain, smooth, and has been an institution in the world of leather since it was first made in 1913. Back then, it had more controversial ingredients like whale oil(!) but now it's made with a range of secret ingredients that include food grade beef tallow and cosmetic grade beeswax. These components are imbued in the leather with a process called "hot stuffing," and all these oils and waxes are responsible for the leather's famous luster.
This is actually my first pair of black Chromexcel boots, and while the black leather doesn't have quite the same depth of color as brown, I found it's a lot more resistant to scratches. Brown Chromexcel picks up damage pretty quickly and easily (they're easy enough to buff out, though) but the black ones stayed black despite a good few weeks of beating them up. (But if you prefer, you can always get this boot in a brown version.)
Note that Chromexcel does crease relatively easily, as you can see in the pictures. It's not a huge deal, but it's something you should expect, though you can minimize this effect if you use shoe trees.
[Related: 3 reasons you should buy cedar shoe trees]
Two24 Ariat Fairfax Boot Leather Care
The first thing with this leather is to give it a good brush now and then with a horsehair brush. Keeping dust and grime off of your boots will help with the leather's longevity.
A few times a year (depending on how often you use them and how dry the leather is looking) you should also condition your leather. Many people, including the ones at Horween themselves, recommend Venetian Shoe Cream for this task. For my money, my favorite conditioner is the one from Cobbler's Choice, as it's a bit better at improving water resistance.
Whatever you pick, apply it evenly over the shoe, let it sit for a few hours, and buff it with a horsehair brush to further cement the cream and better moisturize the leather. This also heats up the leather a little and moves around the oils and waxes it contains.
[Related: The 5 Best Leather Conditioners on the Market]
Two24 Ariat Fairfax Boot Sole
Outsole combination of leather and Vibram
Layer of cork
Steel shank
4mm Poron insole
So this outsole is a combination of leather and Vibram, so you get the traction of a Vibram sole but the flexibility at the midfoot of a leather sole.
After that you've got a layer of cork inside the cavity created by the Goodyear welted construction, there's a steel shank to improve the boot's stability, and there's a 4 millimeter Poron insole with a leather covering. The Poron is intended to help with shock absorption.
Lastly, the sole and upper are attached with a storm welt, an extra water resistant type of Goodyear welt that you can learn about here. In short: it's easy to be resoled and will hold up well in bad weather.
All in all, the sole is substantial and sturdy — these are tough boots.
[Related: 5 things to look for when buying a pair of boots]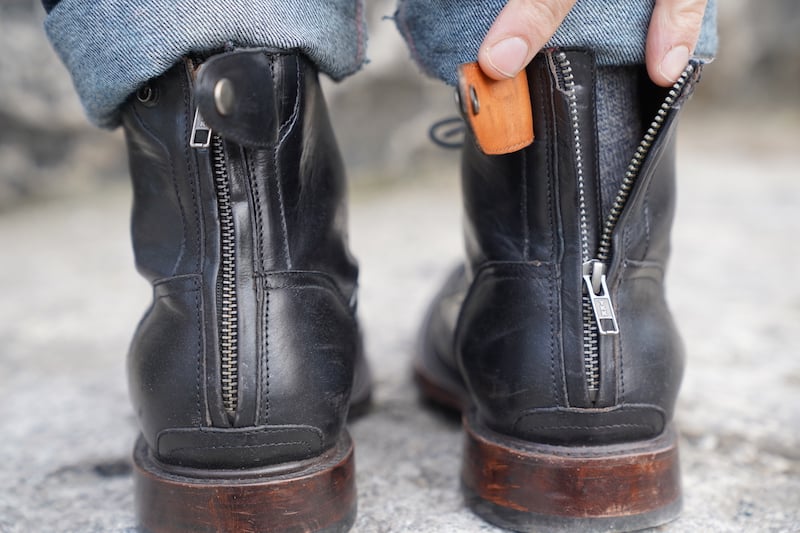 Two24 Ariat Fairfax Boot Fit & Sizing
Fit true to size
No other widths
A little loose in heel
So-so shock absorption/arch support
The boot currently comes in sizes 7 to 13, with no other widths and no half sizes after 11.5. That's good for me because I happen to be an 11.5 and the shoes fit true to size. So unlike a lot of boot companies like Thursday and Red Wing, you shouldn't size down for these.
As for breaking them in, since they're leather lined I didn't have much of an issue. The boot was certainly stiff, but the leather is like 1.5 millimeters thick so after a few wears it softened up plenty.
That's the upside of the comfort. The potential downsides are that it fits a tad loose on the heel. It's by no means a dealbreaker, its just no the most perfectly foot-shaped last. I'd give the comfort a B.
Despite the Poron, the shock absorption isn't great and the arch support is so-so, so while they are comfy boots and there was no break in, you don't feel like you're walking on a cloud.
[Related: The 5 Best Boots for Flat Feet]
Two24 Ariat Fairfax Boot Price
A pair of these boots costs $298.
That's a fair price. In the world of Goodyear welted footwear, any boots under $300 is pretty good value. Not great value, but it's decent — I have no issues.
Two24 Ariat Fairfax Boot Pros & Cons
Pros
Quality Chromexcel leather
Leather lined
Steel shank
Very water resistant
Good grip
Cons
Not everyone likes the zipper
Shock absorption not amazing
Shiny eyelets aren't super subtle
Unusual stitching on vamp
No other widths
These are nice boots: the leather is great, the sole is sturdy, they can be resoled, they're very water resistant, and they're pretty sleek. The main complaints one might have are that they're not the most subtle boots: the shiny eyelets, the zipper at the back, and the "paddock style" stitching might be off putting for those that want a more traditional looking service boot.
But I think Two24 has done a great job of producing a modern boot that's reminiscent of riding shoes, but one that can still be worn in urban environments and fit in any good pair of jeans. They're tough to dress up, but they're a great way to dress down.